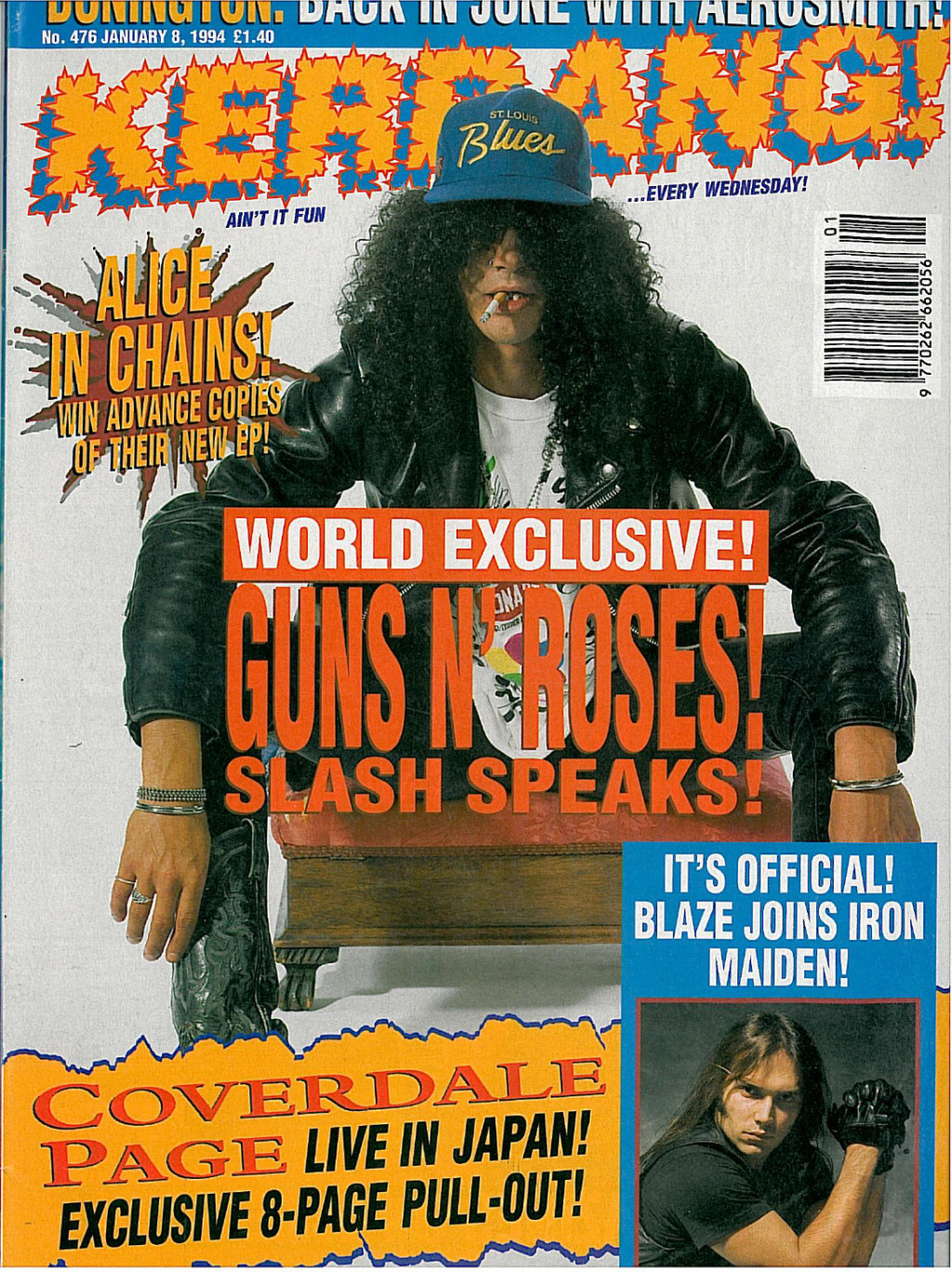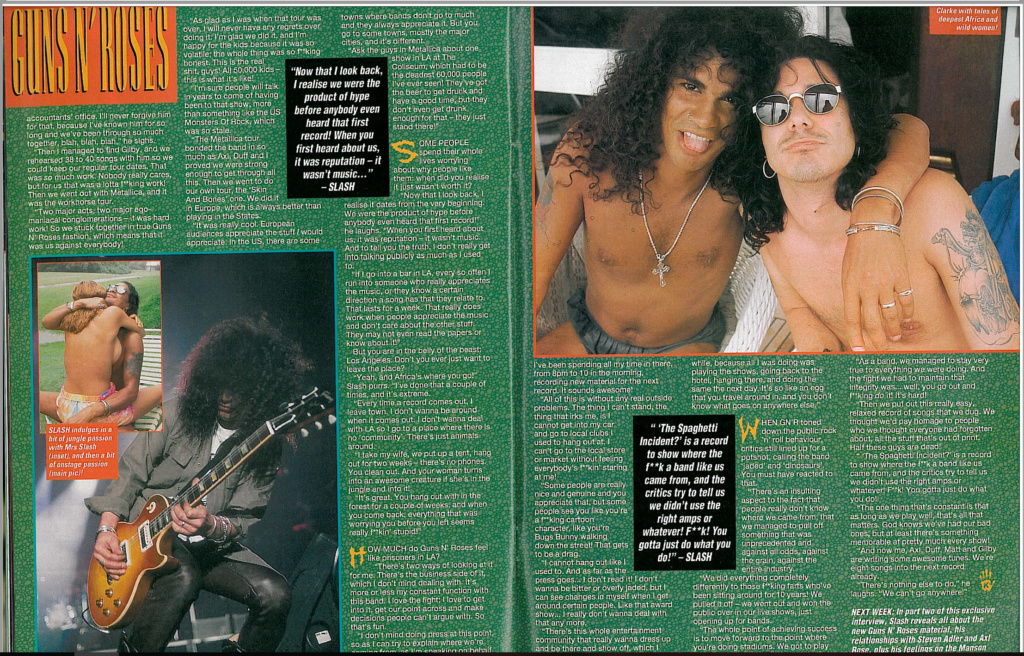 Transcript:
GET OUTTA THE RING!
Guns N' Roses versus Kerrang! - one of the longest running rucks in rock n' roll. But no more. The feud was immortalized in the track 'Get in the Ring', from GN'R's mega-Platinum 'Use Your Illusion II' album. In that song, Guns singer Axl Rose rages at former K! writer Mick Wall, who had accused the band of arrogantly blanking him and everyone else at the 191 Rock in Rio festival.
From there, the feud got out of hand, Axl slammed Kerrang! from the stage at Wembley Stadium on successive UK visits in 1991 and '92, and despite the fact that Mick Wall has not worked for Kerrang! for two years, the rift seemed irreparable. Considering that Kerrang! had been the first UK magazine to put Guns N' Roses on its cover way back in 1987, it was all pretty frustrating.
Bu come 1994, the bitchin' is over.
GN'R guitarist Slash says simply: "The whole thing with Kerrang! had to do with certain individuals who were there.
"As soon as the band started to become popular, there were all these people taking unnecessary potshots at us, so we thought, 'F**k it!'. But now that everything's changed at Kerrang!, everything's fine. That's the reason I'm talking to you now."
Slash has plenty to tak about. For a start, there's GN'R's new album, 'The Spaghetti Incident?'. The album, which crashed into the UK charts at Number One, is currently the subject of great controversy after it was revealed that a mystery track at the end of the LP was written by jailed US cult leader Charles Manson, whose followers committed a grisly mass murder in Hollywood in 1969.
No strangers to controversy, Slash and Axl have since apologized for any distress caused to the victims' families and will donate all royalties from the Manson track to the son of murdered Wojiciech Frykowski.
Slash talks candidly about the Manson scandal next week in the second part of this feature, but for now, the guitarist wants to discuss the stuff that matters most - the music.
'The Spaghetti Incident?' is of course a collection of cover tunes by which Guns N' Roses pay tribute to their influences.
Says Slash: "The songs we picked out were what you call 'neutral.' The New York Dolls, as a whole, were not my favourite band, although they had certain songs I dug. So everyone in the band had to be able to relate to whatever song each one of us wanted to do.
"We could've done a million other bands, but these are the ones that came off the top of our heads when we got on a roll. We didn't have any interest in doing a Zeppelin cover or another Aerosmith cover, and I don't see much justification in redoing an old Stones song, because those songs just don't
need
to be covered."
It seems odd that Guns didn't cover a David Bowie song - something riffy like 'Rebel Rebel' or 'Suffragette City'.
"I've been talking to Bowie a lot. He's doing a compilation record of songs from 'Aladdin Sane' and 'Ziggy Stardust' (two classic '70s Bowie albums) where he's getting all these bands to record those songs.
"Bowie's an old friend of mine, and out of respect I wanted to pick a song, but as a band there was not one that we could all relate to. That's nothing to do with Bowie at all. It's just not in the line of influences this bands draws from. I love to listen to Bowie records, but I dont like to play like that.
"The songs we picked for 'The Spaghetti Incident?' were songs that relate to this band as a whole. Some of them were really easy and some of them took some thought - like which Iggy Pop song we were gonna do, which Dolls song…
"The UK Subs song was obvious. The only T-Rex song I wanted to do was 'Buick McKane', and the Fear one was their only one I wanted to do.
"But also there was the lyrical content to consider, like The Dead Boys' 'Ain't It Fun', which was something that represented what we've seen and been through as a group - and even before the group, as people, the shit that we've seen in this bullshit, and what's gone with us since we became successful, that became the key song, the one that was very indicative of what GN'R is."
One of the most amusing things about 'The Spaghetti Incident?' has been the media's intellectualisation of the record, as if its purpose couldn't just be simple fun. It must be amusing to see a simple cover version ripped apart and over-analysed in print.
"That's the epitome of the type of bullshit we've been going through. We've worked so f**kig hard to retain our own personal integrity and aspirations as a group, and we never had anything to do with what we're going through right now.
"I mean, we're not even
looking
for public acceptance, and people are trying to force it down our throats about us being a bad influence! What's the big f**king deal! They know who we are!
"When we decided to record this f**king record, it was because we were jamming in the studio and it sounded good. Everybody's intellectualisating Guns N' Roses, but short of some of Axl's lyrics and some of the musicianship, there's nothing to analyse."
It is two years since the 'Use Your Illusion' albums were released, and in that time, Guns N' Roses have continually been under the microscope of the world's media. Do you grow accustomed to the attention, or is it a pain in the arse?
"I'm used to it, but at the same time we live in certain environments!" Slash chuckles. "When we were on the road, we had our own entourage who were
our
people.
"We were surrounded by people that we could basically hang out with at the bar or hotel and then do the gig with the next day, so we were sort of self-contained. We didn't have to deal with any of this excess backlash.
"Since we've been off the road for the last four months, I instantly went back into the studio to mix and master 'The Spaghetti Incident?' record, to help myself wind down from the tour pace.
"Everybody had their own things to do, and everybody gets isolated because no one wants to deal with the pressure of being on the street; people coming up to you and recognising you and all this other crap.
"Then we started recording, writing new songs, and got happy. We forgot about the outside bullshit.
"And then the other day, I went to an awards show to give Aerosmith an award, and walked into an environment I had not been in for
so
long. It was a Hollywood Awards show, the
Billboard
thing...and it was a nightmare, a f**king nightmare!
"At this point, it's f**ked out there. You can't moan about it because it just is. The only thing you can realistically do is avoid it,."
This gives an insight into why Guns N' Roses have been shy of the press for some time.
"I swear there is
no
way of coming across," Slash groans. "Between shows, everything that went on media-wise was so f**king difficult. The fact that we stayed out on the road, successfully, for two years, with band member changes and this, that and the other, was a f**king feat that I don't think I could verbally explain.
"The only solace anybody in the band could get from the experience was interacting with the crowd and finding some validity - that's why the f**k we were there in the first place."
In the summer of '92, Guns N' Roses toured North America's biggest arenas with Metallica, the heavyweight Rock double-header of modern times.
Again, controversy raged at these shows. One ended in a riot after Axl quit the stage, bringing GN'R's set to a premature halt.
The gigs also saw a rivalry boil up between Guns and Metallica, with each band turning in their best, most energised performances. I put it to Slash that these shows saw GN'R remember they were a
band
again.
"You're not really far off the mark," he admits, "although it's an opinion from a perspective that I cant relate to.
The Metallica tour was the hardest thing we ever did. It turned into such a conflict of interests between the two bands that we're no longer friends any more. I'm not gonna put blame on anybody, or any of that shit, it just turned into something that maybe wasn't such a great idea."
The Metallica tour followed some hard times for Guns N' Roses. The biggest test was replacing rhythm guitarist Izzy Stradlin with Gilby Clarke.
"Izzy basically left while we were recording the "...Illusion" records," says Slash. "He's not on half of those records. He hardly even played on his own songs!
"That just piled up with trying to keep the band together as a whole, just trying to maintain what this band's spirit's is all about. The trouble started when we couldn't get Steve back - that was a desperation thing…"
Steve is of course Steven Adler - the former GN'R drummer who was dismissed during the first stages of recording for the "Illusion" albums. Adler's drumming had deteriorated along with his health, as he grew more dependent on narcotics.
"For me to get off dope was the first thig I had to go through," Slash explains. "Then there was the whole Steven thing, realising we couldn't easily replace him and not that we even wanted to have to."
Ultimately, Steven Adler was replaced by former Cult drummer Matt Sorum.
"Finding Matt was a godsend. I told Matt yesterday that if we hadn't found him, Guns N' Roses might not even be here. That's the love of your band and the love of your people, it has nothing to do with big romantic stories for the press.
"So we managed to get on tour during the making of the "...Illusion" albums. Then we took one short break - and Izzy quit two weeks before the next leg of the tour was to start!
"Without talking to the guys in the band, he called management and the accountants' office. I'll never forgive him for that because I've known him for so long and we've been through so much together, blah, blah, blah," he sighs.
"Then I managed to find Gilby, and we rehearsed 38 to 40 songs with him so we could keep our regular tour dates. That was
so
much work. Nobody really cares, but for us that was a lotta f**king work! Then we went out with Metallica, and it was the workhorse tour.
"Two major acts, two major ego-maniacal conglomerations - it was hard work! So e stuck together in true Guns N' Roses fashion, which mean that it was us against everybody!
"As glad as I was when that tour was over, I will never have any regrets over doing it. I'm glad we did it, and I'm happy for the kids because it was so volatile; the whole thing was so f**king honest. This is the real shit, guys! All 50,000 kids - this is what it's like!
"I'm sure people will talk in years to come of having been to that show, more than something like the US Monsters Of Rock, which was so stale.
"The Metallica tour bonded the band in so much as Axl, Duff and I proved we were strong enough to get through all this. Then we went to do our own tour, the 'Skin And Bones' one. We did it in Europe, which is always better than playing in the States.
"It was
really
cool. European audiences appreciate the stuff
I
would appreciate. In the US, there are some towns where bands don't go to much and they always appreciate it. But you go to some towns, mostly the major cities, and it's different.
"Ask the guys in Metallica about one show in LA at The Coliseum which had to be the deadest 60,000 people I've ever seen! They've got the beet to get drunk and have a good time, but they don't even get drunk enough for that - they just stand there!"
Some people spend their whole lives worrying about why people like them: when did you realise it just wasn't worth it?
"Now that I look back, I realise it dates from the very beginning. We were the product of hype before anybody even heard that first record!" he laughs. "When you first heard about us, it was reputation - it wasn't music. And to tell you the truth I don't really get into talking publicity as much as I used to.
"If I go to a bar in LA, every so often I run into someone who really appreciates the music, or they know a certain direction a song has that they relate to. That lasts for a week. That really does work when people appreciate the music and don't care about the other stuff. They may not even read the papers or know about it!"
But you are in the belly of the beast in Los Angeles. Don't you ever just want to leave the place?
"Yeah, and Africa's where you go!" Slash purrs. "I've done that a couple of times, and it's extreme.
Every time a record comes out I leave town. I don't wanna be around when it comes out. I don't wanna deal with LA so I go to a place where there is no 'community'. There's just animals around.
"I take my wife, we put up a tent, hang out for two weeks - there's no phones. You clean out. And your woman turns into an awesome creature if she's in the jungle and into it!
"It's great. You hang out with in the forest for a couple of weeks, and when you come back, everything that was worrying you before you left seems really f**king stupid!"
How much do Guns N' Roses feel like prisoners in LA?
"There's two ways of looking at it for me. There's the business side of it, which I don't mind dealing with. It's more or less my constant function with this band. I love the fight; I love to get into it, get our point across and make decisions people can't argue with. So that's fun.
"I don't mind doing press at this point, so as I can try to explain where we're coming from, as I'm speaking on behalf of the guys. That's cool.
"And I built a studio in my house, so I've been spending all my time in there, from 8pm to 10 in the morning, recording new material for the next record. It sounds awesome!
"All of this is without any real outside problems. The thing I can't stand, the thing that irks me, is I cannot get into my car and go to local clubs I used to hang out at. I can't go to the local store or market without feeling everybody's f**king staring at me!
"Some people are really nice and genuine and you appreciate that, but some people see you like you're a f*king cartoon character, like you're Bugs Bunny walking down the street! That gets to be a drag.
"I cannot hang out like I used to. And as far as the press goes… I don't read it! I don't wanna be bitter or overly jaded, but I can see changes in myself when I get around certain people. Like that award show... I really don't wanna deal with that any more.
"There's this whole entertainment community that really want to dress up and be there and show off, which I cannot relate to.
"I guess I've been away from it for a while, because all I was doing was playing the shows, going back to the hotel, hanging there, and doing the same the next day. It's so like an egg that you travel around in, and you don't know what goes on anywhere else."
When GN'R toned down the public rock 'n' roll behaviour, critics still lined up for a potshot, calling the band 'jaded' and 'dinosaurs'. You must have reacted to that.
"There's an insulting aspect to the fact that people really don't know where we came from; that we managed to pull off something that as unprecedented and against all odds, against the grain, against the entire industry.
"We did everything completely differently to those f**king farts who've been sitting around for 10 years! We pulled it off - we went out and won the public over in our live shows, just opening up for bands.
"The whole point of achieving success is to move forward to the point where you're doing stadiums. We got to play Wembley, blah, blah, blah, and that's how people start to look at you.
"As a band, we managed to stay very true to everything we were doing. And the fight we had to maintain that integrity was... well, you go out and f**king
do
it! It's hard!
"Then we put out this really easy, relaxed record of songs that we dug. We thought we'd pay homage to people who we thought everyone had forgotten about, all the stuff that's out of print. Half these guys are dead!
"'The Spaghetti Incident?' is a record to show where the f**k a band like us came from, and the critics try to tell us we didn't use the right amps or whatever! F**k! You gotta just do what you do!
"The one thing that's constant is that as long as we play well, that's all that matters. God knows we've had our bad ones, but at least there's something memorable at pretty much every show!
"And now me, Axl, Duff, Matt and Gilby are writing some awesome tunes. We're eight songs into the next record already.
"There's nothing else to do," he laughs. "We cant go anywhere!"
NEXT WEEK: In part two of this exclusive interview, Slash reveals all about the new Guns N' Roses material, his relationships wit Steven Adler and Axl Rose, plus his feelings on the Manson controversy!

Soulmonster

Stage manager







Posts

: 14977


Plectra

: 73386


Reputation

: 831


Join date

: 2010-07-06



---
Permissions in this forum:
You
cannot
reply to topics in this forum