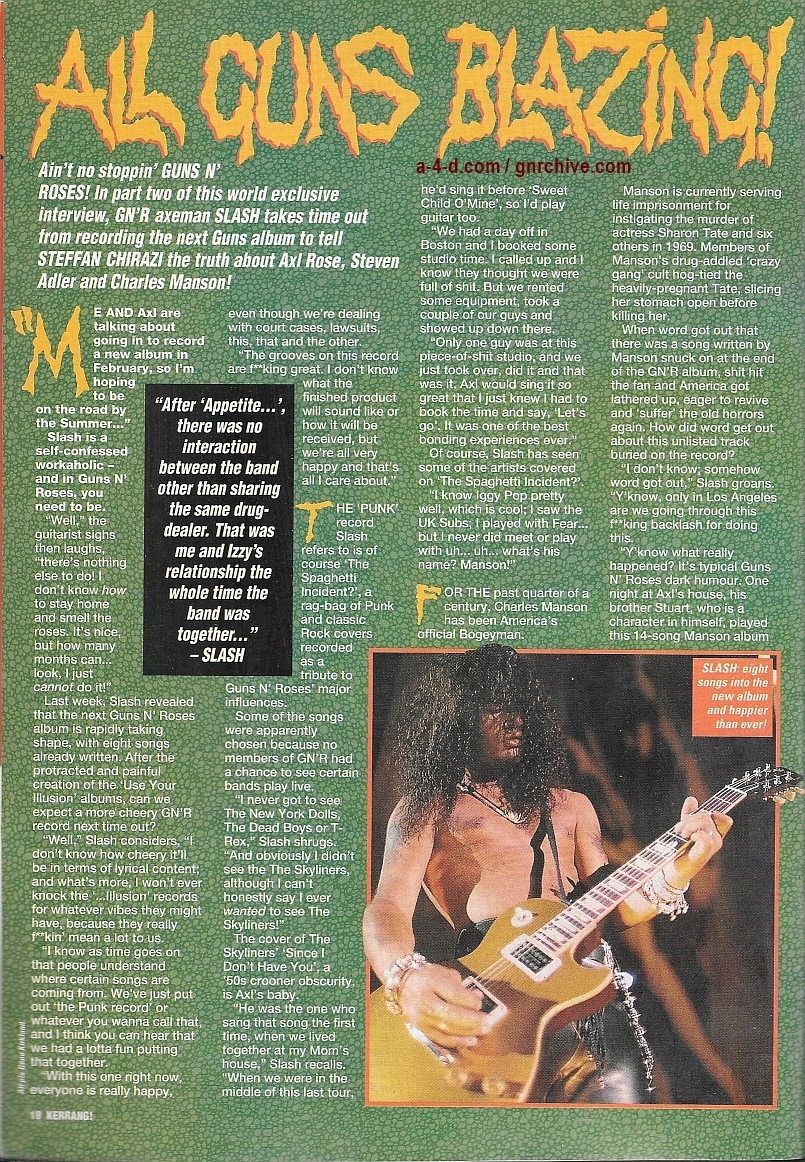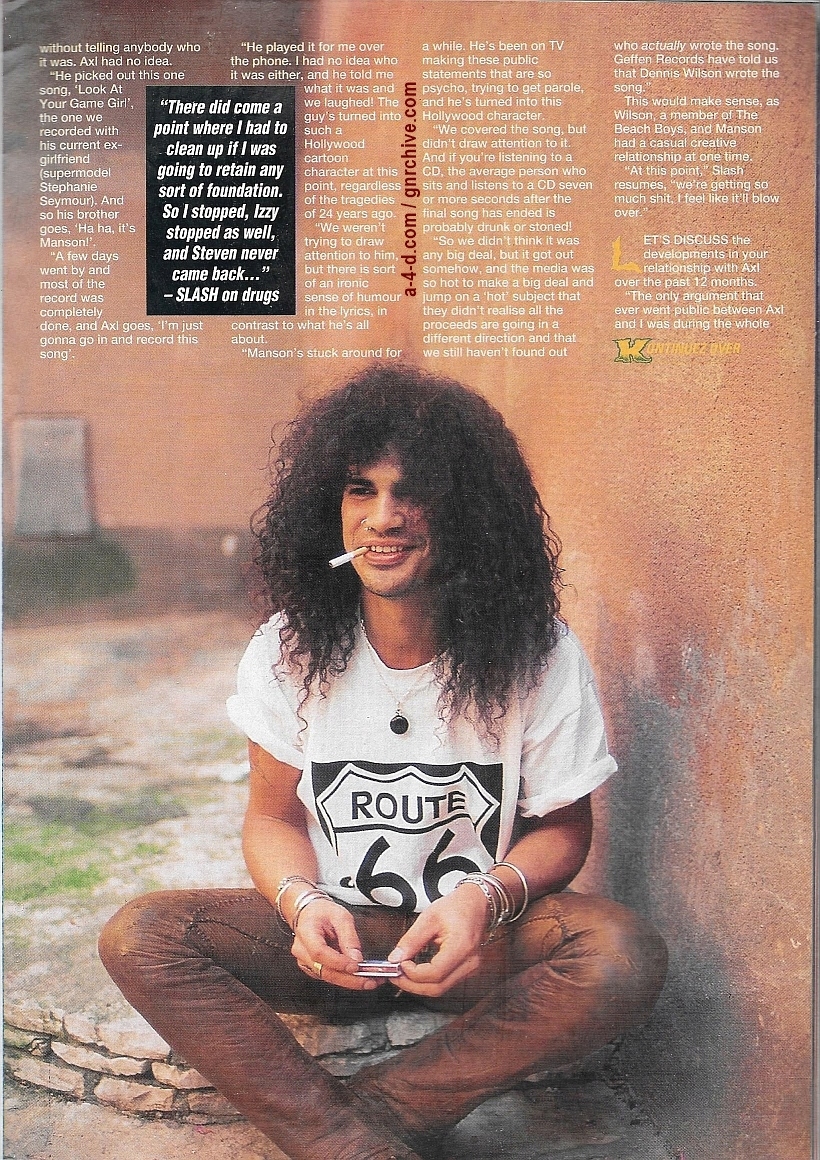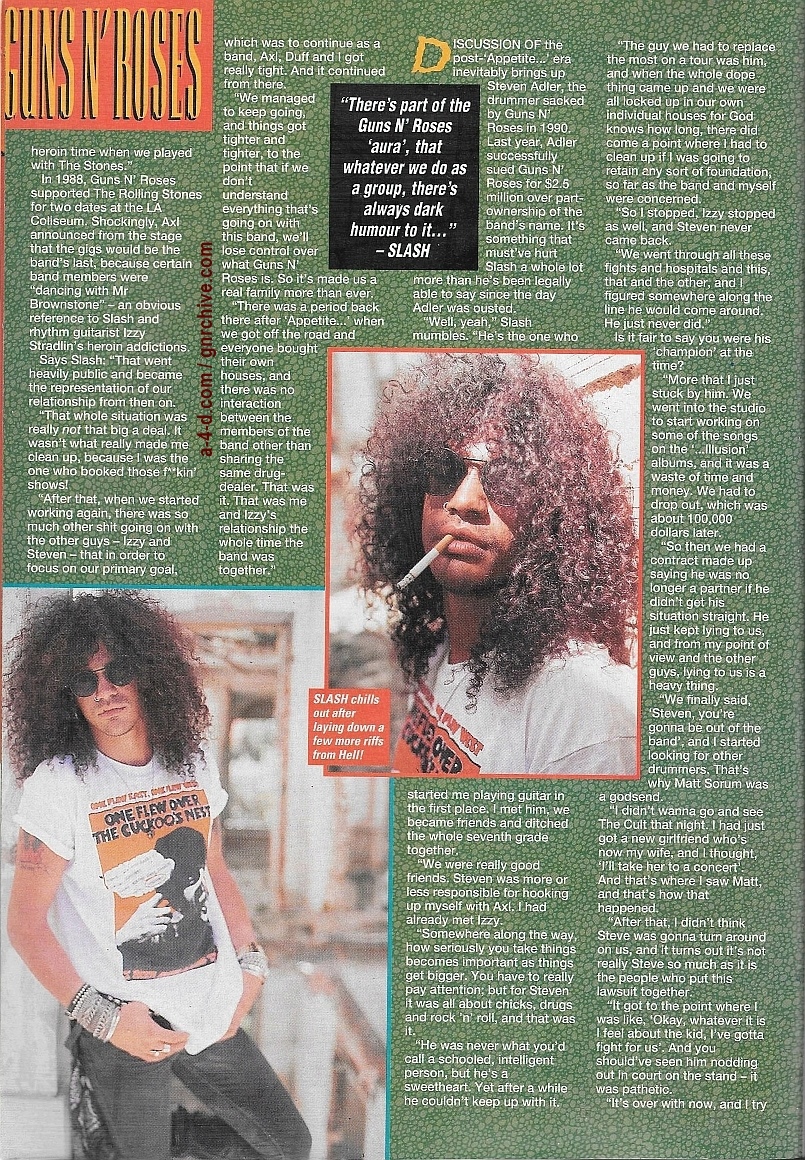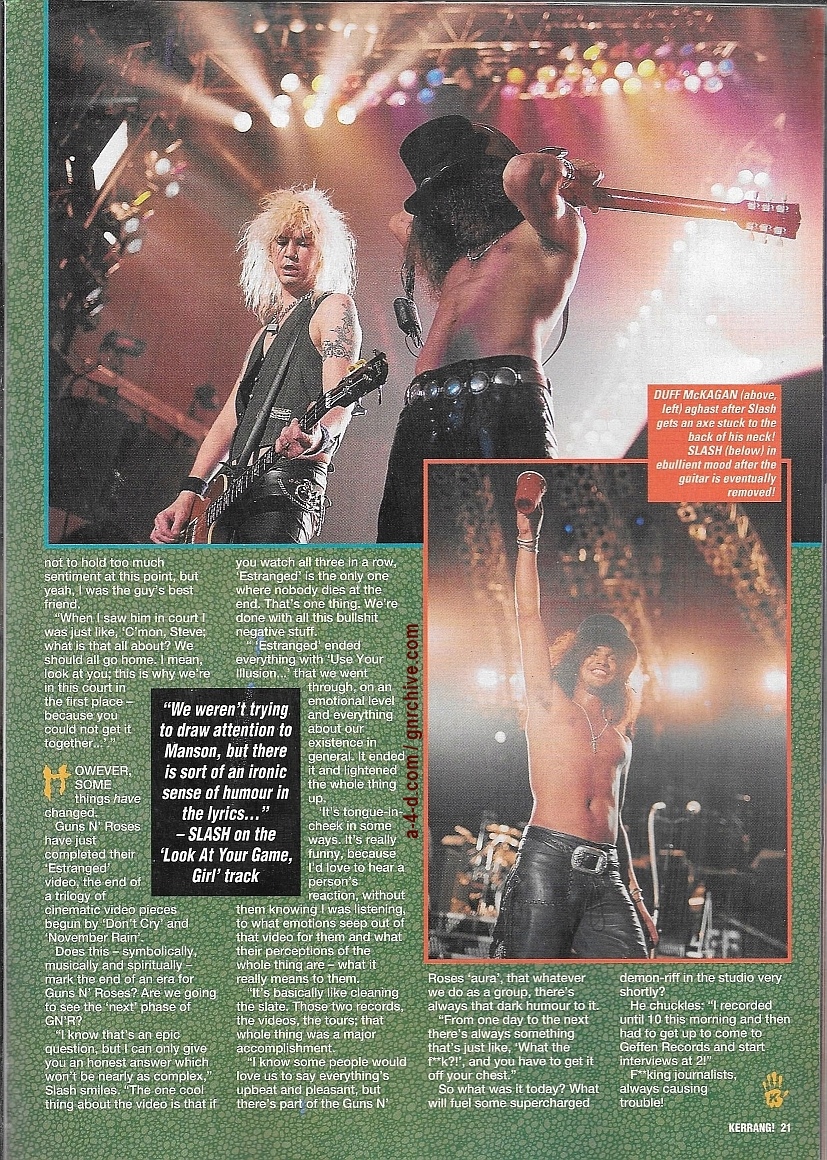 Transcript:
----------------
ALL GUNS BLAZING!
Ain't no stoppin' GUNS N' ROSES! In part two of this world exclusive interview, GN'R axeman SLASH takes time out from recording the next Guns album to tell STEFFAN CHIRAZI the truth about Axl Rose, Steven Adler and Charles Manson!
"ME AND Axl are talking about going in to record a new album in February, so I'm hoping to be on the road by the Summer..." 
Slash is a self-confessed workaholic - and in Guns N' Roses, you need to be. 
"Well," the guitarist sighs then laughs, "there's nothing else to do! I don't know
how
to stay home and smell the roses. It's nice, but how many months can... look, I just
cannot
do it!"  
Last week, Slash revealed that the next Guns N' Roses album is rapidly taking shape, with eight songs already written. After the protracted and painful creation of the 'Use Your Illusion' albums, can we expect a more cheery GN'R record next time out? 
"Well," Slash considers, "I don't know how cheery it'll be in terms of lyrical content; and what's more, I won't ever knock the '...illusion' records for whatever vibes they might have, because they really f**kin' mean a lot to us. 
"I know as time goes on that people understand where certain songs are coming from. We've just put out 'the Punk record' or whatever you wanna call that, and I think you can hear that we had a lotta fun putting that together.  
"With this one right now, everyone is really happy, even though we're dealing with court cases, lawsuits, this, that and the other. 
"The grooves on this record are f**king great. I don't know what the finished product will sound like or how it will be received, but we're all very happy and that's all I care about." 
THE 'PUNK' record Slash refers to is of course 'The Spaghetti Incident?', a rag-bag of Punk and classic Rock covers recorded as a tribute to Guns N' Roses' major influences.  
Some of the songs were apparently chosen because no members of GN'R had a chance to see certain bands play live. 
"I never got to see The New York Dolls, The Dead Boys or T- Rex," Slash shrugs. "And obviously I didn't see the The Skyliners, although I can't honestly say I ever
wanted
to see The Skyliners!" 
The cover of The Skyliners' 'Since I Don't Have You', a '50s crooner obscurity, is Axl's baby. 
"He was the one who sang that song the first time, when we lived together at my Mom's house," Slash recalls. "When we were in the middle of this last tour, he'd sing it before 'Sweet Child O'Mine', so I'd play guitar too. 
"We had a day off in Boston and I booked some studio time. I called up and I know they thought we were full of shit. But we rented some equipment, took a couple of our guys and showed up down there. 
"Only one guy was at this piece-of-shit studio, and we just took over, did it and that was it. Axl would sing it so great that I just knew I had to book the time and say, 'Let's go'. It was one of the best bonding experiences ever." 
Of course, Slash has seen some of the artists covered on 'The Spaghetti Incident?'. 
"I know Iggy Pop pretty well, which is cool; I saw the UK Subs; I played with Fear... but I never did meet or play with uh... uh... what's his name? Manson!" 
FOR THE past quarter of a century, Charles Manson has been America's official Bogeyman. 
Manson is currently serving life imprisonment for instigating the murder of actress Sharon Tate and six others in 1969. Members of Manson's drug-addled 'crazy gang' cult hog-tied the heavily-pregnant Tate, slicing her stomach open before killing her. 
When word got out that there was a song written by Manson snuck on at the end of the GN'R album, shit hit the fan and America got lathered up, eager to revive and 'suffer' the old horrors again. How did word get out about this unlisted track buried on the record? 
"I don't know; somehow word got out," Slash groans. "Y'know, only in Los Angeles are we going through this f**king backlash for doing this. 
"Y'know what really happened? It's typical Guns N' Roses dark humour. One night at Axl's house, his brother Stuart, who is a character in himself, played this 14-song Manson album without telling anybody who it was. Axl had no idea. 
"He picked out this one song, 'Look At Your Game Girl', the one we recorded with his current ex-­girlfriend (supermodel Stephanie Seymour). And so his brother goes, 'Ha ha, it's Manson!'. 
"A few days went by and most of the record was completely done, and Axl goes, 'I'm just gonna go in and record this song'. 
"He played it for me over the phone. I had no idea who it was either, and he told me what it was and we laughed! The guy's turned into such a Hollywood cartoon character at this point, regardless of the tragedies of 24 years ago. 
"We weren't trying to draw attention to him, but there is sort of an ironic sense of humour in the lyrics, in contrast to to what he's all about. 
"Manson's stuck around for a while. He's been on TV making these public statements that are so psycho, trying to get parole, and he's turned into this Hollywood character. 
"We covered the song, but didn't draw attention to it. And if you're listening to a CD, the average person who sits and listens to a CD seven or more seconds after the final song has ended is probably drunk or stoned! 
"So we didn't think it was any big deal, but it got out somehow, and the media was hot to make a big deal and jump on a 'hot' subject that they didn't realise all the proceeds are going in a different direction and that we still haven't found out who
actually
wrote the song. Geffen Records have told us that Dennis Wilson wrote the song." 
This would make sense, as Wilson, a member of The Beach Boys, and Manson had a casual creative relationship at one time. 
"At this point," Slash resumes, "we're getting so much shit, I feel like it'll blow over." 
Let's discuss the developments in your relationship with Axl over the past 12 months. 
"The only argument that ever went public between Axl and I was during the whole heroin time when we played with The Stones." 
In 1988, Guns N' Roses supported The Rolling Stones for two dates at the LA Coliseum. Shockingly, Axl announced from the stage that the gigs would be the band's last, because certain band members were "dancing with Mr Brownstone" - an obvious reference to Slash and rhythm guitarist Izzy Stradlin's heroin addictions. 
Says Slash: "That went heavily public and became the representation of our relationship from then on. 
"That whole situation was really
not
that big a deal. It wasn't what really made me clean up, because I was the one who booked those f**kin' shows! 
"After that, when we started working again, there was so much other shit going on with the other guys - Izzy and Steven - that in order to focus on our primary goal, which was to continue as a band, Axl, Duff and I got really tight. And it continued from there. 
"We managed to keep going, and things got tighter and tighter, to the point that if we don't understand everything that's going on with this band, we'll lose control over what Guns N' Roses is. So it's made us a real family more than ever. 
"There was a period back there after 'Appetite...' when we got off the road and everyone bought their own houses, and there was no interaction between the members of the band other than sharing the same drug-dealer. That was it. That was me and Izzy's relationship the whole time the band was together." 
DISCUSSION OF the post-'Appetite...' era inevitably brings up Steven Adler, the drummer sacked by Guns N' Roses in 1990. Last year, Adler successfully sued Guns N' Roses for $2.5 million over part-ownership of the band's name. It's something that must've hurt Slash a whole lot more than he's been legally able to say since the day Adler was ousted. 
"Well, yeah," Slash mumbles. "He's the one who started me playing guitar in the first place. I met him, we became friends and ditched the whole seventh grade together. 
"We were really good friends. Steven was more or less responsible for hooking up myself with Axl. I had already met Izzy. 
"Somewhere along the way, how seriously you take things becomes important as things get bigger. You have to really pay attention; but for Steven it was all about chicks, drugs and rock 'n' roll, and that was it. 
"He was never what you'd call a schooled, intelligent person, but he's a sweetheart. Yet after a while he couldn't keep up with it. 
"The guy we had to replace the most on a tour was him, and when the whole dope thing came up and we were all locked up in our own individual houses for God knows how long, there did come a point where l had to clean up if I was going to retain any sort of foundation, so far as the band and myself were concerned. 
"So I stopped, Izzy stopped as well, and Steven never came back. 
"We went through all these fights and hospitals and this, that and the other, and I figured somewhere along the line he would come around. He just never did." 
Is it fair to say you were his 'champion' at the time? 
"More that I just stuck by him. We went into the studio to start working on some of the songs on the '...Illusion' albums, and it was a waste of time and money. We had to drop out, which was about 100,000 dollars later. 
"So then we had a contract made up saying he was no longer a partner if he didn't get his situation straight. He just kept lying to us, and from my point of view and the other guys, lying to us is a heavy thing. 
"We finally said, 'Steven, you're gonna be out of the band', and I started looking for other drummers. That's why Matt Sorum was a godsend. 
"I didn't wanna go and see The Cult that night. I had just got a new girlfriend who's now my wife, and I thought, 'I'll take her to a concert'. And that's where I saw Matt, and that's how that happened. 
"After that, I didn't think Steve was gonna turn around on us, and it turns out it's not really Steve so much as it is the people who put this lawsuit together. 
"It got to the point where I was like, 'Okay, whatever it is I feel about the kid, I've gotta fight for us'. And you should've seen him nodding out in court on the stand - it was pathetic. 
"It's over with now, and I try not to hold too much sentiment at this point, but yeah, I was the guy's best friend. 
"When I saw him in court I was just like, 'C'mon, Steve; what is that all about? We should all go home. I mean, look at you; this is why we're in this court in the first place - because you could not get it together...'." 
HOWEVER, SOME things
have
changed. 
Guns N' Roses have just completed their 'Estranged' video, the end of a trilogy of cinematic video pieces begun by 'Don't Cry' and 'November Rain'. 
Does this - symbolically, musically and spiritually - mark the end of an era for Guns N' Roses? Are we going to see the 'next' phase of GN'R? 
"I know that's an epic question, but I can only give you an honest answer which won't be nearly as complex," Slash smiles. "The one cool thing about the video is that if you watch all three in a row, 'Estranged' is the only one where nobody dies at the end. That's one thing. We're done with all this bullshit negative stuff. 
"'Estranged' ended everything with 'Use Your Illusion...' that we went through, on an emotional level and everything about our existence in general. It ended it and lightened the whole thing up. 
"It's tongue-in-cheek in some ways. It's really funny, because I'd love to hear a person's reaction, without them knowing I was listening, to what emotions seep out of that video for them and what their perceptions of the whole thing are - what it really means to them. 
"It's basically like cleaning the slate. Those two records, the videos, the tours; that whole thing was a major accomplishment. 
"I know some people would love us to say everything's upbeat and pleasant, but there's part of the Guns N' Roses 'aura', that whatever we do as a group, there's always that dark humour to it. 
"From one day to the next there's always something that's just like, 'What the f**k?!' and you have to get it off your chest." 
So what was it today? What will fuel some supercharged demon-riff in the studio very shortly? 
He chuckles: "I recorded until 10 this morning and then had to get up to come to Geffen Records and start interviews at 2!" 
F**king journalists, always causing trouble!

Blackstar

ADMIN




Posts

: 11800


Plectra

: 77751


Reputation

: 97


Join date

: 2018-03-17



---
Permissions in this forum:
You
cannot
reply to topics in this forum