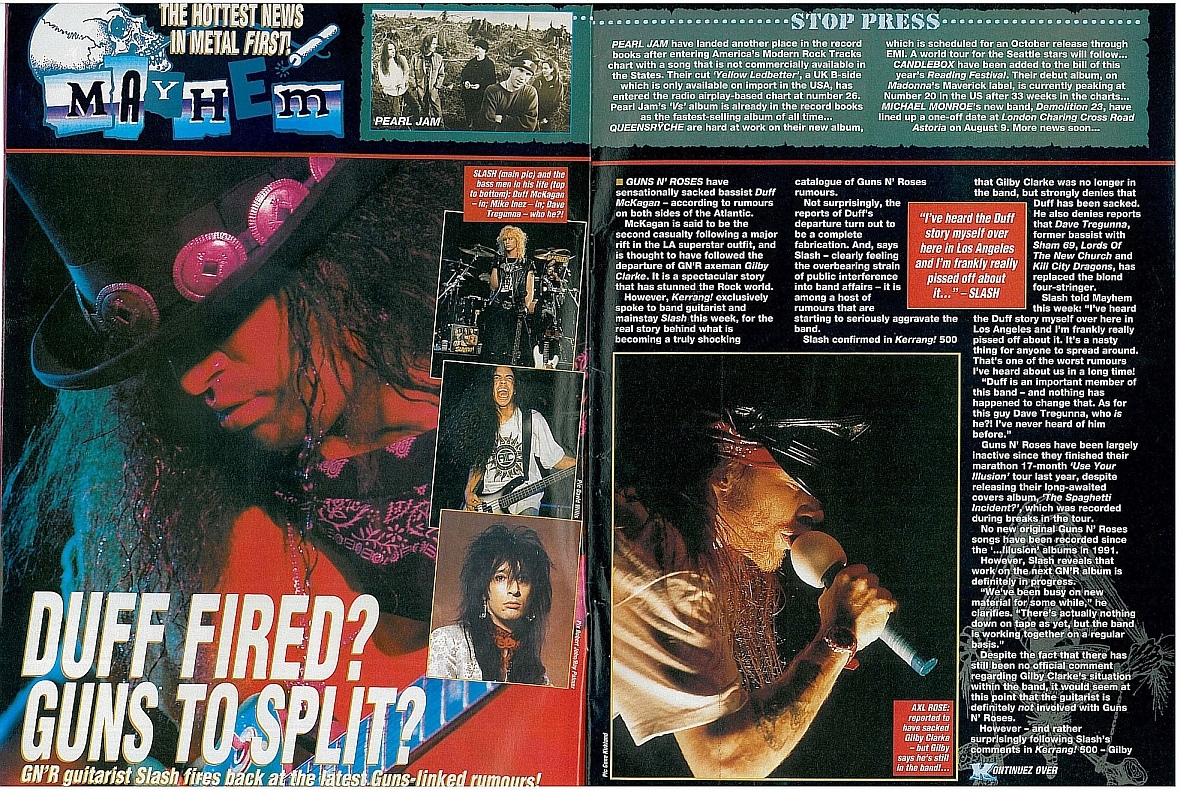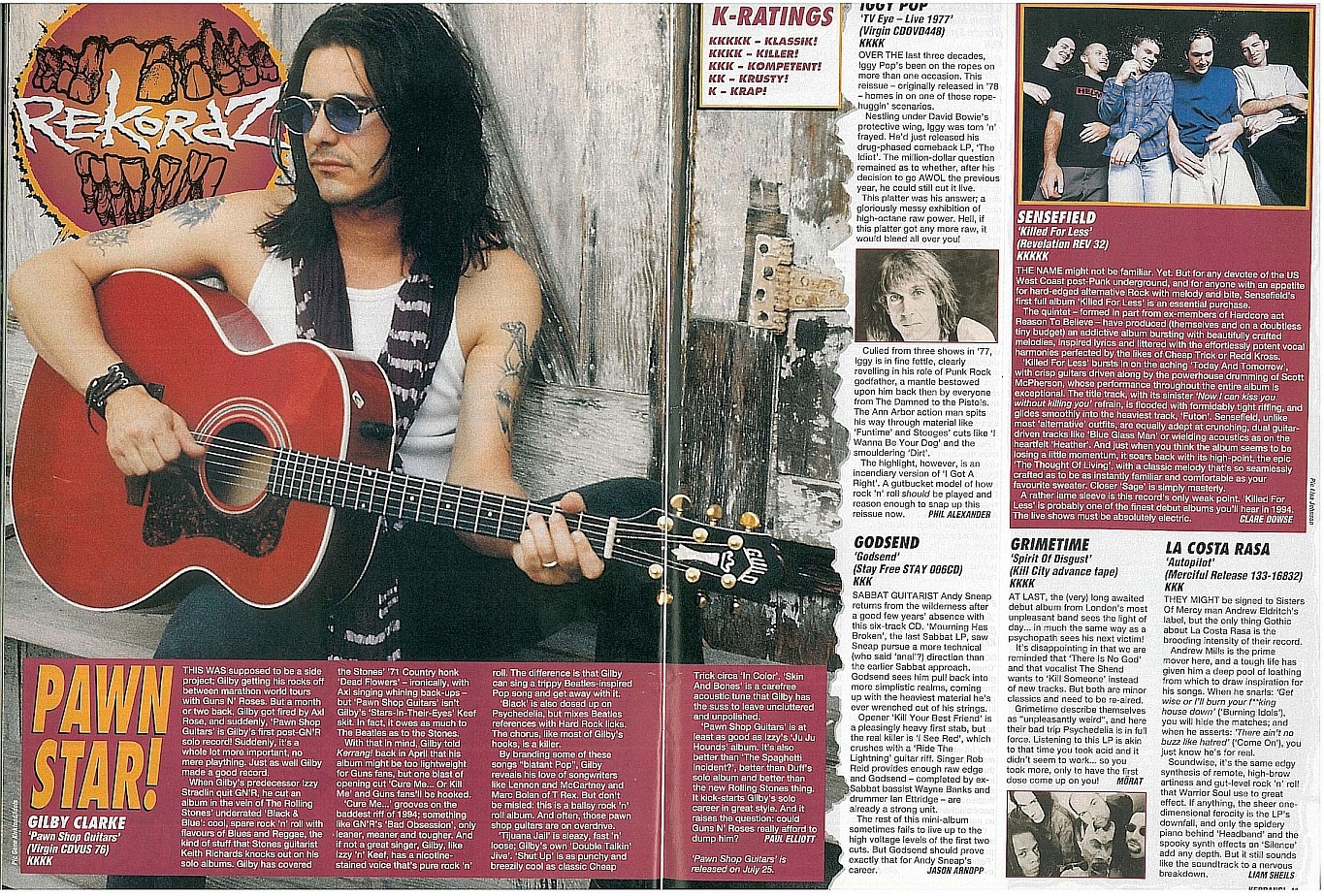 Transcript:
------------------
DUFF FIRED?  GUNS TO SPLIT?
GN'R guitarist Slash fires back at the latest Guns-linked rumours!
■
GUNS N' ROSES
have sensationally sacked bassist
Duff McKagan
- according to rumours on both sides of the Atlantic. 
McKagan is said to be the second casualty following a major rift in the LA superstar outfit, and is thought to have followed the departure of GN'R axeman
Gilby Clarke.
It is a spectacular story that has stunned the Rock world. 
However,
Kerrang!
exclusively spoke to band guitarist and mainstay
Slash
this week, for the real story behind what is becoming a truly shocking catalogue of Guns N' Roses rumours. 
Not surprisingly, the reports of Duff's departure turn out to be a complete fabrication. And, says Slash - clearly feeling the overbearing strain of public interference into band affairs - it is among a host of rumours that are starting to seriously aggravate the band. 
Slash confirmed in
Kerrang!
500 that Gilby Clarke was no longer in the band, but strongly denies that Duff has been sacked. He also denies reports that
Dave Tregunna,
former bassist with
Sham 69, Lords Of The New Church
and
Kill City Dragons,
has replaced the blond four-stringer. 
Slash told Mayhem this week: "I've heard the Duff story myself over here in Los Angeles and I'm frankly really pissed off about it. It's a nasty thing for anyone to spread around. That's one of the worst rumours I've heard about us in a long time! 
"Duff is an important member of this band - and nothing has happened to change that. As for this guy Dave Tregunna, who
is
he?! I've never heard of him before." 
Guns N' Roses have been largely inactive since they finished their marathon 17-month
'Use Your Illusion'
tour last year, despite releasing their long-awaited covers album,
'The Spaghetti Incident?',
which was recorded during breaks in the tour. 
No new original Guns N' Roses songs have been recorded since the '...Illusion' albums in 1991.
However, Slash reveals that work on the next GN'R album is definitely in progress. 
"We've been busy on new material for some while," he clarifies. "There's actually nothing down on tape as yet, but the band is working together on a regular basis."  
Despite the fact that there has still been no official comment regarding Gilby Clarke's situation within the band, it would seem at this point that the guitarist is definitely
not
involved with Guns N' Roses. 
However - and rather surprisingly following Slash's comments in
Kerrang!
500 – Gilby has recently been quoted in the press as saying he is still in the band. With the volatile nature of GN'R and frontman
Axl Rose
, a reconciliation between the singer and Gilby cannot fully be ruled out. 
In the meantime, Slash is also working hard on material for his planned solo album,
'SVO Snakepit',
set to be released within the next few months by Geffen Records. 
"I have all the songs written now and I'm pushing on with recording the basic tracks, using
Matt
(Sorum
- drums), Gilby and
Mike (Inez - Alice In Chains'
bassist). 
But I still haven't decided on the person to sing with me. I've narrowed down the choice to five guys. They're all experienced and have had albums released. But I don't want to name any of them at this stage. It would be unfair to raise anyone's hopes, only to dash them." 
Slash continues: "As far as my record's concerned, I'm delighted with the way everything is going. It's gonna sound heavy and ballsy, just wait and see!" 
The tousled-haired guitarist also took time out to comment on his appearance at the Gibson Guitars
'Night Of 100 Guitars'
concert held at
Wembley Arena:
"It was real fun," he says. "I had a great time, although I suffered from severe jet lag because my schedule only allowed me to fly from LA to London the day before the gig - and I had to fly back again the following morning. Still, it was worth it, just to be able to play with someone like
Paul Rodgers'."
In addition to Slash's solo LP, Gilby's
'Pawn Shop Guitars'
album - released through Virgin on July 25 - and possibly a new GN'R record, Guns N' Roses fans should also keep an eye out for an official biography on the band, due to be published by DEL Books next year. It has been written by long-time band associate
Del James.
And in September, BBC TV will screen a documentary on GN'R's official photographer,
Robert John. 
MALCOLM DOME
*** 
THE STORY SO FAR...
•  Gilby Clarke tells
Kerrang!
in issue 494 that "there is no next GN'R album". 
• Rumours circulate that Gilby has been fired from the band. 
• Tabloid newspapers, including the
Daily Mirror,
the
NME
and
Melody Maker,
publish stories that GN'R are on the brink of splitting up, substantiating reports with quotes from
Kerrang!
494. 
• The Guns N' Roses camp flatly refuses to comment on the situation. 
• Slash confirms Gilby's sacking in
Kerrang!
500. He also reveals plans for his debut solo album. 
• Slash arrives in London for a guest appearance at the Gibson Guitars centenary concert. 
• Spurious reports spread that Duff McKagan has been sacked by GN'R. 
• Gilby Clarke releases his first solo LP, 'Pawn Shop Guitars', on July 25. He states in the press that he is still a member of Guns N' Roses. 
To be continued!...
*** 
SLASH SPIKES HIS GUN?
Former Quireboys frontman on shortlist to sing on solo LP!
KERRANG!
CAN reveal that one of the singers approached by Slash is former Quireboys frontman, Spike. 
The singer has been far from inactive since The Quireboys split last year, and while the new outfit Blood From A Stone, which featured former bandmates Guy Griffin and Nigel Mogg, has since split, Spike's own band, God's Hotel, appears to be going from strength to strength. The band features Ted Hut on bass, Doni Gray on drums and female bassist Dominique. Gray was the drummer with acclaimed retro trio Burning Tree, who released one album in 1990 before frontman Marc Ford split to join The Black Crowes. 
Mayhem understands there has been considerable record company interest in God's Hotel, as well as in a Spike solo career. The singer is obviously considering the Slash situation very carefully. 
*** 
PAWN STAR!
GILBY CLARKE
'Pawn Shop Guitars' (Virgin CDVUS 76)
KKKK
THIS WAS supposed to be a side project; Gilby getting his rocks off between marathon world tours with Guns N' Roses. But a month or two back, Gilby got fired by Axl Rose, and suddenly, 'Pawn Shop Guitars' is Gilby's first post-GN'R solo record! Suddenly, it's a whole lot more important, no mere plaything. Just as well Gilby made a good record. 
When Gilby's predecessor Izzy Stradlin quit GN'R, he cut an album in the vein of The Rolling Stones' underrated 'Black & Blue': cool, spare rock 'n' roll with flavours of Blues and Reggae, the kind of stuff that Stones guitarist Keith Richards knocks out on his solo albums. Gilby has covered the Stones' 71 Country honk 'Dead Flowers' - ironically, with Axl singing whining back-ups - but 'Pawn Shop Guitars' isn't Gilby's 'Stars-ln-Their-Eyes' Keef skit. In fact, it owes as much to The Beatles as to the Stones. 
With that in mind, Gilby told
Kerrang!
back in April that his album might be too lightweight for Guns fans, but one blast of opening cut 'Cure Me... Or Kill Me' and Guns fans'll be hooked.
'Cure Me...' grooves on the baddest riff of 1994; something like GN'R's 'Bad Obsession', only leaner, meaner and tougher. And if not a great singer, Gilby, like Izzy 'n' Keef, has a nicotine- stained voice that's pure rock 'n' roll. The difference is that Gilby can sing a trippy Beatles-inspired Pop song and get away with it. 
'Black' is also dosed up on Psychedelia, but mixes Beatles references with Hard Rock licks. The chorus, like most of Gilby's hooks, is a killer. 
By branding some of these songs "blatant Pop", Gilby reveals his love of songwriters like Lennon and McCartney and Marc Bolan of T Rex. But don't be misled: this is a ballsy rock 'n' roll album. And often, those pawn shop guitars are on overdrive. 
'Tijuana Jail' is sleazy, fast 'n' loose; Gilby's own 'Double Talkin' Jive'. 'Shut Up' is as punchy and breezily cool as classic Cheap Tnck circa 'In Color. 'Skin And Bones' is a carefree acoustic tune that Gilby has the suss to leave uncluttered and unpolished. 
'Pawn Shop Guitars' is at least as good as Izzy's 'Ju Ju Hounds' album. It's also better than 'The Spaghetti Incident?', better than Duff's solo album and better than the new Rolling Stones thing. It kick-starts Gilby's solo career in great style. And it raises the question: could Guns N' Roses really afford to dump him?  
PAUL ELLIOTT
'Pawn Shop Guitars' is released on July 25.

Blackstar

ADMIN




Posts

: 12236


Plectra

: 80261


Reputation

: 97


Join date

: 2018-03-17



It's kind of funny that Kerrang, while reporting what "sensationally" happened in GNR, refers to other music publications as "tabloid".

Blackstar

ADMIN




Posts

: 12236


Plectra

: 80261


Reputation

: 97


Join date

: 2018-03-17



Blackstar wrote:It's kind of funny that Kerrang, while reporting what "sensationally" happened in GNR, refers to other music publications as "tabloid".
It's funny that they go with that title while having a quote inside where Slash denies it.

Soulmonster

Band Lawyer







Posts

: 15412


Plectra

: 75161


Reputation

: 831


Join date

: 2010-07-06



---
Permissions in this forum:
You
cannot
reply to topics in this forum