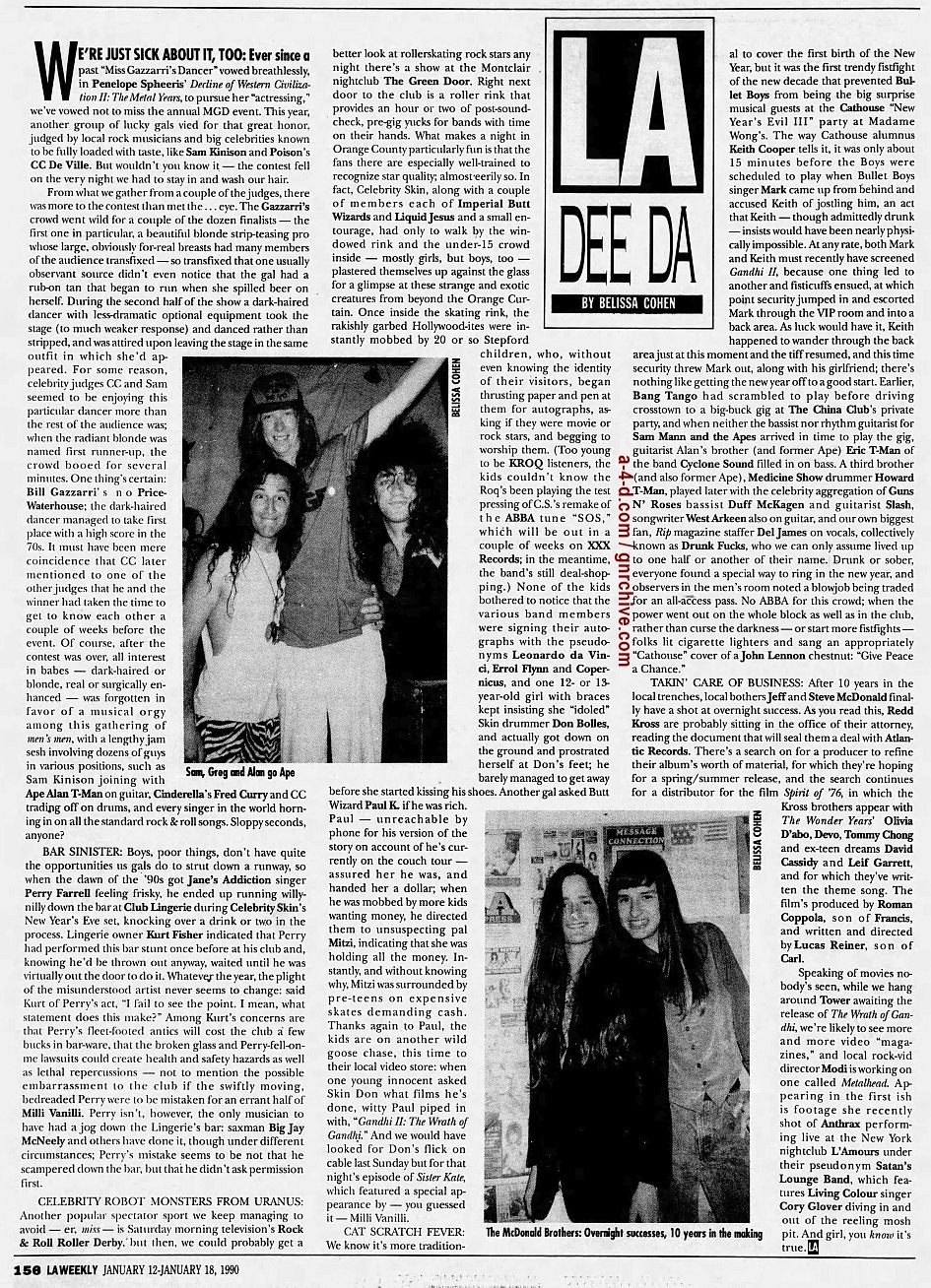 Transcript (excerpt):
---------------------------
CAT SCRATCH FEVER: We know it's more traditional to cover the first birth of the New Year, but it was the first trendy fistfight of the new decade that prevented Bullet Boys from being the big surprise musical guests at the Cathouse "New Year's Evil III" party at Madame Wong's. The way Cathouse alumnus Keith Cooper tells it, it was only about 15 minutes before the Boys were scheduled to play when Bullet Boys singer Mark came up from behind and accused Keith of jostling him, an act that Keith — though admittedly drunk — insists would have been nearly physically impossible. At any rate, both Mark and Keith must recently have screened Gandhi II, because one thing led to another and fisticuffs ensued, at which point security jumped in and escorted Mark through the VIP room and into a back area. As luck would have it, Keith happened to wander through the back area just at this moment and the tiff resumed, and this time security threw Mark out, along with his girlfriend; there's nothing like getting the new year off to a good start.
Earlier, Bang Tango had scrambled to play before driving crosstown to a big-buck gig at The China Club's private party, and when neither the bassist nor rhythm guitarist for Sam Mann and the Apes arrived in time to play the gig, guitarist Alan's brother (and former Ape) Eric T-Man of the band Cyclone Sound filled in on bass. A third brother (and also former Ape), Medicine Show drummer Howard T-Man, played later with the celebrity aggregation of
Guns N' Roses
bassist
Duff McKagan
and guitarist
Slash
, songwriter
West Arkeen
also on guitar, and our own biggest fan, Rip magazine staffer
Del James
on vocals, collectively known as
Drunk Fucks
, who we can only assume lived up to one half or another of their name. Drunk or sober, everyone found a special way to ring in the new year, and observers in the men's room noted a blowjob being traded for an all-access pass. No ABBA for this crowd; when the power went out on the whole block as well as in the club, rather than curse the darkness — or start more fistfights — folks lit cigarette lighters and sang an appropriately "Cathouse" cover of a John Lennon chestnut: "Give Peace a Chance."

Blackstar

ADMIN




Posts

: 9408


Plectra

: 64243


Reputation

: 97


Join date

: 2018-03-17



---
Permissions in this forum:
You
cannot
reply to topics in this forum