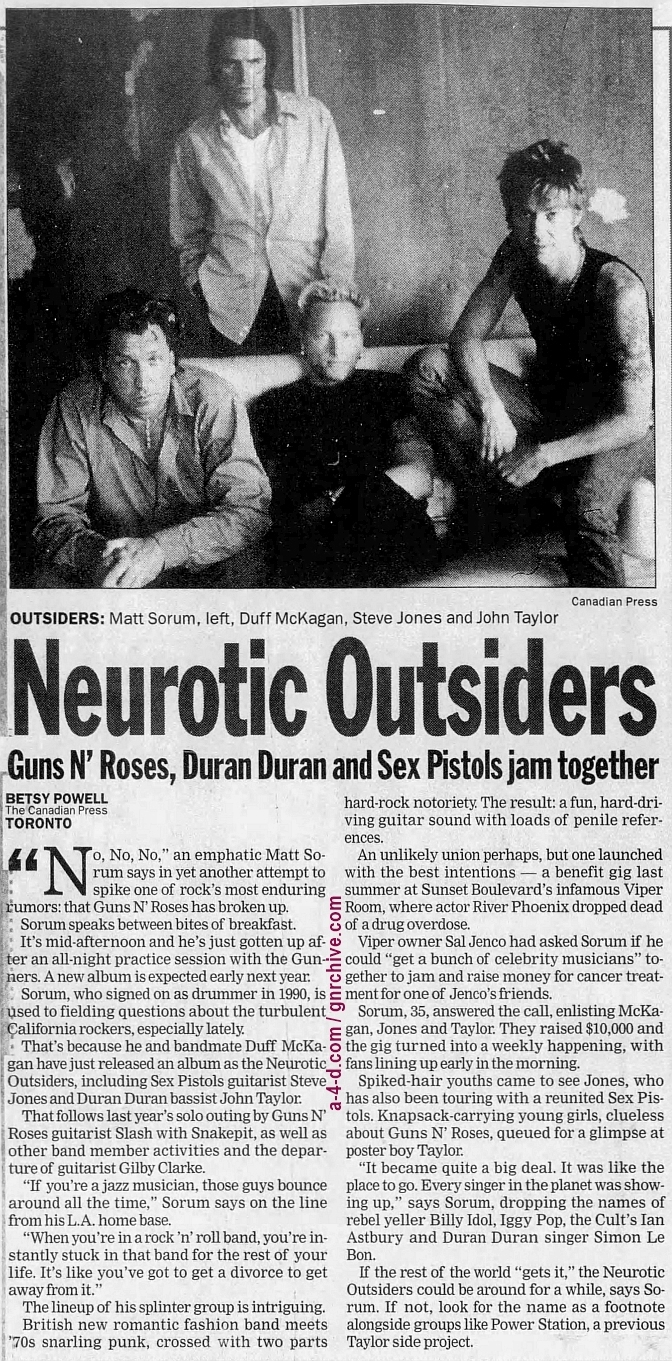 Transcript:
-----------------
Neurotic Outsiders
Guns N' Roses, Duran Duran and Sex Pistols jam together
BETSY POWELL
The Canadian Press
TORONTO
"No, No, No," an emphatic Matt So-rum says in yet another attempt to spike one of rock's most enduring rumors: that Guns N' Roses has broken up.
Sorum speaks between bites of breakfast.
It's mid afternoon and he's just gotten up af-ter an all-night practice session with the Gunners. A new album is expected early next year.
Sorum, who signed on as drummer in 1990, is used to fielding questions about the turbulent California rockers, especially lately.
That's because he and bandmate Duff McKagan have just released an album as the Neurotic Outsiders, including Sex Pistols guitarist Steve Jones and Duran Duran bassist John Taylor.
That follows last year's solo outing by Guns N' Roses guitarist Slash with Snakepit, as well as other band member activities and the departure of guitarist Gilby Clarke.
"If you're a jazz musician, those guys bounce around all the time," Sorum says on the line from his L.A. home base.
"When you're in a rock 'n' roll band, you're instantly stuck in that band for the rest of your life. It's like you've got to get a divorce to get away from it."
The lineup of his splinter group is intriguing.
British new romantic fashion band meets '70s snarling punk, crossed with two parts hard-rock notoriety The result: a fun, hard-driving guitar sound with loads of penile references.
An unlikely union perhaps, but one launched with the best intentions — a benefit gig last summer at Sunset Boulevard's infamous Viper Room, where actor River Phoenix dropped dead of a drug overdose.
Viper owner Sal Jenco had asked Sorum if he could "get a bunch of celebrity musicians" together to jam and raise money for cancer treatment for one of Jenco's friends.
Sorum, 35, answered the call, enlisting McKagan, Jones and Taylor. They raised $10,000 and the gig turned into a weekly happening, with fans lining up early in the morning.
Spiked-hair youths came to see Jones, who has also been touring with a reunited Sex Pistols. Knapsack-carrying young girls, clueless about Guns N' Roses, queued for a glimpse at poster boy Taylor.
"It became quite a big deal. It was like the place to go. Every singer in the planet was showing up," says Sorum, dropping the names of rebel yeller Billy Idol, Iggy Pop, the Cult's Ian Astbury and Duran Duran singer Simon Le Bon.
If the rest of the world "gets it," the Neurotic Outsiders could be around for a while, says Sorum. If not, look for the name as a footnote alongside groups like Power Station, a previous Taylor side project.

Blackstar

ADMIN




Posts

: 9084


Plectra

: 61944


Reputation

: 97


Join date

: 2018-03-17



---
Permissions in this forum:
You
cannot
reply to topics in this forum