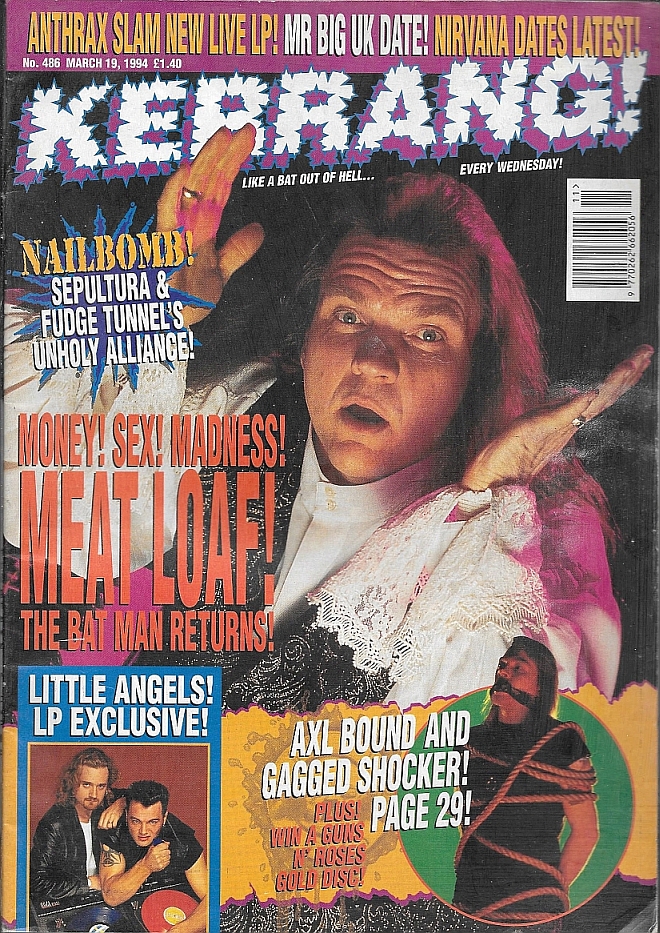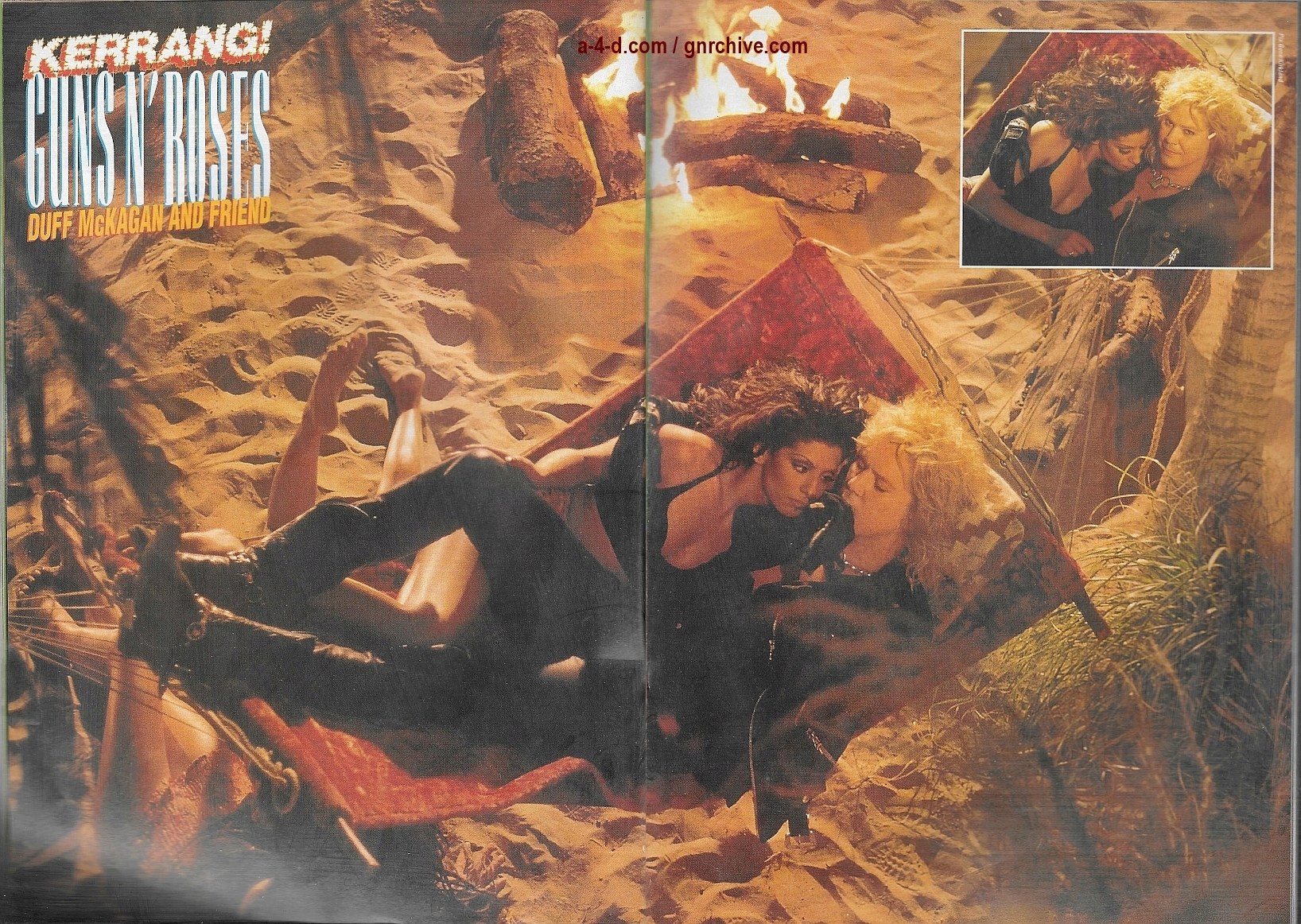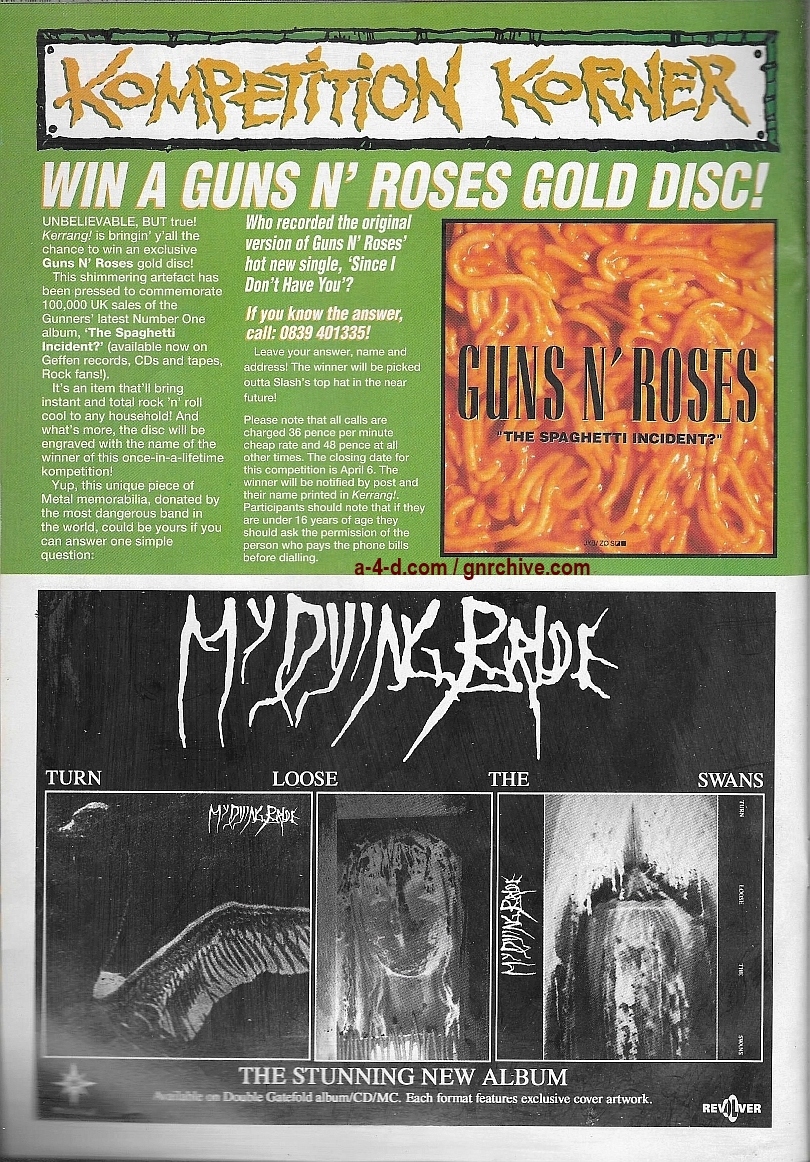 Transcript:
---------------------
VIDEO VIOLENCE!
In another Big K! world exclusive we bring you these sensational stills from GUNS N' ROSES' shocking new video, 'Since I Don't Have You'! Plus we bring you the latest on AXL's courtroom drama, SLASH'S solo LP and DUFF's possible collaboration with David Bowie!
AXL ACCUSED!
GUNS N' Roses' volatile frontman, Axl Rose, was blasted this week in a shocking front-page story in
Today
newspaper.
Rose was accused by ex-wife Erin Everly of inflicting "savage mental and physical abuse" upon her during the couple's turbulent one-year marriage, which ended in 1991.
Erin is suing for assault. Criminal charges may be brought against the singer in Los Angeles.
Erin even claims that following one violent dispute with Rose, she suffered a cardiac arrest after being injected with cocaine and heroin while unconscious.
Ironically, Erin was the inspiration for Guns N' Roses' classic love song, 'Sweet Child O' Mine'. Yet when the couple split, Rose allegedly wrote on the garage door at their home: "Erin Rose, RIP. Sweet Child O' Die. Slut. You were one of many. Nothing special."
Today
reports that Rose has been arrested more than 20 times. Erin's lawsuit is scheduled to go to court within the next few months.
***
SLASH: NO SOLO ALBUM!
CONTRARY TO rumours, GN'R axeman Slash will not be following bassist Duff McKagan and rhythm guitarist Gilby Clarke by releasing a solo LP.
Slash told
Kerrang
!: "I'm working on stuff at home, but I work with the other guys in the band on it. It sorta sounds like a cliché, but as far as I'm concerned, Guns is more or less a vehicle for doing my own thing.
"I don't wanna do a Gary Moore type record or anything like that. I love Gary Moore and everything, but that's all kinda dull. Guitar records bore me.
"I'm not interested in trying to express myself as a guitar player, other than the fact that I go and play with all these different people. I jam a lot and I've played on a lot of records.
"If I need to let off some steam somewhere, I can always go and play with whoever. But as far as doing a solo record is concerned, I don't think I've got anything to prove."
Slash has no desire to carry on singing after contributing lead vocals to GN'R's cover of T-Rex's 'Buick McKane' on 'The Spaghetti Incident?'.
"I hated that," he laughs. "It came out okay, but the only reason I sang on it was because it was one of the songs that I wanted to do. Axl was cool with it, but when it came down to singing it, it just didn't feel natural for him.
"He called me up at home and said, 'Why don't you sing it?'. And I was like, 'Huh? Okay!'. I went down there and had the hardest time standing in front of the microphone without a guitar.
"But it got done, otherwise it wouldn't have made it on the record. I don't plan on doing any more taking cameo vocals, though!"
MURRAY ENGLEHEART
***
DUFF CRACKS UP!
GN'R BASSIST Duff McKagan is to star on the forthcoming David Bowie covers album.
Duff recorded a version of Bowie's 'Cracked Actor' for a single B-side. Bowie heard the song and got in touch with Duff immediately.
Says the lanky Gunner: "Bowie wanted Guns N' Roses to do a song for his album. Then he heard my thing, and was like, 'F**k - I'll just use that!'. I've been on the road most of the time since then, so I haven't heard anything back..."
MURRAY ENGLEHEART

Blackstar

ADMIN




Posts

: 12244


Plectra

: 80304


Reputation

: 97


Join date

: 2018-03-17



---
Permissions in this forum:
You
cannot
reply to topics in this forum