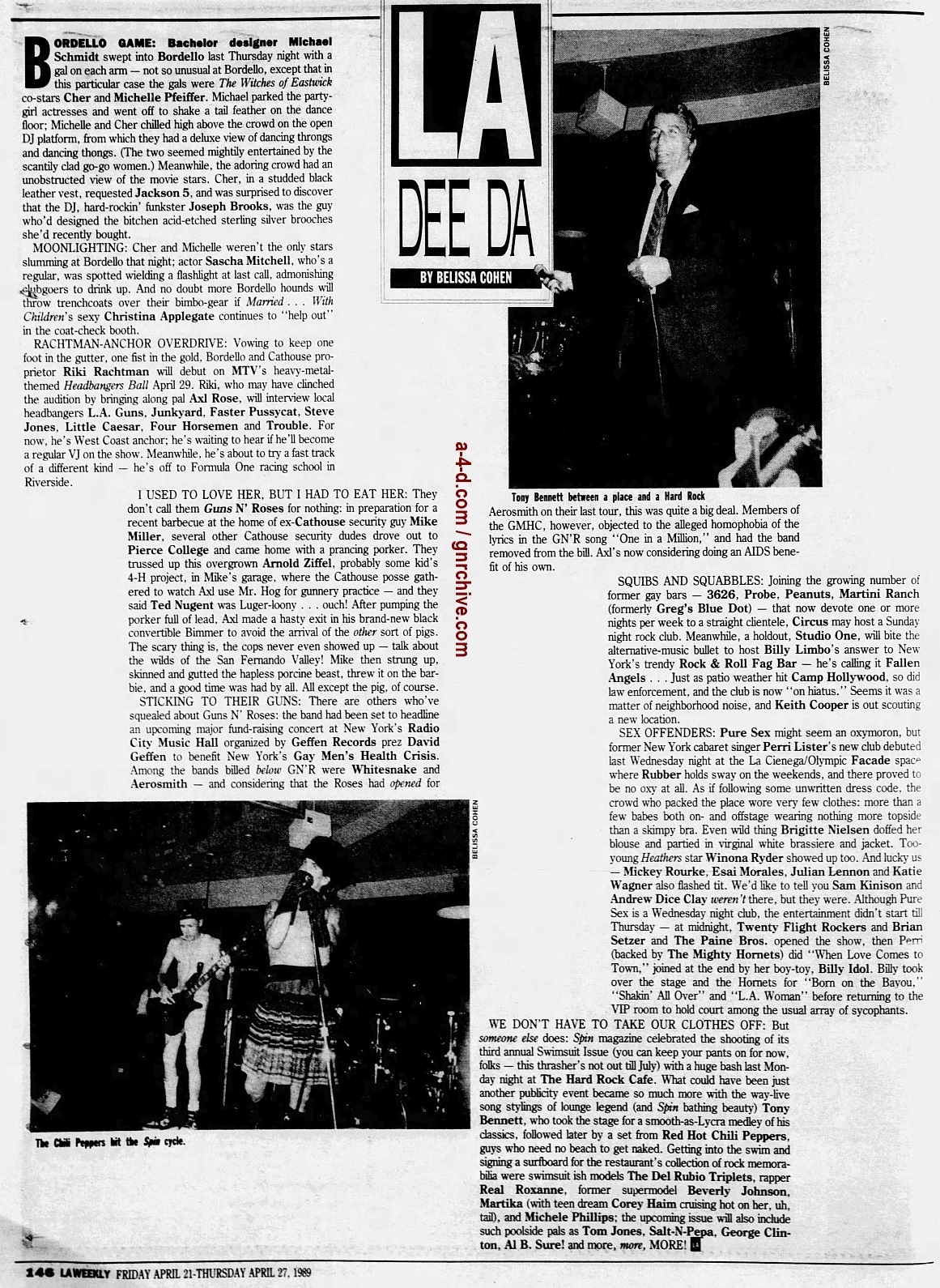 Transcript (excerpts):
-----------------------------
RACHTMAN-ANCHOR OVERDRIVE:
Vowing to keep one foot in the gutter, one fist in the gold. Bordello and Cathouse proprietor
Riki Rachtman
will debut on MTV's heavy-metal-themed Headbangers Ball April 29. Riki, who may have clinched the audition by bringing along pal
Axl Rose
, will interview local headbangers L.A. Guns, Junkyard, Faster Pussycat, Steve Jones, Little Caesar, Four Horsemen and Trouble. For now, he's West Coast anchor: he's waiting to hear if he'll become a regular VJ on the show. Meanwhile, he's about to try a fast track of a different kind — he's off to Formula One racing school in Riverside.
I USED TO LOVE HER, BUT I HAD TO EAT HER:
They don't call them
Guns N' Roses
for nothing: in preparation for a recent barbecue at the home of ex-Cathouse security guy
Mike Miller
, several other Cathouse security dudes drove out to Pierce College and came home with a prancing porker. They trussed up this overgrown Arnold Ziffel, probably some kid's 4-H project, in Mike's garage, where the Cathouse posse gathered to watch
Axl
use Mr. Hog for gunnery practice — and they said Ted Nugent was Luger-loony . . . ouch! After pumping the porker full of lead,
Axl
made a hasty exit in his brand-new black convertible Bimmer to avoid the arrival of the
other
sort of pigs. The scary thing is, the cops never even showed up — talk about the wilds of the San Fernando Valley! Mike then strung up, skinned and gutted the hapless porcine beast, threw it on the barbie, and a good time was had by all. All except the pig, of course.
STICKING TO THEIR GUNS:
There are others who've squealed about
Guns N' Roses
: the band had been set to headline an upcoming major fund-raising concert at New York's Radio City Music Hall organized by Geffen Records prez
David Geffen
to benefit New York's Gay Men's Health Crisis. Among the bands billed
below
GN'R were
Whitesnake
and
Aerosmith
— and considering that the Roses had
opened
for Aerosmith on their last tour, this was quite a big deal. Members of the GMHC, however, objected to the alleged homophobia of the lyrics in the GN'R song "One in a Million,'' and had the band removed from the bill.
Axl
's now considering doing an AIDS benefit of his own.
Last edited by Blackstar on Wed Aug 28, 2019 8:48 am; edited 2 times in total

Blackstar

ADMIN




Posts

: 12215


Plectra

: 80121


Reputation

: 97


Join date

: 2018-03-17



Last edited by Blackstar on Thu Dec 24, 2020 5:57 am; edited 1 time in total

Blackstar

ADMIN




Posts

: 12215


Plectra

: 80121


Reputation

: 97


Join date

: 2018-03-17



So not only can we conclude that Axl didn't have such an incredibly busy night as we discussed before, but also that it is more likely that he actually shot a pig.

Soulmonster

Band Lawyer







Posts

: 15411


Plectra

: 75151


Reputation

: 831


Join date

: 2010-07-06



---
Permissions in this forum:
You
cannot
reply to topics in this forum