Thanks to
@Surge
for sending us this article!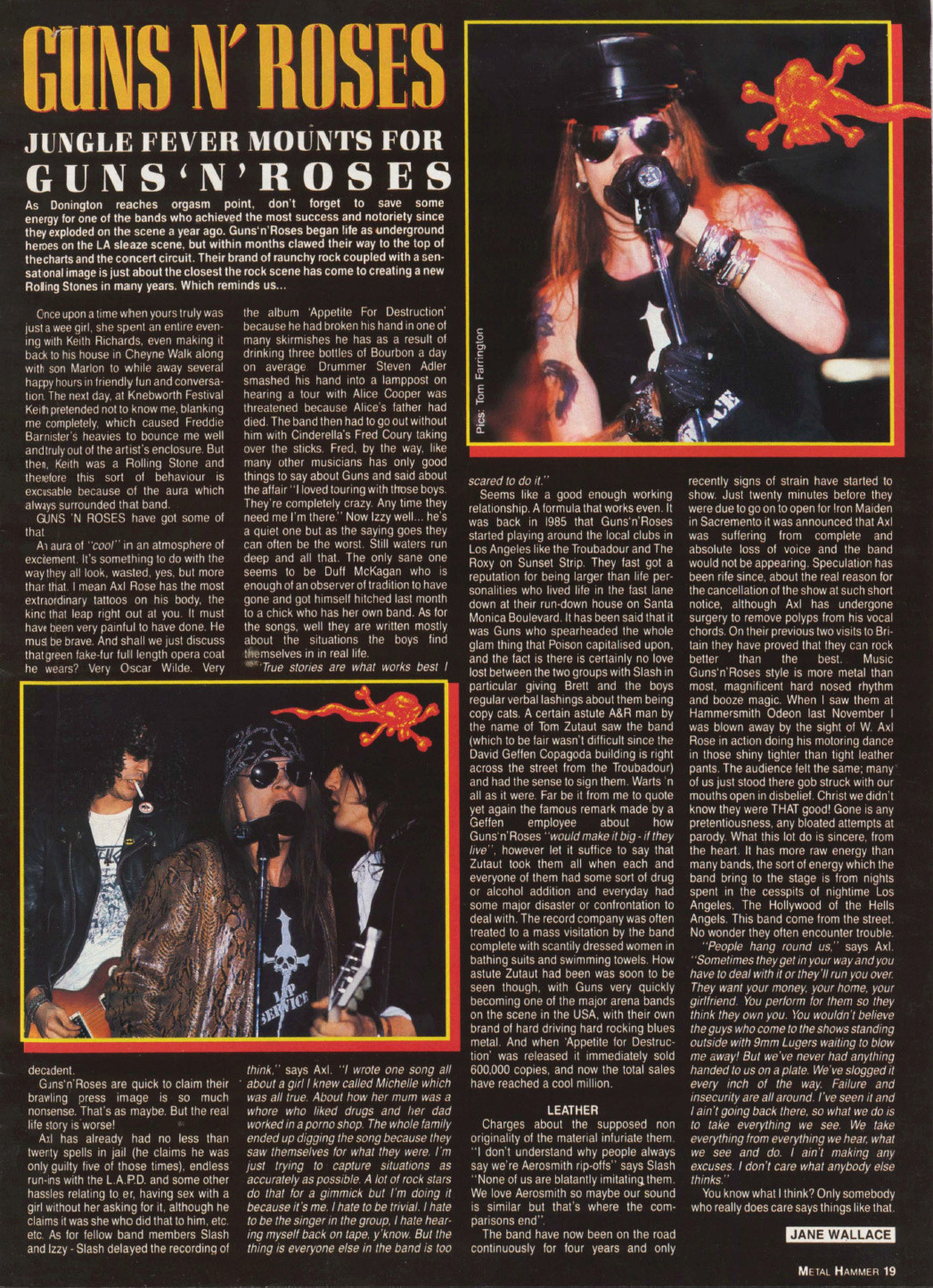 Transcript:
JUNGLE FEVER MOUNTS FOR GUNS N' ROSES

As Donington reaches orgasm point, don't forget to save some energy for one of the bands who achieved the most success and notoriety since they exploded on the scene a year ago. Guns'n'Roses began life as underground heroes on the LA sleaze scene, but within months clawed their way to the top of the charts and the concert circuit. Their brand of raunchy rock coupled with a sensational image is just about the closest the rock scene has come to creating a new Roling Stones in many years. Which reminds us...
Once upon a time when yours truly was just a wee girl, she spent an entire evening with Keith Richards, even making it back to his house in Cheyne Walk along with son Marlon to while away several happy hours in friendly fun and conversation The next day, at Knebworth Festival, Keith pretended not to know me, blanking me completely which caused Freddie Barnister's heavies to bounce me well and truly out of the artist's enclosure But then, Keith was a Rolling Stone and therefore this sort of behaviour is excusable because of the aura which always surrounded that band.
GUNS 'N ROSES have got some of that.
An aura of
"cool'
in an atmosphere of excitement. Its something to do with the way they all look, wasted, yes, but more than that. I mean Axl Rose has the most extraordinary tattoos on his body, the kind that leap right out at you. It must have been very painful to have done. He must be brave. And shall we lust discuss that green fake-fur full length opera coat he wears? Very Oscar Wilde. Very decadent.
Guns'n'Roses are quick to claim their brawling press image is so much nonsense. That's as maybe. But the real life story is worse!
Axl has already had no less than twerty spells in jail (he claims he was only guilty five of those times), endless run-ins with the L.A.P.D. and some other hassles relating to, er, having sex with a girl without her asking for it, although he claims it was she who did that to him, etc etc. As for fellow band members Slash and Izzy - Slash delayed the recording of the album Appetite For Destruction because he had broken his hand in one of many skirmishes he has as a result of drinking three bottles of Bourbon a day on average. Drummer Steven Adler smashed his hand into a lamppost on hearing a tour with Alice Cooper was threatened because Alice's father had died. The band then had to go out without him with Cinderella's Fred Coury taking over the sticks Fred, by the way, like many other musicians, has only good things to say about Guns and said about the affair "I loved touring with those boys. They're completely crazy. Any time they need me I'm there." Now Izzy well... he's a quiet one but as the saying goes they can often be the worst. Still waters run deep and all that. The only sane one seems to be Duff McKagan who is enough of an observer of tradition to have gone and got himself hitched last month to a chick who has her own band. As for the songs, well they are written mostly about the situations the boys find themselves in in real life.
"True stones are what works best I think
," says Axl.
"I wrote one song all about a girl I knew called Michelle which was all true. About how her mum was a whore who liked drugs and her dad worked in a porno shop. The whole family ended up digging the song because they saw themselves for what they were. I'm just trying to capture situations as accurately as possible. A lot of rock stars do that for a gimmick but I'm doing it because its me. I hate to be trivial. I hate to be the singer in the group. I hate hearing myself back on tape, y'know. But the thing is everyone else in the band is too scared to do it.
"
Seems like a good enough working relationship. A formula that works even. It was back in 1985 that Guns'n'Roses started playing around the local clubs in Los Angeles like the Troubadour and The Roxy on Sunset Strip. They fast got a reputation for being larger than life personalities who lived life in the fast lane down at their run-down house on Santa Monica Boulevard. It has been said that it was Guns who spearheaded the whole glam thing that Poison capitalised upon, and the fact is there is certainly no love lost between the two groups with Slash in particular giving Brett and the boys regular verbal lashings about them being copy cats. A certain astute A&R man by the name of Tom Zutaut saw the band (which to be fair wasn't difficult since the David Geffen Copagoda building is right across the street from the Troubadour) and had the sense to sign them. Warts 'n all as it were. Far be it from me to quote yet again the famous remark made by a Geffen employee about how Guns'n'Roses
"would make it big - if they live"
, however let it suffice to say that Zutaut took them all when each and everyone of them had some sort of drug or alcohol addiction and everyday had some major disaster or confrontation to deal with. The record company was often treated to a mass visitation by the band complete with scantily dressed women in bathing suits and swimming towels. How astute Zutaut had been was soon to be seen though, with Guns very quickly becoming one of the major arena bands on the scene in the USA, with their own brand of hard driving hard rocking blues metal. And when 'Appetite for Destruction' was released it immediately sold 600.000 copies, and now the total sales have reached a cool million.
LEATHER
Charges about the supposed non originality of the material infuriate them "I don't understand why people always say we're Aerosmith rip-offs" says Slash "None of us are blatantly imitating them. We love Aerosmith so maybe our sound is similar but that's where the comparisons end."
The band have now been on the road continuously for four years and only recently signs of strain have started to show. Just twenty minutes before they were due to go on to open for Iron Maiden in Sacremento it was announced that Axl was suffering from complete and absolute loss of voice and the band would not be appearing. Speculation has been rife since, about the real reason for the cancellation of the show at such short notice, although Axl has undergone surgery to remove polyps from his vocal chords. On their previous two visits to Britain they have proved that they can rock better than the best. Music Guns'n'Roses style is more metal than most, magnificent hard nosed rhythm and booze magic. When I saw them at Hammersmith Odeon last November I was blown away by the sight of W. Axl Rose in action doing his motoring dance in those shiny tighter than light leather pants. The audience felt the same: many of us just stood there gob struck with our mouths open in disbelief. Christ we didn't know they were THAT good! Gone is any pretentiousness, any bloated attempts at parody. What this lot do is sincere, from the heart. It has more raw energy than many bands, the sort of energy which the band bring to the stage is from nights spent in the cesspits of nightime Los Angeles. The Hollywood of the Hells Angels. This band come from the street. No wonder they often encounter trouble.
"People hang round us,
" says Axl.
"Sometimes they get in your way and you have to deal with it or they'll run you over. They want your money, your home, your girlfriend. You perform for them so they think they own you. You wouldn't believe the guys who come to the shows standing outside with 9mm Lugers waiting to blow me away. But we've never had anything handed to us on a plate. We've slogged it every inch of the way. Failure and insecurity are all around. I've seen it and I ain't going back there, so what we do is to take everything we see. We take everything from everything we hear, what we see and do. I ain't making any excuses. I don't care what anybody else thinks.
"
You know what I think? Only somebody who really does care says things like that.
JANE WALLACE

Soulmonster

Band Lawyer







Posts

: 15412


Plectra

: 75159


Reputation

: 831


Join date

: 2010-07-06



---
Permissions in this forum:
You
cannot
reply to topics in this forum