Album:
Use Your Illusion II
, 1991, track no. 5.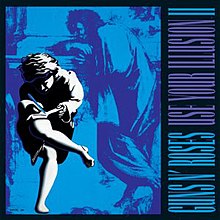 Written by:
Slash, Duff McKagan and Axl Rose.
Musicians:
Drums: Matt
Bass: Duff
Lead and Rhythm Guitars: Slash
Rhythm Guitar: Izzy
Piano: Dizzy
Vocals: Axl
Background Vocals: Duff
Live performances:
'Get In The Ring' has never been performed live.
Lyrics:

Why do you look at me when you hate me
Why should I look at you when you make me hate you too
I sense a smell of retribution in the air
I don't even understand why the fuck you even care
       
And I don't need your jealousy yeah
Why drag me down in your misery

And when you stare don't you think I feel it
But I'm gonna deal it back to you in spades
When I'm havin' fun ya know I can't conceal it
'Cause I know you'd never cut it in my game
       
Oh no
And when you're talkin' about a vasectomy
Yeah
I'll be writin' down your obituary
History

You got your bitches with the silicone injections
Crystal meth and yeast infections
Bleached blond hair, collagen lip projections
Who are you to criticize my intentions
Got your subtle manipulative devices
Just like you I got my vices
I got a thought that would be nice
I'd like to crush your head tight in my vice
Pain!!

And that goes for all you punks in the press
That want to start shit by printin' lies
Instead of the things we said
That means you
Andy Secher at Hit Parader
Circus Magazine
Mick Wall at Kerrang
Bob Guccione Jr. at Spin,
What you pissed off cuz your dad gets more pussy than you?
Fuck you
Suck my fuckin' dick
You be rippin' off the fuckin' kids
While they be payin' their hard earned money to read about the bands
They want to know about
Printin' lies startin' controversy
You wanta antagonize me
Antagonize me motherfucker
Get in the ring motherfucker
And I'll kick your bitchy little ass
Punk!

I don't like you, I just hate you
I gonna kick your ass, oh yeah! oh yeah!
You may not like our integrity yeah
We built a world out of anarchy oh yeah!

And in this corner weighin in at 850 pounds,
Guns N' Roses
Get in the ring
Yeah!

Yeah this song is dedicated to All the Guns n' fuckin' Roses fans
Who stuck with us through all the
Fucking shit
And to all those opposed...
Hmm...well
Quotes regarding the song and its making:
Talking about writing the song:
And Duff's brought in one song - Duff said it all in one song- it's called 'Why do you look at me when you hate me?' and it's just bad-assed.
Stick To Your Guns by Mick Wall; Kerrang, 21st and 28th of April 1990
We did get some work done [in Chicago in the summer of 1990]. We finished 'Civil War' and wrote 'Get In The Ring' and 'Pretty Tied Up,' to name a few.
Duff's autobiography, "It's So Easy", 2011, p. 151
We have a song called 'Why do You Look At Me When You Hate Me', which is basically about critics. Like, we were on tour and we'd read the local paper the next day, and you'd read about the show and it would say that we sucked. And then it would say what songs we played, and obviously the guy wasn't even there at the show! Or if he was, it was obvious in the review or the interview that the guy didn't like us to begin with. They should have gotten another journalist from the newspaper or the magazine or whatever to do it.
Kerrang! August 3, 1991
They would walk in with a biased opinion, so they were set to rip us up anyway. […] Some of the scenarios that go down with some of the people that write about us... I mean, they make it up," says Slash. "There's some interviews out there that I think are still on the stands which are totally unfactual, unfounded.
Kerrang! August 3, 1991
Do we have the tape decks rolling? We recorded a song last night that was the last song from the new album. We were up in Toronto until about 7:30 this morning working on it. It used to be called "Why Do You Look At Me When You Hate Me." Now it's called "Get In The Ring," where we proceed to tell Andy Secher, and Spin Magazine, and Circus Magazine to "Go ahead, fuck with me. Fuck with me, motherfucker." Anyway, we're gonna tape this, if you guys wanna help. All I need is about three good "get in the ring's" out of you and it will be on the record that this show helped (?) So if we get this going, all you gotta say is, "Get in the ring!" [Get in the ring chant] Thank you very-fuckin' much! […] We got it, alright. Thank you very much! And if you didn't yell, don't tell your friends you sang on this motherfuckin' record. I wanna see you guys at parties going, "Hey, I didn't see you yelling," "Shut the fuck up!"
Performing Arts Center, Saratoga Springs, NY, USA, June 10, 1991
'Get In The Ring' was a song that was… basically put together by Slash and Duff, and I came up with the low vocal part. And Slash and I wrote that part together. We wrote different verses. And we wrote a whole song that when the whole band actually had the song together, the words didn't fit the arrangement of the song. And so, we were in Toronto, playing a show in Toronto. And we had one last song to finish recording, that was 'Get In The Ring'. So, we went in the studio and just kind of started putting things together.
WNEW 102.7, September 1991
I just hated some of the music critics, the ones which were uninformed. When they just listened to classical music and didn't know about rock and then they criticised it. So I wrote a song, you know that 'Get In The Ring' song. For me, I've never been a pop single writer, you know about a boy and a girl that meet up and then suck dick, I'm not like that, I'm just able to write songs so that I can exorcise immediately. I just write songs as my therapy.
Clash Music, November 2009
Talking about the rant against named media individuals:
And then Duff decided that I should express my feelings about how we've been treated by the press, because that was his initial concept for the song, and that I should just go for it. And I was kind of like: "Are you sure? You sure I should do this?". And then Tom Zutaut, of Geffen, was there and he was like: "Go for it." So I got behind the mike and went for it. And everybody was really happy and we just decided to do it. And this naming names, and things like that, were because most bands can't afford to express how they feel about how they're treated in the press, because they need the press so much. And I know that this could hurt us, but we're in a position where I think we owe it to ourselves, and we owe it to an element of the public....
WNEW 102.7, September 1991
[Asked if the magazines named in the song were that bad]
The ones I mentioned in the situations that I touched, yeah. You know, it's like, one of the reasons that I did that was because I remember some of those same mags doing the same things to Zeppelin; and I couldn't get a decent Zeppelin interview and learn what I needed to do to put a band together right. And when kids, you know, are reading these magazines and they're getting false stories, or twisted stories, or things saying I'm running over dogs, you know, and everything confused of who is in the band and when and stuff... It really doesn't help a kid out to know about a band, or his favorite band, and it doesn't really give this person anything to work with. And they're paying good money for it, you know. And there's distribution companies and stuff that are putting out the magazines, and I don't really approve of their methods and things like that. So yeah, it is that bad.
[Asked about name-calling Bob Guccione Jr.]
[...] I did hit him below the belt with my comments. [...] And you know, that's a problem of mine, but he wouldn't let up. But this Get in the Ring thing isn't necessarily literal about getting in the ring with boxing gloves, you know. Otherwise I would be a boxer.
Rockline, November 27, 1991
Axl's real critical of himself, and his anger seems to propel him in a lot of ways. That song 'Get I The Ring', I really love a lot of the lyrics just cos they're really aggressive. Axl played guitar on that track as well, that was the first time I saw him play electric guitar, and he did pretty well. I was digging it cos it was a god punk energy. But with all the names at the end I was thinking, shit! I wouldn't have slagged people off on my record.
Kerrang!, September 1992
You know what, I wrote part of that song. The title was "Why do you look at me when you hate me", and it was about the press writing shit about us. Well, why do you write about us if you actually hate us? I could give you the names of those that hated us. Why didn't the press hire another people to write about us, instead of bashing us? Why did they have to write about us? I was very idealistic and I thought the world had changed. You need a lot of negative energy within to write so much about someone you actually hate. [...] Then Axl took it very personal. He thought it a good idea. But definitely, if there's some filthy people that need to be treated like filth, who cares? Fuck 'em!
Popular 1, July 2000
That was not my idea, you know, that was Tom Zutaut and Duff McKagan's idea. Because there was this blank space in the song, and I was 'We've gotta do something,' and they were like 'Why don't you just go in and go off on Andy Secher and Bob Guccione Jr?' and 'Sure, yeah, yeah' and eventually I did and everybody was happy with it. But when it hit the fan everybody disappeared. And I was naive and didn't realize the political wars going on between the different publicists at the record labels and their relationships with The Rolling Stone and Spin, and whatever, so I was set up but no one stepped forward to say anything.
That Metal Show with Eddie Trunk, November 2011

Last edited by Soulmonster on Sat Mar 26, 2022 8:59 am; edited 5 times in total

Soulmonster

Stage manager







Posts

: 14977


Plectra

: 73386


Reputation

: 831


Join date

: 2010-07-06




Soulmonster

Stage manager







Posts

: 14977


Plectra

: 73386


Reputation

: 831


Join date

: 2010-07-06




Blackstar

ADMIN




Posts

: 10619


Plectra

: 71347


Reputation

: 96


Join date

: 2018-03-17



Soulmonster likes this post
---
Permissions in this forum:
You
cannot
reply to topics in this forum