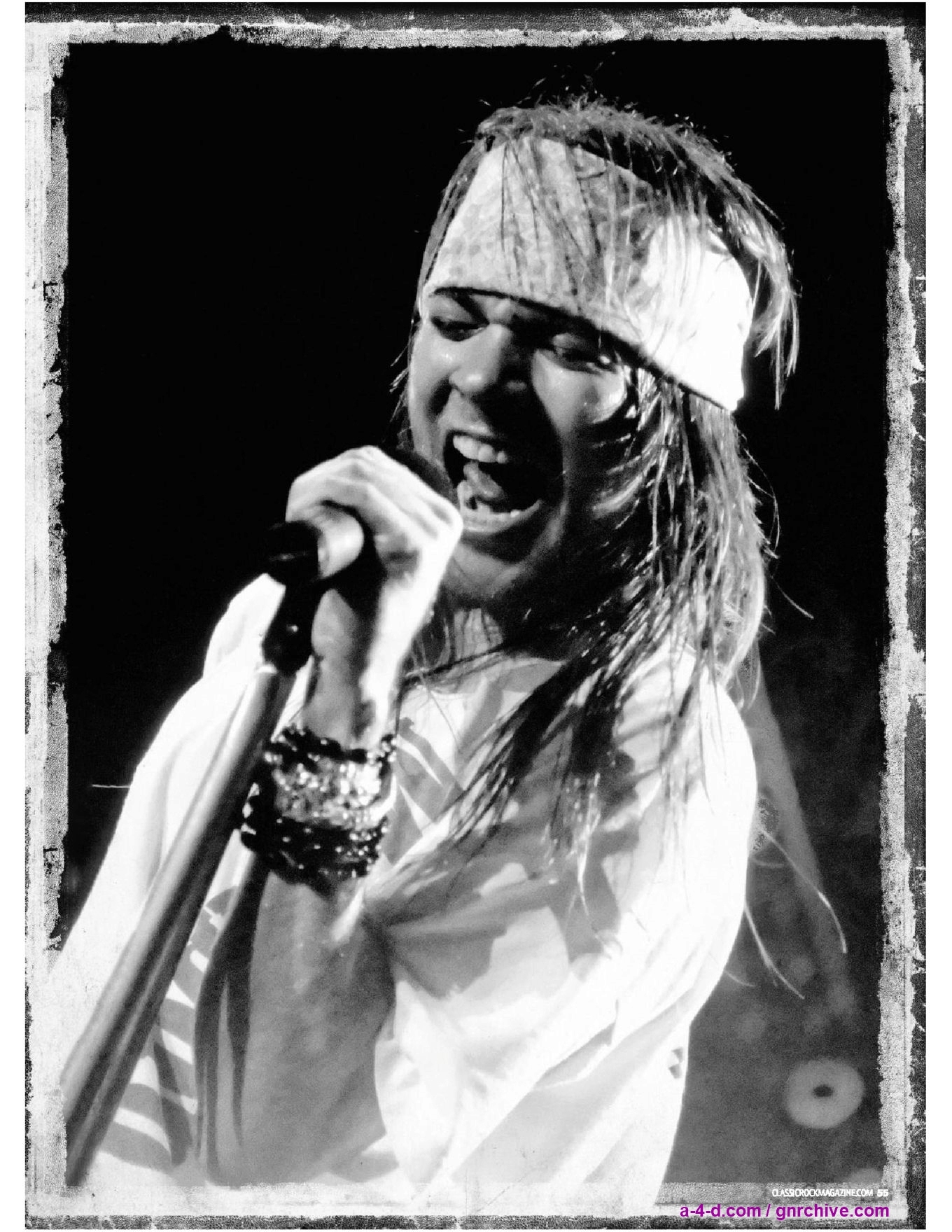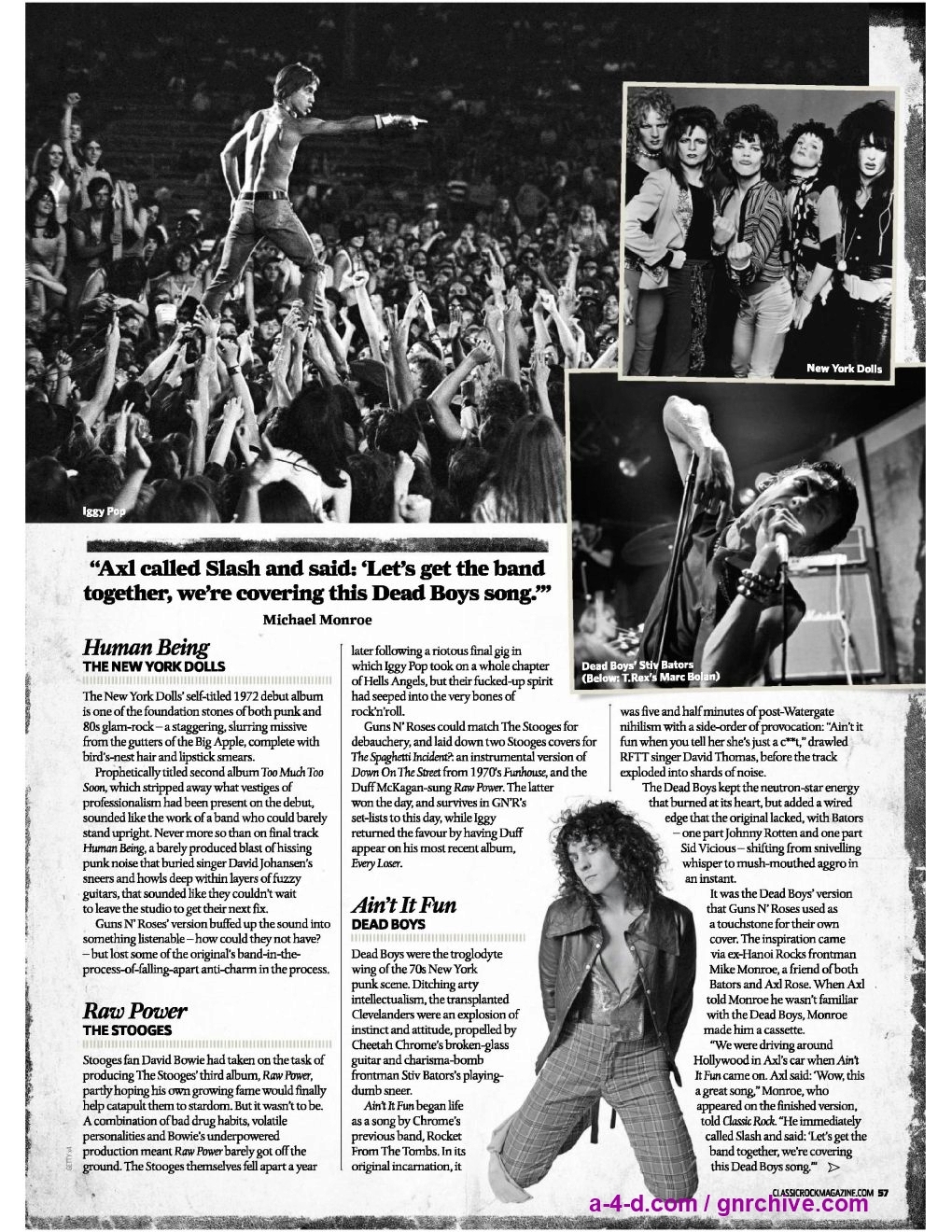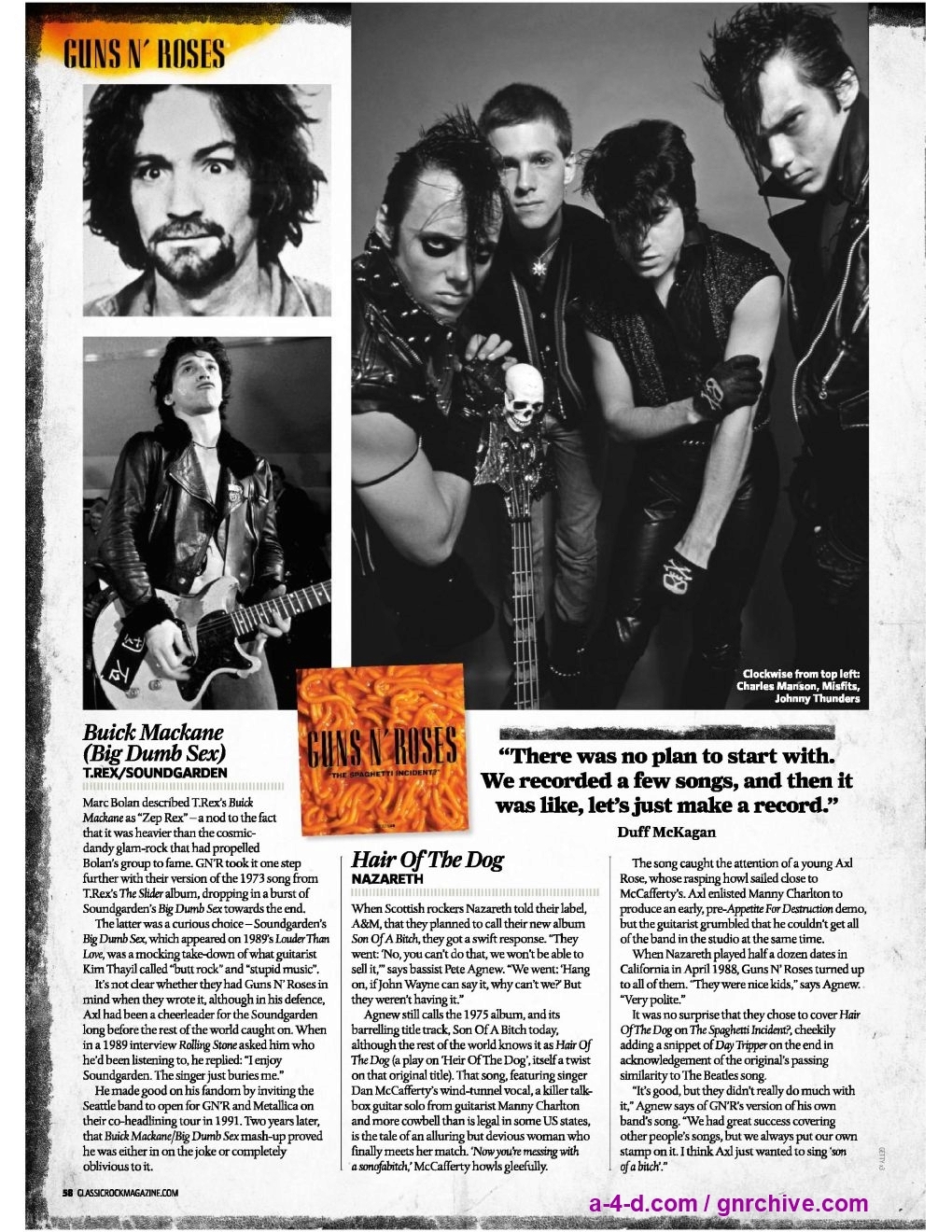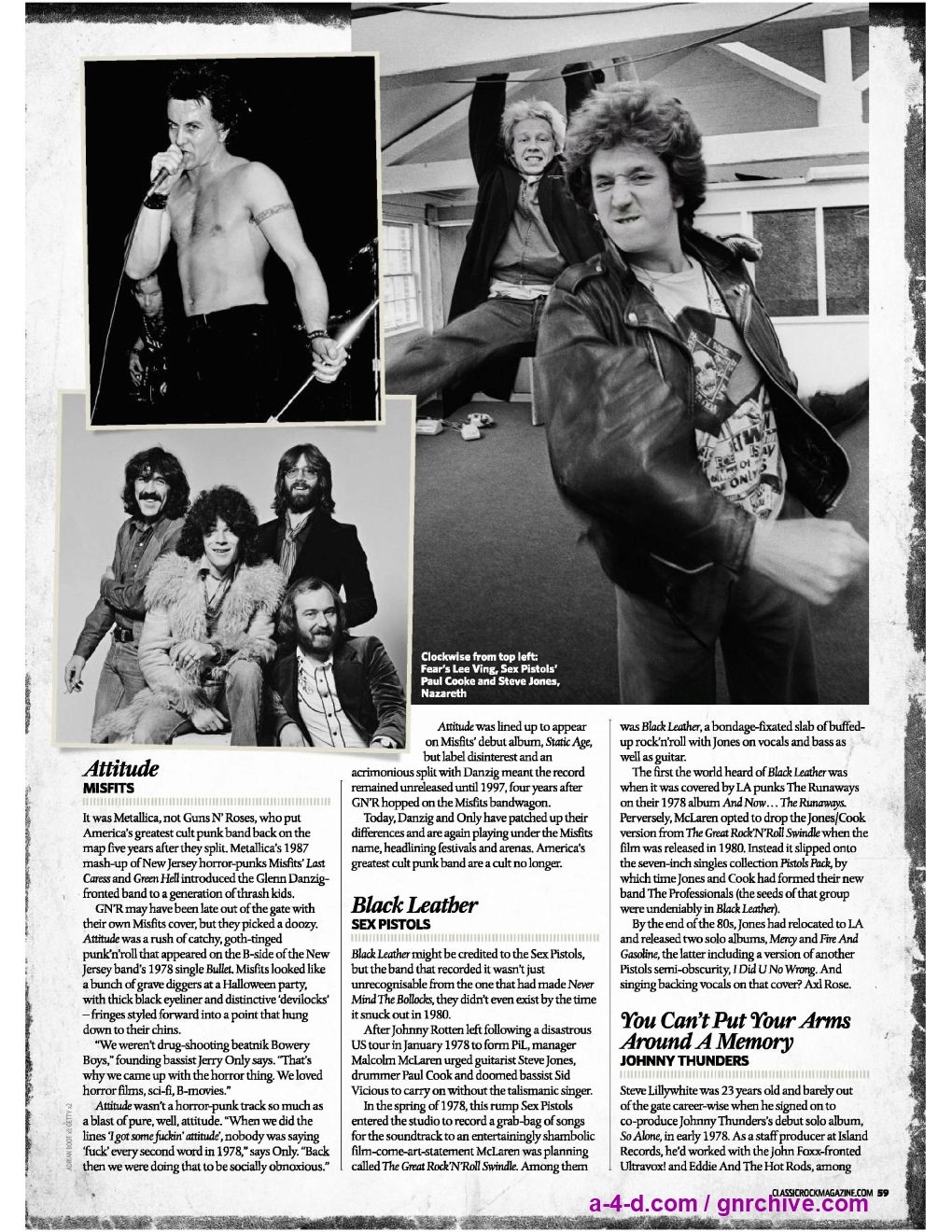 THE ITALIAN JOB
Thirty years ago, Guns N' Roses released The Spaghetti Incident?, an album of covers, and brought a load of mostly obscure, mostly punk-rock tracks to a wider audience. We take a look at the originals that fired up Axl and co. enough to want to record their own versions.
Words: Dave Everley
Thirty years after it was released,
The Spaghetti Incident?
remains the strangest and most misunderstood album Guns N' Roses released. Coming on the heels of the blockbusting
Use Your Illusion
pair, this collection of (mostly) punk covers recorded during the
UYI
sessions and between dates on the subsequent tour was a curve ball from one of the biggest rock bands on the planet.
"These were all songs we played in soundcheck or live over the years," GN'R bassist Duff McKagan explains to Classic Rock. "There was no plan to start with. We recorded a few songs, and then it was like, let's just make a record."
Guns N' Roses were a hard rock band with punk rock in their hearts. Duff had played in punk bands The Fartz and The Fastbacks in his native Seattle, but everyone was on board.
"It was Axl who loved the UK Subs, he found
Down On The Farm
," says Duff. "We figured, if we make this record and it sells, then if nothing else some of our heroes can get some royalties."
The reviews that greeted
The Spaghetti Incident?
upon its release in November 1993 veered between the perplexed and the hostile. It sold just a million copies in the US - small change next to
Appetite For Destruction
, but enough to boost both the profile and the bank balance of those who wrote the songs that GN'R had covered on it. These are the stories behind those original songs.
Since I Don't Have You
THE SKYLINERS
The Spaghetti Incident?
may have been a Guns N' Roses punk-rock covers album, and the most punk-rock thing they did on it was to kick the whole thing off with an unironic cover of Pittsburgh doo-wop group The Skyliners' 1958 single
Since I Don't Have You
.
The song dated back to an era when rock'n'roll had yet to fully get its claws into America's youth. In their pressed suits, shirts and ties - and in the case of co-vocalist Janet Vogel, billowing dress - The Skyliners looked more like trainee accountants than like pop stars, but their version of
Since I Don't Have You
reached No.12 in the US in early 1959. In a 1993 radio interview, Slash revealed that Axl constantly sang the song when the two of them lived together during GN'R's early days. "I don't know why I really liked that song, I just did," Axl said, adding wryly: "Punk rock at its finest."
New Rose
THE DAMNED
It's the greatest recycled intro of all time: "Is she really going out with him?" First heard in 1964 as the opening of The Shangri-Las' immaculate teenage death-ride anthem
Leader Of The Pack
, it was repurposed 12 years later by The Damned for
New Rose
, their debut single and the first by a British punk band.
"Dave [Vanian, singer] was waiting for the drums to start up, and he goes: 'Is she really going out with him?"' original Damned guitarist Brian James says of the Shangri-Las homage. "We didn't even know Nick [Lowe, producer] left it in until we heard the single for the first time."
Devious or not, it fired the starting pistol for an entire movement. James had written the
New Rose
riff while he was temporarily living in Belgium with his pre-Damned band Bastard. "The drummer couldn't get his head around it, so I sat on it," says James.
He had more luck when he returned to London after Bastard fell apart in late 1974. The following year, he began putting together the band that would become The Damned, starting with drummer Rat Scabies (real name Chris Millar).
"I played him that riff and he picked up on it straight away," says James. "This was when it was just the two of us - Captain [Sensible, bassist] wasn't even on the scene then."
James fleshed out the song in less than three hours in his flat in Kilburn. The amphetamine drum tattoo that kicks everything off came from Scabies. "I said: 'Let's have some jungle drums as an intro.' And Rat did something totally unexpected. It was crazy from the outset."
James's lyrics matched the song's musical endorphin rush. It wasn't about a woman, says the guitarist, so much as a feeling. "The only thing I can think of is that it must have been about the punk scene. Suddenly there was a bunch people who loved The Stooges and the MC5 as much as I did."
New Rose
was released as a single in October 1976 on Stiff Records, beating the Sex Pistols'
Anarchy In The UK
by three months. "None of us gave a fuck about having the first punk single," says James. "It was only the managers who cared about all that."
After the Damned's temporary split in 1978, James went on to form Lords Of The New Church. In August 1986, the Lords played a show in Glendora, just outside LA. The support act that night were a pre-fame Guns N' Roses. "All I remember is their drummer had a leopardskin-covered drum kit," says James. "A couple of years later they were everywhere."
The circle was completed when GN'R covered
New Rose
on
The Spaghetti Incident?
- which James only found out via an article in Rolling Stone. "They asked Slash what he'd been recording lately, and he said they'd done a Wings song and
New Rose
. I thought: 'Fucking hell! I might make some money from it for the first time in my life!"'
Down On The Farm
UK SUBS
It was the middle of the night in London, some time at the end of the 80s, when Charlie Harper was woken up by his phone ringing. A guy with an American accent on the other end of the line introduced himself as Duff McKagan. He was at a party in Los Angeles with the Subs' then-manager, and he wanted to know if it would be okay if his band, Guns N' Roses, covered Harper's band the UK Subs' song
Down On The Farm
. "Sure," said Harper, then went back to sleep.
Originally appearing on the Subs' 1982 album
Endangered Species
,
Down On The Farm
is one of punk"s great anthems of boredom. "All I need is some inspiration, before I do somebody some harm," Harper drawls blankly at the start of the track. But this was no nihilistic rant at the futility of life. It was literally about being cooped up on a farm - specifically, Jacob's Farm, a residential studio in Surrey.
"Lovely place," Harper says now. "But I was trying to write lyrics for this brilliant music Alvin [Gibbs, Subs bassist] had come up with, and failing."
Stuck in the studio while his bandmates relaxed in the farm's pool, Harper became increasingly frustrated. "I started feeling really depressed. And that's when it all came along."
The finished song barely keeps a lid on its frustration. 'Boredom eats me like cancer,' rings Harper, adding the coup de grace towards the song's conclusion: 'Everything smells like horseshit, down here on the farm.' "That was true," he says. "There was a stable with horses. Everything did smell like horseshit. The owners thought it was funny."
Guns N' Roses' version of the song made its first appearance at the Farm Aid festival in Indianapolis in April 1990, before they recorded a faithful version -give or take Axl's Dick Van Dyke London accent - for
The Spaghetti Incident?
. It got a run out on the band's last tour, most notably at the Glastonbury festival at Worthy Farm, where the 'everything smells like horse shit line came with piquancy.
"It's such a simple piece of music, but so effective," says Harper, who has been known to introduce it as "a cover of a Guns N' Roses song". The only line that makes him wince now is: I'd rather be back in Soho, than down on the farm.' "That's turned on me now," he says. "I'd rather be anywhere else on the planet than there these days."
Human Being
THE NEW YORK DOLLS
The New York Dolls' self-titled 1972 debut album is one of the foundation stones of both punk and 80s glam-rock - a staggering, slurring missive from the gutters of the Big Apple, complete with bird's-nest hair and lipstick smears.
Prophetically titled second album
Too Much Too Soon
, which stripped away what vestiges of professionalism had been present on the debut, sounded like the work of a band who could barely stand upright. Never more so than on final track
Human Being
, a barely produced blast of hissing punk noise that buried singer David Johansen's sneers and howls deep within layers of fuzzy guitars, that sounded like they couldn't wait to leave the studio to get their next fix.
Guns N' Roses' version buffed up the sound into something listenable - how could they not have? - but lost some of the original's band-in-the-process-of-falling-apart anti-charm in the process.
Raw Power
THE STOOGES
Stooges fan David Bowie had taken on the task of producing The Stooges' third album,
Raw Power
, partly hoping his own growing fame would finally help catapult them to stardom. But it wasn't to be. A combination of bad drug habits, volatile personalities and Bowie's underpowered production meant
Raw Power
barely got off the ground. The Stooges themselves fell apart a year later following a riotous final gig in which Iggy Pop took on a whole chapter of Hells Angels, but their fucked-up spirit had seeped into the very bones of rock'n'roll.
Guns N' Roses could match The Stooges for debauchery, and laid down two Stooges covers for
The Spaghetti Incident?
: an instrumental version of
Down On The Street
from 1970's
Funhouse
, and the Duff McKagan-sung
Raw Power
. The latter won the day, and survives in GN'R's set-lists to this day, while Iggy returned the favour by having Duff appear on his most recent album,
Every Loser
.
Ain't It Fun
DEAD BOYS
Dead Boys were the troglodyte wing of the 70s New York punk scene. Ditching arty intellectualism, the transplanted Clevelanders were an explosion of instinct and attitude, propelled by Cheetah Chrome's broken-glass guitar and charisma-bomb frontman Stiv Bators's playing-dumb sneer.
Ain't It Fun
began life as a song by Chrome's previous band, Rocket From The Tombs. In its original incarnation, it was five and half minutes of post-Watergate nihilism with a side-order of provocation: "Ain't it fun when you tell her she's just a c**t," drawled RFTT singer David Thomas, before the track exploded into shards of noise.
The Dead Boys kept the neutron-star energy that burned at its heart, but added a wired edge that the original lacked, with Bators - one part Johnny Rotten and one part Sid Vicious - shifting from snivelling whisper to mush-mouthed aggro in an instant.
It was the Dead Boys' version that Guns N' Roses used as a touchstone for their own cover. The inspiration came via ex-Hanoi Rocks frontman Mike Monroe, a friend of both Bators and Axl Rose. When Axl told Monroe he wasn't familiar with the Dead Boys, Monroe made him a cassette.
"We were driving around Hollywood in Axl's car when
Ain't It Fun
came on. Axl said: Wow, this a great song," Monroe, who appeared on the finished version, told Classic Rock "He immediately called Slash and said: 'Let's get the band together, we're covering this Dead Boys song."
Buick Mackane (Big Dumb Sex)
T.REX/SOUNDGARDEN
Marc Bolan described T.Rex's
Buick Mackane
as "Zep Rex" - a nod to the fact that it was heavier than the cosmic-dandy glam-rock that had propelled Bolan's group to fame. GN'R took it one step further with their version of the 1973 song from T.Rex's
The Slider
album, dropping in a burst of Soundgarden's
Big Dumb Sex
towards the end.
The latter was a curious choice - Soundgarden's
Big Dumb Sex
, which appeared on 1989's
Louder Than Love
, was a mocking take-down of what guitarist Kim Thayil called "butt rock" and "stupid music".
It's not dear whether they had Guns N' Roses in mind when they wrote it, although in his defence, Axl had been a cheerleader for the Soundgarden long before the rest of the world caught on. When in a 1989 interview Rolling Stone asked him who he'd been listening to, he replied: "I enjoy Soundgarden. The singer just buries me."
He made good on his fandom by inviting the Seattle band to open for GN'R and Metallica on their co-headlining tour in 1991. Two years later, that
Buick Mackane/Big Dumb Sex
mash-up proved he was either in on the joke or completely oblivious to it.
Hair Of The Dog
NAZARETH
When Scottish rockers Nazareth told their label, A&M, that they planned to call their new album
Son Of A Bitch
, they got a swift response. "They went: "No, you can't do that, we won't be able to sell it,'" says bassist Pete Agnew. "We went: 'Hang on, if John Wayne can say it, why can't we? But they weren't having it."
Agnew still calls the 1975 album, and its barrelling tide track,
Son Of A Bitch
today, although the rest of the world knows it as
Hair Of The Dog
(a play on 'Heir Of The Dog', itself a twist on that original title). That song, featuring singer Dan McCafferty's wind-tunnel vocal, a killer talkbox guitar solo from guitarist Manny Charlton and more cowbell than is legal in some US states, is the tale of an alluring but devious woman who finally meets her match. 'Now you're messing with a sonofabitch,' McCafferty howls gleefully.
The song caught the attention of a young Axl Rose, whose rasping howl sailed close to McCafferty's. Axl enlisted Manny Charlton to produce an early, pre-
Appetite For Destruction
demo, but the guitarist grumbled that he couldn't get all of the band in the studio at the same time.
When Nazareth played half a dozen dates in California in April 1988, Guns N' Roses turned up to all of them. "They were nice kids," says Agnew. "Very polite."
It was no surprise that they chose to cover
Hair Of The Dog
on
The Spaghetti Incident?
, cheekily adding a snippet of
Day Tripper
on the end in acknowledgement of the original's passing similarity to The Beatles song.
"It's good, but they didn't really do much with it," Agnew says of GN'R's version of his own band's song. "We had great success covering other people's songs, but we always put our own stamp on it. I think Axl just wanted to sing '
son of a bitch
'."
Attitude
MISFITS
It was Metallica, not Guns N' Roses, who put America's greatest cult punk band back on the map five years after they split. Metallica's 1987 mash-up of New Jersey horror-punks Misfits'
Last Caress
and
Green Hell
introduced the Glenn Danzig-fronted band to a generation of thrash kids.
GN'R may have been late out of the gate with their own Misfits cover, but they picked a doozy.
Attitude
was a rush of catchy, goth-tinged punk'n'roll that appeared on the B-side of the New Jersey band's 1978 single
Bullet
. Misfits looked like a bunch of grave diggers at a Halloween party, with thick black eyeliner and distinctive 'devilocks' - fringes styled forward into a point that hung down to their chins.
"We weren't drug-shooting beatnik Bowery Boys," founding bassist Jerry Only says. "That's why we came up with the horror thing. We loved horror films, sci-fi, B-movies."
Attitude
wasn't a horror-punk track so much as a blast of pure, well, attitude. "When we did the lines 'I got some fuckin' attitude, nobody was saying 'fuck' every second word in 1978," says Only. "Back then we were doing that to be socially obnoxious."
Attitude
was lined up to appear on Misfits' debut album,
Static Age
, but label disinterest and an acrimonious split with Danzig meant the record remained unreleased until 1997, four years after GN'R hopped on the Misfits bandwagon.
Today, Danzig and Only have patched up their differences and are again playing under the Misfits name, headlining festivals and arenas. America's greatest cult punk band are a cult no longer.
Black Leather
SEX PISTOLS
Black Leather
might be credited to the Sex Pistols, but the band that recorded it wasn't just unrecognisable from the one that had made
Never Mind The Bollocks
, they didn't even exist by the time it snuck out in 1980.
After Johnny Rotten left following a disastrous US tour in January 1978 to form PiL, manager Malcolm McLaren urged guitarist Steve Jones, drummer Paul Cook and doomed bassist Sid Vicious to carry on without the talismanic singer.
In the spring of 1978, this rump Sex Pistols entered the studio to record a grab-bag of songs for the soundtrack to an entertainingly shambolic film-come-art-statement McLaren was planning called
The Great Rock'N'Roll Swindle
. Among them was
Black Leather
, a bondage-fixated slab of buffed-up rock'n'roll with Jones on vocals and bass as well as guitar.
The first the world heard of
Black Leather
was when it was covered by LA punks The Runaways on their 1978 album
And Now... The Runaways
. Perversely, McLaren opted to drop the Jones/Cook version from
The Great Rock'N'Roll Swindle
when the film was released in 1980. Instead it slipped onto the seven-inch singles collection
Pistols Pack
, by which time Jones and Cook had formed their new band The Professionals (the seeds of that group were undeniably in
Black Leather
).
By the end of the 80s, Jones had relocated to LA and released two solo albums,
Mercy
and
Fire And Gasoline
, the latter including a version of another Pistols semi-obscurity,
I Did U No Wrong
. And singing backing vocals on that cover? Axl Rose.
You Can't Put Your Arms Around A Memory
JOHNNY THUNDERS
Steve Lillywhite was 23 years old and barely out of the gate career-wise when he signed on to co-produce Johnny Thunders's debut solo album,
So Alone
, in early 1978. As a staff producer at Island Records, he'd worked with the John Foxx-fronted Ultravox! and Eddie And The Hot Rods, among others, but the inelegantly wasted ex-New York Dolls and Heartbreakers guitarist was a different prospect altogether.
"Johnny was friends with my room-mate and so I got to know him," Lillywhite tells Classic Rock. "The Heartbreakers album [1977's
L.A.M.F.
] didn't sound great, so I said: 'Let me do your solo album. I'll guarantee you get a good-sounding record.' Of course, I was bluffing completely."
Lillywhite and Thunders entered The Fallout Shelter, a studio in the dingy basement of Island's West London offices. "It was this funky old studio with no natural light," says Lillywhite. "It was the perfect way to record Johnny Thunders."
Thunders was deep in the grip of heroin addiction. "He was a lovely, lovely guy - when you got him on a good day," says Lillywhite. The guitarist's well-connected manager, BP Fallon, recruited a stellar cast list to play on the album, including Phil Lynott, Steve Marriott, Sex Pistols duo Steve Jones and Paul Cook, and Only Ones frontman Peter Perrett.
It was Perrett, himself no stranger to the needle, who would help bring the album's stand-out track - and the highlight of Thunders's solo career - to life.
You Cant Put Your Arms Around A Memory
was a broken-down ballad that found this strung-out New York alley cat at his most vulnerable.
"Peter helped me understand the sort of person Johnny was," says Lillywhite. "Get him today, Steve, because he's not hurting, he's on good form.' Because on other days he'd be nodding off all the time."
Also playing on the track were Eddie And The Hot Rods bassist Paul Grey and Only Ones drummer Mike Kellie. Perrett provided guitar and backing vocals, although
You Can't Put Your Arms Around A Memory
was pure Thunders. Part junkie confessional, part snarl of defiance, it was the sound of a man writing his epitaph - his own
My Way
.
It would be Thunders fanatic Duff McKagan who sang on GN'R's cover of the song, adding an impromptu tribute to the guitarist, who died of drug-related causes in 1991.
"That song doesn't sound perfect by modem thinking," Lillywhite says of the original. "Some might say the guitar is out of tune. But that's why it resonates so well, there's a humanity to it."
I Don't Care About You
FEAR
Even by the standards of LA's early punk scene, Fear thrived on provocation. They were formed by jazz and blues-loving ex-soldier Lee Capallero, who moved cross country to California, and reinvented himself as Lee Ving and as American punk's button-pusher-in-chief.
Fear's 1983 debut album,
The Record
, was a satirical dissection of modem American culture, poking fun at everything from arty hipsters to left-leaning punk rockers. The bluntly titled
I Don't Care About You
wrapped up their whole ethos in two minutes of roaring rock'n'roll. 'I don't care about you, fuck you!" Ving bawled on the chorus, although a weird kind of compassion shone through when he sang: 'I've seen a old man have a heart attack in Manhattan/Well he died while we just stood there lookin' at him'. Cynical, or empathetic? Maybe Guns N' Roses noticed a little bit of both in it.
Look At Your Game, Girl
CHARLES MANSON
In the late 60s, Charles Manson pursued two parallel careers: one as a musician, the other as a racist, psychopathic cult leader. Unfortunately for the seven people who died at the hands of his followers, he was more successful at the latter than the former, although that didn't stop him amassing a stockpile of songs that he hoped would turn him into a star.
Among them was
Look At Your Game, Girl
, a pared-down acoustic track that sounded like the work of a fifth-rate LA troubadour. Written in 1968, the song remained on the shelf for a couple of years, when it was opportunistically released as a single just as Manson and his acolytes went on trial for murder.
Axl Rose discovered the track on the 1970 album
Lie: The Love And Terror Cult
, and figured Manson's status as an American anti-hero chimed with his band's. The decision to cover it as an uncredited bonus track on
The Spaghetti Incident?
backfired - the outrage that greeted it prompted the band to donate performance royalties to an environmental charity. But it was too little too late - an album that was conceived with the noblest of intentions ended on a sour note.

Blackstar

ADMIN




Posts

: 12210


Plectra

: 80073


Reputation

: 97


Join date

: 2018-03-17



Soulmonster and Uli like this post
---
Permissions in this forum:
You
cannot
reply to topics in this forum