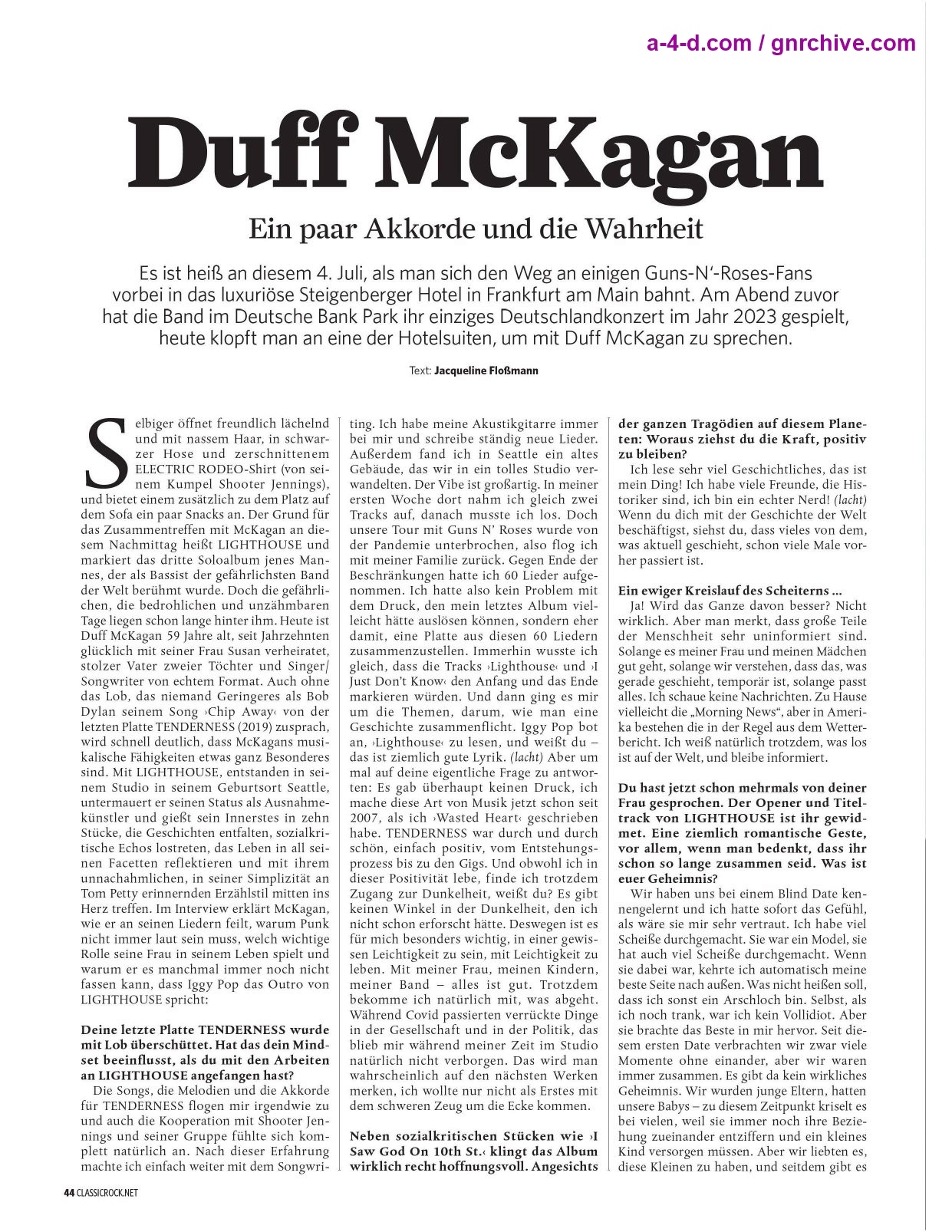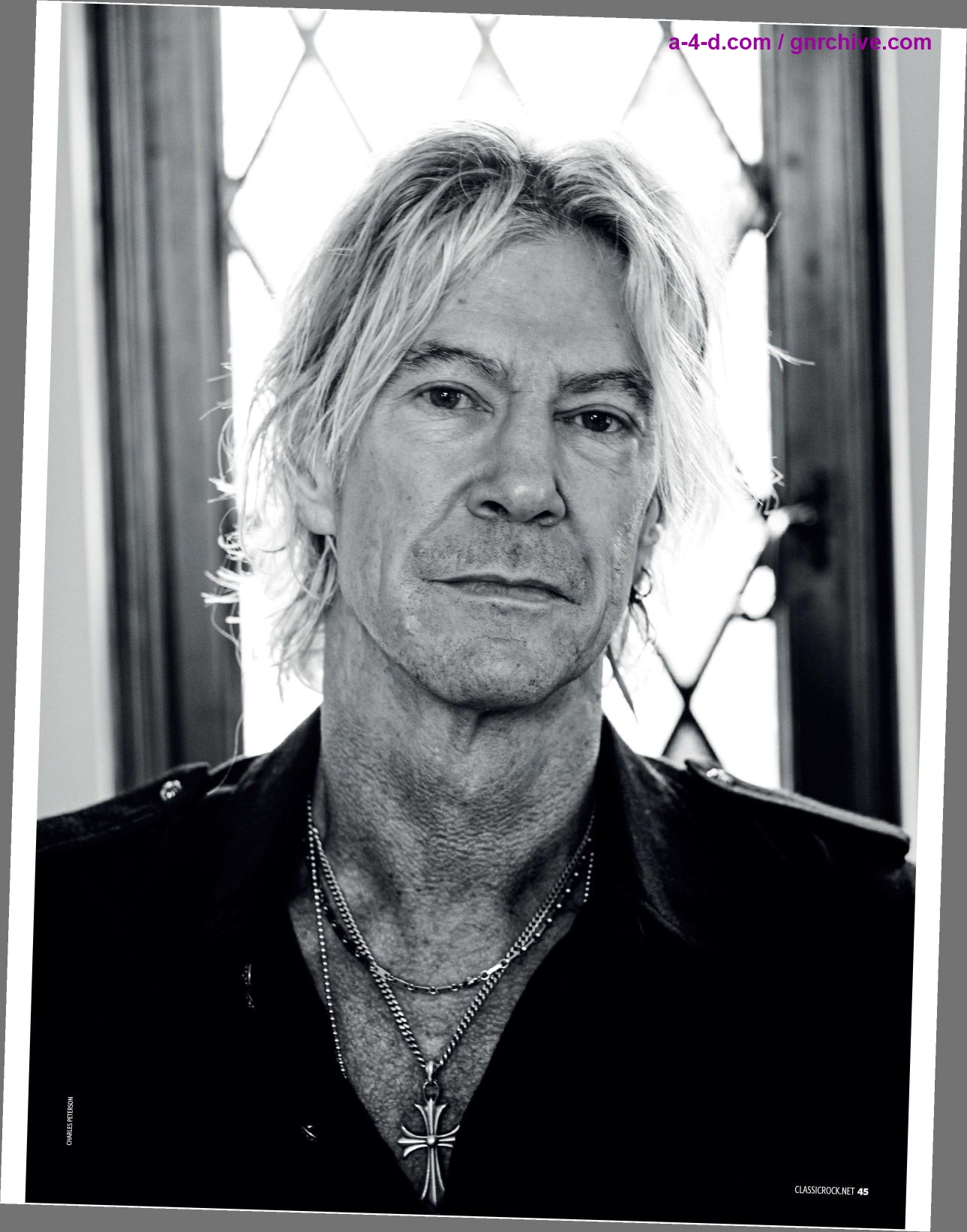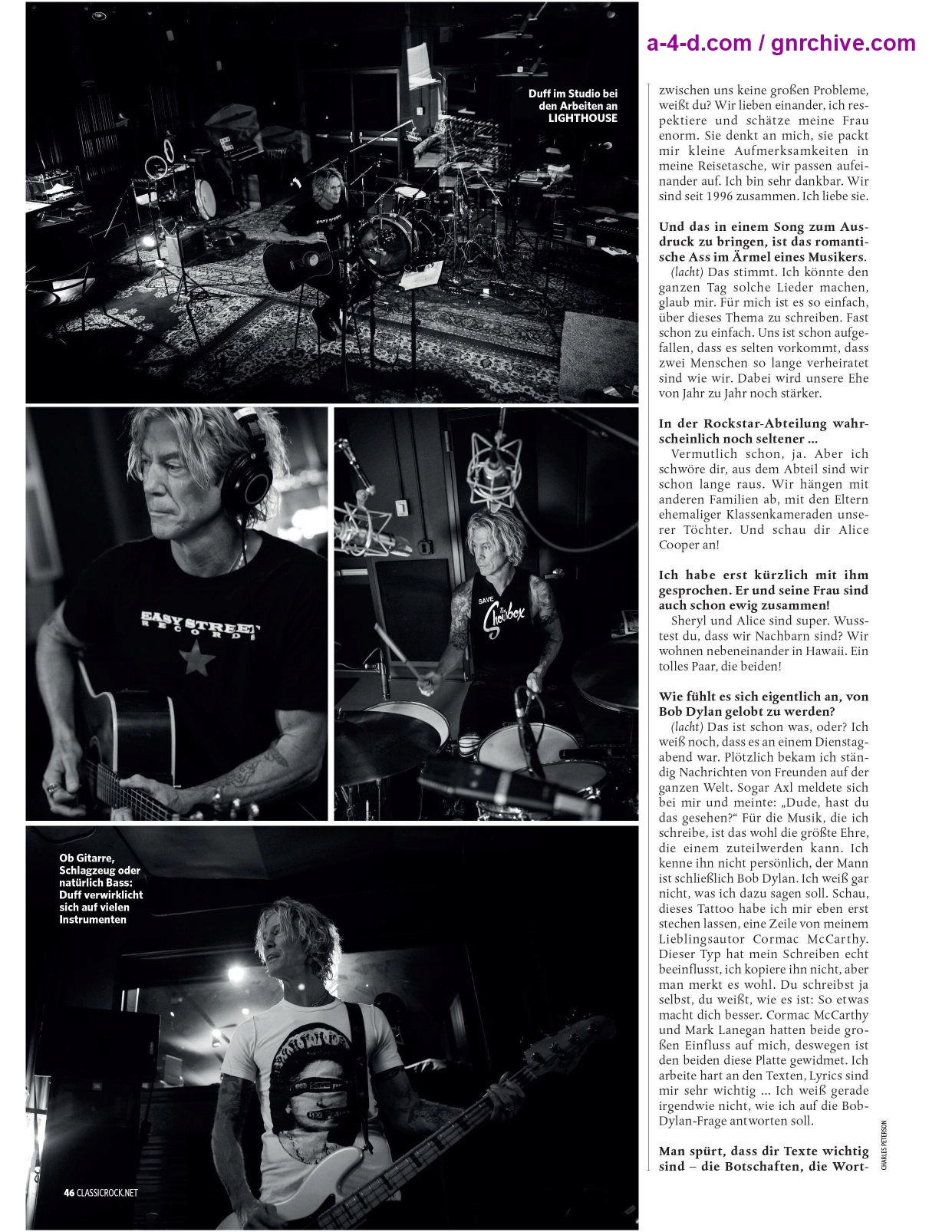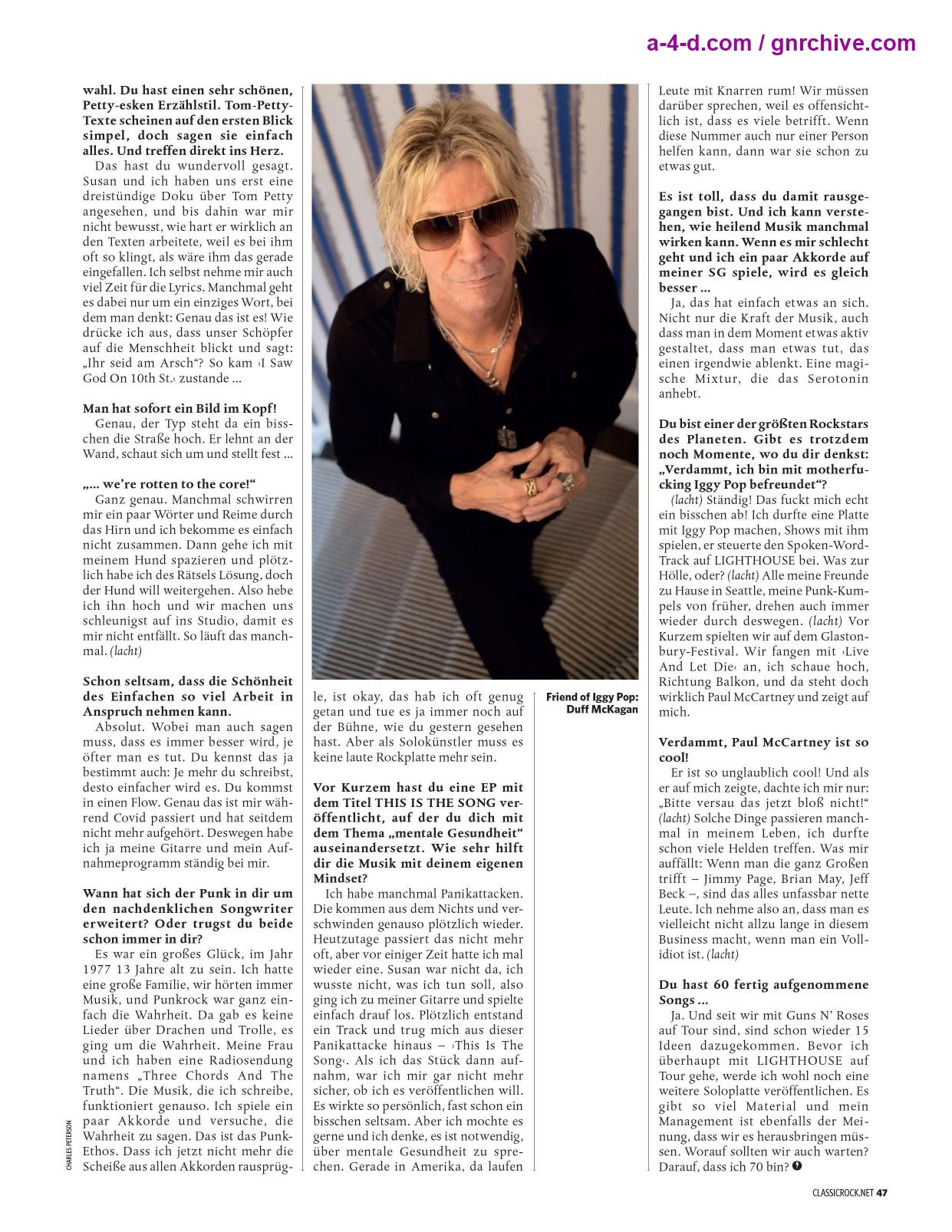 Transcript (German):
-------------------------
Duff McKagan
Ein paar Akkorde und die Wahrheit
Es ist heiß an diesem 4. Juli, als man sich den Weg an einigen Guns-N'-Roses-Fans vorbei in das luxuriöse Steigenberger Hotel in Frankfurt am Main bahnt. Am Abend zuvor hat die Band im Deutsche Bank Park ihr einziges Deutschlandkonzert im Jahr 2023 gespielt, heute klopft man an eine der Hotelsuiten, um mit Duff McKagan zu sprechen.
Text: Jacqueline Floßmann
Selbiger öffnet freundlich lächelnd und mit nassem Haar, in schwarzer Hose und zerschnittenem ELECTRIC RODEO-Shirt (von seinem Kumpel Shooter Jennings), und bietet einem zusätzlich zu dem Platz auf dem Sofa ein paar Snacks an. Der Grund für das Zusammentreffen mit McKagan an diesem Nachmittag heißt LIGHTHOUSE und markiert das dritte Soloalbum jenes Mannes, der als Bassist der gefährlichsten Band der Welt berühmt wurde. Doch die gefährlichen, die bedrohlichen und unzähmbaren Tage liegen schon lange hinter ihm. Heute ist Duff McKagan 59 Jahre alt, seit Jahrzehnten glücklich mit seiner Frau Susan verheiratet, stolzer Vater zweier Töchter und Singer/ Songwriter von echtem Format. Auch ohne das Lob, das niemand Geringeres als Bob Dylan seinem Song >Chip Away< von der letzten Platte TENDERNESS (2019) zusprach, wird schnell deutlich, dass McKagans musikalische Fähigkeiten etwas ganz Besonderes sind. Mit LIGHTHOUSE, entstanden in seinem Studio in seinem Geburtsort Seattle, untermauert er seinen Status als Ausnahmekünstler und gießt sein Innerstes in zehn Stücke, die Geschichten entfalten, sozialkritische Echos lostreten, das Leben in all seinen Facetten reflektieren und mit ihrem unnachahmlichen, in seiner Simplizität an Tom Petty erinnernden Erzählstil mitten ins Herz treffen. Im Interview erklärt McKagan, wie er an seinen Liedern feilt, warum Punk nicht immer laut sein muss, welch wichtige Rolle seine Frau in seinem Leben spielt und warum er es manchmal immer noch nicht fassen kann, dass Iggy Pop das Outro von LIGHTHOUSE spricht:
Deine letzte Platte TENDERNESS wurde mit Lob überschüttet. Hat das dein Mind-set beeinflusst, als du mit den Arbeiten an LIGHTHOUSE angefangen hast?
Die Songs, die Melodien und die Akkorde für TENDERNESS flogen mir irgendwie zu und auch die Kooperation mit Shooter Jennings und seiner Gruppe fühlte sich komplett natürlich an. Nach dieser Erfahrung machte ich einfach weiter mit dem Songwriing. Ich habe meine Akustikgitarre immer bei mir und schreibe ständig neue Lieder. Außerdem fand ich in Seattle ein altes Gebäude, das wir in ein tolles Studio verwandelten. Der Vibe ist großartig. In meiner ersten Woche dort nahm ich gleich zwei Tracks auf, danach musste ich los. Doch unsere Tour mit Guns N' Roses wurde von der Pandemie unterbrochen, also flog ich mit meiner Familie zurück. Gegen Ende der Beschränkungen hatte ich 60 Lieder aufgenommen. Ich hatte also kein Problem mit dem Druck, den mein letztes Album vielleicht hätte auslösen können, sondern eher damit, eine Platte aus diesen 60 Liedern zusammenzustellen. Immerhin wusste ich gleich, dass die Tracks >Lighthouse< und >I Just Don't Know< den Anfang und das Ende markieren würden. Und dann ging es mir um die Themen, darum, wie man eine Geschichte zusammenflicht. Iggy Pop bot an, >Lighthouse< zu lesen, und weißt du -das ist ziemlich gute Lyrik, (lacht) Aber um mal auf deine eigentliche Frage zu antworten: Es gab überhaupt keinen Druck, ich mache diese Art von Musik jetzt schon seit 2007, als ich >Wasted Heart< geschrieben habe. TENDERNESS war durch und durch schön, einfach positiv, vom Entstehungsprozess bis zu den Gigs. Und obwohl ich in dieser Positivität lebe, finde ich trotzdem Zugang zur Dunkelheit, weißt du? Es gibt keinen Winkel in der Dunkelheit, den ich nicht schon erforscht hätte. Deswegen ist es für mich besonders wichtig, in einer gewissen Leichtigkeit zu sein, mit Leichtigkeit zu leben. Mit meiner Frau, meinen Kindern, meiner Band - alles ist gut. Trotzdem bekomme ich natürlich mit, was abgeht. Während Covid passierten verrückte Dinge in der Gesellschaft und in der Politik, das blieb mir während meiner Zeit im Studio natürlich nicht verborgen. Das wird man wahrscheinlich auf den nächsten Werken merken, ich wollte nur nicht als Erstes mit dem schweren Zeug um die Ecke kommen.
Neben sozialkritischen Stücken wie >I Saw God On lOth St.< klingt das Album wirklich recht hoffnungsvoll. Angesichtsder ganzen Tragödien auf diesem Planeten: Woraus ziehst du die Kraft, positiv zu bleiben?
Ich lese sehr viel Geschichtliches, das ist mein Ding! Ich habe viele Freunde, die Historiker sind, ich bin ein echter Nerd! (lacht) Wenn du dich mit der Geschichte der Welt beschäftigst, siehst du, dass vieles von dem, was aktuell geschieht, schon viele Male vorher passiert ist.
Ein ewiger Kreislauf des Scheiterns ...
Ja! Wird das Ganze davon besser? Nicht wirklich. Aber man merkt, dass große Teile der Menschheit sehr uninformiert sind. Solange es meiner Frau und meinen Mädchen gut geht, solange wir verstehen, dass das, was gerade geschieht, temporär ist, solange passt alles. Ich schaue keine Nachrichten. Zu Hause vielleicht die "Morning News", aber in Amerika bestehen die in der Regel aus dem Wetterbericht. Ich weiß natürlich trotzdem, was los ist auf der Welt, und bleibe informiert.
Du hast jetzt schon mehrmals von deiner Frau gesprochen. Der Opener und Titeltrack von LIGHTHOUSE ist ihr gewidmet. Eine ziemlich romantische Geste, vor allem, wenn man bedenkt, dass ihr schon so lange zusammen seid. Was ist euer Geheimnis?
Wir haben uns bei einem Blind Date kennengelernt und ich hatte sofort das Gefühl, als wäre sie mir sehr vertraut. Ich habe viel Scheiße durchgemacht. Sie war ein Model, sie hat auch viel Scheiße durchgemacht. Wenn sie dabei war, kehrte ich automatisch meine beste Seite nach außen. Was nicht heißen soll, dass ich sonst ein Arschloch bin. Selbst, als ich noch trank, war ich kein Vollidiot. Aber sie brachte das Beste in mir hervor. Seit diesem ersten Date verbrachten wir zwar viele Momente ohne einander, aber wir waren immer zusammen. Es gibt da kein wirkliches Geheimnis. Wir wurden junge Eltern, hatten unsere Babys - zu diesem Zeitpunkt kriselt es bei vielen, weil sie immer noch ihre Beziehung zueinander entziffern und ein kleines Kind versorgen müssen. Aber wir liebten es, diese Kleinen zu haben, und seitdem gibt es zwischen uns keine großen Probleme, weißt du? Wir lieben einander, ich respektiere und schätze meine Frau enorm. Sie denkt an mich, sie packt mir kleine Aufmerksamkeiten in meine Reisetasche, wir passen aufeinander auf. Ich bin sehr dankbar. Wir sind seit 1996 zusammen. Ich liebe sie.
Und das in einem Song zum Ausdruck zu bringen, ist das romantische Ass im Ärmel eines Musikers.
(lacht) Das stimmt. Ich könnte den ganzen Tag solche Lieder machen, glaub mir. Für mich ist es so einfach, über dieses Thema zu schreiben. Fast schon zu einfach. Uns ist schon aufgefallen, dass es selten vorkommt, dass zwei Menschen so lange verheiratet sind wie wir. Dabei wird unsere Ehe von Jahr zu Jahr noch stärker.
In der Rockstar-Abteilung wahrscheinlich noch seltener...
Vermutlich schon, ja. Aber ich schwöre dir, aus dem Abteil sind wir schon lange raus. Wir hängen mit anderen Familien ab, mit den Eltern ehemaliger Klassenkameraden unserer Töchter. Und schau dir Alice Cooper an!
Ich habe erst kürzlich mit ihm gesprochen. Er und seine Frau sind auch schon ewig zusammen!
Sheryl und Alice sind super. Wusstest du, dass wir Nachbarn sind? Wir wohnen nebeneinander in Hawaii. Ein tolles Paar, die beiden!
Wie fühlt es sich eigentlich an, von Bob Dylan gelobt zu werden?
(lacht) Das ist schon was, oder? Ich weiß noch, dass es an einem Dienstagabend war. Plötzlich bekam ich ständig Nachrichten von Freunden auf der ganzen Welt. Sogar Axl meldete sich bei mir und meinte: "Dude, hast du das gesehen?" Für die Musik, die ich schreibe, ist das wohl die größte Ehre, die einem zuteilwerden kann. Ich kenne ihn nicht persönlich, der Mann ist schließlich Bob Dylan. Ich weiß gar nicht, was ich dazu sagen soll. Schau, dieses Tattoo habe ich mir eben erst stechen lassen, eine Zeile von meinem Lieblingsautor Cormac McCarthy. Dieser Typ hat mein Schreiben echt beeinflusst, ich kopiere ihn nicht, aber man merkt es wohl. Du schreibst ja selbst, du weißt, wie es ist: So etwas macht dich besser. Cormac McCarthy und Mark Lanegan hatten beide großen Einfluss auf mich, deswegen ist den beiden diese Platte gewidmet. Ich arbeite hart an den Texten, Lyrics sind mir sehr wichtig ... Ich weiß gerade irgendwie nicht, wie ich auf die Bob-Dylan-Frage antworten soll.
Man spürt, dass dir Texte wichtig sind - die Botschaften, die Wortwähl. Du hast einen sehr schönen, Petty-esken Erzählstil. Tom-Petty-Texte scheinen auf den ersten Blick simpel, doch sagen sie einfach alles. Und treffen direkt ins Herz.
Das hast du wundervoll gesagt. Susan und ich haben uns erst eine dreistündige Doku über Tom Petty angesehen, und bis dahin war mir nicht bewusst, wie hart er wirklich an den Texten arbeitete, weil es bei ihm oft so klingt, als wäre ihm das gerade eingefallen. Ich selbst nehme mir auch viel Zeit für die Lyrics. Manchmal geht es dabei nur um ein einziges Wort, bei dem man denkt: Genau das ist es! Wie drücke ich aus, dass unser Schöpfer auf die Menschheit blickt und sagt: "Ihr seid am Arsch"? So kam >I Saw God On lOth St.< zustande ...
Man hat sofort ein Bild im Kopf!
Genau, der Typ steht da ein bisschen die Straße hoch. Er lehnt an der Wand, schaut sich um und stellt fest...
"... we're rotten to the core!"
Ganz genau. Manchmal schwirren mir ein paar Wörter und Reime durch das Hirn und ich bekomme es einfach nicht zusammen. Dann gehe ich mit meinem Hund spazieren und plötzlich habe ich des Rätsels Lösung, doch der Hund will weitergehen. Also hebe ich ihn hoch und wir machen uns schleunigst auf ins Studio, damit es mir nicht entfällt. So läuft das manchmal. (lacht)
Schon seltsam, dass die Schönheit des Einfachen so viel Arbeit in Anspruch nehmen kann.
Absolut. Wobei man auch sagen muss, dass es immer besser wird, je öfter man es tut. Du kennst das ja bestimmt auch: Je mehr du schreibst, desto einfacher wird es. Du kommst in einen Flow. Genau das ist mir während Covid passiert und hat seitdem nicht mehr aufgehört. Deswegen habe ich ja meine Gitarre und mein Aufnahmeprogramm ständig bei mir.
Wann hat sich der Punk in dir um den nachdenklichen Songwriter erweitert? Oder trugst du beide schon immer in dir?
Es war ein großes Glück, im Jahr 1977 13 Jahre alt zu sein. Ich hatte eine große Familie, wir hörten immer Musik, und Punkrock war ganz einfach die Wahrheit. Da gab es keine Lieder über Drachen und Trolle, es ging um die Wahrheit. Meine Frau und ich haben eine Radiosendung namens "Three Chords And The Truth". Die Musik, die ich schreibe, funktioniert genauso. Ich spiele ein  paar Akkorde und versuche, die  Wahrheit zu sagen. Das ist das Punk- Ethos. Dass ich jetzt nicht mehr die  Scheiße aus allen Akkorden rausprügle, ist okay, das hab ich oft genug getan und tue es ja immer noch auf der Bühne, wie du gestern gesehen hast. Aber als Solokünstler muss es keine laute Rockplatte mehr sein.
Vor Kurzem hast du eine EP mit dem Titel THIS IS THE SONG veröffentlicht, auf der du dich mit dem Thema "mentale Gesundheit" auseinandersetzt. Wie sehr hilft dir die Musik mit deinem eigenen Mindset?
Ich habe manchmal Panikattacken. Die kommen aus dem Nichts und verschwinden genauso plötzlich wieder. Heutzutage passiert das nicht mehr oft, aber vor einiger Zeit hatte ich mal wieder eine. Susan war nicht da, ich wusste nicht, was ich tun soll, also ging ich zu meiner Gitarre und spielte einfach drauf los. Plötzlich entstand ein Track und trug mich aus dieser Panikattacke hinaus - >This Is The Song<. Als ich das Stück dann aufnahm, war ich mir gar nicht mehr sicher, ob ich es veröffentlichen will. Es wirkte so persönlich, fast schon ein bisschen seltsam. Aber ich mochte es gerne und ich denke, es ist notwendig, über mentale Gesundheit zu sprechen. Gerade in Amerika, da laufen Leute mit Knarren rum! Wir müssen darüber sprechen, weil es offensichtlich ist, dass es viele betrifft. Wenn diese Nummer auch nur einer Person helfen kann, dann war sie schon zu etwas gut.
Es ist toll, dass du damit rausgegangen bist. Und ich kann verstehen, wie heilend Musik manchmal wirken kann. Wenn es mir schlecht geht und ich ein paar Akkorde auf meiner SG spiele, wird es gleich besser...
Ja, das hat einfach etwas an sich. Nicht nur die Kraft der Musik, auch dass man in dem Moment etwas aktiv gestaltet, dass man etwas tut, das einen irgendwie ablenkt. Eine magische Mixtur, die das Serotonin anhebt.
Du bist einer der größten Rockstars des Planeten. Gibt es trotzdem noch Momente, wo du dir denkst: "Verdammt, ich bin mit motherfu-cking Iggy Pop befreundet"?
(lacht) Ständig! Das fuckt mich echt ein bisschen ab! Ich durfte eine Platte mit Iggy Pop machen, Shows mit ihm spielen, er steuerte den Spoken-Word-Track auf LIGHTHOUSE bei. Was zur Hölle, oder? (lacht) Alle meine Freunde zu Hause in Seattle, meine Punk-Kum-pels von früher, drehen auch immer wieder durch deswegen, (lacht) Vor Kurzem spielten wir auf dem Glastonbury-Festival. Wir fangen mit >Live And Let Die< an, ich schaue hoch, Richtung Balkon, und da steht doch wirklich Paul McCartney und zeigt auf mich.
Verdammt, Paul McCartney ist so cool!
Er ist so unglaublich cool! Und als er auf mich zeigte, dachte ich mir nur: "Bitte versau das jetzt bloß nicht!" (lacht) Solche Dinge passieren manchmal in meinem Leben, ich durfte schon viele Helden treffen. Was mir auffällt: Wenn man die ganz Großen trifft - Jimmy Page, Brian May, Jeff Beck -, sind das alles unfassbar nette Leute. Ich nehme also an, dass man es vielleicht nicht allzu lange in diesem Business macht, wenn man ein Vollidiot ist. (lacht)
Du hast 60 fertig aufgenommene Songs...
Ja. Und seit wir mit Guns N' Roses auf Tour sind, sind schon wieder 15 Ideen dazugekommen. Bevor ich überhaupt mit LIGHTHOUSE auf Tour gehe, werde ich wohl noch eine weitere Soloplatte veröffentlichen. Es gibt so viel Material und mein Management ist ebenfalls der Meinung, dass wir es herausbringen müssen. Worauf sollten wir auch warten? Darauf, dass ich 70 bin?

Blackstar

ADMIN




Posts

: 12244


Plectra

: 80304


Reputation

: 97


Join date

: 2018-03-17



---
Permissions in this forum:
You
cannot
reply to topics in this forum