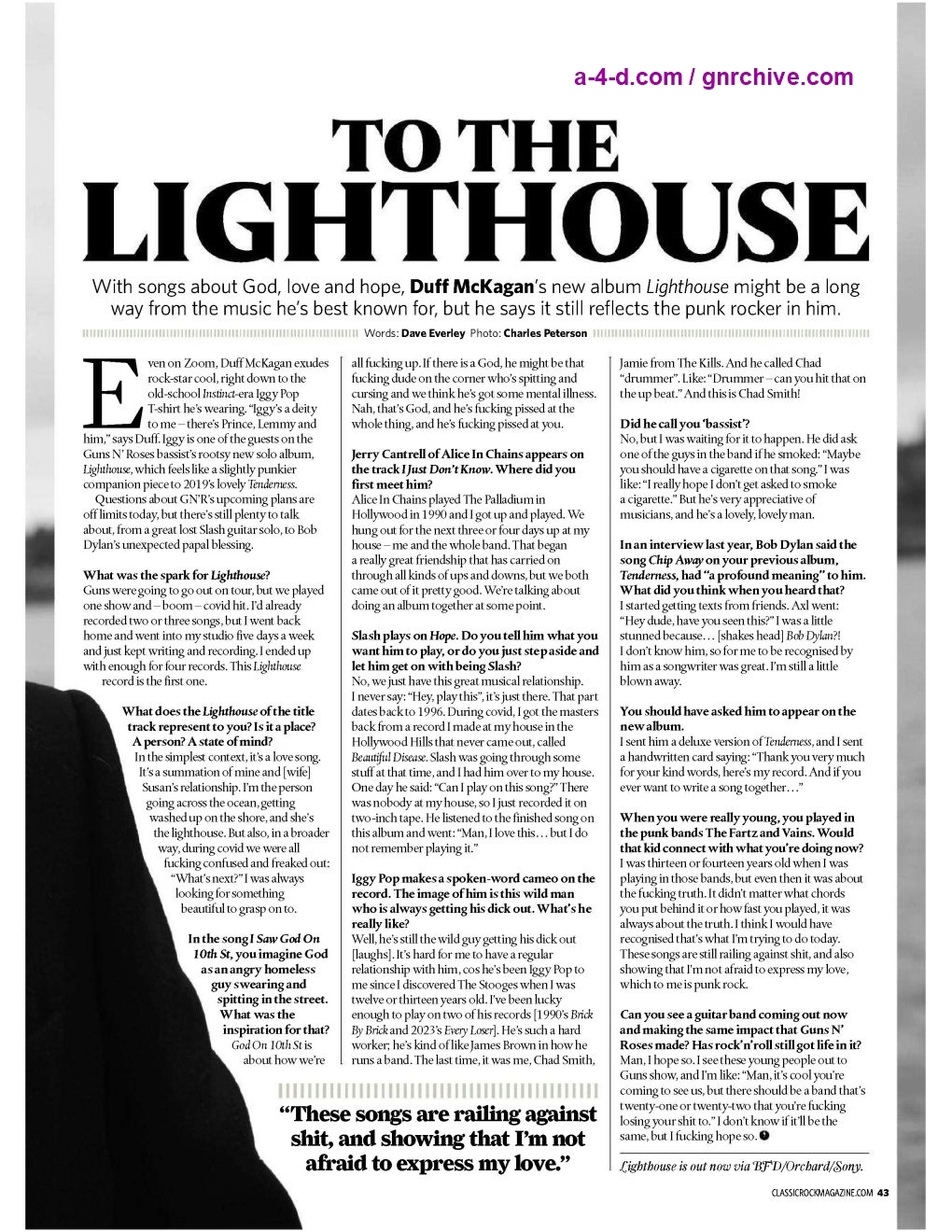 TO THE LIGHTHOUSE
With songs about God, love and hope, Duff McKagan's new album Lighthouse might be a long way from the music he's best known for, but he says it still reflects the punk rocker in him.
Words: Dave Everley
Photo: Charles Peterson
Even on Zoom, Duff McKagan exudes rock-star cool, right down to the old-school Instinct-era Iggy Pop T-shirt he's wearing. "Iggy's a deity to me - there's Prince, Lemmy and him," says Duff. Iggy is one of the guests on the Guns N' Roses bassist's rootsy new solo album,
Lighthouse
, which feels like a slightly punkier companion piece to 2019's lovely
Tenderness
.
Questions about GN'R's upcoming plans are off limits today, but there's still plenty to talk about, from a great lost Slash guitar solo, to Bob Dylan's unexpected papal blessing.
What was the spark for Lighthouse?
Guns were going to go out on tour, but we played one show and - boom - covid hit. I'd already recorded two or three songs, but I went back home and went into my studio five days a week and just kept writing and recording. I ended up with enough for four records. This
Lighthouse
record is the first one.
What does the Lighthouse of the title track represent to you? Is it a place? A person? A state of mind?
In the simplest context, it's a love song. It's a summation of mine and [wife] Susan's relationship. I'm the person going across the ocean, getting washed up on the shore, and she's the lighthouse. But also, in a broader way, during covid we were all fucking confused and freaked out: "What's next?" I was always looking for something beautiful to grasp on to.
In the song I Saw God On 10th St, you imagine God as an angry homeless guy swearing and spitting in the street. What was the inspiration for that?
God On 10th St
is about how we're all fucking up. If there is a God, he might be that fucking dude on the corner who's spitting and cursing and we think he's got some mental illness. Nah, that's God, and he's fucking pissed at the whole thing, and he's fucking pissed at you.
Jerry Cantrell of Alice In Chains appears on the track I Just Don't Know. Where did you first meet him?
Alice In Chains played The Palladium in Hollywood in 1990 and I got up and played. We hung out for the next three or four days up at my house - me and the whole band. That began a really great friendship that has carried on through all kinds of ups and downs, but we both came out of it pretty good. We're talking about doing an album together at some point.
Slash plays on Hope. Do you tell him what you want him to play, or do you just step aside and let him get on with being Slash?
No, we just have this great musical relationship. I never say: "Hey, play this", it's just there. That part dates back to 1996. During covid, I got the masters back from a record I made at my house in the Hollywood Hills that never came out, called
Beautiful Disease
. Slash was going through some stuff at that time, and I had him over to my house. One day he said: "Can I play on this song?" There was nobody at my house, so I just recorded it on two-inch tape. He listened to the finished song on this album and went: "Man, I love this ... but I do not remember playing it."
Iggy Pop makes a spoken-word cameo on the record. The image of him is this wild man who is always getting his dick out. What's he really like?
Well, he's still the wild guy getting his dick out [laughs]. It's hard for me to have a regular relationship with him, cos he's been Iggy Pop to me since I discovered The Stooges when I was twelve or thirteen years old. I've been lucky enough to play on two of his records [1990's
Brick By Brick
and 2023's
Every Loser
]. He's such a hard worker; he's kind of like James Brown in how he runs a band. The last time, it was me, Chad Smith, Jamie from The Kills. And he called Chad "drummer". Like: "Drummer - can you hit that on the up beat." And this is Chad Smith!
Did he call you 'bassist'?
No, but I was waiting for it to happen. He did ask one of the guys in the band if he smoked: "Maybe you should have a cigarette on that song." I was like: "I really hope I don't get asked to smoke a cigarette." But he's very appreciative of musicians, and he's a lovely, lovely man.
In an interview last year, Bob Dylan said the song Chip Away on your previous album, Tenderness, had "a profound meaning" to him. What did you think when you heard that?
I started getting texts from friends. Axl went: "Hey dude, have you seen this?" I was a little stunned because... [shakes head]
Bob Dylan?
! I don't know him, so for me to be recognised by him as a songwriter was great. I'm still a little blown away.
You should have asked him to appear on the new album.
I sent him a deluxe version of
Tenderness
, and I sent a handwritten card saying: "Thank you very much for your kind words, here's my record. And if you ever want to write a song together."
When you were really young, you played in the punk bands The Fartz and Vains. Would that kid connect with what you're doing now?
I was thirteen or fourteen years old when I was playing in those bands, but even then it was about the fucking truth. It didn't matter what chords you put behind it or how fast you played, it was always about the truth. I think I would have recognised that's what I'm trying to do today. These songs are still railing against shit, and also showing that I'm not afraid to express my love, which to me is punk rock.
Can you see a guitar band coming out now and making the same impact that Guns N' Roses made? Has rock'n'roll still got life in it?
Man, I hope so. I see these young people out to Guns show, and I'm like: "Man, it's cool you're coming to see us, but there should be a band that's twenty-one or twenty-two that you're fucking losing your shit to." I don't know if it'll be the same, but I fucking hope so.
Lighthouse is out now via BFD/Orchard/Sony.

Blackstar

ADMIN




Posts

: 12210


Plectra

: 80073


Reputation

: 97


Join date

: 2018-03-17



---
Permissions in this forum:
You
cannot
reply to topics in this forum