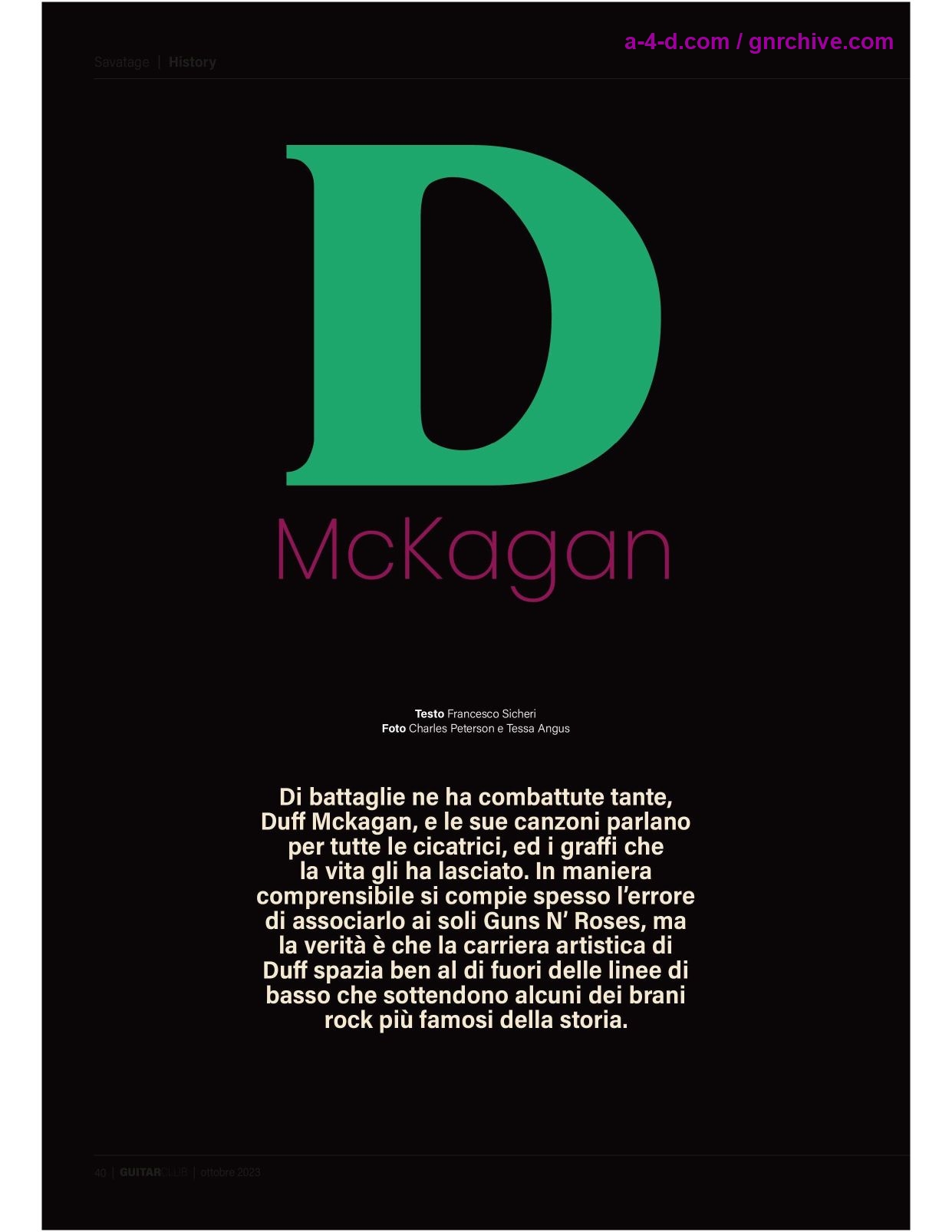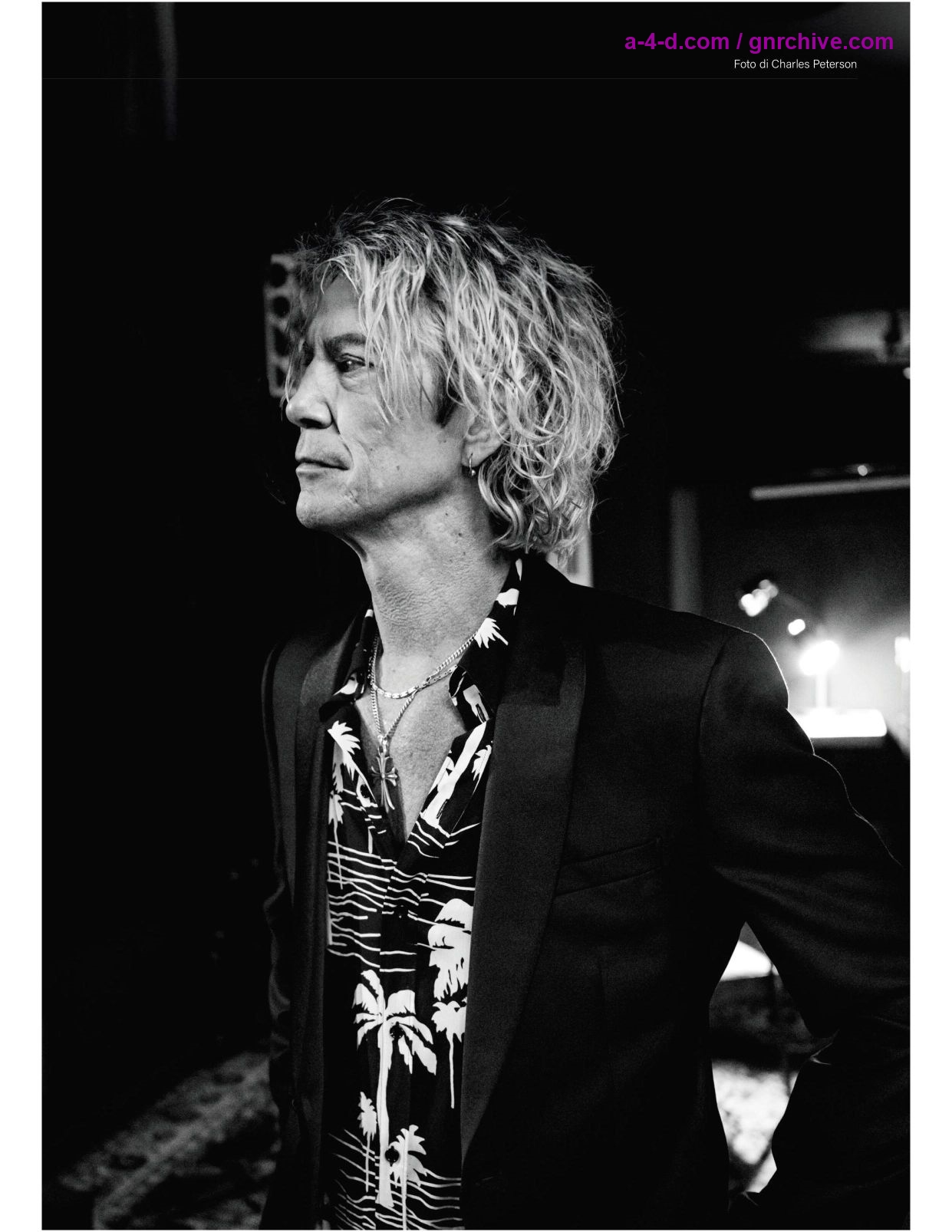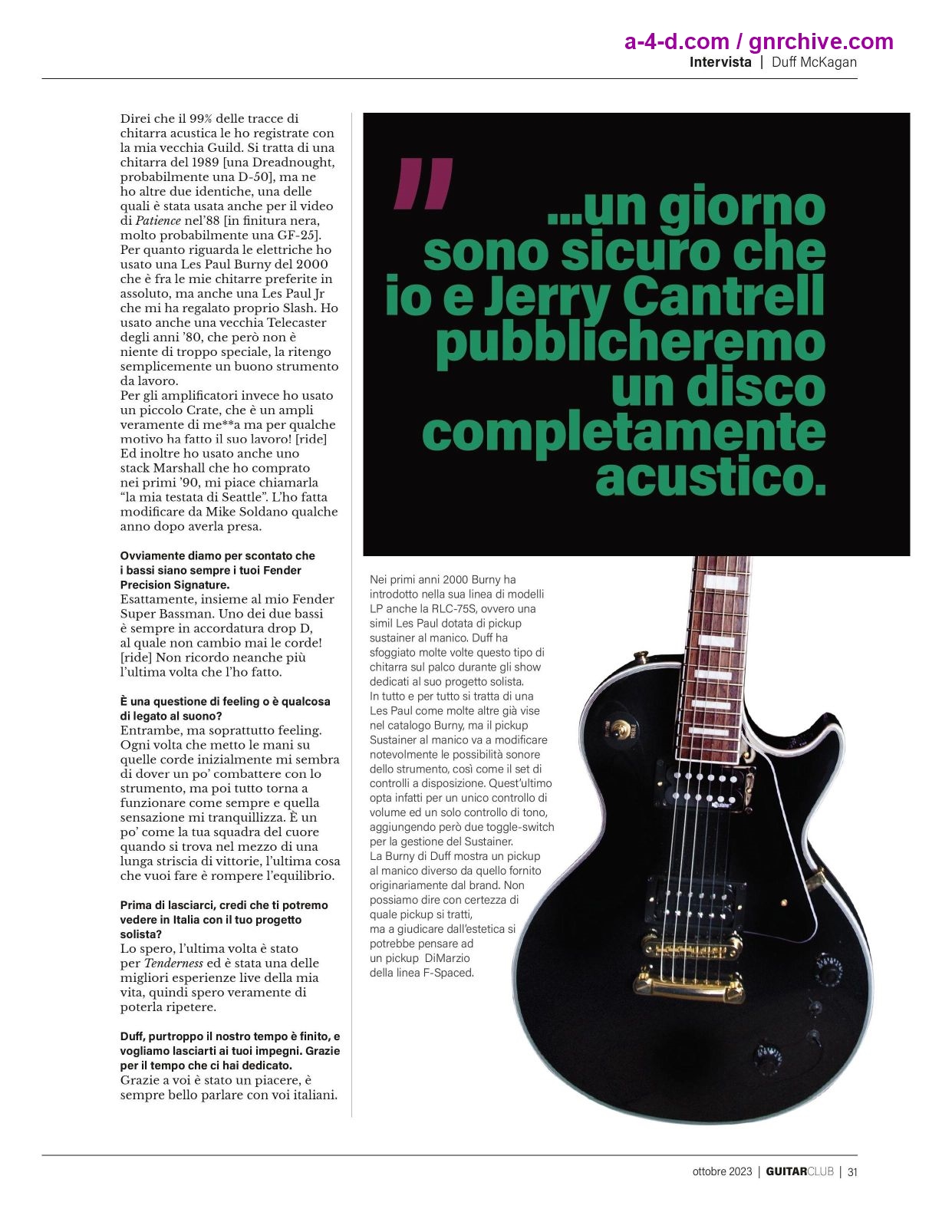 Transcript (Italian):
------------------------
Duff McKagan
Testo Francesco Sicheri
Foto Charles Peterson e Tessa Angus
Di battaglie ne ha combattute tante, Duff Mckagan, e le sue canzoni parlano per tutte le cicatrici, ed i graffi che la vita gli ha lasciato. In maniera comprensibile si compie spesso l'errore di associarlo ai soli Guns N' Roses, ma la verità è che la carriera artistica di Duff spazia ben al di fuori delle linee di basso che sottendono alcuni dei brani rock più famosi della storia.
A quasi sessant'anni Duff McKagan è uno di quei personaggi senza bisogno di grandi introduzioni. Musicista consumato e famoso per un'energia sul palcoscenico che viene direttamente dalla vena punk e diy che un nativo di Seattle non può proprio far a meno di sfoggiare, McKagan è uno "degli originali" di un'epoca che oggi più che mai pare veramente molto lontana. Dentro e fuori dai Guns ha cavalcato la seconda, roboante, metà degli anni '80, per sfociare poi nei '90 e vivere sulla sua pelle il fermento dilaniante che la sua città natale ha prodotto.
Della vita a suon di rock'n' roll Duff non si è fatto mancare proprio niente, di sicuro non i palchi più rumorosi, ma di certo neanche le gozzoviglie. Quest'ultime hanno segnato la sua vita con periodi poco felici, ma è stato proprio in quei momenti che la musica e la chitarra sono stati un faro guida.
Ho sempre avuto una chitarra acustica al mio fianco... - ci ha raccontato Duff - Nella mia vita ho sofferto di attacchi di panico, ed ho sofferto di depressione, e la musica è l'unica cosa che mi ha sempre tenuto su una sorta di linea retta.
Lighthouse è il terzo album solista di Duff: nato durante la pandemia, il nuovo album arriva a 4 anni di distanza dal precedente Tenderness ma soprattutto 30 anni dopo Believe In Me, lavoro che oggi rappresenta un ricordo di tempi molto lontani per il musicista di Seattle. Believe In Me è una fotografia di quello che ero al tempo, una Polaroid se vogliamo... - ha commentato Duff - Nei mesi in cui ho realizzato quell'album ero ancora nel pieno della dipendenza. Penso che ascoltandolo bene si possa ancora sentire la cocaina nella mia voce.
Per Lighthouse Duff è tornato a vestire quei panni di autore che gli piacciono tanto e, chitarra alla mano, ha dato vita ad un album intimo ma forte di un panorama sonoro caldo e molto accogliente. Vista una simile occasione, non ci siamo lasciati scappare l'opportunità di fare qualche domanda a Duff, che abbiamo raggiunto in video-chiamata durante una giornata di pausa dal tour mondiale dei Guns.
Hey Duff, che piacere vederti! Come stai?
Ciao! Qui tutto bene, al momento sono a Chicago ed ho un giorno libero dal tour con i Guns, ma ho comunque molto da fare per preparare l'uscita del nuovo album.
Ti stanchi mai della routine che sta dietro la pubblicazione di un album?
Beh dipende da quello che mi chiedi [ride]
Questo è vero.
Scherzi a parte... No, non sono stufo di queste cose, anzi sono ancora molto motivato dalla mia musica. Sono ancora molto emozionato ogni volta che un nuovo album si appresta ad andare nel mondo e devo dire che Lighthouse, in particolare, è stato un lavoro svolto in gran parte da me e Martin Feveryear. È stato un album scritto e lavorato soprattutto durante il lockdown, e pertanto è anche passato attraverso la trafila di regole e restrizioni che serviva rispettare.
Dove avete registrato il tutto?
Per la maggior parte dei brani abbiamo lavorato a Seattle, nel mio studio, dove Jamie - che è una persona che lavora per i Guns da molti anni - ci ha aiutati e seguiti durante tutte le sessioni di registrazione. Jamie [Douglass] ha potuto registrare le sue parti di batteria direttamente in studio da me, mentre per altri interventi l'abbiamo fatto in remoto.
La scrittura dei brani come si è svolta? È andata diversamente rispetto a quanto sei solito fare per i Guns o per altri tuoi progetti?
Credo che tutto sia cambiato soltanto a causa del lockdown. Era un periodo abbastanza buio un po' per tutti, e pertanto ho cercato di sfruttare quell'oscurità per scrivere questi brani. Il modo è sempre il solito per me, chitarra alla mano, non faccio altro che buttare giù qualche accordo e quando sento che le cose al mio orecchio funzionano, cerco di imbastire una struttura che abbia un senso. Ho sempre fatto così fin dai primi giorni con i Guns, abbiamo sempre scritto soprattutto per noi stessi, senza cercare di fare qualcosa che si adattasse necessariamente a degli standard.
Nel tempo è cambiato qualcosa nel modo in cui le tue idee prendono vita sullo strumento?
Sì, i testi hanno preso un ruolo molto più importante rispetto al passato. Questo è certo. Per il resto tutto passa obbligatoriamente da una base di accordi, sono sempre partito da lì ed è lì che torno sempre per trovare una struttura nella quale posso ritrovarmi. Da lì in poi è tutto un lavoro per tentativi, bisogna sempre provare a modificare la ricetta in modo che si adatti all'occasione.
Dopo aver ascoltato Lighthouse per svariate volte è inevitabile dire che l'album, preso nella sua interezza, crea un mondo sonoro che è molto ricco, accogliente... In un certo senso ti porta dentro di sé e ti tiene lì.
Bene, ne sono contento, ed è anche qualcosa che speravo l'album facesse per me, perché quando l'ho scritto avevo bisogno che mi portasse via dalla pesantezza del lockdown. È qualcosa che ho scritto con molte speranze... Ritengo che molta della resa sonora venga anche dallo studio di registrazione che ho comprato un paio di anni fa, e che si trova in un edificio molto vecchio con un suo vibe... Può sembrare molto pretenziosa come frase, ma sono ancora convinto che certi luoghi abbiano un'atmosfera che finisce per trasferirsi anche nella musica. Devo dare credito anche a Martin Feveryear, il mio produttore, che ha fatto un lavoro incredibile, soprattutto per tirare fuori il meglio dalla mia voce.
È pazzesco pensare che Lighthouse è il tuo terzo album solista, ma che il primo che hai pubblicato, Believe In Me, è uscito ben 30 anni fa!
Sì, è abbastanza assurdo. Il tempo corre veloce. E per me è ancora più assurdo pensare alla persona che ha scritto Believe In Me. Quella versione di me stesso è molto diversa da ciò che sono oggi, è ancora dentro di me da qualche parte, ma sono cambiato in maniera radicale. Believe In Me è nato con delle demo realizzate per i Guns, avevo suonato tutto io, e sono contento che sia successo 30 anni fa, perché oggi non mi sognerei mai di realizzare un disco come quello.
È qualcosa di cui avrei voluto parlare. Come ti relazioni al passare del tempo, sia da un punto di vista artistico, sia da un punto di vista personale?
Credo che sia qualcosa che bisogna imparare ad accettare. Believe In Me è una fotografia di quello che ero al tempo, una Polaroid se vogliamo. Nei mesi in cui ho realizzato quell'album ero ancora nel pieno della dipendenza. Penso che ascoltandolo bene si possa ancora sentire la cocaina nella mia voce. Ricordo le urla dietro il microfono, ricordo bene quel periodo, ed è ancora parte di me perché sono ancora molto legato a quell'atteggiamento punk. Ma oggi posso dire con buona certezza che anche tre accordi di chitarra acustica possono essere punk allo stesso modo. Pensando al passare del tempo direi di non aver mai perso quel tipo di energia, ma allora avevo bisogno di altro. In quel momento della mia vita ero fuori di testa, ed infatti Believe In Me suona come un disco fuori di testa.
Credi che la musica sia stata quel faro guida che ti ha condotto dove sei oggi?
Senza dubbio. Per me è stata qualcosa di molto importante. Ho sempre avuto una chitarra acustica al mio fianco. Nella mia vita ho sofferto di attacchi di panico, ed ho sofferto di depressione, e la musica è l'unica cosa che mi ha sempre tenuto su una sorta di linea retta. Un giorno, non troppo tempo fa, ero in un centro massaggi e ad un certo punto, senza motivo, il mio cervello si è come staccato. Era un attacco di panico, e pensandoci bene non c'era alcun motivo per cui io ne dovessi soffrire. La mia famiglia stava benissimo, le mie figlie stavano alla grande, la band era tornata a suonare dal vivo e le cose andavano alla grande... Insomma, non c'era alcun motivo tangibile perché succedesse qualcosa di simile.
Hai dovuto accettarlo...
Esatto. E per arrivare a farlo la chitarra mi ha aiutato moltissimo. Credo che sia una sorta di confessionale, uno di quegli elementi della mia vita che mi ha dato l'aiuto maggiore nel mettere la depressione sotto controllo ed anche a chiedere aiuto... Mi chiedo se queste cose vi possano interessare davvero... [ride]
Certo che sì, sembra tutto collegarsi a Lighthouse.
Sì, per me è così. La musica, la chitarra, e mia moglie (con la quale sto da tantissimo tempo) mi hanno aiutato ad arrivare a questo punto di controllo totale su quello che mi accade. Così un giorno ho pensato che se avessi scritto dei brani riguardo alla depressione, ed agli attacchi di panico, qualcuno li avrebbe ascoltati e si sarebbe sentito meno solo. Perché spesso è difficile mettere in parole quello che si prova, soprattutto nella sfera più negativa della nostra vita.
Ci sono cose che ancora oggi hai paura, o perlomeno hai difficoltà, a raccontare e condividere?
Molte, e devo dire che scrivere canzoni mi aiuta a riconoscere quali siano. Spesso nei testi che scrivo metto molto più di quello che i brani, nella loro versione finale, vanno a raccontare. È un po' come un diario che poi vado a limare ed a smussare. Se mi siedo a scrivere a ruota libera, è molto probabile che io metta in parole molto più di quello che poi voglio realmente la gente ascolti. Sono cose molto personali, e finisco sempre per pensare che le persone non ne abbiano bisogno.
Sembra quasi la scrittura sia parte della tua vita tanto quanto la musica...
Mi piace pensare che lo sia. All'inizio degli anni 2000 scrivevo un paio di editoriali a settimana per alcune pubblicazioni, e mi piaceva molto. In quel periodo mi sono acclimatato molto con il ruolo di autore, e questo mi è servito tantissimo anche per migliorare i testi dei miei brani. Mi sono reso conto di come gli scrittori migliori sappiano dire molto anche usando poche parole, e questo è qualcosa che ancora oggi aspiro a raggiungere con i testi delle mie canzoni. Lavoro sempre molto sull'economia delle parole, ed in essa c'è anche un tentativo di fare economia per quanto riguarda i contenuti, le due cose sono collegate.
Duff, ascoltando l'album però c'è anche un brano in cui, in maniera quasi liberatoria, la tua vena punk torna a farsi sentire in modo più chiaro. Si tratta di Just Another Shakedown, che ricorda un po' i Clash, un po' Bob Dylan, un po' Iggy Pop.
È uno di quei brani scanzonati. Che però serviva nel mezzo dell'album. Lighthouse si apre come ricerca di una luce e si conclude con un nuovo senso di ricerca, ma a quel punto più introspettiva. Nel mezzo si trova un po' di tutto, dall'amore alla speranza, ma anche ricerca di affermazione, e necessità di rivalsa. C'è anche un brano, Custer's Last Stand, che parla di Cavallo Pazzo, personaggio leggendario della tradizione dei nativi americani.
Uno dei nostri preferiti è sicuramente Long Feather.
Che è un brano molto importante per me perché parla del mio percorso verso la sobrietà, e credo che anche il suo collocamento nella tracklist sia perfetto. Un po' come per JustAnother Shakedown, che è il brano più energico e che pertanto dà una sferzata alla scaletta prima della tornata finale.
Pare di capire quindi che sei ancora quel tipo di musicista che presta molta attenzione alla costruzione dell'album attraverso la tracklist.
Vedete, nella mia vita sono stato abbastanza fortunato da avere due figlie meravigliose. Cresciute però nell'era dello streaming, mi sono accorto della loro abitudine di pescare brani a caso... a volte in macchina ascoltavano anche solo mezzo brano per poi cambiare, ancora e ancora. Mi sono sempre rifiutato di accettare quel tipo di approccio, non mi appartiene, ed ora sono contento che dopo aver ricomperato un giradischi, qualche anno fa, anche le mie figlie hanno iniziato ad ascoltare gli album dall'inizio alla fine, a guardare i booklet, e via dicendo.
Lighthouse senza dubbio brilla quando ascoltato nella sua interezza, soprattutto perché quando si giunge a Lighthouse Reprise l'apparizione della voce Iggy Pop arriva come un vero fulmine a ciel sereno.
Sono d'accordo. Iggy è incredibile, cosa altro si può dire al riguardo? Per una persona come me avere Iggy sul proprio album è come aver raggiunto l'apice della carriera. Ho avuto la fortuna di suonare sul suo ultimo album, e la cosa più bella è stata che è stato Iggy ad offrirsi di fare qualcosa per il mio nuovo album. La sua performance è stata semplicemente perfetta, non avrei mai potuto chiedere niente di meglio.
Su Lighthouse vi è la presenza di un altro paio di tuoi vecchi amici, nello specifico Jerry Cantrell e Slash. Ti possiamo chiedere di parlarci di come ti rapporti al lavoro con due chitarristi come loro? Se ti va, iniziamo da Cantrell...
Conosco Jerry da una vita, abbiamo fatto molte cose insieme. Suono il basso su ogni sua demo, e tutto si svolge sempre in maniera molto informale. Quando ci troviamo la domenica per vedere qualche partita di football capita che all'intervallo Jerry mi chieda di ascoltare una traccia su cui sta lavorando, e lo stesso faccio io con lui. A volte è capitato anche di registrare proprio nel mezzo di qualche partita! [ride] La nostra amicizia va indietro nel tempo per molti anni, e ci piace anche molto suonare la chitarra acustica insieme. Penso che un giorno, anzi ne sono sicuro, realizzerò un disco completamente acustico insieme a Jerry... lo vogliamo fare entrambi da molto tempo. Jerry è uno di quei musicisti per cui ho molto rispetto, non solo perché veniamo entrambi da Seattle e perché ci conosciamo da moltissimo, ma soprattutto perché negli anni ho visto arrivare sulle scene un sacco di sedicenti fenomeni, ma la verità dei fatti è che molti poi sono semplicemente scomparsi. Jerry è uno di quei chitarristi che può entrare in studio e buttare giù una linea solista nel giro di pochi minuti. Non sono in molti a saperlo fare, Troy dei Queens Of The Stone Age è un altro... Un'altra cosa che mi piace molto di Jerry è guardarlo suonare, perché sembra sempre di vedere qualcuno che combatte con lo strumento. Un aspetto che riguarda anche Slash.
Proprio Slash, il tuo vecchio compagno di avventure, è presente sull'album. Come è suonare con lui dopo così tanti anni?
Uno spettacolo. Per me Slash è più un di amico, è qualcuno con cui ho condiviso gran parte della mia vita, nel bene e nel male. E penso che questo si rifletta in musica quando ci ritroviamo a suonare insieme. Inoltre Slash è un altro di quei chitarristi in continuo miglioramento. È sempre al lavoro sullo strumento, ed ogni volta è capace di mettere uno sforzo sempre maggiore rispetto a quello che gli viene chiesto. Come Jerry può entrare in studio ed in pochi minuti completare un brano con interventi che ad altri chitarristi, anche molto più tecnici, non verrebbero mai in mente. Sono fortunato a conoscere persone simili. È una delle grandi fortune della mia vita.
Duff, in questo album suoni il basso e soprattutto la chitarra. Vuoi dirci qualcosa di più degli strumenti che hai utilizzato per registrarlo?
Direi che il 99% delle tracce di chitarra acustica le ho registrate con la mia vecchia Guild. Si tratta di una chitarra del 1989 [una Dreadnought, probabilmente una D-50], ma ne ho altre due identiche, una delle quali è stata usata anche per il video di Patience nel'88 [in finitura nera, molto probabilmente una GF-25]. Per quanto riguarda le elettriche ho usato una Les Paul Burny del 2000 che è fra le mie chitarre preferite in assoluto, ma anche una Les Paul Jr che mi ha regalato proprio Slash. Ho usato anche una vecchia Telecaster degli anni '80, che però non è niente di troppo speciale, la ritengo semplicemente un buono strumento da lavoro. Per gli amplificatori invece ho usato un piccolo Grate, che è un ampli veramente di me**a ma per qualche motivo ha fatto il suo lavoro! [ride] Ed inoltre ho usato anche uno stack Marshall che ho comprato nei primi '90, mi piace chiamarla "la mia testata di Seattle". L'ho fatta modificare da Mike Soldano qualche anno dopo averla presa.
Ovviamente diamo per scontato che i bassi siano sempre i tuoi Fender Precision Signature.
Esattamente, insieme al mio Fender Super Bassman. Uno dei due bassi è sempre in accordatura drop D, al quale non cambio mai le corde! [ride] Non ricordo neanche più l'ultima volta che l'ho fatto.
È una questione di feeling o è qualcosa di legato al suono?
Entrambe, ma soprattutto feeling. Ogni volta che metto le mani su quelle corde inizialmente mi sembra di dover un po' combattere con lo strumento, ma poi tutto torna a funzionare come sempre e quella sensazione mi tranquillizza. È un po' come la tua squadra del cuore quando si trova nel mezzo di una lunga striscia di vittorie, l'ultima cosa che vuoi fare è rompere l'equilibrio.
Prima di lasciarci, credi che ti potremo vedere in Italia con il tuo progetto solista?
Lo spero, l'ultima volta è stato per Tenderness ed è stata una delle migliori esperienze live della mia vita, quindi spero veramente di poterla ripetere.
Duff, purtroppo il nostro tempo è finito, e vogliamo lasciarti ai tuoi impegni. Grazie per il tempo che ci hai dedicato.
Grazie a voi è stato un piacere, è sempre bello parlare con voi italiani.

Blackstar

ADMIN




Posts

: 12210


Plectra

: 80073


Reputation

: 97


Join date

: 2018-03-17



---
Permissions in this forum:
You
cannot
reply to topics in this forum