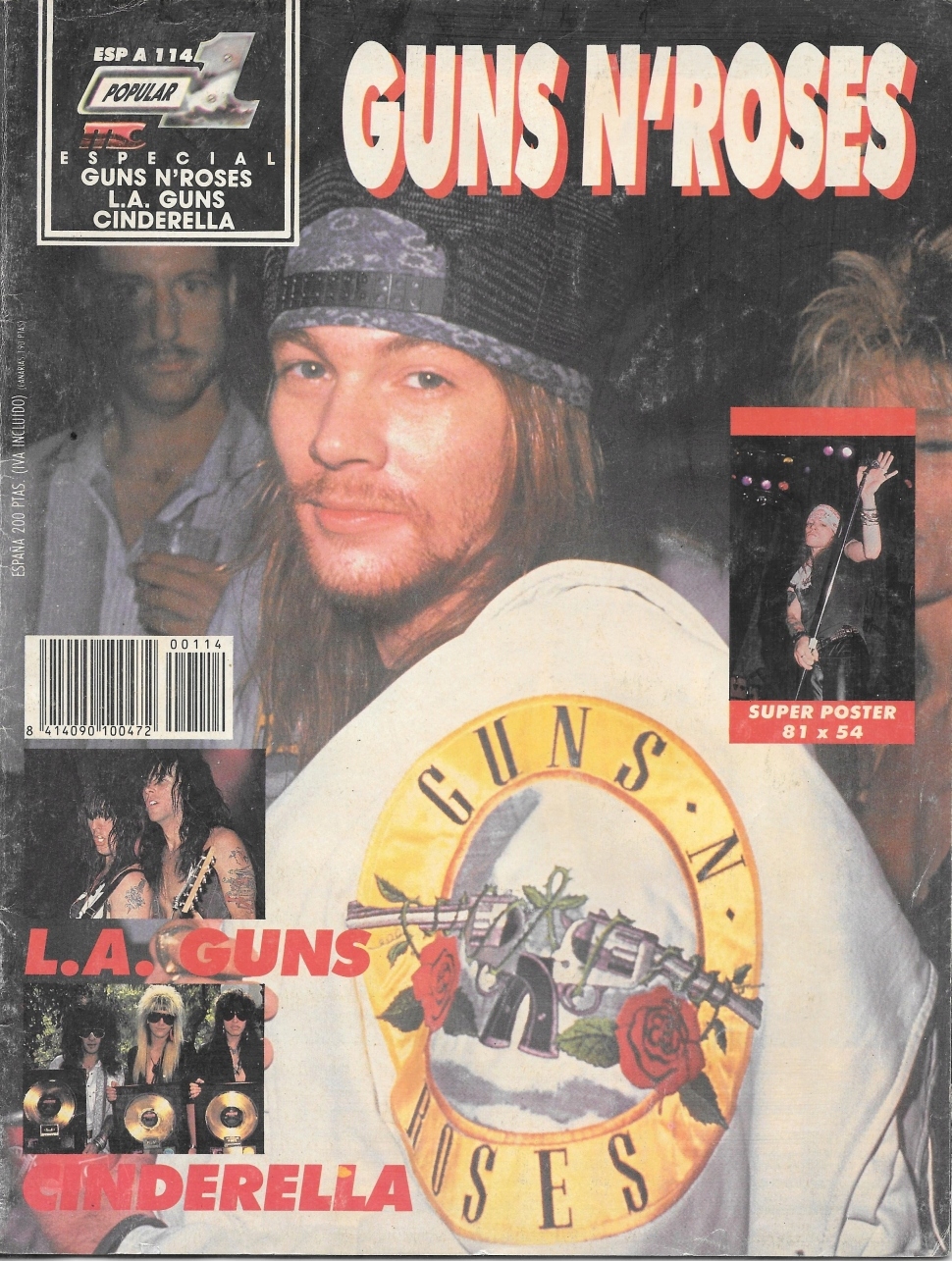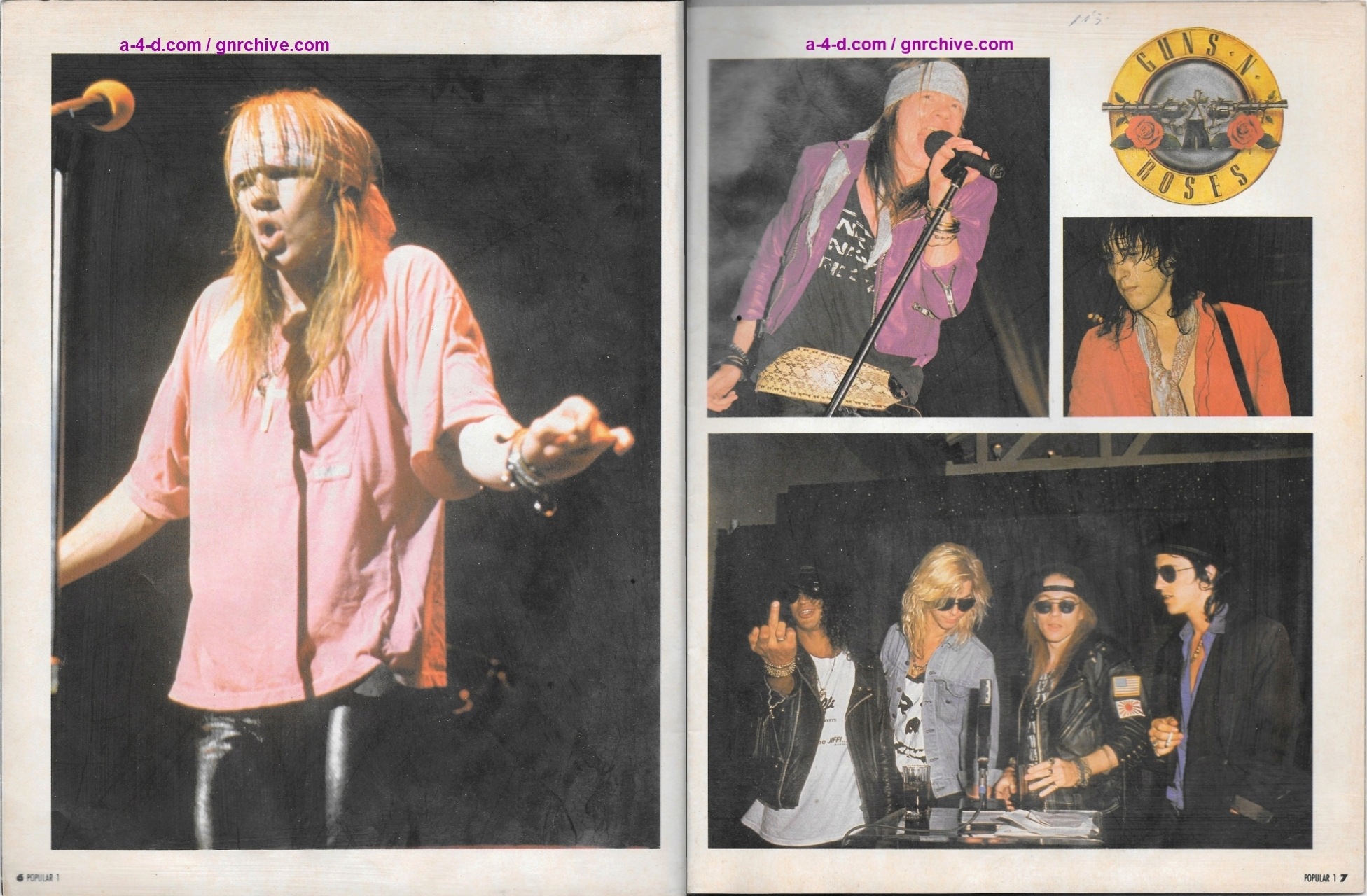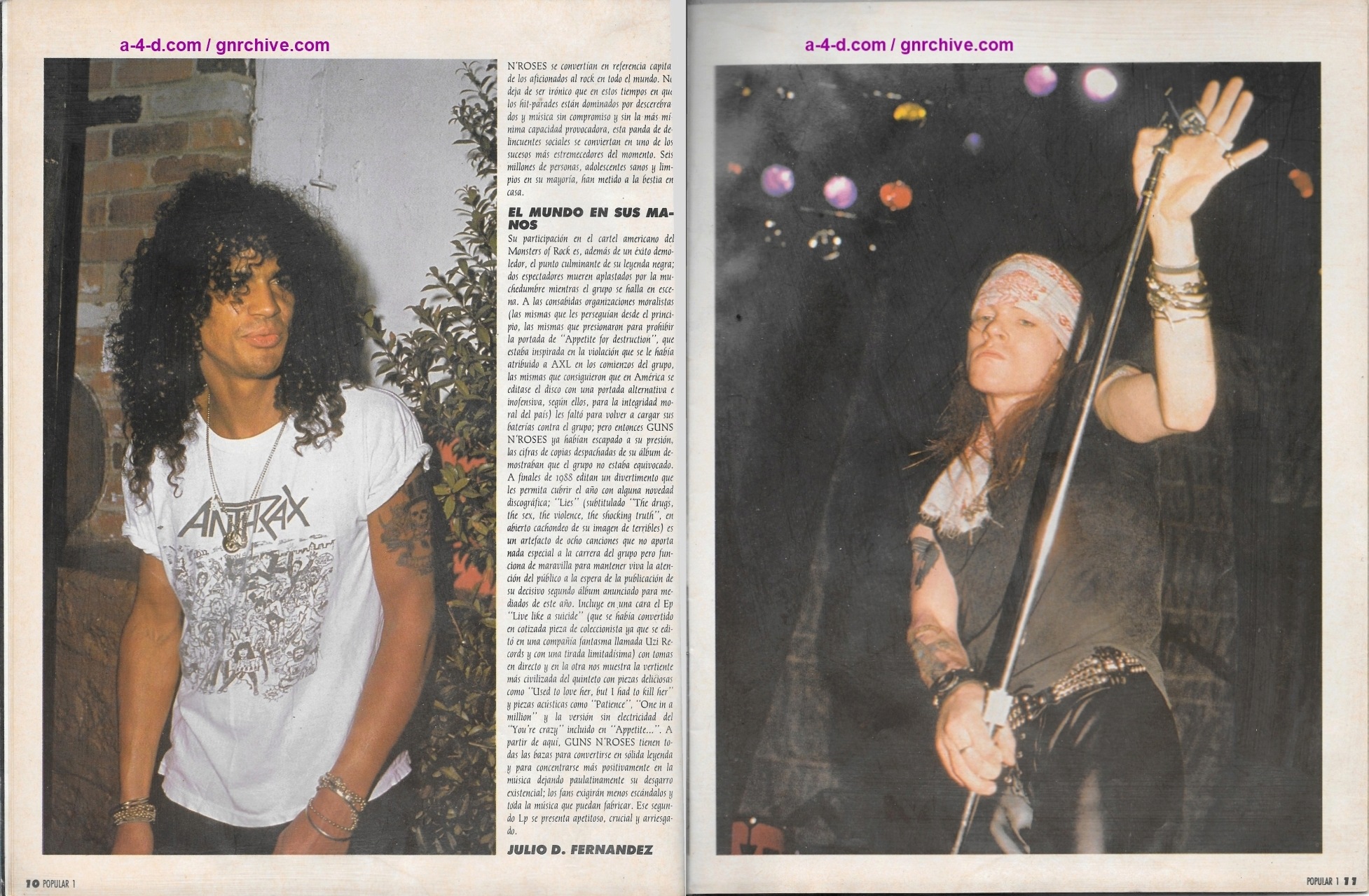 Translation from Spanish:
--------------------------------
GUNS N' ROSES
WILD THING
WALKING ON THE WILD SIDE. THAT SEEMS TO BE THE OPTION THAT THE CALIFORNIAN QUINTET HAS TAKEN TO PLAY THEIR ROLE AS A STREET BAND, VICIOUS AND CRAZY ABOUT ROCK AND ROLL. THE REALLY SPECTACULAR THING IS THAT IT HAS WORKED OUT PERFECTLY FOR THEM AND A BAND WITH AN OUTRAGEOUS AND GROUNDBREAKING ATTITUDE HAS ACHIEVED SALES FIGURES THAT ARE AT ODDS WITH THEIR APPROACH. TO SELL SIX MILLION RECORDS MEANS POWER AND DANGER - FINANCIAL SECURITY AND THE CHANCE TO CREATE A FOLLOW-UP THAT DOESN'T DISAPPOINT. THEY'RE ON IT.
This special issue focuses on Los Angeles and attempts to document, through three specific cases, the phenomenon that has marked an entire era. The wave of glam-metal rockers was especially strong three, four and five years ago, but now things have balanced out and the bands that started out being influenced by the legacy of the seventies (more in terms of image - with all their colorful outfits - than in terms of music) have developed their own talents. Guns N' Roses, since their initially slow and then explosive emergence in the music industry, have had to suffer the consequences of their Los Angeles background. Depending on how one looks at it, it could be said that Guns N' Roses is a glam band, a hard-rock band or a bunch of degenerates, but all these are only partial truths. Personally, I think that the boys are recapturing the essence of a whole school of rock and roll bands (no more labels). They are youngsters who grew up learning the eternal lesson of early seventies' Rolling Stones and continued their education with other well-known acts like Aerosmith (it has to be stressed that this is an absolutely key group for every teenager who grew up up in the seventies) or the New York Dolls. Reading between the lines, we also find references to the marginal and ultra-urban legacy of Detroit rock, an imperceptible taste for country imagery - not as a musical influence, but as an attitude - and also evident influences from hard rock, especially, once again, from Led Zeppelin and their overwhelming legend.
Guns N' Roses differ from their generational peers (they cannot be compared to Motley Crüe, Poison, or Cinderella) in something essential for a rock band: they keep tight on themselves, their line-up represents the idea of compact unity, and their studio and live work showcases a solid machine of rock and roll sounds with a very clear idea of the direction to follow. Their gaudy air of rowdiness, alcoholism, rudeness and drug addiction has only increased their morbid appeal to the younger audience. What's miraculous is that, in spite of their continuous and dangerous frictions to the edge of the law, they have the ability to take care of their work to the point of obsession. Their songs sound spontaneous, forceful and their drive is certainly contagious, but behind their electric explosion there is a meticulous control of composition, careful arrangements and concern for the final touches of each song. That, and nothing else, is the ultimate secret of their extraordinary success; they may be a flock of crazy birds, but they know how to build songs that escape the clichés.
THE POWER HOUSE BAND
I think the only reliable way to look at the band's origins would be to talk directly to one of its members. In the early years of the present decade, Los Angeles had become a melting pot of young people wanting to have their own band and the jumble of names, anecdotes and personnel changes was almost continuous. The most reliable accounts suggest that the origin of the band was the lead guitarist, Slash; a macabre-looking guy (like a cross between a drunken undertaker in the wild West and a human-looking crow) who loved the Stones and Aerosmith and was willing to do anything to play guitar following in the footsteps of his role models, Keith Richards and Joe Perry. The fact is that Slash had always been able to develop his rebellious instinct since his parents - an album artwork illustrator (the father) and a fashion designer (the mother) - had always left him in absolute freedom and rock and roll was, logically, the most appropriate escape valve for his restlessness. He had always been hanging around band projects since he was fifteen years old, and one day he decided to place the typical ad in the classified section of a music magazine. It was answered by a certain Duff McKagan, nicknamed "Rose," who had been through an endless list of bands playing drums and guitar; on that occasion, he was going to be the bass player. Izzy Stradlin' came into the band in a curious way; he had previously been in an early line-up of L.A. Guns (where he had played with Axl), but he needed something more and he met Slash when the latter showed him a drawing of Aerosmith that he himself had made (apparently, Slash is a hobbyist for drawing, having inherited the gift, and he's the one who designed the cover of their first album, the EP "Live Like A Suicide", as well as the band's logo) and from there they established a communication and friendship that resulted to Izzy becoming the second guitarist of the band.
W. Axl Rose has a story worth telling. All his close friends confirm that he's the closest thing to a teenage psychopath that you could enounter. His youth was a tremendous compilation of school fights, expulsions, drunkenness, partying with drugs, beatings from his father and a lot of built-up bad temper. His real name was Bill Bailey until he discovered that his biological father had left home and his mother had given him the surname of her second husband. It was at that moment that he decided to change his name to W. Rose; and, as at that time he was with a band called AXL, he decided to incorporate it to create his definitive moniker. Ah, and according to his own words, the fact that the initials are W.A.R. is purely coincidental and it is only by chance that he decided to change his name to W. Rose. He came from the state of Indiana, where he grew up in the environment of a strict religious upbringing that blew up as soon as the boy discovered "the devil's music;" he joined the band through Izzy after arriving in California by hitchhiking. Before that, Axl had been in a band called Rose (later Hollywood Rose) and in the early L.A. Guns (together with Izzy, as I've already mentioned). This guy with the troubled past (he has been in jail briefly more than twenty times) was the charismatic vocalist that the new band needed. Finally, the drummer would be one Steven Adler, an apparently calmer guy than his unbridled companions. The name comes from the combination of those of their bands of origin, and it's a striking and evocative name: Guns N' Roses.
SOCIAL HAZARD
With that sum of conflicting personalities it was inevitable that things could not follow a normal course. The early days saw the band in a tiny apartment that served as their living quarters, rehearsal space, operational headquarters and the center stage for their partying. In the morning following one of those parties, Axl found himself with an unexpected rape charge that caused him to meet Vicky Hamilton (the woman who had worked in promoting earlier bands such as Motley Crüe and Poison, among others) and the band as a whole to move to her apartment until the situation of their singer was cleared up. That was a particularly difficult period for the band and each one was looking to live as badly as they could; except Slash who continued strolling his guitar around all over L.A. It's been said that he was one step away from joining Poison and he maintained his desire to make a living from music. Tired of wandering around the city with nothing much to do and working in miserable jobs, they decided to get all their strength and savings together, appoint Vicky as their official manager and spend the money to finance an album that would finally be called "Live Like A Suicide", four fierce songs that paid tribute to their roots of rock 'n' roll and presented a band with grit and uncertain future possibilities. Vicky moved on proficiently and with the EP under her belt she began to get gigs all over the L.A. club circuit. Guns N Roses made sure they did the rest, by playing presumably demolishing concerts and becoming the fashionable name among the rock circles of the city.
From there they went on to appear in neighboring states in what we could call their first more or less professional tour and two things became clear: that the band had a special force in its hands thanks to the chemistry among its members and that it seemed impossible that their trips would not always end in some type of confrontation with the law, personified preferably by the irascible Axl Rose. Their list includes beatings, violent incidents in hotels, fights with their own concert security, nights in jail and tons of alcohol and drugs with unpredictable effects. Slash was glued to a bottle of Jack Daniels and he, Axl and Izzybegan to have serious problems with heroin. Geffen Records had been keeping an eye on them since '85 and finally ended up offering them a substantial deal that would materialize shortly after with an overwhelming first album.
PARADISE CITY
"Appetite For Destruction" was released in 1987 and was the pinnacle of the band's upward career.  The twelve songs included in it had been part of the band's live repertoire since the beginning, and the results when it came to transferring them to vinyl were earth-shattering. The band sounded overwhelmingly confident in their own material and easily escaped the heavy metal label that had been gleefully attached to them, thanks to songs like "It's So Easy", "Mr. Brownstone", "Paradise City", "Think About You" or the blistering "Rocket Queen". The first single released was the smoking hot "Welcome To The Jungle" (a maxi was also released with "Welcome..." as the title track, a live version of "It's So Easy" and live versions of Bob Dylan's "Knockin On Heaven's Door" and AC/DC's "Whole Lotta Rosie", recorded during their European show at London's famous Marquee) and slowly brought the album to an acceptable position in the charts. Guns N' Roses supported the album with constant concerts that increased two things: their fan base and their trouble making schedule. To their list of fights they added busting the heads of unwelcome photographers, more hotel brawls, beating up the drummer of Faster Pussycat, insults to Poison, a million-dollar lawsuit filed against them by Vicky Hamilton, bans from venues, alcohol and drug overdoses, Axl in a psychiatric clinic... the kind of guys that your mother would love to meet. While they were busy doing all that, the album ran its course until, in the second half of '88, "Sweet Child O' Mine" was released as a single and sales (which by then were already around two and a half million or so) skyrocketed to six million copies and Guns N' Roses became a household name for rock fans around the world. It's ironic that in these times, with the charts being dominated by brainless and unengaging music without the slightest ability to provoke, this bunch of social delinquents has become one of the most shocking stories of today. Six million people, mostly healthy and clean teenagers, have brought the beast into their homes.
THE WORLD IN THEIR HANDS
Their appearance on the American bill of Monsters of Rock was not only a smashing success, but also the high point of their dark legend; two audience members were crushed to death by the crowd while the band was on stage. The usual self-righteous groups (the same ones that persecuted them from the beginning, the same ones that pushed to ban the cover of "Appetite For Destruction", which was inspired by the rape attributed to Axl in the early days of the band, the same ones that got the album released in America with an alternate and harmless cover, according to them, for the moral integrity of the country) were ready to charge their guns at the band again. By then, however, Guns N' Roses had already evaded their pressure; the figures of dispatched copies of their album proved that the band was not wrong. At the end of 1988 they released a ditty that allowed them to fill the year with some new recordings: "Lies" (sub-titled "The Drugs, The Sex, The Violence, The Shocking Truth", openly making fun of their terrible reputation) is an eight-song record that doesn't add anything special to the band's career, but works wonderfully to hold the public's attention while waiting for their crucial second album announced to be released in the middle of this year. One side includes the "Live Like A Suicide" EP (which had become a sought-after collector's item since it was released on a phantom company called Uzi Records and in a very limited number of copies) with live takes, while the other side showcases the more civilized facet of the quintet with delightful tunes like "Used To Love Her, But I Had To Kill Her" and acoustic tracks like "Patience", "One In A Million" and the non-electric version of the 'Appetite…" song "You're Crazy". From here on, Guns N' Roses have all the potential to become a solid legend and to concentrate more positively on the music, gradually leaving their existential turmoil behind. The fans will demand less scandals and all the music the band can create. That second LP looks tempting, crucial and risky.
JULIO D. FERNANDEZ
Last edited by Blackstar on Wed Aug 10, 2022 6:35 am; edited 1 time in total

Blackstar

ADMIN




Posts

: 11774


Plectra

: 77608


Reputation

: 97


Join date

: 2018-03-17



Rather poorly written article with many inaccuracies. Added for archival purposes.

Blackstar

ADMIN




Posts

: 11774


Plectra

: 77608


Reputation

: 97


Join date

: 2018-03-17



---
Permissions in this forum:
You
cannot
reply to topics in this forum