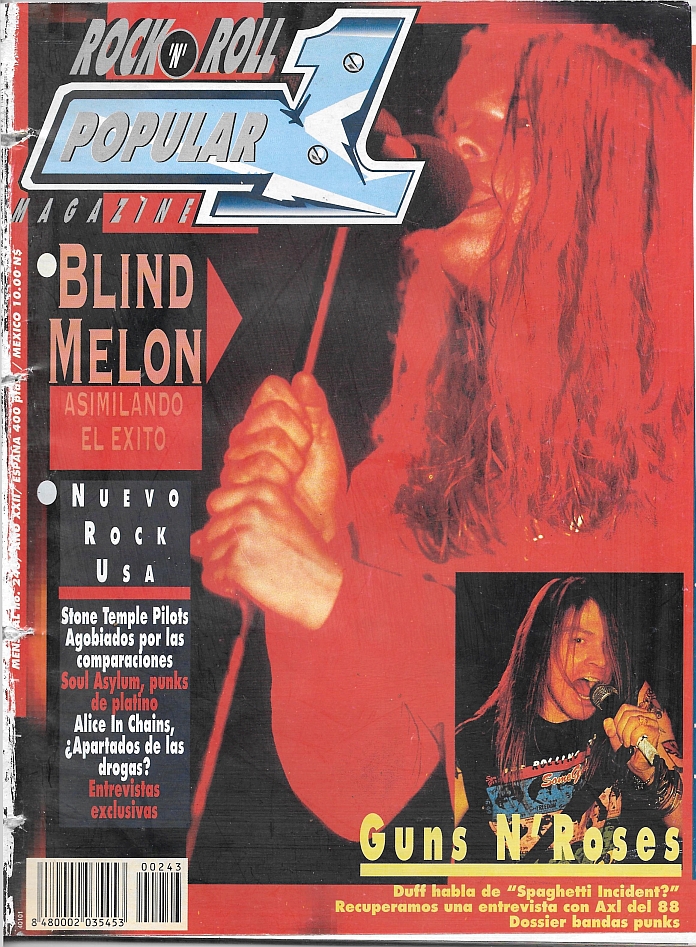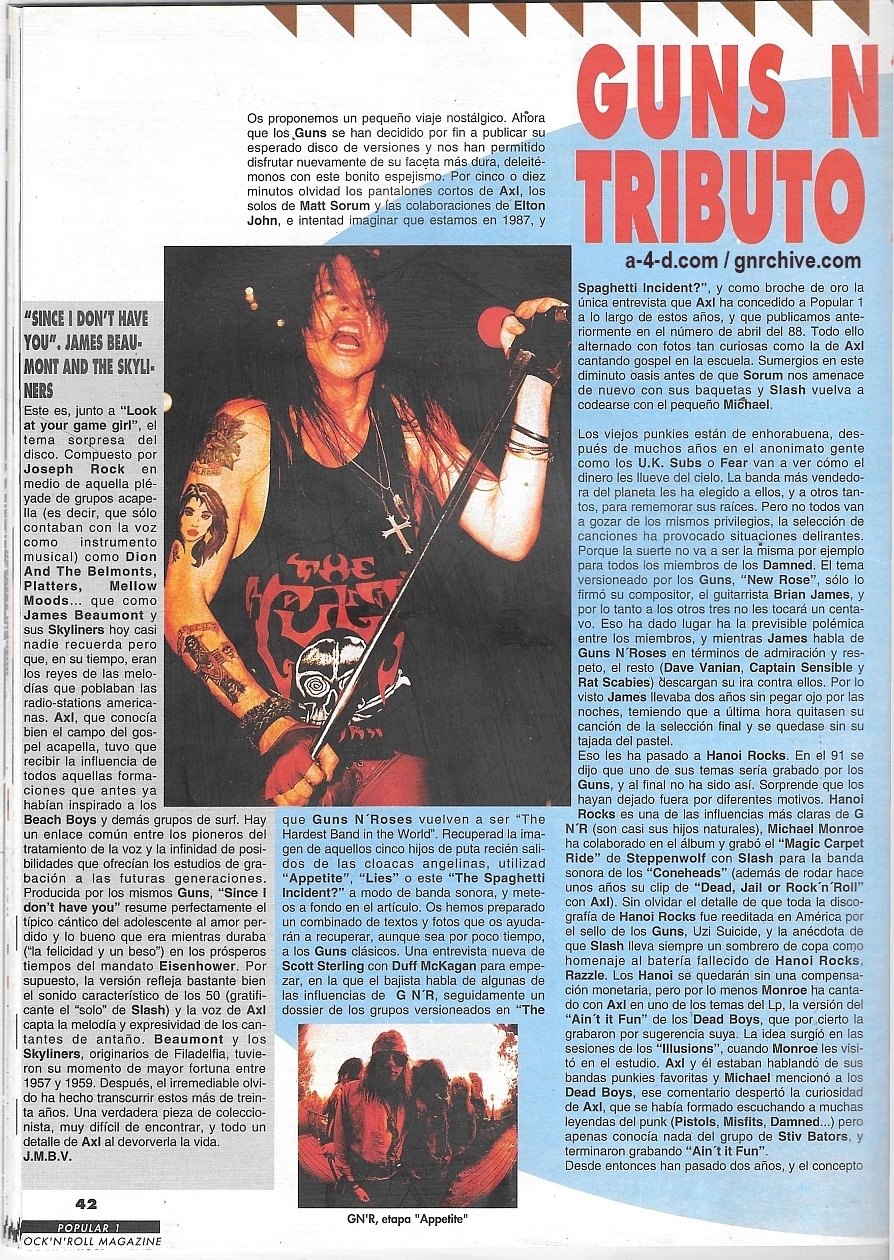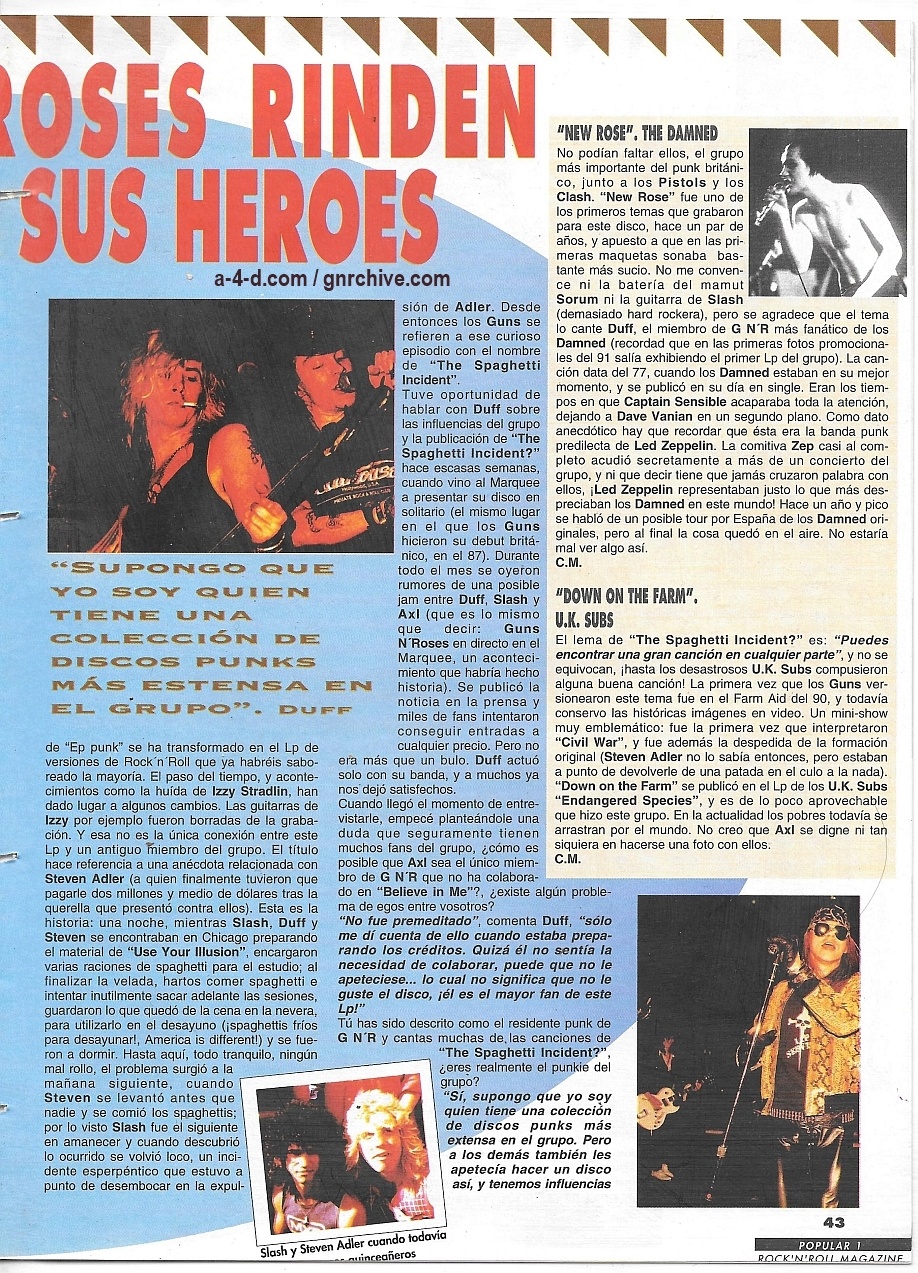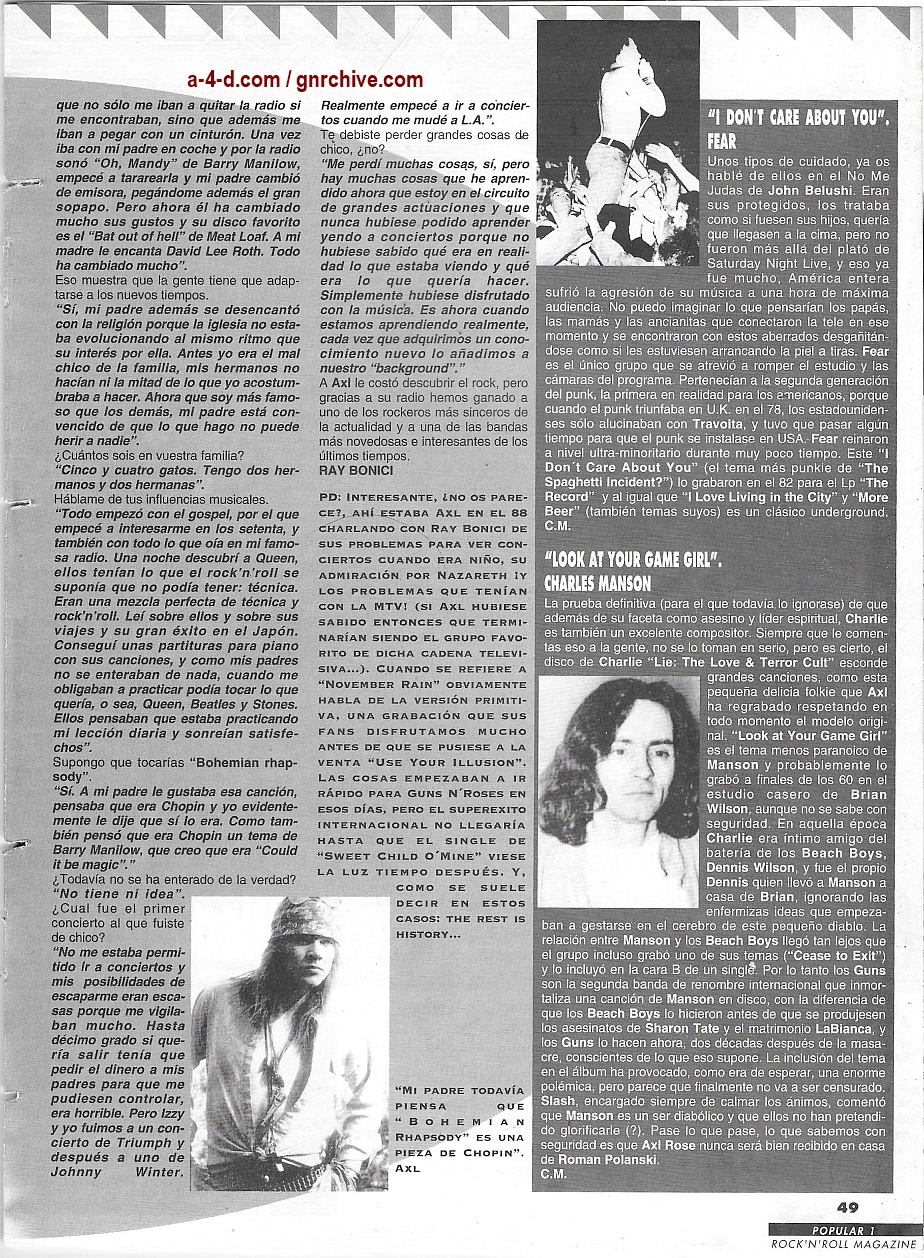 Translation from Spanish:
---------------------------------
GUNS N' ROSES PAY TRIBUTE TO THEIR HEROES
We are offering a nostalgic little journey. Now that Guns N' Roses have finally decided to release their long expected album of covers and allowed us to enjoy their hardest side once again, let's revel in this beautiful delusion. For five or ten minutes, forget Axl's shorts, Matt Sorum's drum solos and the collaborations with Elton John. Try to imagine that we are in 1987 and that Guns N' Roses are again "The Hardest Band in the World". Revive the image of those five scumbags coming straight out of the L.A gutter. Use "Appetite", "Lies" or this new one, "The Spaghetti Incident?" as a soundtrack, and let's get deep into this article. We've put together a combination of text and pictures that will help you revive, even for just a little while, the classic Guns N' Roses. For starters, a new interview with Duff McKagan by Scott Sterling, where the bassist talks about some of GN'R's influences. Then we present the profile of each band covered on "The Spaghetti Incident?" And the icing on the cake: the only interview that Axl has ever given to Popular 1, originally published in the April 1988 issue. All this enhanced with pictures as curious as the one of Axl singing gospel at school. Let's dive into this tiny oasis, before Sorum threatens us with his drumsticks and Slash rubs elbows with little Michael once again.
The old punks are in for a treat. After many years in obscurity, people like the U.K. Subs or Fear are going to see money raining down from the sky. The best selling band in the world wanted to play tribute to its roots and picked them, among a few others. Not everyone, however, is going to enjoy the benefits. The selection of particular songs has caused some delirious side effects. For example, "New Rose," the Damned song that Guns N' Roses chose to cover, was only written by guitarist Brian James; which means that the other three members won't be getting a dime. As expected, this has led to controversy among the members of the Damned, and while James has been talking about Guns N 'Roses with admiration and respect, the rest (Dave Vanian, Captain Sensible and Rat Scabies) are unloading their anger towards them. It seems that James had two years of sleepless nights, fearing that the song might be left out of the track list at the last minute and he wouldn't get his slice of the cake.
That is what happened to Hanoi Rocks. Although in 1991 it was reported that Guns N' Roses were going to record one of their songs, they were surprisingly left out for various reasons. Hanoi Rocks is one of Guns N' Roses' most obvious influences (it could be said that GN'R are something like Hanoi's illegitimate children). Michael Monroe guests on "The Spaghetti Incident?" and has collaborated with Slash on a version of Steppenwolf's "Magic Carpet Ride" for the soundrack of the movie "Coneheads" (he has also worked with Axl, who was featured in his "Dead, Jail or Rock 'n' Roll" video a few years ago). Not to mention that Hanoi Rocks' back catalogue has been reissued in America by the Guns N' Roses' label, Uzi Suicide, and the rumour that Slash's top hat is a tribute to Razzle, the late Hanoi Rocks drummer. So Hanoi won't be receiving any financial rewards, but at least Monroe has shared vocals with Axl on one of the songs of the album, the cover of the Dead Boys' "Ain't it Fun". This cover was Monroe's idea, by the way, which came when he visited Guns N' Roses in the studio during the "Illusions" sessions and while he and Axl were talking about their favourite punk bands: Michael's mention of the Dead Boys piqued Axl's curiosity, as, even though Axl had listened to many punk bands (Pistols, Misfits, Damned ...), he had barely heard anything from Stiv Bators' band. So the recording of "Ain't It Fun" was the outcome of that coversation.
Two years have passed since then, and, in the meantime, the concept of the "punk EP" developed into an album of rock 'n' roll covers, most of which you've probably already heard. The passage of time, as well as events like the departure of Izzy Stradlin, have led to some changes. For example, Izzy's guitar parts have been erased from the recordings.  This is not the only thing about the album that is related to a former member of the band. The title is a reference to an anecdote involving Steven Adler (who they finally had to pay two and a half million dollars after the lawsuit he filed against them). Here is the story: one night, while Slash, Duff and Steven were in Chicago writing material for "Use Your Illusion", they had several servings of spaghetti delivered in the studio. After they'd had enough of spaghetti and then tried - unsuccessfully – to continue with the sessions, they put the leftovers of their dinner in the fridge, so that they could have them for breakfast (cold spaghetti for breakfast! America is different!) and went to sleep. So far so good – no bad vibes. The problem occured the next morning, when Steven woke up before everyone else and ate the spaghetti, and then Slash, who got up next, went mad when he found out - a grotesque incident that almost led to Adler's expulsion. Since then, Guns N' Roses have referred to that curious incident as "the spaghetti incident."
I had the opportunity to talk with Duff about the band's influences and the release of "The Spaghetti Incident?" a few weeks ago, when  he played at the Marquee in support of his solo album (that is the same place where Guns N' Roses made their British debut in 1987). There were rumours during the past month about Axl and Slash joining Duff onstage for a jam (which is the same as Guns N' Roses playing at the Marquee, an event that would have made history). The news was spread in the press and thousands of fans tried to get tickets at any price; however, it turned out to be nothing more than a hoax. Duff performed alone with his band, which was satisfying enough for many of us.
As soon as we started the interview, I asked him a question that surely many fans of the band have: How come Axl is the only GN'R member that hasn't participated in "Believe in Me"? Was it because of ego issues among you?
"It wasn't premeditated," says Duff.  "I only realised it when I was putting the credits together. Maybe he didn't feel the need to be part of it, maybe he didn't feel like it... It doesn't mean he doesn't like the record. He's the biggest fan of this album!"
You've been referred to as the punk guy in GN'R, and you sang some of the songs on "The Spaghetti Incident?" Are you really the punker of the band?
"Yeah, I guess I'm the one with the biggest collection of punk records in the band. But the other guys wanted to make a record like that, too, and we have common influences, so that's why we did it. It was our way of chilling out during the Illusions sessions and of paying tribute to the people who inspired us."
Your relationship with punk goes even beyond that, considering that back in the day you got an offer to join the Angelic Upstarts as a drummer.
"That's true; it was before I moved to Los Angeles. The problem was that they wanted me to move to England, and I was scared to take that step. So, at 21 years old, I went to L.A. and I joined a band called Road Crew – the band Slash and Steven Adler were in. I remember that I left them because we suddenly stopped playing gigs and we didn't even rehearse. The next band I joined was Guns N 'Roses."
How do you remember those days?
"I don't know. It's like it happened to someone else. We used to live and rehearse in the same place. It didn't have a shower or a kitchen, only a small sink. We played our asses off there. It wasn't in a residential area (it was more like in the industrial part of the city), so we could play as loud as we wanted. We'd always drink a cheap wine called "Nightrain," to which we dedicated a song. For a dollar a bottle, you put yourself in the mood.
Didn't you have any problems with using the name in the song?
"No, it was a very small company, and it was like free advertising for them."
You financed the "Live Like a Suicide" EP yourselves. Why didn't you wait until you were signed with a recrod label?
"At that time, we played live constantly, and we weren't concerned about getting signed with a major label. But we had a lot of fans who followed us everywhere and we wanted to record something for them. We paid for the album with the money we made from our early shows. Soon after, all the big labels were after us; they wanted to see that band everyone was talking about. All the label reps came to that same show, and the devious David Geffen discouraged them by saying that we weren't as good as we thought. So everyone else lost interest, and the next morning he offered us a contract with Geffen."
Slash had told me something similar when I interviewed him in London back in 1987: "We never sent demos to any record label. We only cared about playing, not about doing stupid gimmicks to get signed."
Back to Duff: You played cover versions in the early days already, didn't you?
"Yeah, we did, but not too many. We preferred our shows to rely on our own material and we'd do some covers to have fun. We played "Knockin 'On Heaven's Door" by Dylan and "Nice Boys" by Rose Tattoo. We also used to do "We're An American Band" by Grand Funk Railroad, but we stopped when we found out that Motley Crue was also playing it."
What can you tell me about the influences that we find on this album?
"We all have different influences that we've brought into this album... You're influenced by many things as you grow up – some for emotional reasons, others for their quality. The bad thing is, when it comes time to record those songs, you don't even remember many of them! Im sure that if we had spent more time on this album, many other songs would have come up."
Your basic influences include the Stones and Aerosmith.
"Yeah, especially at the beginning - besides the Ramones, the New York Dolls, Iggy and stuff like that."
Everyone you mentioned has one thing in common: the rock attitude...
"If that means nonconformity and doing things your way, then we have that attitude, too. The basis of rock 'n' roll is to play and have fun, without being affected by what happens in the world of music "
Here is what Slash had told me about his first encounter with the music of Aerosmith: "I was 13 or 14 years old and I'd been trying for a while to hook up with that chick.  Then, one day, she invited me to her house and I was very excited. When we were together she played an album that I'd never heard before and I was impressed. It was Aerosmith's "Rocks". Then I played it three or four more times in a row and I didn't say a word to the girl! That record changed my life. I left the girl's house completely ignoring her and with Aerosmith stuck in my mind."
But let's go back to the conversation with Duff: Any other artists that made an impression on you in the past?
"Joni Mitchell. I also loved Sweet, especially "Ballroom Blitz". And I was a fan of the Who – "Who's Next" was my favourite album of theirs.
You probably have met many of your youth heroes in these years.
"Yes. The one I have the fonderst memory of is Keith Moon, the late Who drummer. I really liked him as Uncle Ernie in the movie "Tommy." I got to talk to him and he's the most endearing person I've ever met in my whole life. "
After his shows in England, Duff's tour went on with the inevitable rumours of surprise jams with his Guns N' Roses' bandmates. However, it's not expected that the original GN'R members will meet again before spring. As of now, they haven't even shot a video for "The Spaghetti Incident?" and itt doesn't seem that they're going to do any shows in support of it either (where is that small club tour that would make their old fans happy? If they don't do it now, they'll never do it). Hopefully, we won't have to wait four more years to listen to a new Guns N' Roses album of original material.
SCOTT STERLING-WILDER
------------------------------
The translation of the old interview with Axl that is included in this article has been posted in a separate thread, here:
https://www.a-4-d.com/t3995-1988-04-dd-popular-1-interview-with-axl
I didn't translate the profiles of the bands covered on "The Spaghetti Incident?"
Last edited by Blackstar on Fri Mar 13, 2020 11:09 pm; edited 1 time in total

Blackstar

ADMIN




Posts

: 11801


Plectra

: 77756


Reputation

: 97


Join date

: 2018-03-17



Duff's mention of meeting Keith Moon is very odd. Keith Moon passed away in 1978 and I can't imagine how Duff could have met him as a kid in Seattle.

I suspect it's another case of something lost in translation. Or maybe the quote was from the old Slash interview and was mistakenly attribute to Duff, as Slash has mentioned meeting Keith Moon through his parents in other interviews.

Blackstar

ADMIN




Posts

: 11801


Plectra

: 77756


Reputation

: 97


Join date

: 2018-03-17



Blackstar wrote:Duff's mention of meeting Keith Moon is very odd. Keith Moon passed away in 1978 and I can't imagine how Duff could have met him as a kid in Seattle.

I suspect it's another case of something lost in translation. Or maybe the quote was from the old Slash interview and was mistakenly attribute to Duff, as Slash has mentioned meeting Keith Moon through his parents in other interviews.
Seems more likely it was Slash, yes.

Soulmonster

Band Lawyer







Posts

: 15355


Plectra

: 74821


Reputation

: 831


Join date

: 2010-07-06



---
Permissions in this forum:
You
cannot
reply to topics in this forum