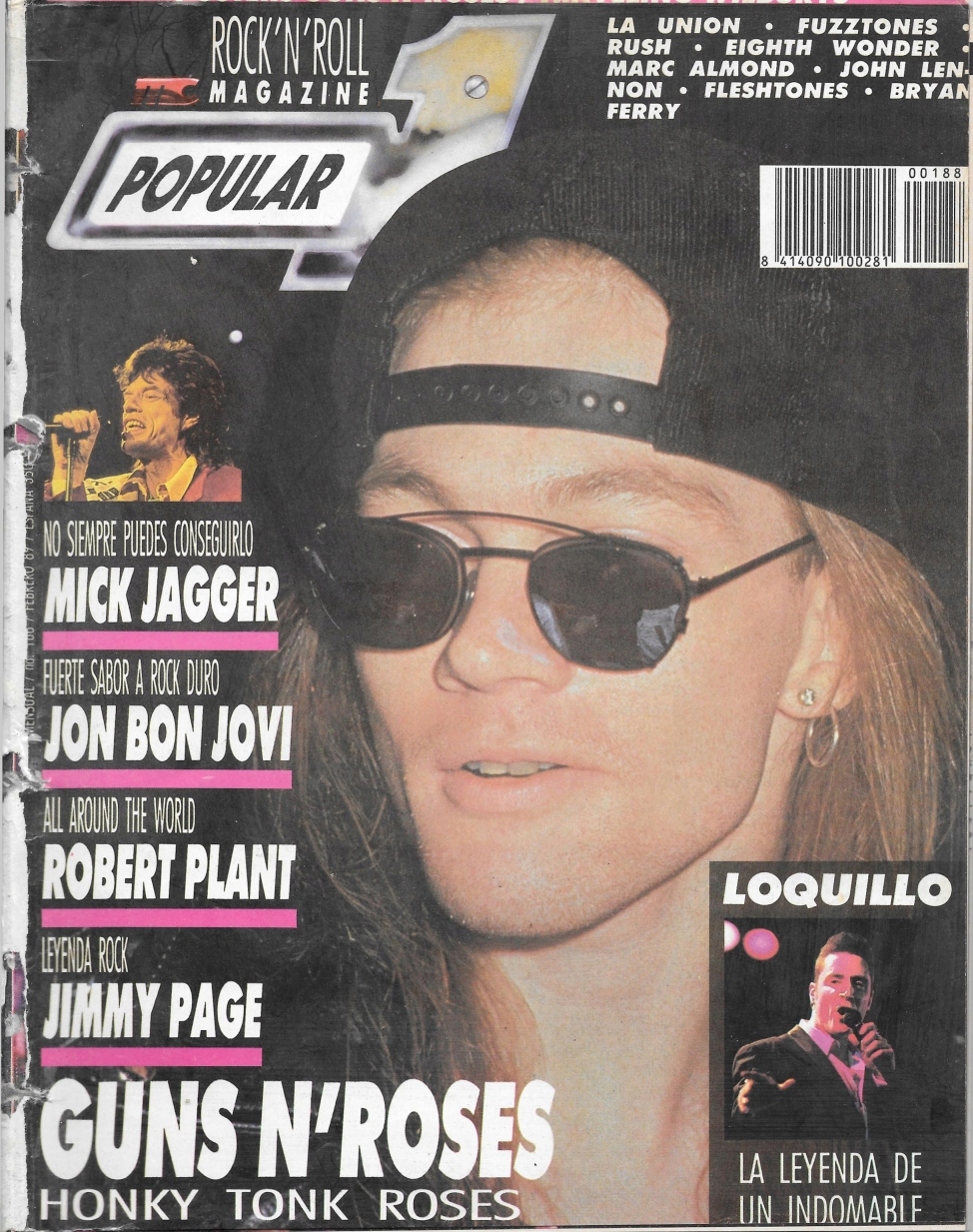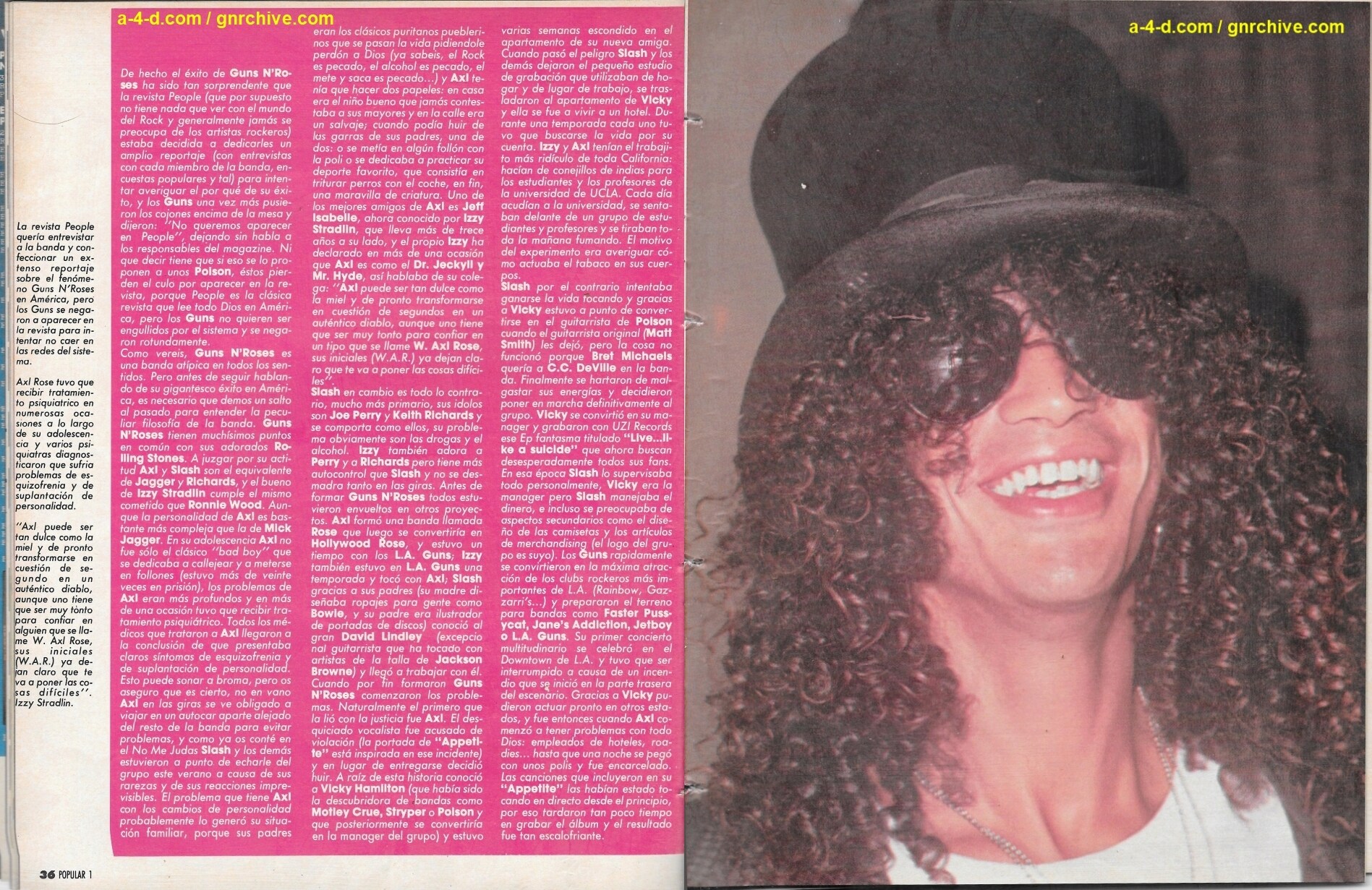 Translation from Spanish:
---------------------------------
GUNS N' ROSES
HONKY TONK ROSES
TEXT: CESAR MARTIN
Are there any fans of Vanessa del Rio out there? Come on, bros, don't be shy, it's useless to hide it, I'll know you by the look in your eyes. OK, if there is any cute admirer of this ravaging sex machine out there, I have good news for them: our Vanessa also likes R'N'R, but not the rock "with a message" that people like Sting or U2 play, but the vicious and corruptive rock of Guns N' Roses. If we think about it closely, the fact that a hardcore porn star is turned on by hard rock is the most natural thing in the world; and, in fact, the most prominent porn stars in the United States love everything related to the rock scene (Tracy Lords has just shot a film with Iggy Pop). But Vanessa had always kept out of this subject, until she suddenly came out with this statement: "Oh, I love these guys, Guns N' Roses, I love the music they make, it's pure sex, like what Mick Jagger used to do, I have to invite them to one of my next movies". Yeah, not bad, can you imagine Vanessa jumping on one of those giant waterbeds while "Feel, my, my, my, my, my serpentine/I, I, I, wanna hear you scream" from "Welcome To The Jungle" is playing in the background? That would be great, don't you agree?
But in this article, I'm not going to talk about Vanessa del Rio (maybe I'll write a
No Me Judas
section about her one of these days), but about Guns N' Roses, the most exciting band that has emerged in the rock scene in the last years. To tell you the truth, I still haven't recovered from the shock. I have a hard time imagining a band like Guns N' Roses sweeping the American charts and outselling people like INXS or Poison. Because this is not the 70's; now the rules of the market are different - you know, everything has become very poppy, people aren't looking for idols like Robert Plant, but for plastic figures like George Michael. It's true that there are also exceptional bands like INXS or Def Leppard that are successful on a massive level, but it must be taken into consideration that these bands are forced to make certain concessions in order to maintain that status, such as having an attractive and extremely soft image, filming videos that please everybody, appearing in girls' magazines, etc... And, generally, the provocative bands that adopt a more non-conformist approach don't reach the level of success of Def Leppard (7 million copies of "Hysteria" sold) or INXS (3 million). Aerosmith, for example, is one of the best-known bands in America and each one of their performances becomes a real event, but, in spite of that, they haven't sold more than a million copies, because the average American finds them obscene and scandalous.
Miraculously, with the arrival of Guns N' Roses things have changed in a radical way. Believe it or not, Guns have sold almost six million (only in America) of their masterful "Appetite For Destruction'' and have reached
#1
both with the album and with their single "Sweet Child O' Mine". Yet, in becoming successful, they've made no concessions whatsoever to commercialism. In fact, they've done quite the opposite: from the very beginning, they adopted a violent and borderline stance with a wild and decadent image, and a scandalous and nonconformist attitude. Their album cover was immediately censored, being deemed offensive and violent. Their first video for "Welcome To The Jungle" was also censored for the same reason. When they were finally going to appear on MTV through a live concert broadcast, lead singer Axl Rose pulled one of his classic obscene antics and the broadcast was interrupted. And I could go on and on, because the list of incidents is endless (I'll list a few of them below).
In fact, the success of Guns N' Roses has been so surprising that People Magazine (which, of course, has nothing to do with the rock world and generally never cares about rock artists) was determined to dedicate an extensive feature (with interviews with each member of the band, popular polls and such) to try to find out why they are so successful. And, once again, Guns had the balls to put their foot down and say: "We don't want to appear in People Magazine", leaving the magazine's editors speechless. Needless to say that the likes of Poison would jump at such an opportunity, because People is the standard magazine that everyone in America reads. However, Guns didn't want to be swallowed up by the system and they flat out refused.
As you can see, Guns N' Roses is an atypical band in every way. But before we go on talking about their enormous success in America, it's necessary to take a leap back in time to understand the band's peculiar philosophy. Guns N' Roses have a lot in common with their beloved Rolling Stones. Judging by their attitude, Axl and Slash are the equivalent of Jagger and Richards, and good old Izzy Stradlin fits the mold of Ronnie Wood. But Axl's personality is rather more complex than Mick Jagger's. As a teenager, Axl wasn't just the classic "bad boy" who would hang out on the streets and get in trouble (he went to jail more than twenty times). Axl's problems ran deeper and, on more than one occasion, he had to get psychiatric treatment. All the doctors who treated Axl came to the conclusion that he had clear symptoms of schizophrenia and personality disorder. This may sound like a joke, but I assure you that it's true. Not surprisingly, when they're on tour Axl is forced to travel in a separate bus away from the rest of the band so as to avoid problems. And, as I've already told you in
No Me Judas
, Slash and the other band members almost kicked him out of the band this summer because of his peculiarities and unpredictable reactions. Axl's problem with personality changes was probably triggered by his family background, because his parents were the classic small-town puritans who would spend their lives asking God for forgiveness (you know, rock is a sin, alcohol is a sin, dabbling is a sin...). So Axl had to play two roles: at home, he was the good boy who never talked back to his elders; and on the street, he was wild. When he could escape from his parents' clutches, he would either get into trouble with the cops or he would practice his favorite sport, which consisted of running over dogs in his car - in short, he was a wonderful creature. One of Axl's best friends is Jeff Isbell, now known as Izzy Stradlin, who has been close to him for over thirteen years; and Izzy himself has stated on more than one occasion that Axl is like Dr. Jekyll and Mr. Hyde, saying of his bandmate: "Axl can be a real sweetheart and then suddenly turn into a real devil in a matter of seconds. But you'd have to be pretty dumb to trust a guy named W. Axl Rose. His initials (W.A.R.) already make it clear that he's going to make things difficult for you".
Slash, on the other hand, is quite the opposite. He's much less complicated. His idols are Joe Perry and Keith Richards, and he behaves like them. His problem is, evidently, drugs and alcohol. Izzy also loves Perry and Richards, but has more self-control than Slash and doesn't get so wild on tour. Before the formation of Guns N' Roses, they were all involved in other projects. Axl founded a band called Rose, which later became Hollywood Rose, and spent some time with L.A. Guns. Izzy was also in L.A. Guns for a while and played with Axl. Slash, thanks to his parents (his mother designed clothes for people like Bowie, and his father was an illustrator of album covers) met the great David Lindley (an exceptional guitarist who has played with artists like Jackson Browne) and ended up working with him. When Guns N' Roses was eventually formed, the problems began. Of course, the first one to get in trouble with the law was Axl. The unhinged singer was accused of rape (the cover of "Appetite" is inspired by that incident) and, instead of turning himself in, he decided to run away. As a result of that affair, he met Vlcky Hamilton (who had discovered bands like Motley Crue, Stryper and Poison, and would later become the band's manager) and spent several weeks hiding out in his new friend's apartment. When the danger was over, Slash and the rest of the band left the small studio they used as their home and workplace, and moved to Vicky's apartment, while she went to live in a hotel. For a time, each one of them had to make a living on their own. Izzy and Axl had the most absurd job in all of California: they were guinea pigs for the students and professors at UCLA. Every day they went to the university, sat in front of a group of students and professors, and spent the whole morning smoking. The reason for the experiment was to find out how tobacco affected their bodies.
By contrast, Slash was trying to make a living out of playing. Thanks to Vicky, he was about to become Poison's guitarist when the original guitarist (Matt Smith) left them, but things didn't work out, because Bret Michaels wanted C.C. DeVille in the band. Guns N' Roses finally got fed up with wasting their energy and decided to put the band back on track for good. Vlcky became their manager and they recorded with UZI Records that ghost EP titled "Live... Like A Suicide," which is now desperately sought after by all their fans. At the time, Slash personally oversaw everything. Vicky was the manager, but Slash handled the money, and even took care of minor aspects such as the design of t-shirts and merchandise (the band's logo is his creation). Guns quickly became the main attraction in the most important rock clubs in L.A. (Rainbow, Gazzarri's...) and paved the way for bands like Faster Pussycat, Jane's Addiction, Jetboy and L.A. Guns. Their first massive concert was held in downtown L.A. and had to be interrupted because of a fire that started at the back of the stage. Thanks to Vicky, they were soon able to perform in other cities and it was then when Axl started to have problems with everybody: hotel employees, roadies... until one night he got into a fight with some cops and was jailed. They had been playing the songs on "Appetite" live from the beginning, which is why it took so little time to record the album and the result was so chilling.
Since the album came out more than a year ago, the band has opened for some of the best bands of the current hard rock scene (The Cult, Aerosmith, Motley Crue, Alice Cooper.... ) and has been involved in a lot of projects: they recorded a new version of "Under My Wheels" with Alice Cooper, appeared in the film "The Decline Of Western Civilization" performing with Alice, made a brief appearance in a live video of Great White, gave two songs for Clint Eastwood's film "The Dead Pool" as well as shot a scene with a cemetery in the background, and recorded a new version of the Troggs' "Wild Thing" with members of Motley Crue, Aerosmith and Bon Jovi. Axl collaborated in the last album of the ex-Eagle Don Henley, and so on.
The list of violent incidents is equally long. At a concert, Axl smashed a photographer's head in for taking a photo of him. At a hotel in Chicago, a guy in a suit, who had been to the city on business, bumped into Axl in the hotel lobby and remarked that the way he dressed reminded him of Jon Bon Jovi, and Axl promptly got into a fistfight with him in that same lobby. In Hamburg, Izzy and Duff McKagan beat up the drummer of Faster Pussycat inside an elevator. In Phoenix, Axl refused to perform and the fans destroyed the stage. Vicky Hamilton, fed up with asking them for explanations for a verbal contract they had with her and which they had apparently breached, sued them for one million dollars. Slash started insulting C.C. DeVille (Poison) in interviews and Poison sued. In Atlanta, Axl got into a fight with a security guard who had been picking on a friend of his. At the Rainbow in Los Angeles, Slash provoked a fight that ended badly and the owners of the club banned him from the venue for two whole years! One night, Rick Nielsen of Cheap Trick invited the band to his house for drinks and they all ended up in a fistfight. In Philadelphia, a parking lot attendant got into a fight with Axl's brother, Stuart, and the singer smashed his head in. Another night, Slash went on one of his classic binges with Motley Crue's Nlkkl Sixx; unfortunately, they got out of hand with drugs and Nlkki had to be rushed to hospital (as a result, Motley Crue were forced to cancel the last leg of the "Girls, Girls, Girls" tour). This past summer it was rumored that Izzy and another member of the band tried to commit suicide. Also during the summer, Axl went out of control and Slash checked him into a clinic. And to top it all off, two kids died during their performance at Donington Festival (footage of the tragedy was filmed by the band's roadies and may be released in the not-too-distant future).
As you may understand, Guns had more than one reason to name their new album accordingly: "Lies... The Drugs... The Sex... The Violence... The Shocking Truth".  I'm not going to discuss their new album in depth in this piece, as I haven't had a chance to listen to it yet. The only thing I can tell you is that there is a beautiful ballad titled "Patience" that sounds very country-ish, and some pretty good studio and live material. The approach of the album is similar to that of U2's "Rattle & Hum." It's a very curious mix, a combination of the songs that appeared on their first EP and some unreleased tracks, plus a new acoustic version of the fabulous "You're Crazy". The album is, of course, sub-par compared to "Appetite" (keep in mind that they have released it just to cater to the fans, and they have already worked on another album consisting only of unreleased songs that will be out soon). Still, it's a very special album and the idea of having an entire side based on acoustic tracks is really admirable. Guns N' Roses dread being labeled as a metal band, so they have avoided the stupid heavy metal clichés: instead of having "the ballad", they have gone all out with a bunch of acoustic songs. As you may remember, they already avoided the conventions on "Appetite", and instead of making a sappy ballad, they preferred to include ballad-y elements in some songs like "Sweet Child O' Mine" (which, by the way, is dedicated to the daughter of Don Everly, from the Everly Brothers, who Axl was involved with for a little while) or "Rocket Queen".
The most curious thing about "Lies" is the constant nods Axl makes to the old Aerosmith fans and to Aerosmith themselves. At times it even seems like he is parodying Steven Tyler. And "Lies" is not an album to be taken seriously; it's a big gag. Guns N' Roses is an extremely perfectionist band, and this "Lies" album is the most imperfect thing in the world, but everything is calculated to the last detail. Guns want to distract the fans with this album and suddenly overwhelm them with another masterful album (which they have already worked on) in the style of "Appetite." It's the same tactic that David Lee Roth applied with the amusing "Crazy From The Heat" and the crushing "Eat 'Em and Smile". Regarding the album that has not seen the light yet, they haven't given anything away. The only thing Axl said was that they have recorded an eight-minute ballad titled "November Rain" that has nothing to do with the kind of ballads they have done before.
Some of you (very few, if we take into account the estimated tally of this year's Pop Polls) may not yet be aware of what we have in front of us, but Guns N' Roses have already become a true behemoth, one of the rock dinosaurs of tomorrow. As per usual, the critics don't want to admit it, but the same thing happened to Zeppelin in their early days (as unbelievable as it may seem, the critics said they were an overly loud band that could only appeal to teenagers); and what to say about Aerosmith, who, according to the critics, were just a ridiculous Stones knock-off that had no personality whatsoever. That's life. It will still be many years before "Appetite For Destruction" is recognized for what it is: a rock 'n' roll classic. But, who knows, maybe in a couple of decades, on the anniversary of Geffen Records, a massive festival will be organized to celebrate it at Madison Square Garden and we'll see Slash and Axl in their forties reminding the new generations how good "Sweet Child O' Mine" was. Sure, for that it will be necessary for them to stay alive for a little while, and, when it comes to this band, I wouldn't have too much hope.
Last edited by Blackstar on Wed Aug 10, 2022 6:15 am; edited 7 times in total

Blackstar

ADMIN




Posts

: 10551


Plectra

: 71006


Reputation

: 96


Join date

: 2018-03-17



The article contains a few inaccuracies and doesn't contribute anything new, but it's characteristic of what was written about the band around the world.

Blackstar

ADMIN




Posts

: 10551


Plectra

: 71006


Reputation

: 96


Join date

: 2018-03-17



---
Permissions in this forum:
You
cannot
reply to topics in this forum