December 7, 2002: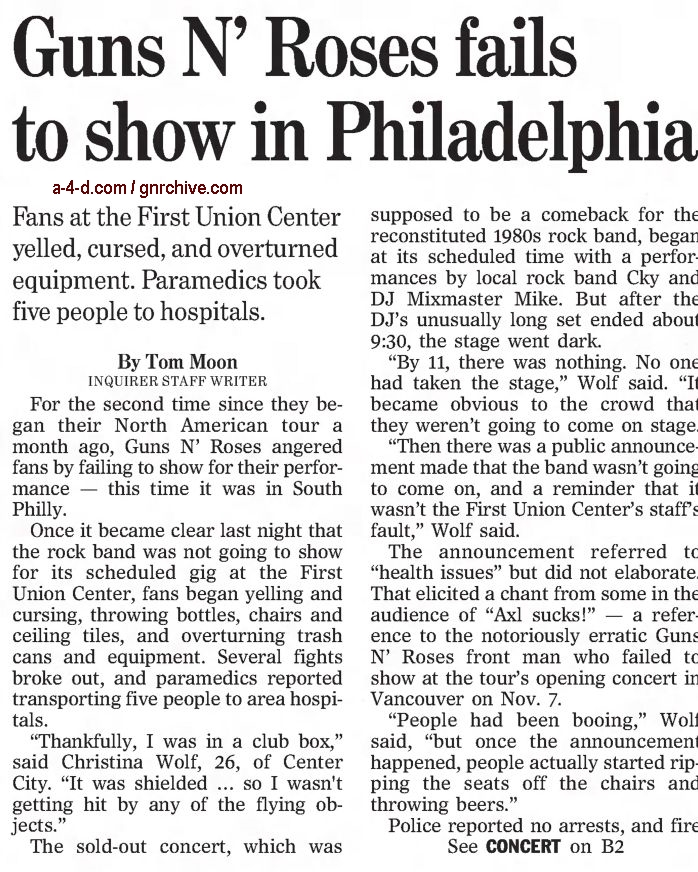 Guns N' Roses fails to show in Philadelphia
Fans at the First Union Center yelled, cursed, and overturned equipment. Paramedics took five people to hospitals.
By Tom Moon
INQUIRER STAFF WRITER
For the second time since they began their North American tour a month ago, Guns N' Roses angered fans by failing to show for their performance — this time it was in South Philly.
Once it became clear last night that the rock band was not going to show for its scheduled gig at the First Union Center, fans began yelling and cursing, throwing bottles, chairs and ceiling tiles, and overturning trash cans and equipment. Several fights broke out, and paramedics reported transporting five people to area hospitals.
"Thankfully, I was in a club box," said Christina Wolf, 26, of Center City. "It was shielded ... so I wasn't getting hit by any of the flying objects."
The sold-out concert, which was supposed to be a comeback for the reconstituted 1980s rock band, began at its scheduled time with a performances by local rock band Cky and DJ Mixmaster Mike. But after the DJ's unusually long set ended about 9:30, the stage went dark.
"By 11, there was nothing. No one had taken the stage," Wolf said. "It became obvious to the crowd that they weren't going to come on stage.
"Then there was a public announcement made that the band wasn't going to come on, and a reminder that it wasn't the First Union Center's staffs fault," Wolf said.
The announcement referred to "health issues" but did not elaborate. That elicited a chant from some in the audience of "Axl sucks!" — a reference to the notoriously erratic Guns N' Roses front man who failed to show at the tour's opening concert in Vancouver on Nov. 7.
"People had been booing," Wolf said, "but once the announcement happened, people actually started ripping the seats off the chairs and throwing beers."
Police reported no arrests, and fire officials were standing by for what they called a "minor civil disturbance."
A spokesman for the First Union Center said police and event staff "had no problem clearing the building. Everyone cleared the building really quickly."
Some of the fans, however, took out their frustrations in the parking lot. One concertgoer reported that someone had thrown a trash can through the windshield of his 1998 Toyota Canary, which had been in the H Lot.
Neither the promoter of the concert, Clear Channel Entertainment, nor the band explained what had happened.
One month ago in Vancouver, fans turned into an angry mob, throwing rocks and smashing windows when the band failed to show up for a show at the General Motors Place arena. Police had to use pepper spray to disperse the crowd.
That performance was canceled at the last minute after Rose failed to show because, a band spokesman said, bad weather in Los Angeles had held up his flight. The band is based in Los Angeles.

Blackstar

ADMIN




Posts

: 9356


Plectra

: 63847


Reputation

: 97


Join date

: 2018-03-17



December 8, 2002: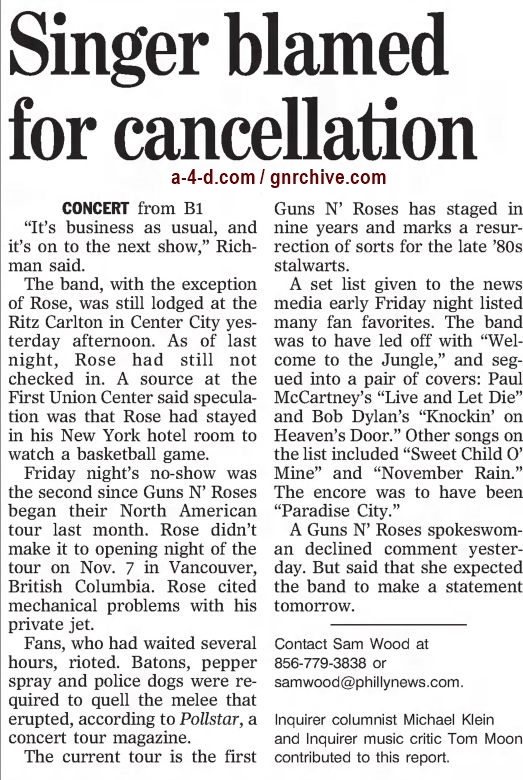 No-show pinned on Rose
Guns N' Roses frontman was said to have health problems. Tonight's show also has been canceled.
By Sam Wood
Inquirer Staff Writer
Was he really sick?
Was he just having a bad hair day?
Or was the scuttlebutt true that he was so riveted by the Lakers-Dallas matchup on TV that he couldn't bother to leave his New York City hotel room?
Whatever the reason, Axl Rose's band Guns N' Roses chose not to perform on Friday night. And to add insult to injury the announcement of the band's cancellation didn't come until after 11 p.m.
Officially, a member of the band - that is, the notoriously erratic frontman Rose - was having "health problems."
That left the sold-out house of almost 15,000 fans fuming.
Those fans vented their anger on the First Union Center. They threw bottles, tossed chairs, and pulled down tiles from the ceilings. They overturned garbage cans and knocked over stage equipment.
At least 15 people were injured in the fracas that ensued. Five were taken to the Methodist Hospital Division of Thomas Jefferson University Hospital, where they were treated for various back and neck injuries, according to a police spokeswoman.
Several extra police units and EMS rescue squads were called in to manage the irate crowd, the spokeswoman said.
Tonight's show at the First Union Spectrum also has been canceled, said Ike Richman, spokesman for Comcast-Spectacor, which manages the arena.
Neither of the concerts will be rescheduled.
Damage to the arena was minimal, and preparations for the next event, a Flyers game, went off without a hitch.
"It's business as usual, and it's on to the next show," Richman said.
The band, with the exception of Rose, was still lodged at the Ritz Carlton in Center City yesterday afternoon. As of last night, Rose had still not checked in. A source at the First Union Center said speculation was that Rose had stayed in his New York hotel room to watch a basketball game.
Friday night's no-show was the second since Guns N' Roses began their North American tour last month. Rose didn't make it to opening night of the tour on Nov. 7 in Vancouver, British Columbia. Rose cited mechanical problems with his private jet.
Fans, who had waited several hours, rioted. Batons, pepper spray and police dogs were required to quell the melee that erupted, according to Pollstar, a concert tour magazine.
The current tour is the first Guns N' Roses has staged in nine years and marks a resurrection of sorts for the late '80s stalwarts.
A set list given to the news media early Friday night listed many fan favorites. The band was to have led off with "Welcome to the Jungle," and segued into a pair of covers: Paul McCartney's "Live and Let Die" and Bob Dylan's "Knockin' on Heaven's Door." Other songs on the list included "Sweet Child O' Mine" and "November Rain." The encore was to have been "Paradise City."
A Guns N' Roses spokeswoman declined comment yesterday. But said that she expected the band to make a statement tomorrow.
Inquirer columnist Michael Klein and Inquirer music critic Tom Moon contributed to this report.

Blackstar

ADMIN




Posts

: 9356


Plectra

: 63847


Reputation

: 97


Join date

: 2018-03-17



---
Permissions in this forum:
You
cannot
reply to topics in this forum