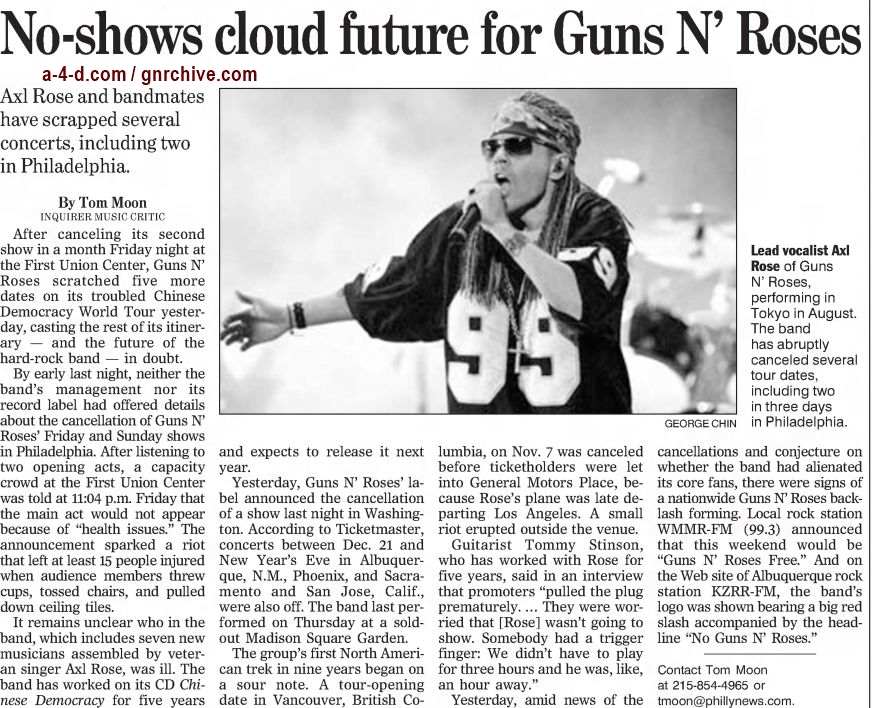 Transcript:
---------------
No-shows cloud future for Guns N' Roses
Axl Rose and bandmates have scrapped several concerts, including two in Philadelphia.
By Tom Moon
INQUIRER MUSIC CRITIC
After canceling its second show in a month Friday night at the First Union Center, Guns N' Roses scratched five more dates on its troubled Chinese Democracy World Tour yesterday, casting the rest of its itinerary — and the future of the hard-rock band — in doubt.
By early last night, neither the band's management nor its record label had offered details about the cancellation of Guns N' Roses' Friday and Sunday shows in Philadelphia. After listening to two opening acts, a capacity crowd at the First Union Center was told at 11:04 p.m. Friday that the main act would not appear because of "health issues." The announcement sparked a riot that left at least 15 people injured when audience members threw cups, tossed chairs, and pulled down ceiling tiles.
It remains unclear who in the band, which includes seven new musicians assembled by veteran singer Axl Rose, was ill. The band has worked on its CD Chinese Democracy for five years and expects to release it next year.
Yesterday, Guns N' Roses' label announced the cancellation of a show last night in Washington. According to Ticketmaster, concerts between Dec. 21 and New Year's Eve in Albuquerque, N.M., Phoenix, and Sacramento and San Jose, Calif., were also off. The band last performed on Thursday at a sold-out Madison Square Garden.
The group's first North American trek in nine years began on a sour note. A tour-opening date in Vancouver, British Columbia, on Nov. 7 was canceled before ticketholders were let into General Motors Place, because Rose's plane was late departing Los Angeles. A small riot erupted outside the venue.
Guitarist Tommy Stinson, who has worked with Rose for five years, said in an interview that promoters "pulled the plug prematurely.... They were worried that [Rose] wasn't going to show. Somebody had a trigger finger: We didn't have to play for three hours and he was, like, an hour away."
Yesterday, amid news of the cancellations and conjecture on whether the band had alienated its core fans, there were signs of a nationwide Guns N' Roses backlash forming. Local rock station WMMR-FM (99.3) announced that this weekend would be "Guns N' Roses Free." And on the Web site of Albuquerque rock station KZRR-FM, the band's logo was shown bearing a big red slash accompanied by the headline "No Guns N' Roses."

Blackstar

ADMIN




Posts

: 9344


Plectra

: 63744


Reputation

: 97


Join date

: 2018-03-17



---
Permissions in this forum:
You
cannot
reply to topics in this forum