Philadelphia Daily News, December 7, 2002: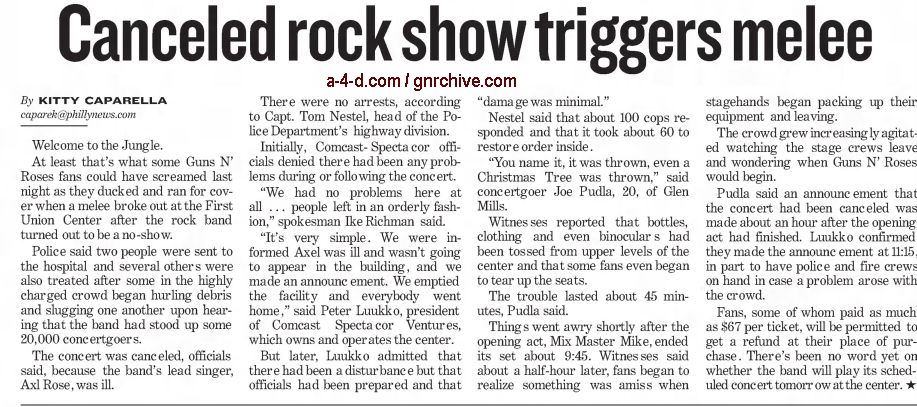 Canceled rock show triggers melee
By KITTY CAPARELLA
caparek@phillynews.com
Welcome to the Jungle.
At least that's what some Guns N' Roses fans could have screamed last night as they ducked and ran for cover when a melee broke out at the First Union Center after the rock band turned out to be a no-show.
Police said two people were sent to the hospital and several others were also treated after some in the highly charged crowd began hurling debris and slugging one another upon hearing that the band had stood up some 20,000 concertgoers.
The concert was canceled, officials said, because the band's lead singer, Axl Rose, was ill.
There were no arrests, according to Capt. Tom Nestel, head of the Police Department's highway division.
Initially, Comcast-Spectacor officials denied there had been any problems during or following the concert.
"We had no problems here at all...people left in an orderly fashion," spokesman Ike Richman said.
"It's very simple. We were informed Axel was ill and wasn't going to appear in the building, and we made an announcement. We emptied the facility and everybody went home," said Peter Luukko, president of Comcast Spectacor Ventures, which owns and operates the center.
But later, Luukko admitted that there had been a disturbance but that officials had been prepared and that "damage was minimal."
Nestel said that about 100 cops responded and that it took about 60 to restore order inside.
"You name it, it was thrown, even a Christmas Tree was thrown," said concertgoer Joe Pudla, 20, of Glen Mills.
Witnesses reported that bottles, clothing and even binoculars had been tossed from upper levels of the center and that some fans even began to tear up the seats.
The trouble lasted about 45 minutes, Pudla said.
Things went awry shortly after the opening act, Mix Master Mike, ended its set about 9:45. Witnesses said about a half-hour later, fans began to realize something was amiss when stagehands began packing up their equipment and leaving.
The crowd grew increasingly agitated watching the stage crews leave and wondering when Guns N' Roses would begin.
Pudla said an announcement that the concert had been canceled was made about an hour after the opening act had finished. Luukko confirmed they made the announcement at 11:15, in part to have police and fire crews on hand in case a problem arose with the crowd.
Fans, some of whom paid as much as $67 per ticket, will be permitted to get a refund at their place of purchase. There's been no word yet on whether the band will play its scheduled concert tomorrow at the center.
Last edited by Blackstar on Thu May 21, 2020 6:51 pm; edited 1 time in total

Blackstar

ADMIN




Posts

: 9568


Plectra

: 65464


Reputation

: 97


Join date

: 2018-03-17



Associated Press, Dec. 7, 2002:

Guns N' Roses no-show sparks ruckus at Philly's First Union Center
By DAN ROBRISH
Associated Press Writer
PHILADELPHIA — Police rushed in force late Friday night to handle con-certgoers angered by the failure of the rock group Guns N' Roses to appear for a scheduled concert
Witnesses at the First Union Center reported angry fans yelling and cursing, some throwing bottles and chairs, and ripping up plants, but a spokesman for the arena operator denied that. Several fights were reported.
Police reported no major injuries and arena officials said they were un-aware of any injuries. Comcast-Spectacor spokesman Ike Richman said early today that officials were called shortly after 11 p.m Friday and told that one member of Guns N' Roses was ill and the band would not be able to perform. He said he did not know which member was sick.
Members of the audience, while unhappy, left "in an orderly fashion," he said. He said police were called only as a precaution.
"People are going to be upset," he said. "They wanted to see Guns N' Roses, and it didn't happen."
The sold-out concert before an estimated 14,000 people, began on schedule at 7:30 p.m., Richman said. Two backup performers played extended sets and were booed, witnesses said.
The stage was then set up for Guns N' Roses, but they did not appear and the crowd became rowdy, they said.
"You name it, it was thrown, even a Christmas tree was thrown," concert-goer Joe Pudla, 20, of Glen Mills told the Philadelphia Daily News.

Blackstar

ADMIN




Posts

: 9568


Plectra

: 65464


Reputation

: 97


Join date

: 2018-03-17



Concertgoer's account posted on Blabbermouth, December 7, 2002:
The following first-hand account of the Philadelphia GN'R no-show was sent to BLABBERMOUTH.NET by Inter Sandman Chapter Head Zach Smith:

"I went to the GUNS N' ROSES show tonight at the First Union Center in Philly, it was sold out and everything. Well, I got there at around 8:30 and MIX MASTER MIKE was still on stage. He kept saying how GUNS N' ROSES would be on in a minute, yet never left the stage for another 30-45 minutes. Everyone started kidding around saying that Axl wouldn't show up again. Well, MIX MASTER MIKE ended at around 9:15-9:30. At 10, no sign of the show starting. Word was spreading that Axl hadn't arrived yet. Then we found out that the First Union Center had put a stop on all beer sales — kind of odd for them to do so before the main act went on. So it got to be 10:30, and still no band - people were starting to see what was coming. In between every song that was being played, the booing got louder and louder, and chants of 'asshole' began that were really loud. At that point, you knew GUNS N' ROSES wouldn't be playing. Finally, when people saw the soundboard guys cover up their equipment, all hell broke loose. People started ripping binoculars off the seats and throwing them down on the floor, people were chucking their drinks and food at security around the stage as they took the equipment away, people rushed the stage, a fight broke out, folding chairs were turned into launching pads. An announcement FINALLY came on at around 11:15 saying that the show had been cancelled due to 'health reasons' and that tickets were valid whenever the show would be rescheduled. That really set people off, and chairs started flying at the soundboard and up on stage. It was not a pretty site. However, a good amount of people did leave and outside seemed to be quite calm in comparison to what was happening inside. There was a large police presence outside, but thankfully they were not instigating anything with angry fans. Who knows what happened, but I can tell you while I'm shocked, I'm certainly not surprised. I also think Philadelphia fans handled the situation quite well considering the circumstances and the past history with riots."
https://www.blabbermouth.net/news/guns-n-roses-cancel-philadelphia-angry-fans-riot/

Blackstar

ADMIN




Posts

: 9568


Plectra

: 65464


Reputation

: 97


Join date

: 2018-03-17



---
Permissions in this forum:
You
cannot
reply to topics in this forum