Transcript:
----------------
GNR a fit replacement for Stinson
By Chris Riemenschneider
Star Tribune Staff Writer
Of all the weird rumors that surfaced about Guns N' Roses in the past half-decade, the one that most surprised local music fans was news that former Replacements bassist Tommy Stinson had joined the multi-platinum metal band.
That was almost three years ago, and some people still cannot believe it. Of course, that's partly due to the fact that Axl Rose and his all-new lineup of players have only played six gigs total in that time. The proof will finally be in the cranking Thursday night, though, when the new GNR makes its debut at the Target Center with Stinson on bass.
Tommy's addition to the band seems to fly in the face of what the Replacements were all about. The Twin Cities-reared garage band offered fast-paced rock 'n' roll without flashiness, concept or pretense.
However, maybe Stinson isn't such a bad fit for GNR.
"I'm not the least bit surprised," ex-Replacements frontman Paul Westerberg said last spring of his old band-mate's new gig. "People don't move to Los Angeles to be a musician or a songwriter. They go to be a star. That's what Tommy is doing. ... It's what he's always been groomed for."
Since Stinson himself was not available for comment (no one discusses Guns N' Roses to the press except Axl), we decided to look to the bassist's storied history for proof that he is GNR material:
1978
: Tommy's older brother, Mats guitarist Bob Stinson (since deceased), threatened to beat up the 12-year-old if he didn't learn the bass.
Lesson applied
: His first of many experiences with bossy bandmates would make Axl more bearable 20 years later.
June 1980
: The Replacements' first gig was in the basement of a Minneapolis church.
Lesson applied
: His first of many experiences with Christ figures would make Axl more bearable 20 years later.
Spring 1983
: Stinson dropped out of the 10th grade to tour.
Lesson applied
: It doesn't take a genius to gig in a rock band. Especially one that averages two gigs per year.
1983-85
: The Replacements build a reputation for erratic, alcohol-soaked live shows, some brilliant, some notoriously sloppy.
Lesson applied
: GNR's early troubles with heroin produced equally mixed results, but at least they never resorted to Jackson 5 or Yes covers.
1985
: Like the rest of the band, Stinson allegedly doesn't read a single sentence in the Replacements' major-label contract with Sire.
Lesson applied
: So when your new boss comes around saying you can't do any reunion gigs with your old band — as was rumored but is debunked by Westerberg — don't ask if it's in the contract.
Summer 1986
: Tommy stays in the Replacements after his brother is kicked out, allegedly (and thus hypocritically) for alcoholism.
Lesson applied
: Doesn't seem so bad (or hypocritical) compared with Axl kicking out all of his band-mates for personality issues.
1990
: Tommy sings lead for the first and only time on a Replacements song, "Satellite," originally issued on the "Don't Buy or Sell — It's Crap" EP. The track was actually quite good.
Lesson applied
: It doesn't pay to contribute your own songs to somebody else's band.
1993-96
: Tommy records a wildly underrated rock album with his own band, Bash & Pop, and again goes through the record-company wringer with another group, Perfect.
Lesson applied
: It also rarely pays when you release songs with your own band. So why not earn a regular, respectable salary and let somebody else deal with the labels, managers and botched tour plans?

Blackstar

ADMIN




Posts

: 11758


Plectra

: 77529


Reputation

: 96


Join date

: 2018-03-17



Tommy would comment on this:
[Westerberg]'s gone out on a limb to say a bunch of nonsense that's made me look bad, that's made Axl look bad, that's made him [Axl] feel bad... . It's just lame. It's really unnecessary, for one. I don't appreciate it, and Axl doesn't deserve any of it.

Soulmonster

Band Lawyer







Posts

: 15355


Plectra

: 74816


Reputation

: 831


Join date

: 2010-07-06



The interview the Paul Westerberg quote was originally from; Star Tribune, June 28, 2002: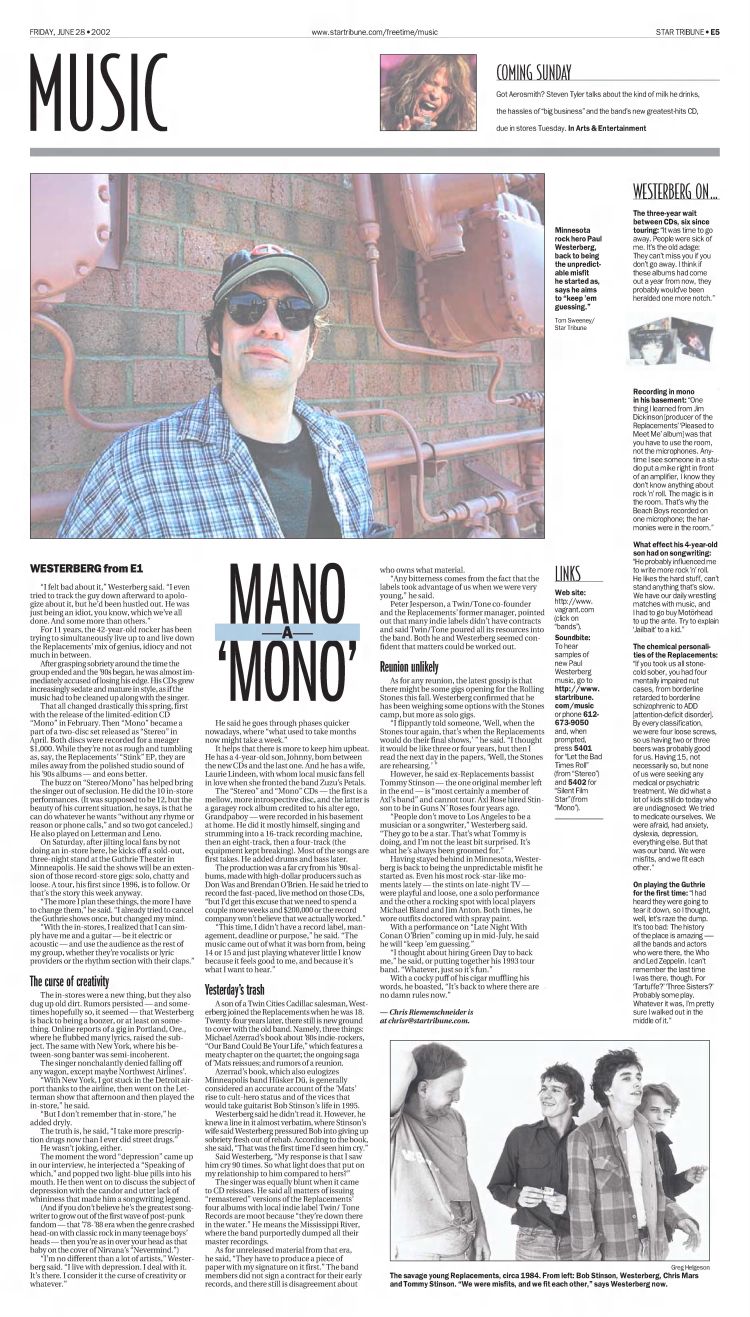 As for any reunion, the latest gossip is that there might be some gigs opening for the Rolling Stones this fall. Westerberg confirmed that he has been weighing some options with the Stones camp, but more as solo gigs.

"I flippantly told someone, 'Well, when the Stones tour again, that's when the Replacements would do their final shows,'" he said. "I thought it would be like three or four years, but then I read the next day in the papers, 'Well, the Stones are rehearsing.'"

However, he said ex-Replacements bassist Tommy Stinson – the one original member left in the end – is "most certainly a member of Axl's band" and cannot tour. Axl Rose hired Stinson to be in Guns N' Roses four years ago.

"People don't move to Los Angeles to be a musician or a songwriter," Westerberg said. "They go to be a star. That's what Tommy is doing, and I'm not the least bit surprised. It's what he's always been groomed for."

Blackstar

ADMIN




Posts

: 11758


Plectra

: 77529


Reputation

: 96


Join date

: 2018-03-17



---
Permissions in this forum:
You
cannot
reply to topics in this forum