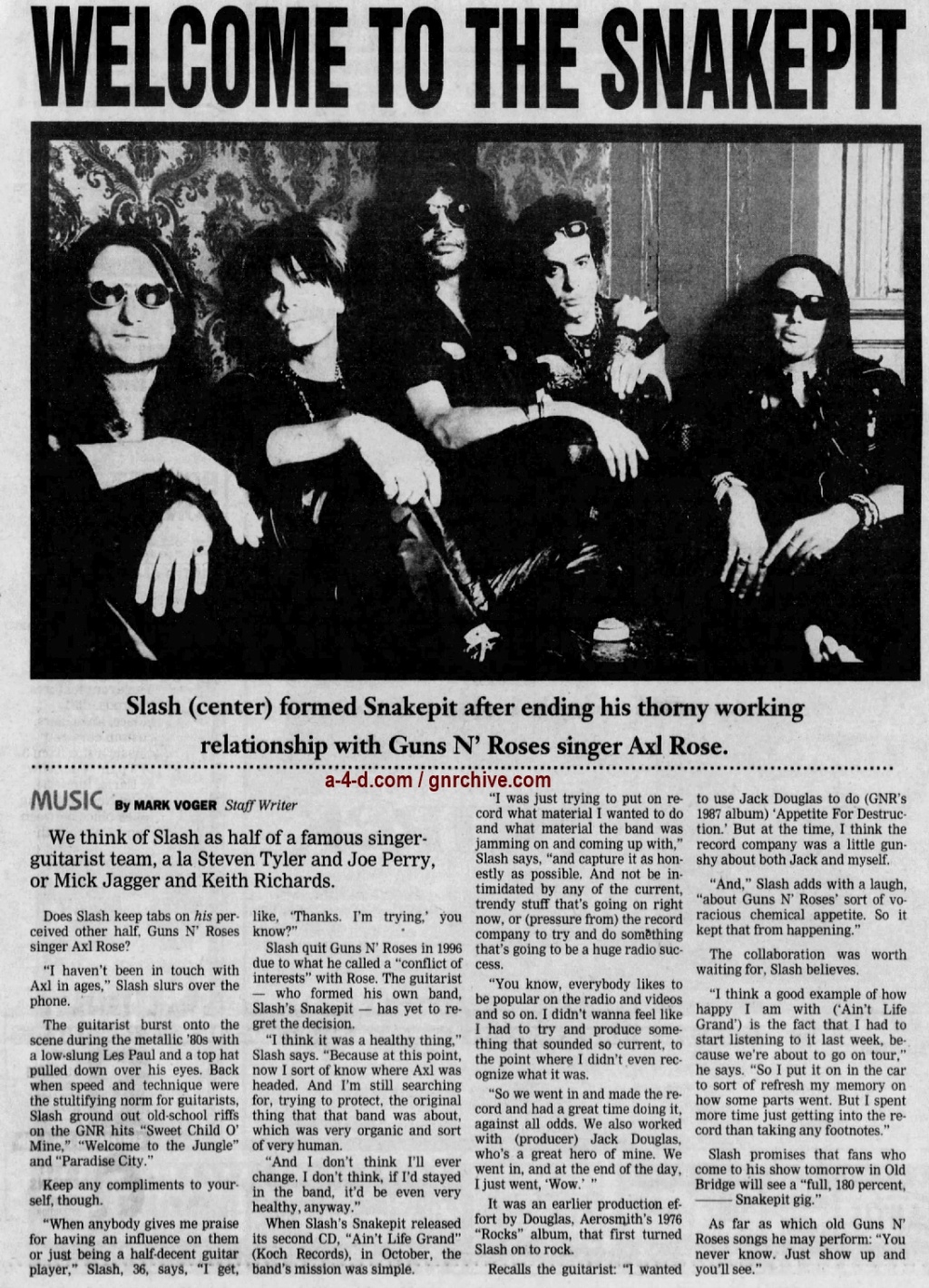 Transcript:
-----------------
WELCOME TO THE SNAKEPIT
By MARK VOGER
Staff Writer
We think of Slash as half of a famous singer-guitarist team, a la Steven Tyler and Joe Perry, or Mick Jagger and Keith Richards.
Does Slash keep tabs on
his
perceived other half, Guns N' Roses singer Axl Rose?
"I haven't been in touch with Axl in ages," Slash slurs over the phone.
The guitarist burst onto the scene during the metallic '80s with a low-slung Les Paul and a top hat pulled down over his eyes. Back when speed and technique were the stultifying norm for guitarists, Slash ground out old-school riffs on the GNR hits "Sweet Child O' Mine," "Welcome to the Jungle" and "Paradise City."
Keep any compliments to yourself, though.
"When anybody gives me praise for having an influence on them or just being a half-decent guitar player," Slash, 36, says, "I get, like, 'Thanks. I'm trying,' you know?"
Slash quit Guns N' Roses in 1996 due to what he called a "conflict of interests" with Rose. The guitarist — who formed his own band, Slash's Snakepit — has yet to regret the decision.
"I think it was a healthy thing," Slash says. "Because at this point, now I sort of know where Axl was headed. And I'm still searching for, trying to protect, the original thing that that band was about, which was very organic and sort of very human.
"And I don't think I'll ever change. I don't think, if I'd stayed in the band, it'd be even very healthy, anyway."
When Slash's Snakepit released its second CD, "Ain't Life Grand" (Koch Records), in October, the band's mission was simple.
"I was just trying to put on record what material I wanted to do and what material the band was jamming on and coming up with," Slash says, "and capture it as honestly as possible. And not be intimidated by any of the current, trendy stuff that's going on right now, or (pressure from) the record company to try and do something that's going to be a huge radio success.
"You know, everybody likes to be popular on the radio and videos and so on. I didn't wanna feel like I had to try and produce something that sounded so current, to the point where I didn't even recognize what it was.
"So we went in and made the record and had a great time doing it, against all odds. We also worked with (producer) Jack Douglas, who's a great hero of mine. We went in, and at the end of the day, I just went, 'Wow.' "
It was an earlier production effort by Douglas, Aerosmith's 1976 "Rocks" album, that first turned Slash on to rock.
Recalls the guitarist: "I wanted to use Jack Douglas to do (GNR's 1987 album) 'Appetite For Destruction.' But at the time, I think the record company was a little gun-shy about both Jack and myself.
"And," Slash adds with a laugh, "about Guns N' Roses' sort of voracious chemical appetite. So it kept that from happening."
The collaboration was worth waiting for, Slash believes.
"I think a good example of how happy I am with ('Ain't Life Grand') is the fact that I had to start listening to it last week, because we're about to go on tour," he says. "So I put it on in the car to sort of refresh my memory on how some parts went. But I spent more time just getting into the record than taking any footnotes."
Slash promises that fans who come to his show tomorrow in Old Bridge will see a "full, 180 percent, Snakepit gig."
As far as which old Guns N' Roses songs he may perform: "You never know. Just show up and you'll see."

Blackstar

ADMIN




Posts

: 9575


Plectra

: 65519


Reputation

: 97


Join date

: 2018-03-17



---
Permissions in this forum:
You
cannot
reply to topics in this forum