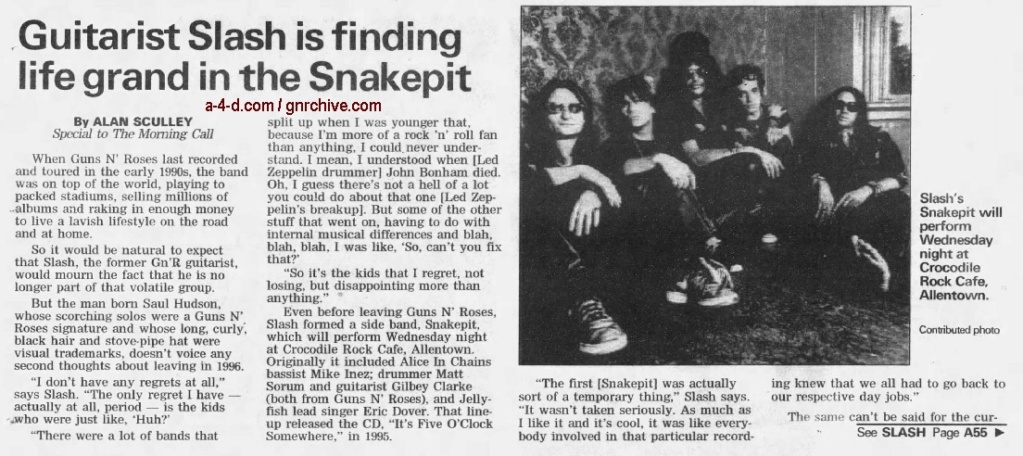 Guitarist Slash is finding life grand in the Snakepit
ALAN SCULLEY
Special to The Morning Call -- Freelance
When Guns N' Roses last recorded and toured in the early 1990s, the band was on top of the world, playing to packed stadiums, selling millions of albums and raking in enough money to live a lavish lifestyle on the road and at home.
So it would be natural to expect that Slash, the former Gn'R guitarist, would mourn the fact that he is no longer part of that volatile group.
But the man born Saul Hudson, whose scorching solos were a Guns N' Roses signature and whose long, curly, black hair and stove-pipe hat were visual trademarks, doesn't voice any second thoughts about leaving in 1996.
"I don't have any regrets at all," says Slash. "The only regret I have -- actually at all, period -- is the kids who were just like, "Huh?'
"There were a lot of bands that split up when I was younger that, because I'm more of a rock 'n' roll fan than anything, I could never understand. I mean, I understood when [Led Zeppelin drummer] John Bonham died. Oh, I guess there's not a hell of a lot you could do about that one [Led Zeppelin's breakup]. But some of the other stuff that went on, having to do with internal musical differences and blah, blah, blah, I was like, "So, can't you fix that?'
"So it's the kids that I regret, not losing, but disappointing more than anything."
Even before leaving Guns N' Roses, Slash formed a side band, Snakepit, which will perform Wednesday night at Crocodile Rock Cafe, Allentown. Originally it included Alice In Chains bassist Mike Inez; drummer Matt Sorum and guitarist Gilbey Clarke (both from Guns N' Roses), and Jellyfish lead singer Eric Dover. That lineup released the CD, "It's Five O'Clock Somewhere," in 1995.
"The first [Snakepit] was actually sort of a temporary thing," Slash says. "It wasn't taken seriously. As much as I like it and it's cool, it was like everybody involved in that particular recording knew that we all had to go back to our respective day jobs."
The same can't be said for the current version, which was formed with the intention of being an ongoing band. The latest lineup features singer Rod Jackson, bassist Johnny Blackout, rhythm guitarist Kerry Kelly and drummer Matt Laug, and Slash is proud as a poppa.
"I've got a killer band," he says. "I didn't reinvent the wheel, but I can continue on. The response has been good, and my relationship with the people I work with in my band and outside of my band is also really positive. That in itself is really cool."
The current lineup recorded the second Slash's Snakepit disc, "Ain't Life Grand." Released last fall, the album is a solid, more varied effort than the debut, but it retains much of the bluesy, hard-hitting sound of "It's Five O'Clock Somewhere," especially "Mean Bone" and "Been There Lately." "Just Like Anything" has the decadent, street-level vibe that characterized Guns N' Roses. But the harmony laden ballad "Back To The Moment" is an entirely new sound for Snakepit, as the rocking, horn-filled title track and "Shine," a potent ballad that mixes a soaring vocal line, eerie musical shadings and crunching guitars.
Slash says "Ain't Life Grand" is more of a band effort than "It's Five O'Clock Somewhere."
"Musically the [first] record was finished before we even got the singer," he points out. "It was just the lyrics that were a collaborative effort and that was very last minute. On "Ain't Life Grand' it was 100 percent collaborative. It was a little bit more genuine in the band sense, looking back on it, very au naturel."
Slash's departure from Guns N' Roses in 1996, of course, was anything but natural. In fact, it was just one episode in a long and twisted saga.
Guns N' Roses formed in 1985, rising out of the Los Angeles club scene with a catchy hard-rock sound, an us-against-them attitude and a hard partying lifestyle that attracted major attention before the band even signed with Geffen Records.
By the time Guns N' Roses debuted in 1987 with the album "Appetite For Destruction," the band almost single-handedly brought back a raw, decadent edge to rock 'n' roll. Sales of "Appetite For Destruction" soared. An EP, "G'n'R Lies," followed as the band continued to fill concert venues and worked on its ambitious next step -- two separate albums, "Use Your Illusion Part 1" and "Use Your Illusion Part II" -- that were released simultaneously in 1991. A CD of covers, "The Spaghetti Incident," followed in 1993.
Along the way there were many internal squabbles. Drummer Steven Adler was dumped from the lineup before the "Illusion" albums were released, reportedly because of substance abuse problems, and guitarist Izzy Stradlin was shown the door in 1992 for much the same reason.
There was also loads of controversy, including a 1991 riot at Riverport Amphitheatre in St. Louis that occurred after lead singer Axl Rose jumped into the crowd to confront an audience member who was taking pictures of the band and then abruptly stormed off the stage, ending the show in mid-set. There also were lightning-rod songs such as the infamous "One In A Million," which drew the wrath of gay rights groups for homophobic lyrics such as "Immigrants and faggots / They come to our country / And think they'll do as they please / Like start some min-Iran / Or spread some ... disease," and the band's cover of the Charles Manson-penned "Look At Your Game, Girl."
"We didn't go out and try to create it," Slash says of the controversy. "It wasn't like a Motley Crue thing, where we tried to create adversity. ... We generated so much attention with just regular day-to-day [stuff]. I don't know why. ... It was just one of those sort of magic qualities that came with the band.
"I mean, like Snakepit and God knows how many other bands have probably caused more trouble in some way, shape or form. It's just not been recognized."
The Guns N' Roses soap opera came to head with the protracted efforts to make a third CD. More than six years in the making, that album, "Chinese Democracy," is finally due for release this June. But it won't be Guns N' Roses as people knew the band, because the only returning members will be the volatile Rose and keyboardist Dizzy Reed, who joined for the "Use Your Illusion" tour.
Slash is somewhat vague in describing the factors that led to his split with Rose, particularly the personal conflicts that may have existed between the two.
As for musical issues, Slash says he and Rose had fundamental differences. Where he wanted to make an old-style Guns N' Roses album, Rose wanted to experiment and explore new musical directions.
"There's a basic truth to that," Slash says. "I was trying to get better at what we were basically getting good at. … It seemed the natural course."
Slash's Snakepit will perform Wednesday night at Crocodile Rock Cafe, 520 Hamilton St., Allentown. Doors will open at 8 p.m. Kraken will open the show at 9 p.m. Type 14 also will perform. Tickets: $12.50 in advance, $15 day of show. 610-434-4600.
https://www.mcall.com/news/mc-xpm-2001-03-10-3341982-story.html

Blackstar

ADMIN




Posts

: 12236


Plectra

: 80262


Reputation

: 97


Join date

: 2018-03-17



---
Permissions in this forum:
You
cannot
reply to topics in this forum