The same article was also published in the Indianapolis Star on the same date.
-----------------------------------------------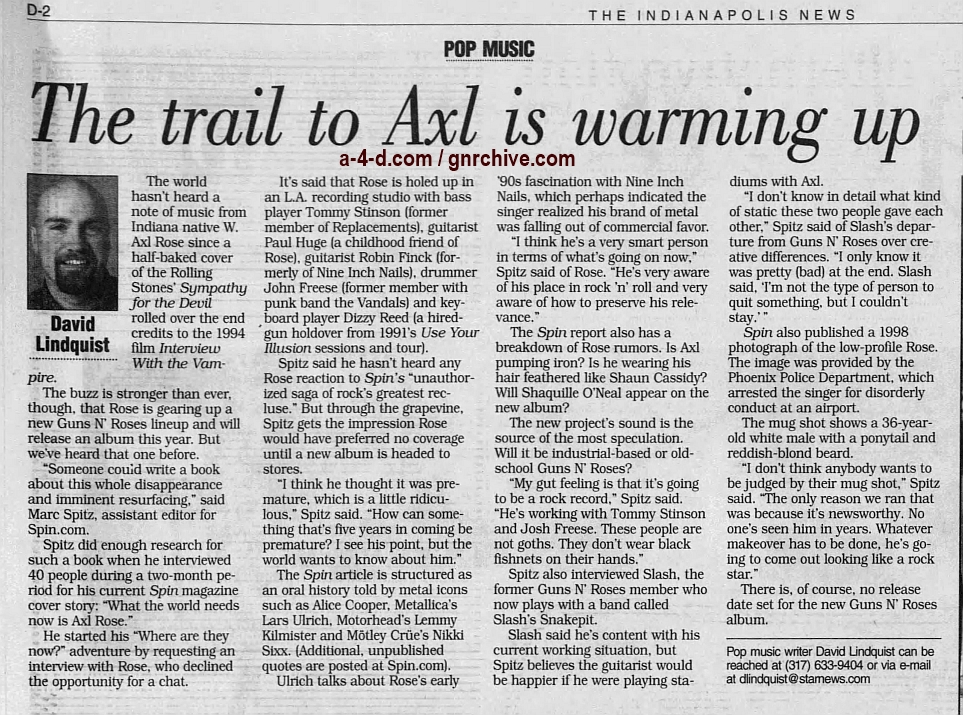 The trail to Axl is warming up
David Lindquist
The world hasn't heard a note of music from Indiana native W. Axl Rose since a half-baked cover of the Rolling Stones'
Sympathy for the Devil
rolled over the end credits to the 1994 film
Interview With the Vampire
.
The buzz is stronger than ever, though, that Rose is gearing up a new Guns N' Roses lineup and will release an album this year. But we've heard that one before.
"Someone could write a book about this whole disappearance and imminent resurfacing,'' said Marc Spitz, assistant editor for Spin.com.
Spitz did enough research for such a book when he interviewed 40 people during a two-month period for his current Spin magazine cover story: "What the world needs now is Axl Rose."
He started his "Where are they now?" adventure by requesting an interview with Rose, who declined the opportunity for a chat.
It's said that Rose is holed up in an L.A. recording studio with bass player Tommy Stinson (former member of Replacements), guitarist Paul Huge (a childhood friend of Rose), guitarist Robin Flnck (for-merly of Nine Inch Nails), drummer John Freese (former member with punk band the Vandals) and keyboard player Dizzy Reed (a hired-gun holdover from 1991's
Use Your Illusion
sessions and tour).
Spitz said he hasn't heard any Rose reaction to Spin's "unauthorized saga of rock's greatest recluse." But through the grapevine, Spitz gets the impression Rose would have preferred no coverage until a new album is headed to stores.
"I think he thought it was premature, which is a little ridiculous," Spitz said. "How can something that's five years in coming be premature? I see his point, but the world wants to know about him."
The Spin article is structured as an oral history told by metal icons such as Alice Cooper, Metallica's Lars Ulrich, Motorhead's Lemmy Kilmister and Motley Crue's Nikki Sixx. (Additional, unpublished quotes are posted at Spin.com).
Ulrich talks about Rose's early '90s fascination with Nine Inch Nails, which perhaps indicated the singer realized his brand of metal was falling out of commercial favor.
"I think he's a very smart person in terms of what's going on now," Spitz said of Rose. "He's very aware of his place in rock 'n' roll and very aware of how to preserve his relevance."
The Spin report also has a breakdown of Rose rumors. Is Axl pumping iron? Is he wearing his hair feathered like Shaun Cassidy? Will Shaquille O'Neal appear on the new album?
The new project's sound is the source of the most speculation.
Will it be industrial-based or old-school Guns N' Roses?
"My gut feeling is that it's going to be a rock record," Spitz said. "He's working with Tommy Stinson and Josh Freese. These people are not goths. They don't wear black fishnets on their hands."
Spitz also interviewed Slash, the former Guns N' Roses member who now plays with a band called Slash's Snakepit.
Slash said he's content with his current working situation, but Spitz believes the guitarist would be happier if he were playing stadiums with Axl.
"I don't know in detail what kind of static these two people gave each other." Spitz said of Slash's departure from Guns N' Roses over creative differences. "I only know it was pretty (bad) at the end. Slash said. 'I'm not the type of person to quit something, but I couldn't stay.'"
Spin also published a 1998 photograph of the low-profile Rose. The image was provided by the Phoenix Police Department, which arrested the singer for disorderly conduct at an airport.
The mug shot shows a 36-year-old white male with a ponytail and reddish-blond beard.
"I don't think anybody wants to be judged by their mug shot," Spitz said. "The only reason we ran that was because it's newsworthy. No one's seen him in years. Whatever makeover has to be done, he's going to come out looking like a rock star."
There is, of course, no release date set for the new Guns N' Roses album.
Last edited by Blackstar on Tue Aug 16, 2022 10:59 am; edited 1 time in total

Blackstar

ADMIN




Posts

: 9087


Plectra

: 61960


Reputation

: 97


Join date

: 2018-03-17



The related article in Spin magazine:
https://www.a-4-d.com/t3072-1999-07-dd-spin-just-a-little-patience
Spin had prepared an alternative cover, in case Axl had accepted to be interviewed: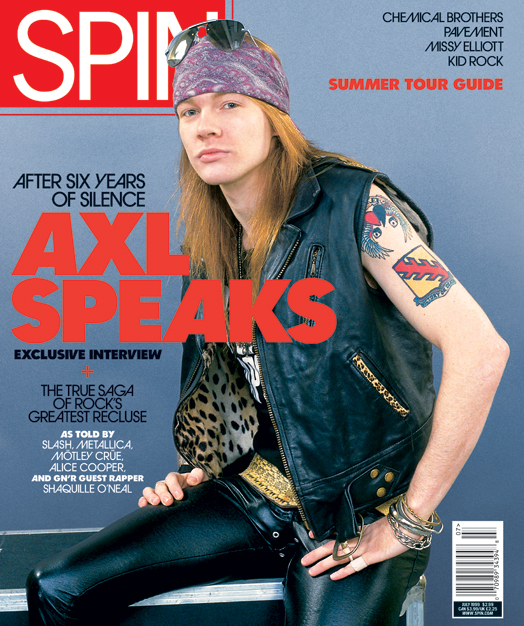 Blackstar

ADMIN




Posts

: 9087


Plectra

: 61960


Reputation

: 97


Join date

: 2018-03-17



---
Permissions in this forum:
You
cannot
reply to topics in this forum