Thanks to
@Surge
for sending us this article!
--------------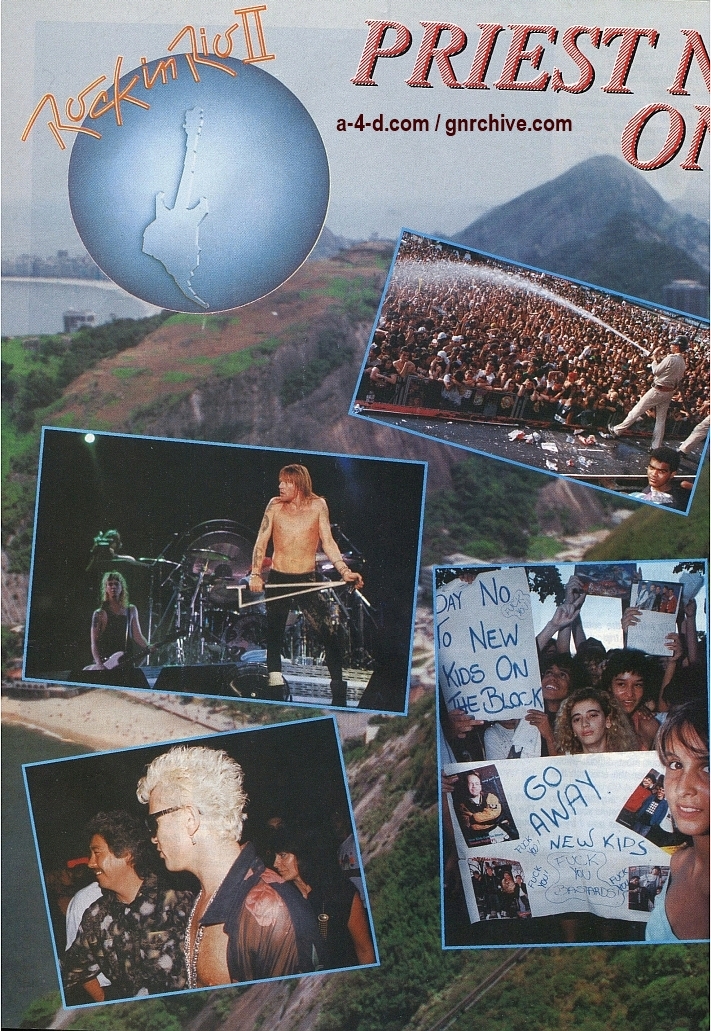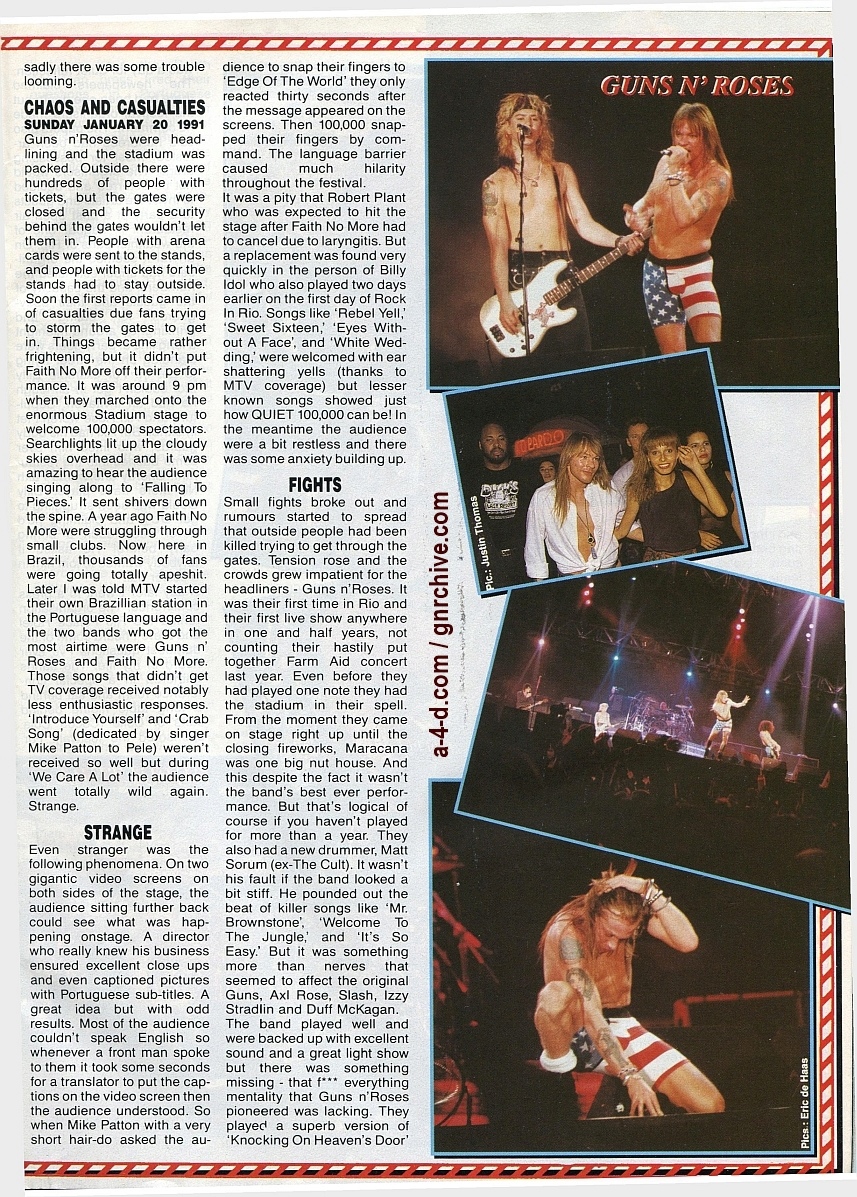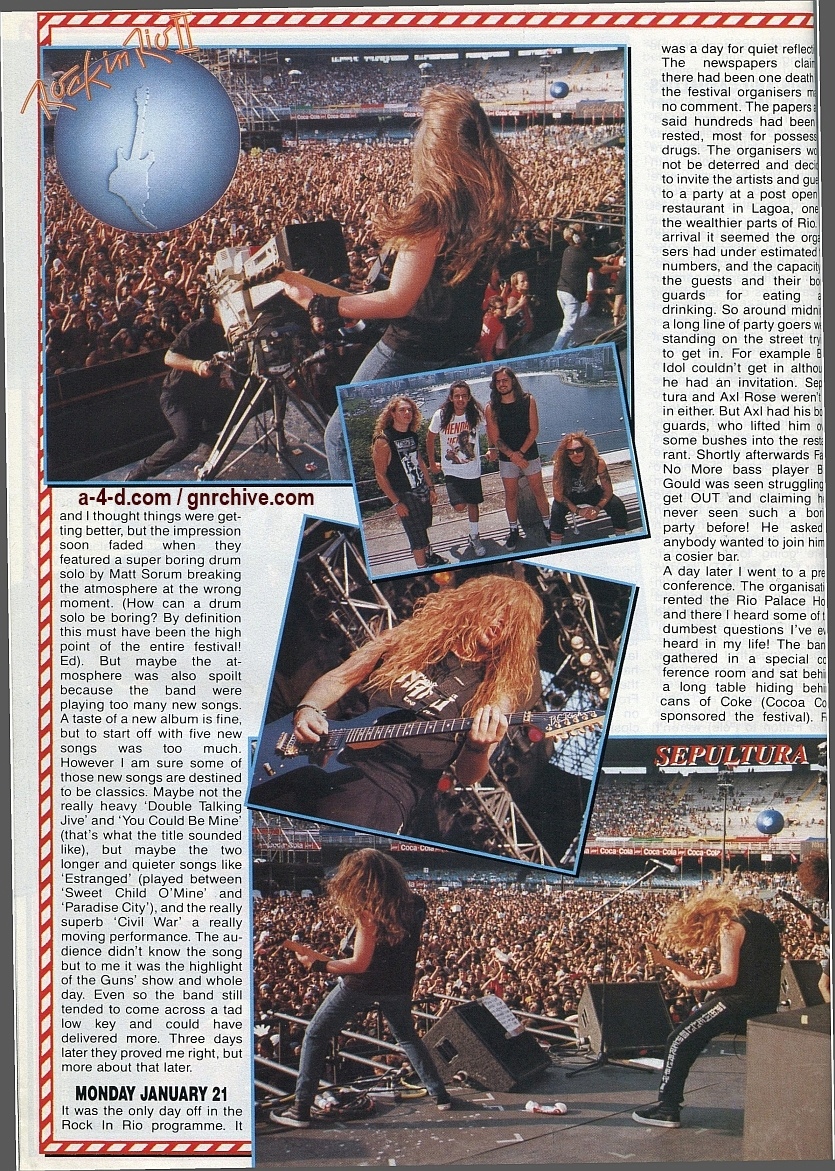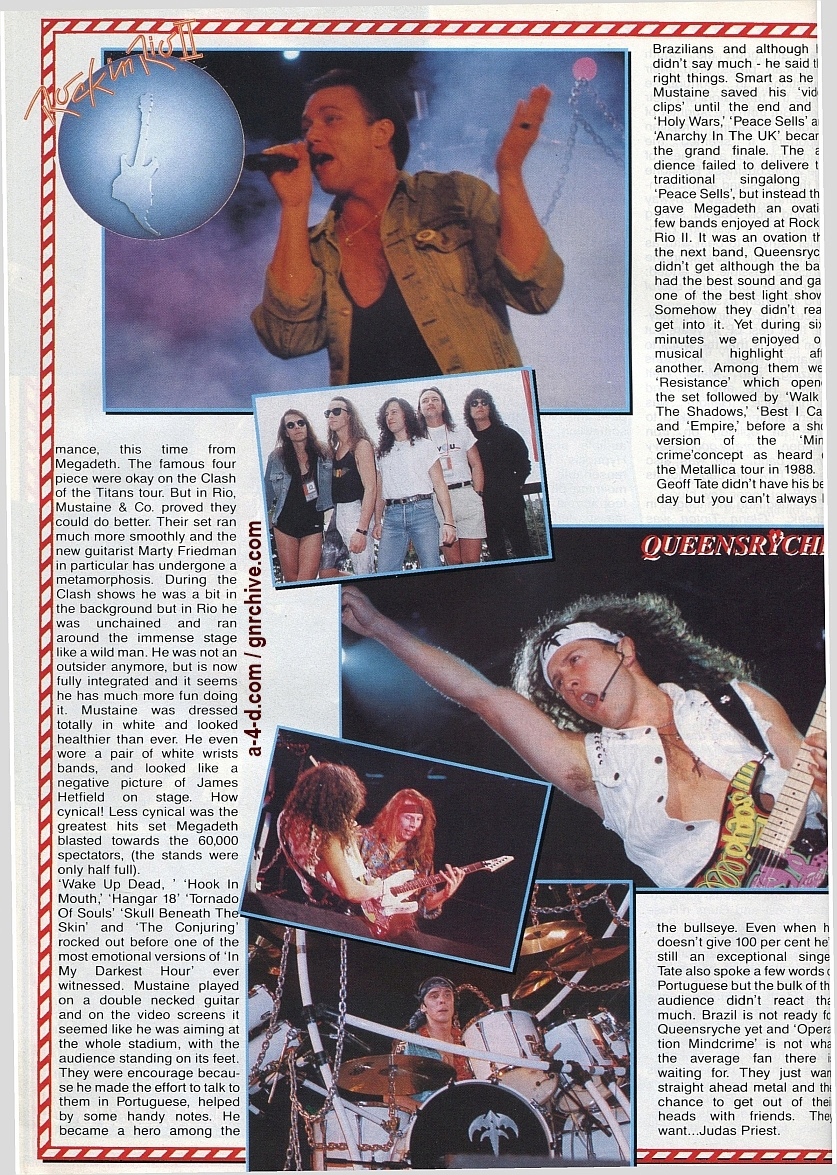 Transcript:
--------------
ROCK IN RIO II
PRIEST N' GUNS ON TOP IN BRAZIL
The mother of all battles between Saddam Hussein and George Bush that started on January 16 threw a dark shadow over the world. But during the first two weeks of the war, Brazil's attention was focused on something totally different. The Gulf War had to share the front pages with reports about Rock In Rio 11 the biggest and most talked about festival since the Live Aid spectacle in 1985.

Pictures of the bombardment of Baghdad were shown alongside pictures of a smiling Axl Rose dressed in surfing pants with a U.S. flag as a motif. For Brazilian music lovers the Gulf War was far at the backs of their minds for ten days. You could understand why. It's not often the average Brazilian gets to see rock gods like Guns n' Roses, Judas Priest, Prince, Billy Idol, Queensryche, Megadeth and dozens more bigger and smaller national acts. And fair's fair. It's easy to forget about war when the temperature is high, the sky is blue and you are listening to some of the best bands in the world.
SPECTACLE
Rock In Rio was held for the first time six years ago in 1985. It was a ten day rock festival that broke all records. At the time it was the biggest spectacle since the legendary Woodstock. The Scorpions, Whitesnake, Queen, Iron Maiden, Yes, Ozzy Osbourne were among those who played at this boy's dream-come-true festival organised by promoter Roberto Medina. Rock In Rio was his idea and he planned it as the 33 year old owner of one of South America's biggest advertising agencies. He also had relatives who held key positions in Brazillian government - a must in Brazil if you want to start any enterprise, especially in the early Eighties when the military were still in charge. The Medina family have a lot of involvement with Globo TV one of South America's biggest TV stations. Medina doesn't think small, so he not only built the biggest ever stage for a rock concert he also built an entire festival complex in the middle of a swamp twenty miles outside of Rio De Janiero. He turned 300,000 square metres of mud into a concert arena the likes of which no one had ever seen before. (It makes a change from England where concert venues are usually turned into 300,000 square metres of mud).
Apart from the usual things like a stage, sound system,  and back stage facilities behind a nine foot high perimiter fence was built a small hospital, complete McDonalds restaurants, and many other shops. Although he had to fight some political opposition to the scheme permission was given and in 1985 one and a half million visitors came through the gates during a ten day period to view his life's work. All this during a period when the word 'democracy' had to be whispered and meetings were brutally repressed with military force. So Medina's achievement was all the more impressive. But instead of a statue being erected in his honour, they destroyed his dream, and before anybody could stop it the whole festival site was levelled. It was a cruel blow.
Curiously enough the show in 1985 coincided with Cozy Powell having a big row or stage and telling David Coverdale he was leaving the band after the festival. But just as Powell was not missed from Whitesnake, and the band recovered, so Medina landed on his feet again, and in the summer of last year he developed plans for a second Rock In Rio festival. This time he chose the existing Maracana Stadium closer to the of town. It was more convenient for everyone which became clear when I arrived. There were huge numbers of visitors up to 100,000 a day, but there were no traffic problems. However, sadly there was some trouble looming.
CHAOS AND CASUALTIES
SUNDAY JANUARY 20 1991
Guns n' Roses were headlining and the stadium was packed. Outside there were hundreds of people with tickets, but the gates were closed and the security behind the gates wouldn't let them in. People with arena cards were sent to the stands, and people with tickets for the stands had to stay outside. Soon the first reports came in of casualties due fans trying to storm the gates to get in. Things became rather frightening, but it didn't put Faith No More off their performance. It was around 9 pm when they marched onto the enormous Stadium stage to welcome 100,000 spectators. Searchlights lit up the cloudy skies overhead and it was amazing to hear the audience singing along to 'Falling To Pieces.' It sent shivers down the spine. A year ago Faith No More were struggling through small clubs. Now here in Brazil, thousands of fans were going totally apeshit. Later I was told MTV started their own Brazillian station in the Portuguese language and the two bands who got the most airtime were Guns n' Roses and Faith No More. Those songs that didn't get TV coverage received notably less enthusiastic responses. 'Introduce Yourself' and 'Crab Song' (dedicated by singer Mike Patton to Pele) weren't received so well but during 'We Care A Lot' the audience went totally wild again. Strange.
STRANGE
Even stranger was the following phenomena. On two gigantic video screens on both sides of the stage, the audience sitting further back could see what was happening onstage. A director who really knew his business ensured excellent close ups and even captioned pictures with Portuguese sub-titles. A great idea but with odd results. Most of the audience couldn't speak English so whenever a front man spoke to them it took some seconds for a translator to put the captions on the video screen then the audience understood. So when Mike Patton with a very short hair-do asked the audience to snap their fingers to 'Edge Of The World' they only reacted thirty seconds after the message appeared on the screens. Then 100,000 snapped their fingers by command. The language barrier caused much hilarity throughout the festival.
It was a pity that Robert Plant who was expected to hit the stage after Faith No More had to cancel due to laryngitis. But a replacement was found very quickly in the person of Billy Idol who also played two days earlier on the first day of Rock In Rio. Songs like 'Rebel Yell,' 'Sweet Sixteen,' 'Eyes Without A Face', and 'White Wedding,' were welcomed with ear shattering yells (thanks to MTV coverage) but lesser known songs showed just how QUIET 100,000 can be! In the meantime the audience were a bit restless and there was some anxiety building up.
FIGHTS
Small fights broke out and rumours started to spread that outside people had been killed trying to get through the gates. Tension rose and the crowds grew impatient for the headliners - Guns n' Roses. It was their first time in Rio and their first live show anywhere in one and half years, not counting their hastily put together Farm Aid concert last year. Even before they had played one note they had the stadium in their spell. From the moment they came on stage right up until the closing fireworks, Maracana was one big nut house. And this despite the fact it wasn't the band's best ever performance. But that's logical of course if you haven't played for more than a year. They also had a new drummer, Matt Sorum (ex-The Cult). It wasn't his fault if the band looked a bit stiff. He pounded out the beat of killer songs like 'Mr. Brownstone', 'Welcome To The Jungle,' and 'It's So Easy.' But it was something more than nerves that seemed to affect the original Guns, Axl Rose, Slash, Izzy Stradlin and Duff McKagan. The band played well and were backed up with excellent sound and a great light show but there was something missing - that f*** everything mentality that Guns n' Roses pioneered was lacking. They played a superb version of 'Knocking On Heaven's Door' and I thought things were getting better, but the impression soon faded when they featured a super boring drum solo by Matt Sorum breaking the atmosphere at the wrong moment. (How can a drum solo be boring? By definition this must have been the high point of the entire festival! Ed).
But maybe the atmosphere was also spoilt because the band were playing too many new songs. A taste of a new album is fine, but to start off with five new songs was too much. However I am sure some of those new songs are destined to be classics. Maybe not the really heavy 'Double Talking Jive' and 'You Could Be Mine' (that's what the title sounded like), but maybe the two longer and quieter songs like 'Estranged' (played between 'Sweet Child O' Mine' and 'Paradise City'), and the really superb 'Civil War' a really moving performance. The audience didn't know the song but to me it was the highlight of the Guns' show and whole day. Even so the band still tended to come across a tad low key and could have delivered more. Three days later they proved me right, but more about that later.
MONDAY JANUARY 21
It was the only day off in the Rock In Rio programme. It was a day for quiet reflect The newspapers claim there had been one death the festival organisers made no comment. The papers said hundreds had been ar-rested, most for possession of drugs. The organisers would not be deterred and decided to invite the artists and gu(?) to a party at a post open restaurant in Lagoa, one the wealthier parts of Rio. arrival it seemed the organisers had under estimated the numbers, and the capacity of the guests and their body-guards for eating and drinking. So around midnight a long line of party goers were standing on the street trying to get in. For example Billy Idol couldn't get in although he had an invitation. Sepultura and Axl Rose weren' in either. But Axl had his bodyguards, who lifted him over some bushes into the rest rant. Shortly afterwards Fa No More bass player Bill Gould was seen struggling to get OUT and claiming he had never seen such a boring party before! He asked if anybody wanted to join him to a cosier bar.
A day later I went to a press conference. The organisation rented the Rio Palace Ho and there I heard some of the dumbest questions I've ever heard in my life! The bands gathered in a special conference room and sat behind a long table hiding behind cans of Coke (Cocoa Co sponsored the festival). For half an hour the South American press fired their questions in Portuguese while the translators did their best. But from the laughter of English speaking Brazilian reporters it seemed the translator made a big mess of the whole business. But none of the bands had anything interesting to say anyway beyond Rob Halford saying that Judas Priest on 'Painkiller' strived to deal with as many serious subjects in the lyrics as possible. He added:
"We have something useful and important to say."
Excuse me? 'Painkiller' maybe their best LP in years but don't tell us that the lyrics to 'Leather Rebel,' 'All Guns Blazing' and 'Metal Melt Down' have any profound significance. Halford was even funnier when asked to give an opinion on Iron Maiden.
"A pretty good heavy metal band."
He was also asked how the band got its name.
Explained Rob with tongue in cheek:
"Glenn Tipton was having a picnic on a nice sunny day in the park, when a nearby tree was struck by lightning. When the smoke had cleared and Gloenn looked at the tree the name 'Judas Priest' was burnt into the wood."
But the rest of the conference was taken up with cliche questions and answers, with the translators making a mess of it, so most of the conference was taken up with bands asking
"What was the question again?"
WEDNESDAY 23 JANUARY
Every hard rock fan was waiting for this day. None of them would have been interested in Run DMC and New Kids On The Block who played the previous day. Today featured Sepultura, Megadeth, Queensryche, Judas Priest and Guns n' Roses and also Lobao. Lobao? Sure he was a local rock 'n' roll hero who had sold so many albums in Brazil that he had a spot between Sepultura and Megadeth. But after only one and a half songs it rained on Mr. Lobao. It was a rain of bottles, paper cartons and boxes full of fruit. Mr.Labao was not happy. He gave us his middle finger and wished us a lot of things in Portuguese. It was a pity there was no subtitles for this on the big screen, and he said good bye. Goodnight Mr. Lobao.
I've been to many festivals but never have I seen an opening act get the kind of enthusiastic response Sepultura received this day. The Brazilian band are now local heroes after gaining international success. Long before they came on stage the crowd were chanting their name, 'Zee-poel-toe-ra.' Funny how their name is pronounced differently in every other country. Just before 6 p.m. the stadium was only half full. It was 28 degree Celcius when 'Morbid Visions' blasted through the stadium. Sadly the band suffered from with a really bad sound, but it got better during the follow up 'ln-nerself . The subtle guitar runs of Andreas Kisser who gave this song that special something were clearly audible and during 'Mass Hypnosis' the sound was reasonable. I saw the biggest moshing pit in my life - fifty feet across and the sweating masses left an unforgettable impression. Max Cavallera said it was the greatest day of his life. We know him as a very shy person, due mainly to his lack of English, but on the Rock In Rio stage he opened up his heart in Portuguese. It was hard to understand what he was saying, but we could easily understand the fantastic treatment they gave Motorhead's 'Orgasmatron' which even lured Dave Mus-taine on stage to witness the phenomenon.
But during the next song 'Under Siege' there were technical problems again and you could hardly hear Andreas Kisser and it lasted until 'Troops Of Doom' before his guitar was pounding out of the PA again like a bolt of lightning on a clear day. (And at once Judas Priest's name was burnt onto the PA). 'Beneath The Remains' finished Sepultura's set (mini set) but for understandable reasons (Lobao?) they were only allowed to play for thirty minutes which was a big blunder by the organisation. Sepultura were scheduled to play half an hour while Lobao was planned for one hour and 15 minutes! The audience had different plans as you know.
After Sepultura's successful gig it was time for another striking, positive performance, this time from Megadeth. The famous four piece were okay on the Clash of the Titans tour. But in Rio, Mustaine & Co. proved they could do better. Their set ran much more smoothly and the new guitarist Marty Friedman in particular has undergone a metamorphosis. During the Clash shows he was a bit in the background but in Rio he was unchained and ran around the immense stage like a wild man. He was not an outsider anymore, but is now fully integrated and it seems he has much more fun doing it. Mustaine was dressed totally in white and looked healthier than ever. He even wore a pair of white wrists bands, and looked like a negative picture of James Hetfield on stage. How cynical! Less cynical was the greatest hits set Megadeth blasted towards the 60,000 spectators, (the stands were only half full).
'Wake Up Dead,' 'Hook In Mouth,' 'Hangar 18' 'Tornado Of Souls' 'Skull Beneath the Skin' and 'The Conjuring' rocked out before one of the most emotional versions of 'In My Darkest Hour' ever witnessed. Mustaine played on a double necked guitar and on the video screens it seemed like he was aiming at the whole stadium, with the audience standing on its feet. They were encourage because he made the effort to talk to them in Portuguese, helped by some handy notes. He became a hero among the Brazilians and although I didn't say much - he said the right things. Smart as he is, Mustaine saved his 'video clips' until the end and 'Holy Wars,' 'Peace Sells' and 'Anarchy In The UK' became the grand finale. The au-dience failed to deliver the traditional singalong for 'Peace Sells', but instead they gave Megadeth an ovation few bands enjoyed at Rock Rio II. It was an ovation that the next band, Queensryche didn't get although the band had the best sound and gave one of the best light shows. Somehow they didn't really get into it. Yet during si) minutes we enjoyed one musical highlight after another. Among them were 'Resistance' which opened the set followed by 'Walk The Shadows,' 'Best I Can' and 'Empire,' before a sh(?) version of the 'Minor crime' concept as heard on the Metallica tour in 1988. Geoff Tate didn't have his best day but you can't always hit the bullseye. Even when he doesn't give 100 per cent he's still an exceptional singer. Tate also spoke a few words of Portuguese but the bulk of the audience didn't react th£ much. Brazil is not ready for Queensryche yet and 'Opera-tion Mindcrime' is not what the average fan there is waiting for. They just wan straight ahead metal and the chance to get out of their heads with friends. They want... Judas Priest.
PRIEST RULE
The roaring of the Harley Davidson, the blazing headlights and the first notes of 'Hell Bent For Leather' announced the coming of the absolute rulers of Rock In Rio II. Guns n'Roses? Megadeth? Queensryche? Sepultu-ra? They were all great but all of these bands had to bow down before the mighty Judas Priest. The 'Painkiller' album promised a lot but I hadn't expected THIS. Rob Halford's voice was so powerful it roared through the stadium, thundering out one classic Priest song after another. He growled meaner than ever and gave the dirtiest looks ever on the video screens. With his freshly tattood bald head Halford ruled the 70 minutes long set and mesmerised the millions of spectators who also saw the show live on TV. Bass player Ian Hill was as always, standing quietly at the back. But K.K. Downing and Glenn Tipton ran all over the stage like madmen, playing songs like 'Metal Gods,' and Ripper,' backed up by the unbelievably brilliant drumming of Scott Travis. Like Janick Gers who put fresh enthusiasm into Iron Maiden, Travis has given Priest their second youth. No long endings to 'Breaking The Law' and 'Green Manalishi,' but to the point versions that grabbed our attention. The 'Painkiller' album was featured too and apart from 'All Guns Blazing' and the title track, they could have played more off their latest album, but that would have taken away from the absolute highlight of the whole festival. That was a perfect back to back version of 'Beyond The Realms Of Death'(with a superb laser show) and 'Victim of Changes,' two of the best songs in metal history. Metal gods - without a doubt.
WELCOME TO THE JUNGLE!
For Guns n'Roses there is not much to win anymore, judging by the gig they did on the Sunday. But Guns gave a much more relaxed performance on this night. The set was mainly the same (although I cant remember if they played the new song Bad Apples' on the Sunday). But they also played a set that
was much more fun. Even Slash was smiling from ear to ear as he looked around him during breaks in the songs. The joy was back and the nerves had disappeared and it became clear at last why Guns n' Roses were the headliners. It was great to see 'Patience' and 'Knocking On Heavens Door' whipping up a sea of hands in the air and 'Mr.Brownstone' and 'Welcome To The Jungle' rocked like crazy. Guns n' Roses are now one of the best stadium bands in the world. Their show here augered well for the upcoming tour due to start in Europe.
One day later we could start contemplating - it seemed one of the most normal things in the world that newspapers were writing about three deaths. One fan died of an overdose of drugs, another jumped to his death, from one of the stands. More frightening was the fact that a third died from gunshot wounds. Yet somehow it seemed to fit into the pattern of life in this crazy part of the world. In Europe, there would be huge controversy about a festival of this size. But in Brazil there was no cause for alarm. And so tonight Prince played his 'Purple Rain' again. The show must go on!
ANDRE VERHUYSEN

Blackstar

ADMIN




Posts

: 9427


Plectra

: 64372


Reputation

: 97


Join date

: 2018-03-17



---
Permissions in this forum:
You
cannot
reply to topics in this forum