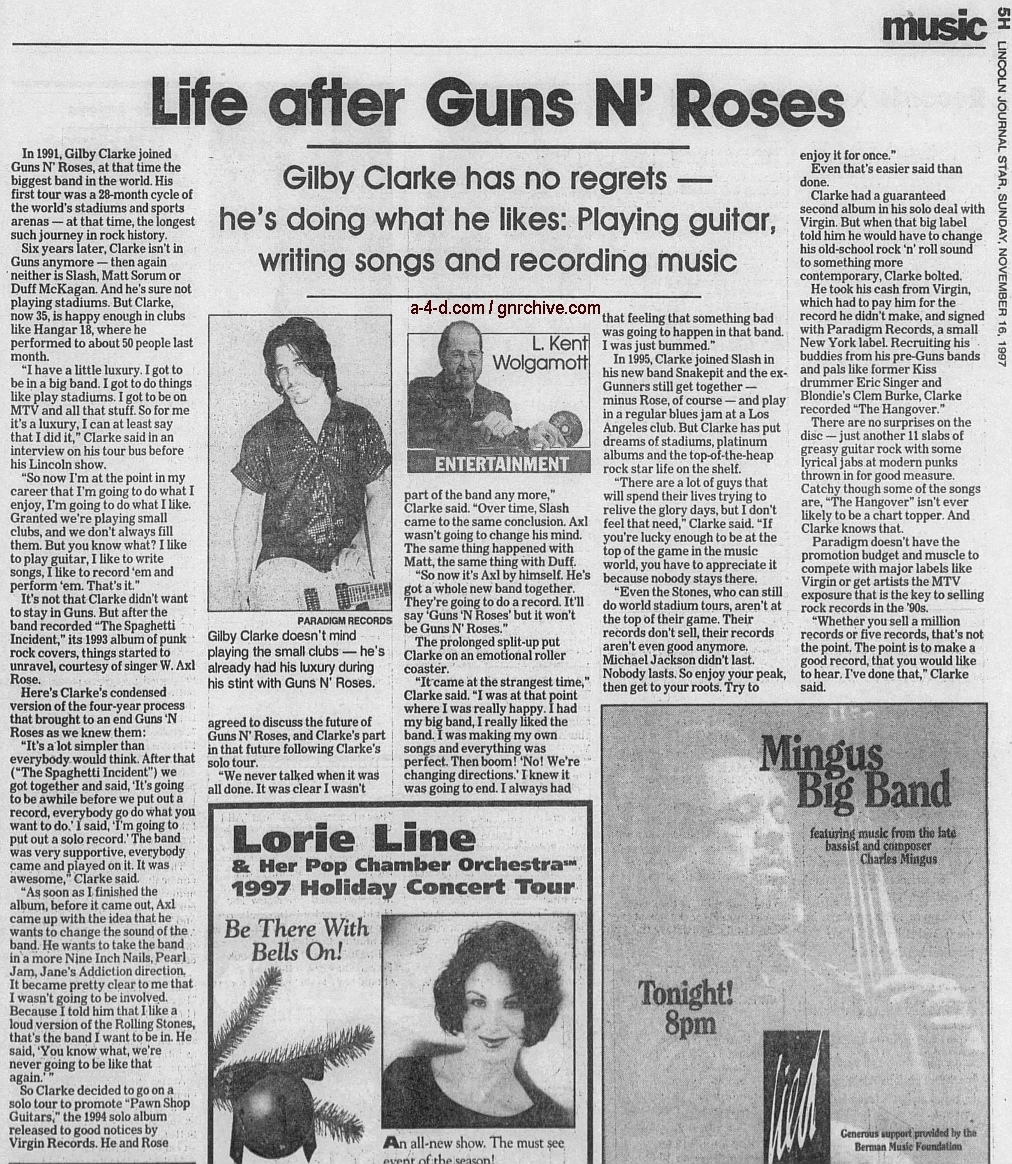 Transcript:
----------------
Life after Guns N' Roses
Gilby Clarke has no regrets — he's doing what he likes: Playing guitar, writing songs and recording music
L. Kent Wolgamott
In 1991, Gilby Clarke joined Guns N' Roses, at that time the biggest band in the world. His first tour was a 28-month cycle of the world's stadiums and sports arenas — at that time, the longest such journey in rock history.
Six years later, Clarke isn't in Guns anymore — then again neither is Slash, Matt Sorum or Duff McKagan. And he's sure not playing stadiums. But Clarke, now 35, is happy enough in clubs like Hangar 18, where he performed to about 50 people last month.
"I have a little luxury. I got to be in a big band. I got to do things like play stadiums. I got to be on MTV and all that stuff. So for me it's a luxury, I can at least say that I did it," Clarke said in an interview on his tour bus before his Lincoln show.
"So now I'm at the point in my career that I'm going to do what I enjoy, I'm going to do what I like. Granted we're playing small clubs, and we don't always fill them. But you know what? I like to play guitar, I like to write songs, I like to record 'em and perform 'em. That's it."
It's not that Clarke didn't want to stay in Guns. But after the band recorded "The Spaghetti Incident," its 1993 album of punk rock covers, things started to unravel, courtesy of singer W. Axl Rose.
Here's Clarke's condensed version of the four-year process that brought to an end Guns 'N Roses as we knew them:
"It's a lot simpler than everybody would think. After that ("The Spaghetti Incident") we got together and said, 'It's going to be awhile before we put out a record, everybody go do what you want to do.' I said, I'm going to put out a solo record.' The band was very supportive, everybody came and played on it. It was awesome,'' Clarke said.
"As soon as I finished the album, before it came out, Axl came up with the idea that he wants to change the sound of the band. He wants to take the band in a more Nine Inch Nails, Pearl Jam, Jane's Addiction direction.
It became pretty clear to me that I wasn't going to be involved. Because I told him that I like a loud version of the Rolling Stones, that's the band I want to be in. He said, 'You know what, we're never going to be like that again.' "
So Clarke decided to go on a solo tour to promote "Pawn Shop Guitars," the 1994 solo album released to good notices by Virgin Records. He and Rose agreed to discuss the future of Guns N' Roses, and Clarke's part in that future following Clarke's solo tour.
"We never talked when it was all done. It was clear I wasn't part of the band any more," Clarke said. "Over time, Slash came to the same conclusion. Axl wasn't going to change his mind. The same thing happened with Matt, the same thing with Duff.
"So now it's Axl by himself. He's got a whole new band together. They're going to do a record. It'll say 'Guns 'N Roses' but it won't be Guns N' Roses."
The prolonged split-up put Clarke on an emotional roller coaster.
"It came at the strangest time," Clarke said. "I was at that point where I was really happy. I had my big band, I really liked the band. I was making my own songs and everything was perfect. Then boom! 'No! We're changing directions.' I knew it was going to end. I always had that feeling that something bad was going to happen in that band. I was just bummed."
In 1995, Clarke joined Slash in his new band Snakepit and the ex-Gunners still get together — minus Rose, of course — and play in a regular blues jam at a Los Angeles club. But Clarke has put dreams of stadiums, platinum albums and the top-of-the-heap rock star life on the shelf.
"There are a lot of guys that will spend their lives trying to relive the glory days, but I don't feel that need," Clarke said. "If you're lucky enough to be at the top of the game in the music world, you have to appreciate it because nobody stays there.
"Even the Stones, who can still do world stadium tours, aren't at the top of their game. Their records don't sell, their records aren't even good anymore. Michael Jackson didn't last. Nobody lasts. So enjoy your peak, then get to your roots. Try to enjoy it for once."
Even that's easier said than done.
Clarke had a guaranteed second album in his solo deal with Virgin. But when that big label told him he would have to change his old-school rock 'n' roll sound to something more contemporary, Clarke bolted.
He took his cash from Virgin, which had to pay him for the record he didn't make, and signed with Paradigm Records, a small New York label. Recruiting his buddies from his pre-Guns bands and pals like former Kiss drummer Eric Singer and Blondie's Clem Burke, Clarke recorded "The Hangover."
There are no surprises on the disc — just another 11 slabs of greasy guitar rock with some lyrical jabs at modern punks thrown in for good measure. Catchy though some of the songs are, "The Hangover" isn't ever likely to be a chart topper. And Clarke knows that.
Paradigm doesn't have the promotion budget and muscle to compete with major labels like Virgin or get artists the MTV exposure that is the key to selling rock records in the '90s.
"Whether you sell a million records or five records, that's not the point. The point is to make a good record, that you would like to hear. I've done that," Clarke said.

Blackstar

ADMIN




Posts

: 10247


Plectra

: 69465


Reputation

: 96


Join date

: 2018-03-17



---
Permissions in this forum:
You
cannot
reply to topics in this forum