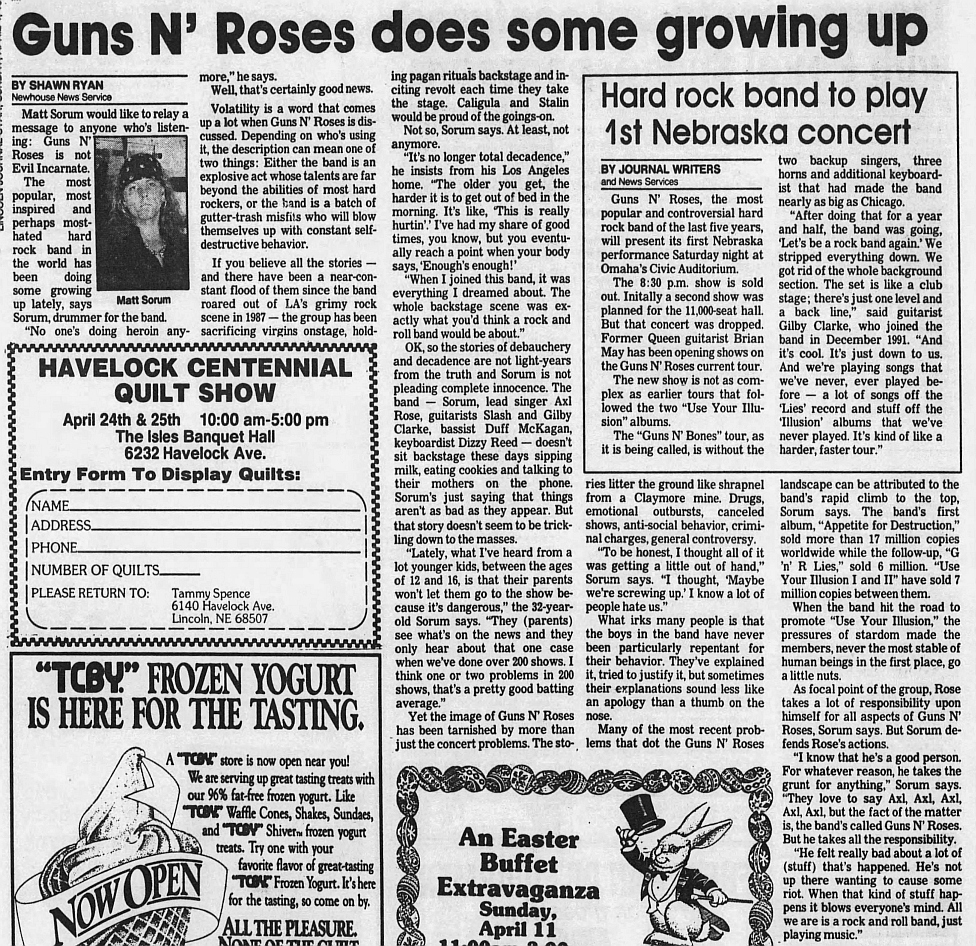 Transcript:
-----------------
Guns N' Roses does some growing up
BY SHAWN RYAN
Newhouse News Service
Matt Sorum would like to relay a message to anyone who's listening: Guns N' Roses is not Evil Incarnate.
The most popular, most inspired and perhaps most-hated hard rock band in the world has been doing some growing up lately, says Sorum, drummer for the band.
"No one's doing heroin anymore," he says.
Well, that's certainly good news.
Volatility is a word that comes up a lot when Guns N' Roses is discussed. Depending on who's using it, the description can mean one of two things: Either the band is an explosive act whose talents are far beyond the abilities of most hard rockers, or the hand is a batch of gutter-trash misfits who will blow themselves up with constant self-destructive behavior.
If you believe all the stories — and there have been a near-constant flood of them since the band roared out of LA's grimy rock scene in 1987 — the group has been sacrificing virgins onstage, holding pagan rituals backstage and inciting revolt each time they take the stage. Caligula and Stalin would be proud of the goings-on.
Not so, Sorum says. At least, not anymore.
"It's no longer total decadence,'' he insists from his Los Angeles home. "The older you get, the harder it is to get out of bed in the morning. It's like, 'This is really hurtin'.' I've had my share of good times, you know, but you eventually reach a point when your body says, 'Enough's enough!'
"When I joined this band, it was everything I dreamed about The whole backstage scene was exactly what you'd think a rock and roll band would be about."
OK, so the stories of debauchery and decadence are not light-years from the truth and Sorum is not pleading complete innocence. The band — Sorum, lead singer Axl Rose, guitarists Slash and Gilby Clarke, bassist Duff McKagan, keyboardist Dizzy Reed — doesn't sit backstage these days sipping milk, eating cookies and talking to their mothers on the phone. Sorum's just saying that things aren't as bad as they appear. But that story doesn't seem to be trickling down to the masses.
"Lately, what I've heard from a lot younger kids, between the ages of 12 and 16, is that their parents won't let them go to the show because it's dangerous," the 32-year-old Sorum says. "They (parents) see what's on the news and they only hear about that one case when we've done over 200 shows. I think one or two problems in 200 shows, that's a pretty good batting average."
Yet the image of Guns N' Roses has been tarnished by more than just the concert problems. The stories litter the ground like shrapnel from a Claymore mine. Drugs, emotional outbursts, canceled shows, anti-social behavior, criminal charges, general controversy.
"To be honest, I thought all of it was getting a little out of hand," Sorum says. "I thought, 'Maybe we're screwing up.' I know a lot of people hate us."
What irks many people is that the boys in the band have never been particularly repentant for their behavior. They've explained it, tried to justify it, but sometimes their explanations sound less like an apology than a thumb on the nose.
Many of the most recent problems that dot the Guns N' Roses landscape can be attributed to the band's rapid climb to the top, Sorum says. The band's first album, "Appetite for Destruction," sold more than 17 million copies worldwide while the follow-up, "G 'n' R Lies," sold 6 million. "Use Your Illusion I and II" have sold 7 million copies between them.
When the band hit the road to promote "Use Your Illusion," the pressures of stardom made the members, never the most stable of human beings in the first place, go a little nuts.
As focal point of the group, Rose takes a lot of responsibility upon himself for all aspects of Guns N' Roses, Sorum says. But Sorum defends Rose's actions.
"I know that he's a good person. For whatever reason, he takes the grunt for anything," Sorum says. "They love to say Axl, Axl, Axl, Axl, Axl, but the fact of the matter is, the band's called Guns N' Roses. But he takes all the responsibility.
"He felt really bad about a lot of (stuff) that's happened. He's not up there wanting to cause some riot. When that kind of stuff happens it blows everyone's mind. All we are is a rock and roll band, just playing music."

Blackstar

ADMIN




Posts

: 12244


Plectra

: 80304


Reputation

: 97


Join date

: 2018-03-17



---
Permissions in this forum:
You
cannot
reply to topics in this forum