Reprinted in January 1994
-----------------------------------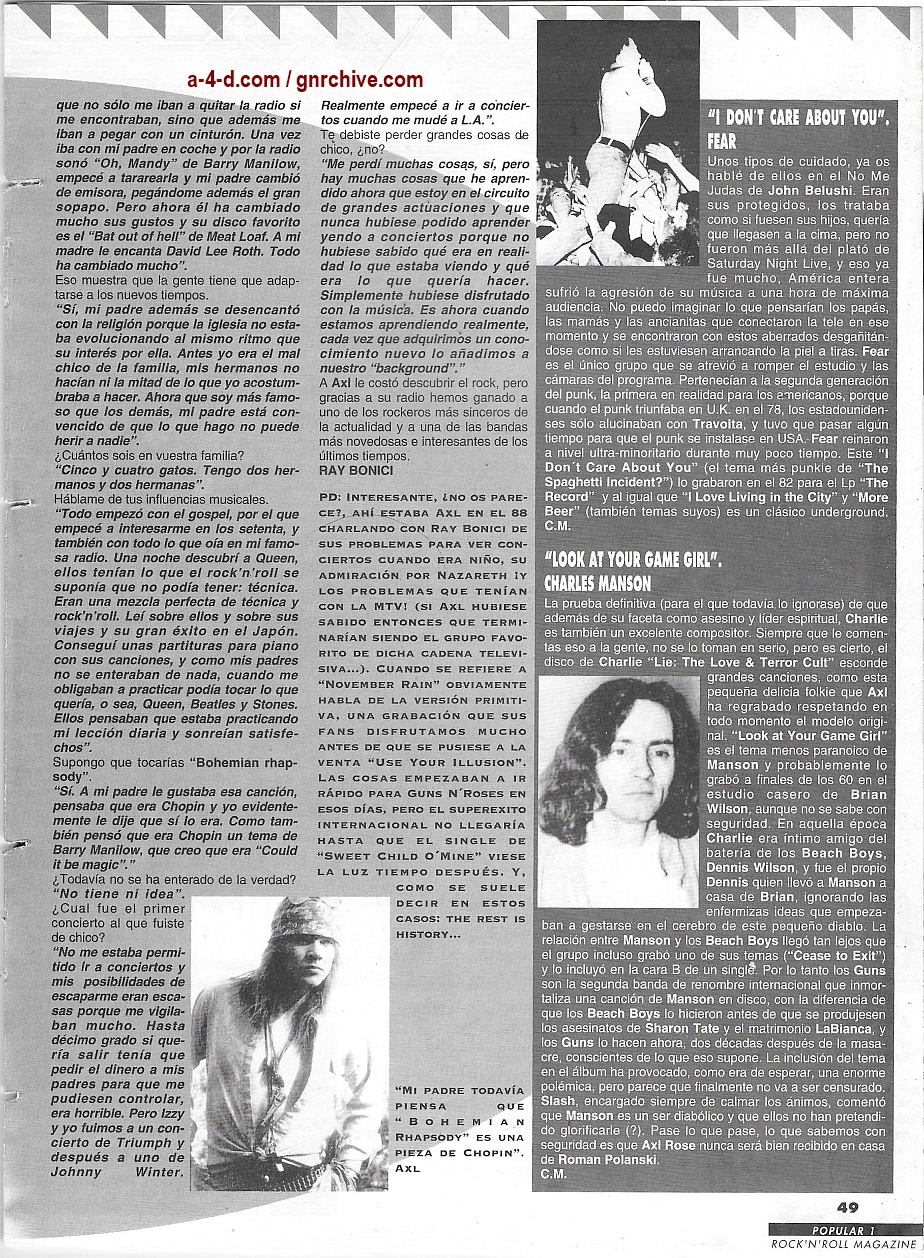 Translation from Spanish
--------------------------------
Introduction by Popular 1, January 1994:
Well, what you're about to read below, is one of our most precious treasures. Long before the massive success, when "Appetite" was only a few months old and the single of "Sweet Child O 'Mine" hadn't been released yet, Axl Rose,
the
Axl Rose, gave an interview to our contributor Ray Boníci. Those were the days of innocence and excesses for Guns N 'Roses. Their future war with the press was still very far ahead, and they were quite accessible. Five years later, the picture is very different. Axl only gives interviews to journalists of his choice, and he doesn't talk to more than two or three media throughout the year, as if he was the rock version of Marlene Dietrich. So we decided to uncover this old interview that we had published in April 1988, and many of you probably have never read. Enjoy it.
***
Guns N' Roses and their album "Appetite for destruction" are the new sensation in the hard rock world. With their hard and sleazy rock, the Roses have managed to combine the raw energy of The New York Dolls and the Hanoi Rocks with the power of Aerosmith, and their influences extend even to early Kiss. Their performances at the Marquee this summer (three nights in a row) caught the attention of the English audience, to the point that a few months later they debuted at the Hammersmith Odeon along with Faster Pussycat, the most advanced of their contemporary peers. The overwhelming version of Bob Dylan's "Knockin 'on heaven's door" and the equally impressive "Whole Lotta Rosie" of AC/DC consist outstanding moments  in their exciting live performances, where they also shine with their own brilliant "Welcome to the Jungle" and "My Michelle."
Axl Rose is an imaginative and distinctive singer, with a gritty voice yet capable of arousing the fieriest passion in the souls of his fans, and with a provocative and scruffy image of unapologetic debauchery. Axl is quite the character...
You must be having a really great time with the success you have achieved...
"Yes, things have started to roll very fast and in a very exciting way for us. One day something big happens, but two days later it isn't impressive anymore, because many other things have happened to us that are even more important."
I'm under the impression that at first you became known only because of the controversy you stirred, but now you're taken into account for your music.
"It's true, and we love that. I'm looking forward to the day when people will forget about the controversy, and anyone who listens to our music will sit and think: 'In the third verse they say such and such; what do they mean by that?' I'm happy that there are people who have this approach already from our first album, without having to wait for the second or the third one, like it has happened with many bands."
What do you think has made people interested in you?
"The fact that we focus a lot on our music. There are many people out there who are great pop stars, but don't send a message with their music. There are also people who can sing very well, or are surrounded by studio musicians that may be really good, but play just for the money, without feeling anything special for what they're doing. We try so that every little part of each song is as special as possible, and has a real and honest meaning coming straight from the heart. In the years I've been into this, I've seen many people who want to live the life of a rock star without wondering about the merit of their art. That's something we care about. Each song is like a painting for us; we try to turn it into a work of art that we can be proud of in the next ten years. I don't want to look back one day and say, 'I made a million dollars with this song, but it's the biggest crap ever made.'"
How far can you go?
"We'll be a real bomb if we continue in this vein. We have a handful of songs that we deliberately didn't include in the first album, because both the label and us thought that it would've been a big shock for people. We took a big step from the EP to the album, and our second album will be a new step for sure, because we already have many of the songs that will be on it."
How are things going in America?
"Well, we're selling more and faster than any other new rock band of the latest batch. We've had some problems with certain radio stations and with MTV, because the owners of those companies don't support rock. We believed that rock 'n' roll was going to have a great come-back on those stations, but the owners shattered our hopes and didn't give us any air play. It's like we were the last straw for them. They are willing to go up to a certain point, but when they see us they say: 'No, we won't go there.' So we had to fight a lot to be accepted.
"It's very hard. We're just street kids and we want to scream, 'Fuck you!' But that's exactly what makes these people ditch our album after they hear it."
I know that, despite your controversial and unbridled image, you're quite serious about your relationships with girls, right?
"One of the things I hate the most about touring, is that you don't have the opportunity to really know anyone; that's why I enjoy it if I can sit and chat with someone for a while. So, at this moment, it's very complicated for me to have stable and serious relationships. I haven't learned to juggle everything yet.
"The most important thing to me is music. I can concentrate on writing my music just by looking at my life and the people around me. I don't write songs for money. Money is compensation, but there are things that make me sick, like many of the girls who come to see us during the tours. Some of them have obviously listened to the album, but others haven't; because if they had listened to it, they would've known that we don't conform to anything. We can behave like the sweetest and most pleasant people in the world, but as soon as we fuck them, we show them the way out and to the nearest bus stop. I'm surprised that some of these girls really think you're stupid. As Lemmy puts it, "Don't judge a book by its cover;" that is, when a chick comes to you thinking that she's gonna have her way with you, you have to put her in her place and make it clear who is who, and if she doesn't accept it, then... out of the door. That's why it's impossible to get enough of sex – it may happen when you're older, but not now.
"A long time ago, Nazareth were featured in an adult magazine – they didn't pose, of course (laughs), but just talked about sex. They said then: 'We don't pay any attention to a 17-year-old girl who goes crazy at the thought of sleeping with Mick Jagger. Music is what we're interested in.' That's what has always interested them, the music, and that's why I have so much respect for them. The band has developed great respect for Nazareth over the past year, because they care about their music more than anything else."
So, what makes you really excited these days?
"Making emotional music that overwhelms me with sentiment. But I also get excited by loud and outrageous crowds. Last night, in Bristol, it was fantastic, people wanted to jump from the stands, and many of them ended up dancing on the PA. I don't believe there's any band that's not able to lift the spirits of the people in Bristol. When we play at Hammersmith, I'll ask people if there's no better crowd than the Bristol crowd – even though I may get into trouble if I encourage people to go too wild."
Do you still want Dan McCafferty (Nazareth) to sing "Love Hurts" with you on your wedding day?
"When we got back to the States, I was informed that Dan had listened to our ballad 'November Rain' and liked it a lot. So I asked him if he wanted to sing with me, and he told me that he'd love to do it, if he could."
Do you have a date for your wedding?
"No, because we'll be on tour with this record for as long as possible. We want to come back to Europe in March to do some shows with Metallica, and we're also trying to play with AC/DC."
And then...?
"I don't know, next year I'll be very busy, and until I get used to that pace of life..."
I've been told to ask you about your beginnings in music.
"I was born in Indiana, in a student town, and grew up there. I started playing the piano when I was five, and I sang, alone or with my siblings, in a church outside the town. I went to church five days a week. I wasn't allowed to listen to the radio there.  I started listening to Elvis and gospel music, because that was what my dad had in his record collection and what he allowed me to listen to. If he caught me listening to something else, he would beat me up, because he said it was the devil's thing.
"In the fifth grade, I won a radio in a contest, and I remember that I spent the day listening to all the new music that was playing. One day, I heard a Zeppelin song, and when we went to class we started joking about it, but in the afternoon I sat in a corner turning the dial like crazy to hear that song again. Since then, I did the same thing every afternoon. At night, I hid the radio under my pillow, and listened to it thanks to a shaky set of headphones. If they caught me, the big brawl would start."
How many times did they throw your radio in the garbage?
"Never, because I was very clever at hiding it. The problem was that they wouldn't just take away the radio if they found out, but they'd also hit me with a belt. One time I was in the car with my father, and  'Oh, Mandy' by Barry Manilow came up on the radio. I started humming it, and my father changed the station and gave me a hard smack. But now his tastes have changed a lot, and his favorite record is "Bat Out of Hell" by Meat Loaf. My mother loves David Lee Roth. Everything has changed a lot."
This goes to show that people have to adapt to new times.
"Yes, my father also became disenchanted with religion, because the church wasn't evolving as much as his interest in it. I used to be the bad boy in the family - my siblings didn't do half of what I did. Now that I am more famous than the others, my father is convinced that what I do can't hurt anybody."
How many are you in your family?
"We are five - and four cats. I have two brothers and two sisters".
Tell me about your musical influences.
"It all started with gospel - I started getting interested it in in the '70s - and also with everything I heard on my famous radio. One night I discovered Queen. They had what rock 'n' roll wasn't supposed to have: technique. They were a perfect combination of technique and rock 'n' roll. I read about them, and their tours, and their great success in Japan. I got piano sheet music of their songs, and, since my parents were clueless, when they forced me to practice, I could play what I wanted, like Queen, the Beatles and the Stones. They thought I was practicing my daily lesson and had a satisfied smile on their face."
I suppose you played "Bohemian Rhapsody."
"Yeah. My father liked that song. He thought it was Chopin and, of course, I told him that it was.  He believed a Barry Manilow song to be Chopin, too – I think it was 'Could it be magic'."
Doesn't he know the truth now?
"He has no idea."
What was the first concert you went to as a kid?
"I wasn't allowed to go to concerts, and my chances of escaping were limited, because they watched me a lot. Until tenth grade, if I wanted to go out I had to ask my parents for money, so they had control over me. It was horrible. But Izzy and I went to a Triumph concert, and then to a Johnny Winter one. I really started going to concerts when I moved to L.A."
You must have missed many great things as a kid, right?
"I missed many things, yeah. But there are many things I've learned now that I'm into the big show circuit, that I could never have learned by going to concerts, because I wouldn't have known what I was really seeing and what was that I wanted to do. I would've just enjoyed the music. It's now that we're really learning, and every new knowledge we get, we add it to our 'background'."
Axl had a hard time to discover rock, but thanks to his radio, we have won one of the most sincere rockers of today, and one of the most innovative and interesting bands in recent times.
RAY BONICI
Last edited by Blackstar on Fri Feb 07, 2020 1:40 pm; edited 6 times in total

Blackstar

ADMIN




Posts

: 12236


Plectra

: 80261


Reputation

: 97


Join date

: 2018-03-17



The interview was originally published in April 1988, but it was apparently conducted in October 1987 (October 8, to be exact), as Axl refers to "last night"'s show in Bristol.
---------------
How many are you in your family?

"We are five - and four cats. I have two brothers and two sisters".
This is obviously wrong, but that's what the Spanish text says. Probably it was a mistake in the Spanish translation.

Blackstar

ADMIN




Posts

: 12236


Plectra

: 80261


Reputation

: 97


Join date

: 2018-03-17



---
Permissions in this forum:
You
cannot
reply to topics in this forum