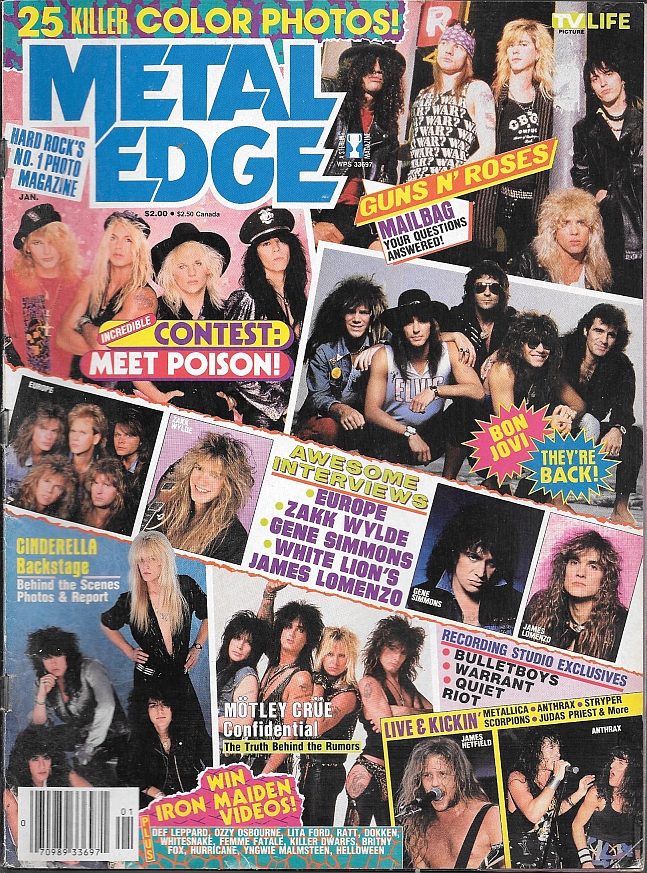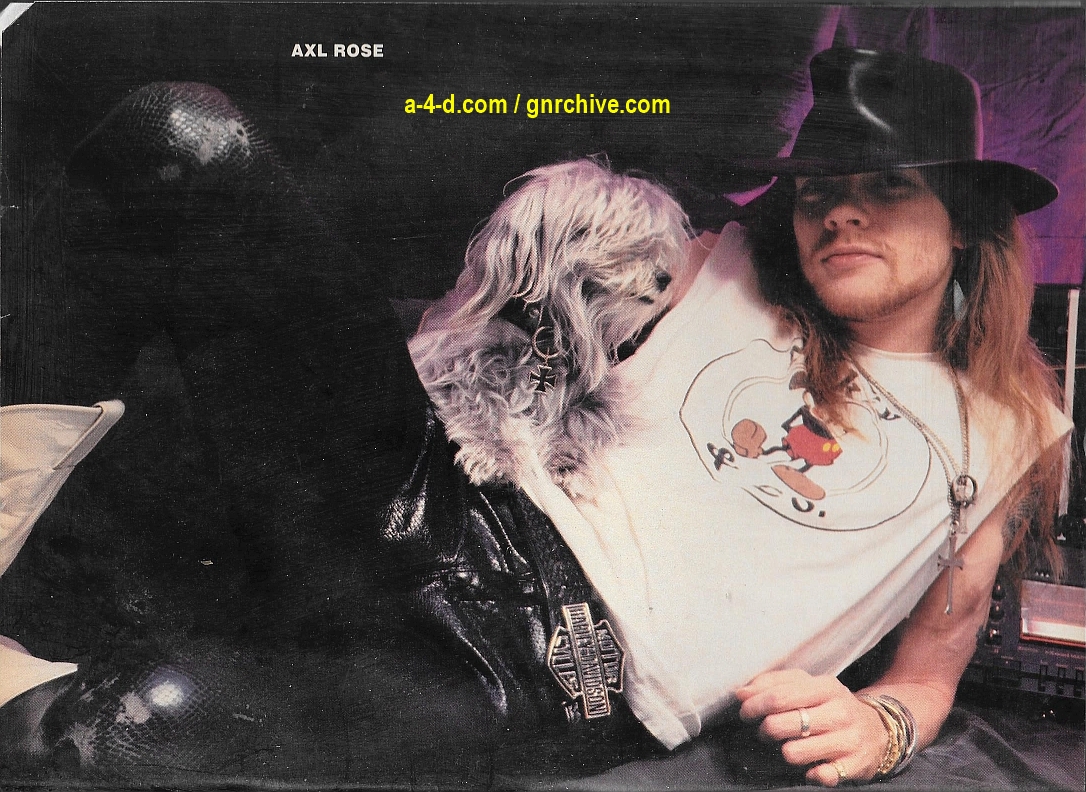 Transcript:
---------------
GUNS N' ROSES MAILBAG
Your questions answered
I think Guns N' Roses is one of the greatest bands to ever walk the face of the earth! Could you tell me their ages, birthdates, real and/or full names, and marital status? What kind of girls does Axl Rose like?Jennifer
Slash, 23, was born on July 23, 1965 and is single (he broke up with girlfriend Sally: "I can't deal with having a girl­friend. They latch onto you. I like girls that are totally independent"). He wasn't pleased when we revealed his real name in the April '88 issue's Mailbag, and asked us not to reprint it. Ste­ven Adler (his real name) was born on Jan. 22, 1965. The 23 year-old drum­mer is single. Duff, 24, was born Mi­chael McKagan in Seattle, WA on Feb. 5, 1964. He married his girlfriend Mandy on May 28. 26 and single, Izzy Stradlin, né Joseph Isbell, was born on Apr. 8, 1962. W. Axl Rose (the W. is for William, which he hates) is 26, born on Feb. 6, 1962. He's single but has a steady girlfriend, model Erin Everly. His type of woman has "a sense of style, in­telligence, a goal, and physically, what­ever I want to see." 
I was wondering if the members of Guns N' Roses are lefties or righties.Kelley
All are righties except Duff. 
Could you give me the rundown on Guns N' Roses' tattoos and what jobs the guys had before they joined the band?Rick
Duff has a rose and crossed guns on his left shoulder and a sword/rose with GUNS N' ROSES in a ribbon under it on his right. He has supported himself by playing in bands since he was 15. Izzy, who sports a sword/rose/GUNS N' ROSES tat on his right arm and rose/ IZZY on his left, briefly worked in a gui­tar shop. Steven has a wings/heart/ rose/GUNS N' ROSES design on his left shoulder, and a rose/crossed drum­sticks tat on his right. His former jobs in­clude dishwasher, bowling alley janitor, busboy, pizza maker, lawn mower, and warehouse worker. Slash has a chesty girl with a rose in her teeth on his right arm and a top hatted skull with D.T.U.D. (Drink Till U Drop) on his left. His former employers include theaters, a newsstand, and a clock factory. Axl's right arm tat trio consists of a girl's face, a rose with W. AXL ROSE, and the cross from the
Appetite
LP cover. On his left, he has a winged face with ROCKER and a Special Forces em­blem with VICTORY OR DEATH. He worked in telephone sales, fast food places, washed cars, and was the night manager at Tower Video in L.A. 
Who is the girl in the "Welcome to the Jungle" video with Steve?Angie
A former girlfriend named Julie. 
Is it true that one of the members of GN'R met the other when he fell off a skateboard?Carri
Yes. Steven took a spill and Slash came over to see if he was okay. That was in junior high, and they've been friends ever since. 
I would like to know some info on Duff McKagan's hitch with Mandy Brix, like why they got married dur­ing the tour instead of after. Is she pregnant?Courtney
Guns N' Roses found out they'd be go­ing out with Iron Maiden after all the wedding arrangements were made. Duff kept the date, and ex-Cult bassist Haggis filled in for him on stage. A host­ess at a Japanese restaurant in L.A. and member of the Lame Flames band, Mandy is not expecting. 
What brand of cigarettes do the members of Guns N' Roses smoke?Valerie
Marlboro (red). 
Could you please tell me the mean- ing of all the songs on Appetite For Destruction? Does GN'R have an­other album coming out within the next year?Jessyca
According to various band members, "Rocket Queen" and "Anything Goes" are about sex, "Nightrain" is about the cheap wine of that name, and "Welcome to the Jungle" and "Paradise City" are the result of "being sick, starving on the streets, and freezing cold with no place to sleep." "It's So Easy" is about "living off girlfriends," and "You're Crazy" and "My Michelle" were inspired by girls the guys know. "Out Ta Get Me" reflects their experi­ences of being hassled and screwed over, and Izzy wrote "Think About You" with "drugs, sex, Hollywood, and mon­ey" in mind. Axl penned "Sweet Child O' Mine" for girlfriend Erin, and "Mr. Brownstone" is about drug habits, "not necessarily the band's." G N' R's
The Sex, The Drugs, The Violence, the Shocking Truth
EP will hopefully be out by January, with a new LP to follow next summer. 
Whose dog is that in the "Sweet Child O' Mine" video?Nancy
Slash's guitar tech Rudy Leiren's. None of the Guns have dogs except Axl, whose Maltese Torque is with him in the photo on p. 4. He and girlfriend Erin also have a female Maltese, Geneva. 
Please give me some information on Guns N' Roses' super drummer Ste­ven Adler. Where was he born? What are his personal stats, his favorite bands, and some of the things he likes to do for fun?Andy
Steven, born in Cleveland, OH and raised in Hollywood, CA, is a 5' 11", 130 lb., blue-eyed blond. He lists AC/DC, Metallica, Motley Crue, Aerosmith, TSOL, Randy Piper's band Animal, and (believe it or not) the Four Seasons as some of his favorite bands, and singles out drummers Tommy Lee, Lars Ulrich, and Roger Taylor. Steven favors hockey games, riding motorcycles, and sex as recreation. "But my favorite thing is to play my drums." 
Were any albums released by Axl's old band, Hollywood Rose?Cheryl
Nope. 
I heard that Guns N' Roses originally had a different album cover for Ap­petite For Destruction. What did it look like?Mark
According to Steven, it depicted a mon­ster jumping over a fence, a girl selling flowers, and a giant robot breaking all her toys. 
Is is true Axl Rose was in the hospital getting treated for V.D.? Is that why they quit the tour with Iron Maiden?Raven
No. Axl developed polyps in his throat, and as Slash explains, "We took him off the road because we didn't want to f.ck up the Aerosmith tour," which was even more important to the band. 
I'm crazy about Duff McKagan, and need some information about him, like his birthplace, height, weight, fa­vorite things, like food drink, song on the Appetite album, real hair col­or, and if he has brothers and sisters.Cindy
Duff, who's 6'3", 150 lbs., and had brown hair originally, is from Seattle, WA, where he grew up the youngest of eight kids—he has one sister, who used to be in a band. He likes Mexican food, double vodka and orange juice, and has no one favorite song on the LP—he says he likes 'em all. 
Steven Adler is an awesome drum­mer! When did he start playing? How did he get the nickname Popcorn? Does he have any brothers or sis­ters? What kind of girl does he like? What is his favorite color, TV show, place, book, and song on Appetite For Destruction ?Amy
Steven pounded on books and Tupperware before he got his first kit when he was 18 (he'd tried guitar first). Axl dubbed him Popcorn, noticing, "When you play you pop up and down like pop­corn." He has an older brother, Kent, and younger brother, Jamie, and favors females with "a nice butt, nice tits—a nice girl who can take care of herself." He likes silver, blue, and black,
Taxi,
New Orleans, and "Nightrain" but isn't a big reader:
"Hustler
doesn't count, does it?," he asks. 
I've heard that Poison and Guns N' Roses hate each other. Then I read they called a truce, but somewhere else I heard that was untrue. These are two of my favorite bands and I wanna know what's going on. Please explain what the fight is about, how it started, and if it's still going on.Annamarie
The minor rivalry between the two L.A. bands (they're neither best friends nor enemies) escalated when Slash made a brief remark about C.C. DeVille in a
Hit Parader
interview that turned into a whole article. Afterward, "I tried to bury the hatchet," says Slash. "I have nothing against those guys—I don't have a vendetta against them." He and C.C. are on speaking terms now. 
I need to know some things about Axl Rose. Is it true he was kicked out of his house? What are his vital stats and favorite bands? Is he a natural redhead?Debbie
Axl, who was raised in a very strict Pentacostal home in Lafayette, IN, was thrown out at 16, but has now recon- ciled with his family. 5'8
1
/2", 145 lbs., and indeed a natural redhead, he likes Metallica, Megadeth, Motley Crue, Aero- smith, plus old AC/DC, Alice Cooper, Iggy Pop, and Sex Pistols music. 
I'd like to know some things about Slash, like his height, weight, where he was born, hobbies, his favorite book, color, TV show, places, and type of guitar.Kim
The 5'11", 135 lb. axeman was born in Stoke-on-Trent, England and grew up in L.A. with his dad, an album cover de­signer, and mom, who made clothes for bands. He likes to draw, hates TV, lists "basic black" as his favorite color, and
Interview With the Vampire
and its se­quel as his favorite books. He loves New York and London but dislikes Hawaii: "It's boring. I'll never go there again unless we're touring. It's gor­geous, but I'm a city kid. I need action ail the time." Vintage Les Pauls are his instruments of choice. 
*** 
[Picture captions and quotes]
"I'm the luckiest drummer in the world," grins Steven, who called the Guns-Aerosmith tour "the highlight of my life." 
With
Appetite For Destruction
triple platinum (it hit
#1
in its 50th week on the charts) Guns N' Roses will record their second LP this fall. "The new album is gonna be f.ckin' rockin'. Unbelievable," says Slash, who's attempting to write lyrics for the first time. "Then I'll give them to Axl and let him interpret them in his way." 
"We're looking forward to the next album. We've probably got two or three albums' worth of stuff," says Duff. 
Axl got his vocal start singing in church choir as a kid. 
Slash designed his newest tattoo himself, and Robert Benedetti executed it in 4
1
/2 hours, "which is a long time for me to sit in one place. This is it," he says, "I just wanted one on each arm." 
Guns N' Roses' high-voltage shows are an adrenaline rush for the audience and the band. "It takes hours to come down," says Izzy. 
Sunning by friend Arlett's pool, Slash said he'd "never been this tan" and "never wore shorts in my life" before he went to Hawaii.

Blackstar

ADMIN




Posts

: 12244


Plectra

: 80304


Reputation

: 97


Join date

: 2018-03-17



---
Permissions in this forum:
You
cannot
reply to topics in this forum