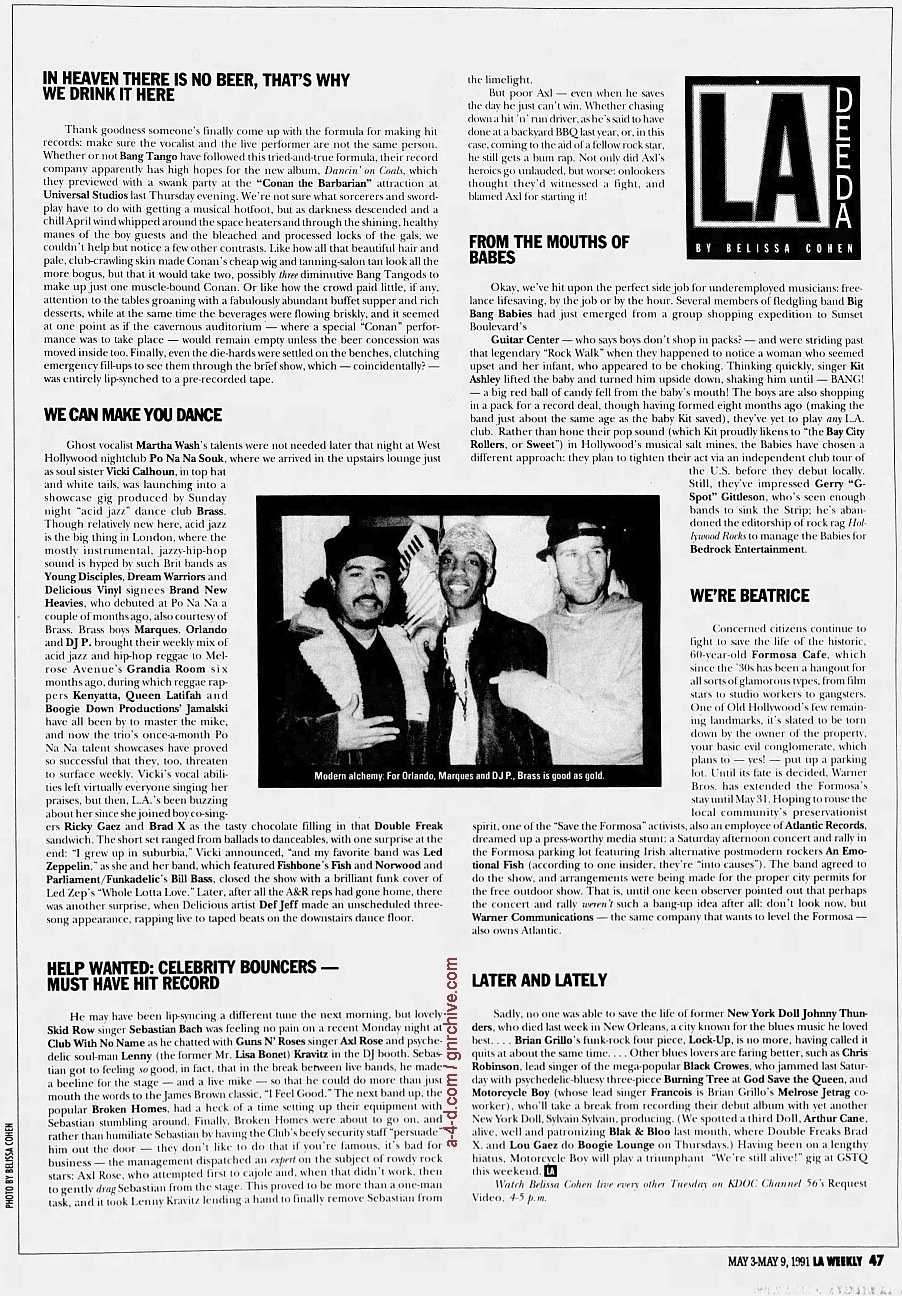 Transcript (excerpt):
---------------------------
HELP WANTED: CELEBRITY BOUNCERS — MUST HAVE HIT RECORD
He may have been lip-syncing a different tune the next morning, but lovely Skid Row singer
Sebastian Bach
was feeling no pain on a recent Monday night at
Club With No Name
as he chatted with
Guns N' Roses
singer
Axl Rose
and psychedelic soul-man
Lenny
(the former Mr Lisa Bonet)
Kravitz
in the DJ booth.
Sebastian got to feeling so good, in fact, that in the break between live bands, he made a beeline for the stage — and a live mike — so that he could do more than just mouth the words to the James Brown classic, "I Feel Good."
The next band up, the popular
Broken Home
s, had a heck of a time setting up their equipment with Sebastian stumbling around. Finally, Broken Homes were about to go on, and rather than humiliate Sebastian by having the Club's beefy security staff "persuade" him out the door — they don't like to do that if you're famous, it's bad for business — the management dispatched an
expert
on the subject of rowdy rock stars: Axl Rose, who attempted first to cajole and, when that didn't work, then to gently drag Sebastian from the stage. This proved to be more than a one-man task, and it took Lenny Kravitz lending a hand to finally remove Sebastian from the limelight.
But poor Axl — even when he saves the day he just can't win. Whether chasing down a hit n' run driver, as he's said to have done at a backyard BBQ last year, or, in this case, coming to the aid of a fellow rock star, he still gets a bum rap. Not only did Axl's heroics go unlauded, but worse: onlookers thought they'd witnessed a fight, and blamed Axl for starting it!

Blackstar

ADMIN




Posts

: 9408


Plectra

: 64243


Reputation

: 97


Join date

: 2018-03-17



This incident at the Club With No Name was mentioned later in a later Spin magazine article, posted by
@Soulmonster
in the comments of this thread:
https://www.a-4-d.com/t3676-1989-04-28-hard-n-heavy-video-magazine-interview-with-axl-at-club-with-no-name#13368
Apparently the date and the bands in the Spin article are wrong.

Blackstar

ADMIN




Posts

: 9408


Plectra

: 64243


Reputation

: 97


Join date

: 2018-03-17



---
Permissions in this forum:
You
cannot
reply to topics in this forum