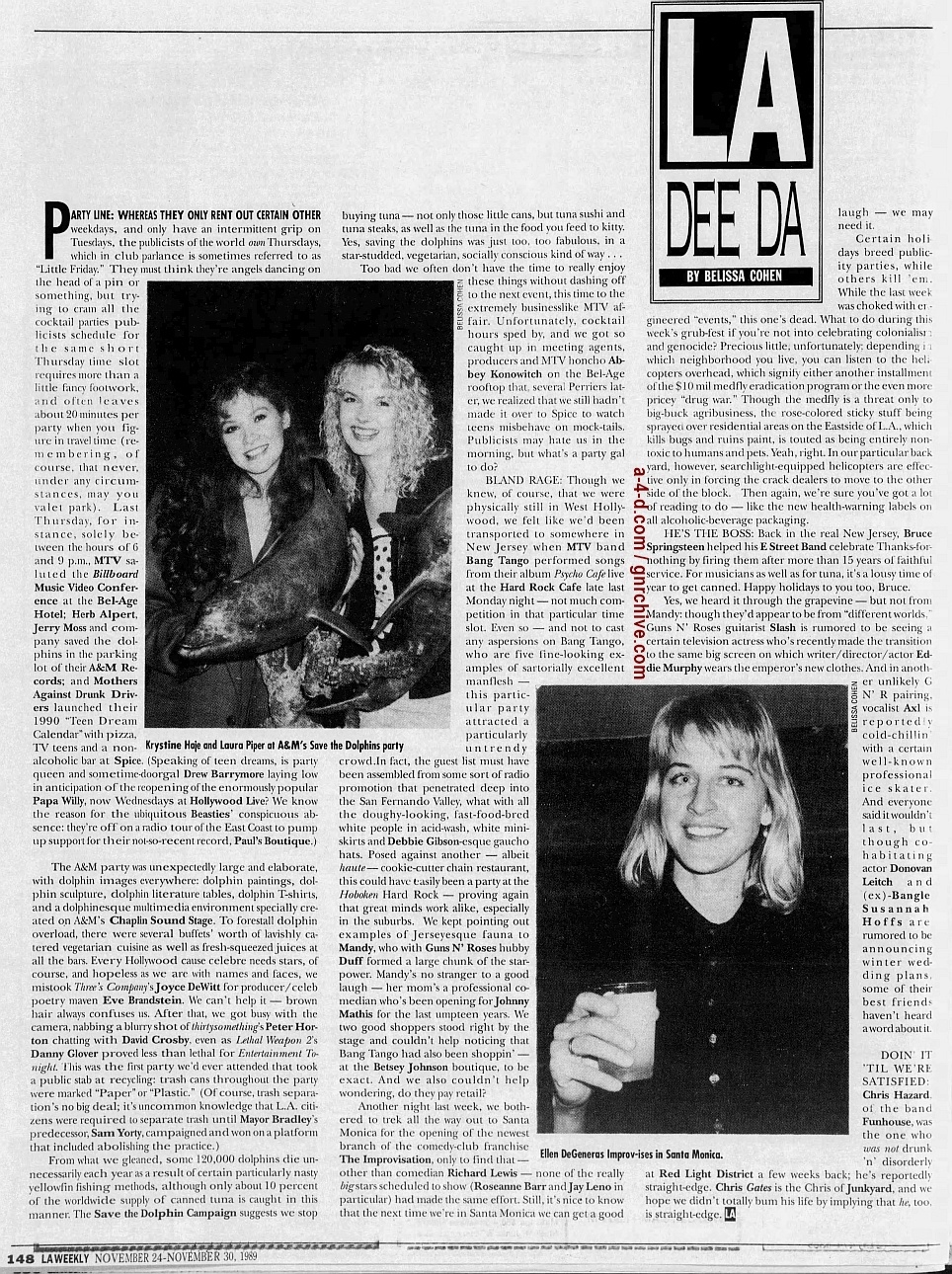 Transcript (excerpts):
------------------------------
BLAND RAGE: Though we knew, of course, that we were physically still in West Hollywood, we felt like we'd been transported to somewhere in New Jersey when MTV band Bang Tango performed songs from their album Psycho Cafe live at the Hard Rock Cafe late last Monday night — not much competition in that particular time slot. Even so — and not to cast any aspersions on Bang Tango, who are five line-looking examples of sartorially excellent manflesh — this particular party attracted a particularly untrendy crowd. In fact, the guest list must have been assembled from some sort of radio promotion that penetrated deep into the San Fernando Valley, what with all the doughy-looking, fast-food-bred white people in acid-wash, white miniskirts and Debbie Gibson-esquc gaucho hats. Posed against another — albeit haute— cookie-cutter chain restaurant, this could have easily been a party at the Hoboken Hard Rock — proving again that great minds work alike, especially in the suburbs.
We kept pointing out examples of Jerseyesque fauna to
Mandy
, who with
Guns N' Roses
hubby
Duff
formed a large chunk of the star-power. Mandy's no stranger to a good laugh — her mom's a professional comedian who's been opening for Johnny Mathis for the last umpteen years. We two good shoppers stood right by the stage and couldn't help noticing that Bang Tango had also been shoppin' — at the Betsey Johnson boutique, to be exact. And we also couldn't help wondering, do they pay retail?
[...]
Yes, we heard it through the grapevine — but not from Mandy: though they'd appear to be from "different worlds," Guns N' Roses guitarist
Slash
is rumored to he seeing a certain television actress who's recently made the transition to the same big screen on which writer/director/actor Eddie Murphy wears the emperor's new clothes. And in another unlikely G N' R pairing, vocalist
Axl
is reported cold-chillin' with a certain well-known professional ice skater.

Blackstar

ADMIN




Posts

: 9331


Plectra

: 63623


Reputation

: 97


Join date

: 2018-03-17



---
Permissions in this forum:
You
cannot
reply to topics in this forum