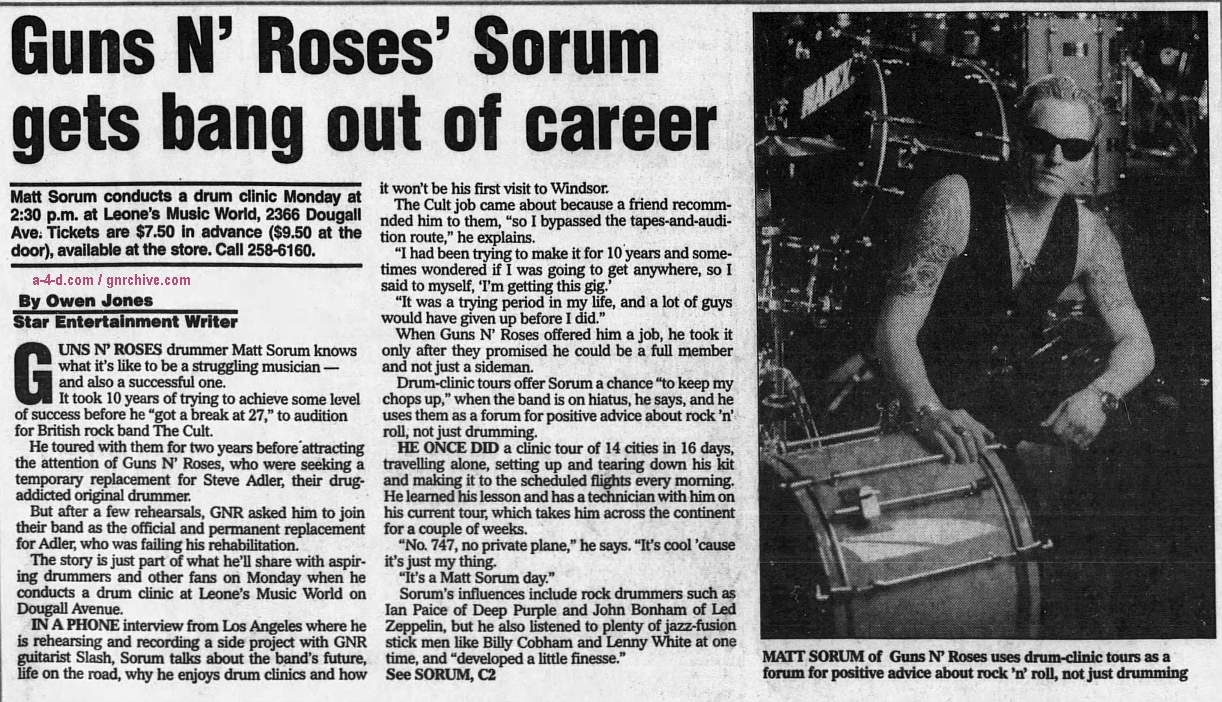 Transcript:
------------------
Guns N' Roses' Sorum gets bang out of career
Matt Sorum conducts a drum clinic Monday at 2:30 p.m. at Leone's Music World, 2366 Dougall Ave. Tickets are $7.50 in advance ($9.50 at the door), available at the store. Call 258-6160.
By Owen Jones
Star Entertainment Writer
GUNS N' ROSES drummer Matt Sorum knows what it's like to be a struggling musician — and also a successful one.
It took 10 years of trying to achieve some level of success before he "got a break at 27," to audition for British rock band The Cult.
He toured with them for two years before attracting the attention of Guns N' Roses, who were seeking a temporary replacement for Steve Adler, their drug-addicted original drummer.
But after a few rehearsals, GNR asked him to join their band as the official and permanent replacement for Adler, who was failing his rehabilitation.
The story is just part of what he'll share with aspiring drummers and other fans on Monday when he conducts a drum clinic at Leone's Music World on Dougall Avenue.
IN A PHONE interview from Los Angeles where he is rehearsing and recording a side project with GNR guitarist Slash, Sorum talks about the band's future, life on the road, why he enjoys drum clinics and how
it won't be his first visit to Windsor.
The Cult job came about because a friend recomm-ended him to them, "so I bypassed the tapes-and-audi-tion route," he explains.
"I had been trying to make it for 10 years and sometimes wondered if I was going to get anywhere, so I said to myself, 'I'm getting this gig.'
"It was a trying period in my life, and a lot of guys would have given up before I did."
When Guns N' Roses offered him a job, he took it only after they promised he could be a full member and not just a sideman.
Drum-clinic tours offer Sorum a chance "to keep my chops up," when the band is on hiatus, he says, and he uses them as a forum for positive advice about rock 'n' roll, not just drumming.
HE ONCE DID a clinic tour of 14 cities in 16 days, travelling alone, setting up and tearing down his kit and making it to the scheduled flights every morning. He learned his lesson and has a technician with him on his current tour, which takes him across the continent for a couple of weeks.
"No. 747, no private plane," he says. "It's cool 'cause it's just my thing.
"It's a Matt Sorum day."
Sorum's influences include rock drummers such as Ian Paice of Deep Purple and John Bonham of Led Zeppelin, but he also listened to plenty of jazz-fusion stick men like Billy Cobham and Lenny White at one time, and "developed a little finesse."
He thinks such diversity paid off — he also has toured with Spencer Davis and Solomon Burke and performed on Tori Amos's first album — and feels he's paid his dues.
Guns N' Roses recently completed a two-year-long world tour that attracted media and law-enforcement attention for a number of reasons. Singer Axl Rose was trying to avoid subpoenas for charges that he helped incite a riot at one of their shows. There were also allegations during the South American leg of the tour of drug abuse by members of the entourage, but no charges were laid.
"We were ducking the law, hiding in the back of vans as we left the gigs, going through the kitchen to leave the hotel, hiding from the cops."
SORUM ALSO recalls the tour "was insane," but for a different reason.
"Everyone got married along the way," he says, prompting congratulations from his interviewer.
"I'm getting divorced," he responds with a laugh. "But it's cool."
The band will get back together, "when the feeling is right," he says. "It's a weird chemistry, that's how it always is with us."
Overwhelmed at first by the scope of a GNR tour and surrounding excitement, he soon found he had to "take these things in perspective," he says.
"You have to learn to laugh at it all, what else?"
He says they know better than anyone else as soon as they start a show "when we're on and when we're off."
When it becomes apparent that things aren't going well, it's a case of, "Here we go, this is going to be a nightmare," he says, admitting that such incidents are usually provoked by vocalist Rose
SORUM PREFERS his relationship with Slash, the curly-haired guitarist with whom he's been writing and rehearsing songs for what he at first calls a side project. Later in the conversation he allows how the material was offered to GNR, who turned it down.
"They didn't like it," he says. "We were working on it for eight months and they really didn't dig it.
"It's just heavy, solid rock 'n' roll," he explains. "No pianos, no ballads."
One of the favored activities of Sorum and his friends, like fellow drummer Lars Ulrich of Metallica, especially when they hit the Detroit area on tour, has been to take in the entertainment at Windsor strip bars.
Which ones?
"We hit 'em all," he says, bursting into laughter as he recalls when GNR and Metallica performed on the same bill at the Pontiac Silverdome.
He and Ulrich headed to Windsor to see the strippers but got held up by U.S. Customs on the way home because the European-born Ulrich lacked a passport.
THEY HAD TO wait at the border for more than an hour before it was straightened out.
But the trip was worth it.
"They've got great attitudes, those women," he says, pointing out the similarities between what they do and what he and his cohorts do on stage.
"It's very rock 'n' roll," he says. "But my wife didn't understand it.
"And we don't get hassled like we do at rock 'n' roll bars. Regular bars just become a scene," he says, especially for the more-recognizable members of the band.

Blackstar

ADMIN




Posts

: 9087


Plectra

: 61960


Reputation

: 97


Join date

: 2018-03-17



Matt's "drum clinic" was eventually postponed.
------------
The Windsor Star, May 21, 1994
Transcript:
---------------
GNR drummer's clinic is postponed
By Star Staff and News Services
True to the reputation of Guns N' Roses, the band's drummer Matt Sorum has had to postpone his Monday appearance in Windsor because of a court date.
Organizers of the drummer's tour had to scramble Friday to reschedule his percussion clinic planned for Monday at Leone's Music World because Sorum must be in a Los Angeles court that day to post bond in an undisclosed case, said store spokesman Carl Leone.
The clinic will be held instead Thursday at 7:30 p.m. Tickets for Mon-day's clinic will be honored Thursday, or refunds will be available, Leone said, for those unable to attend the rescheduled appearance.
Guns N' Roses have cancelled, postponed or cut short enough gigs in their career that two years ago the Ticket-Master company credited the band for forcing a change in the way it handled ticket refunds. The company used to keep the service charge portion of all ticket sales when giving refunds, but began to return the full price in the wake of Guns N' Roses' cancellations.

Blackstar

ADMIN




Posts

: 9087


Plectra

: 61960


Reputation

: 97


Join date

: 2018-03-17




Blackstar

ADMIN




Posts

: 9087


Plectra

: 61960


Reputation

: 97


Join date

: 2018-03-17



---
Permissions in this forum:
You
cannot
reply to topics in this forum