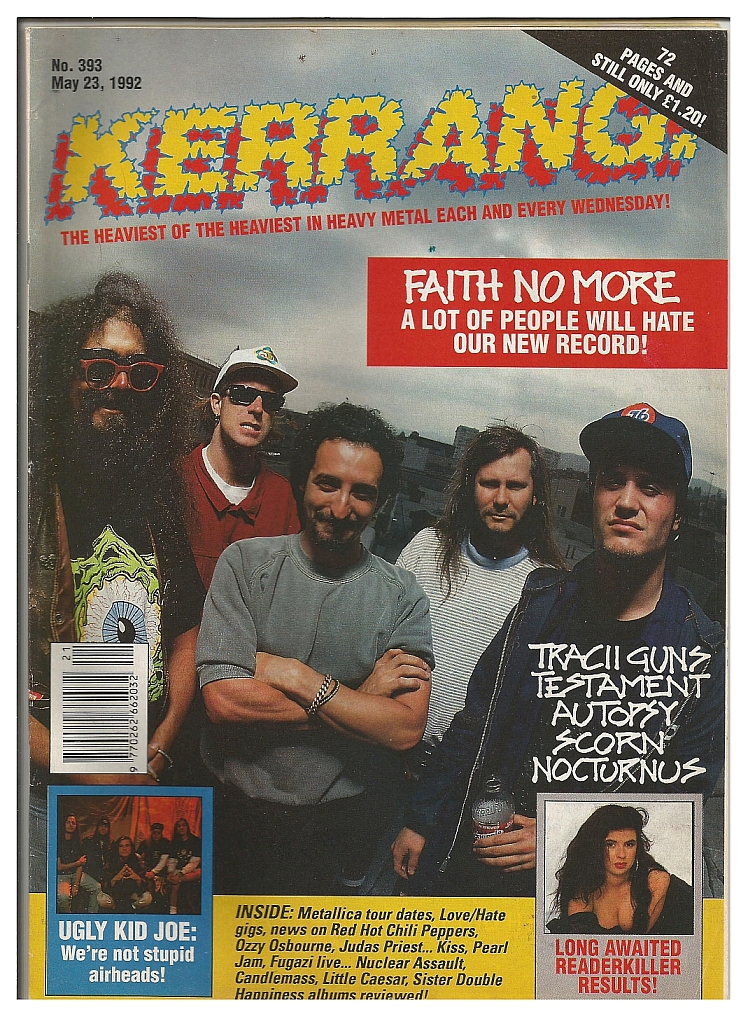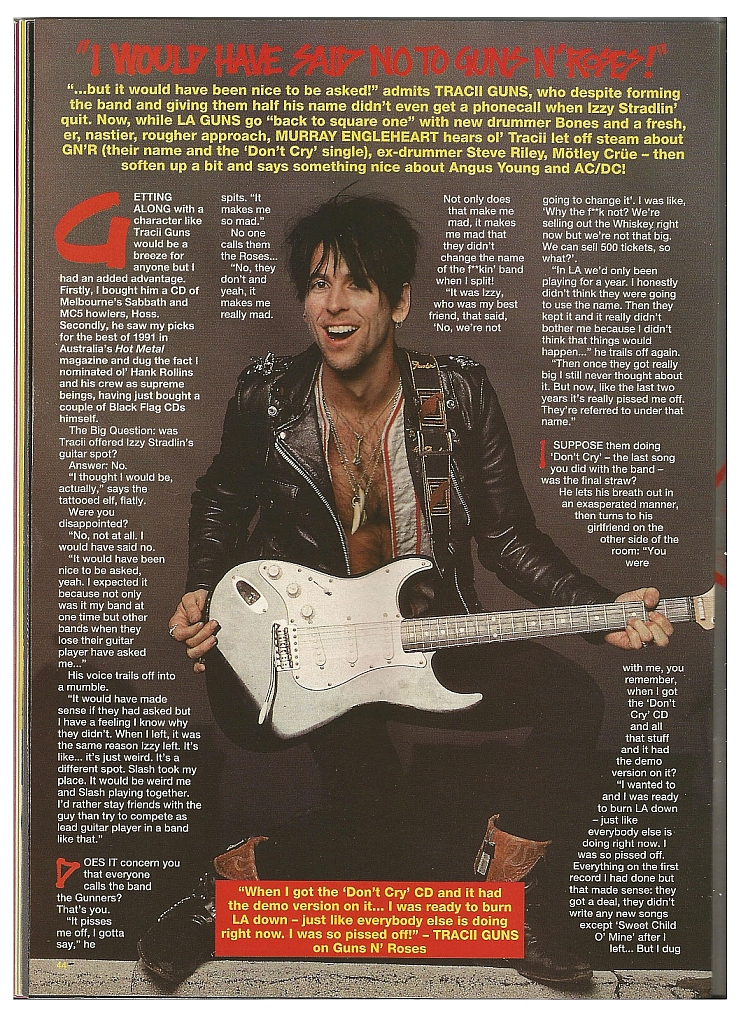 Transcript (of the part about Guns N' Roses):
---------------------------------------------------------
"I WOULD HAVE SAID NO TO GUNS N' ROSES!"
"...but it would have been nice to be asked!" admits TRACII GUNS, who despite forming the band and giving them half his name didn't even get a phonecall when Izzy Stradlin' quit. Now, while LA GUNS go "back to square one" with new drummer Bones and a fresh, er, nastier, rougher approach, MURRAY ENGLEHEART hears ol' Tracii let off steam about GN'R (their name and the 'Don't Cry' single), ex-drummer Steve Riley, Motley Crue - then soften up a bit and says something nice about Angus Young and AC/DC!
GETTING ALONG with a character like Tracii Guns would be a breeze for anyone but I had an added advantage. Firstly, I bought him a CD of Melbourne's Sabbath and MC5 howlers, Hoss. Secondly, he saw my picks for the best of 1991 in Australia's Hot Metal magazine and dug the fact I nominated ol' Hank Rollins and his crew as supreme beings, having just bought a couple of Black Flag CDs himself.
The Big Question: was Tracii offered Izzy Stradlin's guitar spot?
Answer: No.
"I thought I would be, actually," says the tattooed elf, flatly.
Were you disappointed?
"No, not at all. I would have said no.
"It would have been nice to be asked, yeah. I expected it because not only was it my band at one time but other bands when they lose their guitar player have asked me..."
His voice trails off into a mumble.
"It would have made sense if they had asked but I have a feeling I know why they didn't. When I left, it was the same reason Izzy left. It's like... it's just weird. It's a different spot. Slash took my place. It would be weird me and Slash playing together. I'd rather stay friends with the guy than try to compete as lead guitar player in a band like that."
DOES IT concern you that everyone calls the band the Gunners? That's you.
"It pisses me off, I gotta say," he spits. "It makes me so mad."
No one calls them the Roses...
"No, they don't and yeah, it makes me really mad. Not only does that make me mad, it makes me mad that they didn't change the name of the f**kin' band when I split!
"It was Izzy, who was my best friend, that said, 'No, we're not going to change it'. I was like, 'Why the f**k not? We're selling out the Whiskey right now but we're not that big. We can sell 500 tickets, so what?'.
"In LA we'd only been playing for a year. I honestly didn't think they were going to use the name. Then they kept it and it really didn't bother me because I didn't think that things would happen..." he trails off again.
"Then once they got really big I still never thought about it. But now, like the last two years it's really pissed me off. They're referred to under that name."
I SUPPOSE them doing 'Don't Cry' - the last song you did with the band -was the final straw?
He lets his breath out in an exasperated manner, then turns to his girlfriend on the other side of the room: "You were with me, you remember, when I got the 'Don't Cry' CD and all that stuff and it had the demo version on it?
"I wanted to and I was ready to burn LA down -just like everybody else is doing right now. I was so pissed off. Everything on the first record I had done but that made sense: they got a deal, they didn't write any new songs except 'Sweet Child O' Mine' after I left... But I dug the record. It was like, 'Wow, it's a f**kin' cool record. I wish I was playing on it...'.
"Then they put 'Don't Cry' out which was like four or five years after the fact and..." he pauses. "Be cool, be cool to me. I never did nothing wrong to those guys. Sure, Axl will say all day long, 'Ah, Tracii's a dick, he left right in the middle', but I never said a bad word about those guys, never asked for nothing and they never offered me nothing so it kinda pisses me off," he chuckles uneasily.
"Give me five bucks, man, it's my name! Buy me a cheese burger!" he chuckles again.

Blackstar

ADMIN




Posts

: 11740


Plectra

: 77426


Reputation

: 96


Join date

: 2018-03-17



---
Permissions in this forum:
You
cannot
reply to topics in this forum