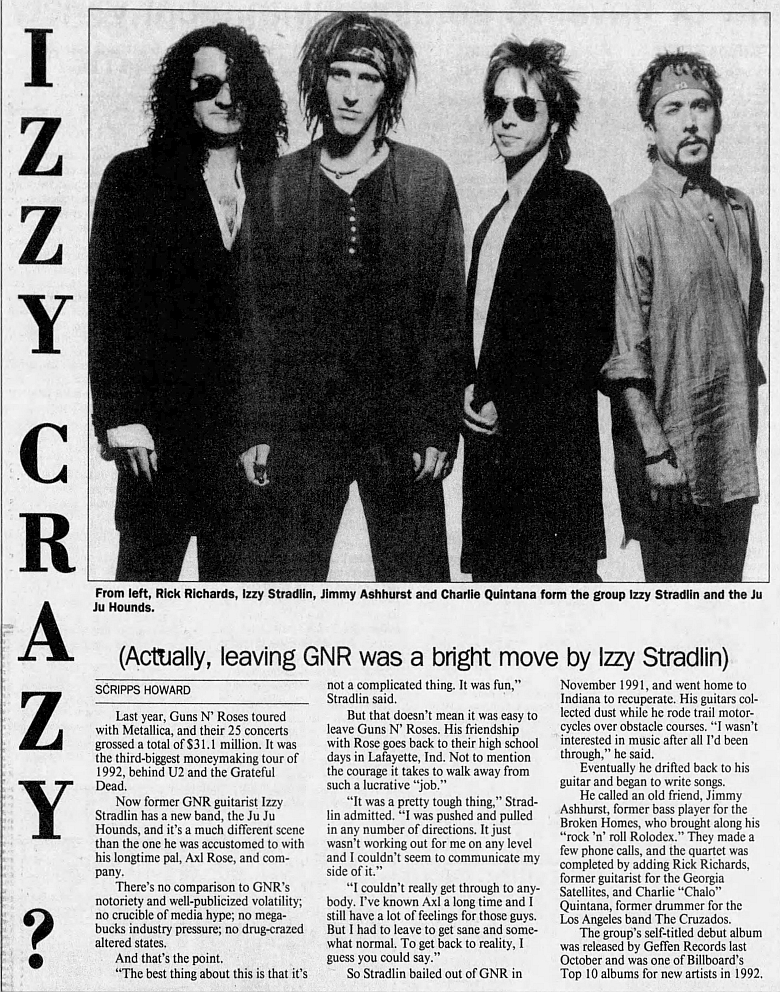 Transcript:
----------------
IZZY CRAZY?
(Actually, leaving GNR was a bright move by Izzy Stradlin)
SCRIPPS HOWARD
Last year, Guns N' Roses toured with Metallica, and their 25 concerts grossed a total of $31.1 million. It was the third-biggest moneymaking tour of 1992, behind U2 and the Grateful Dead.
Now former GNR guitarist Izzy Stradlin has a new band, the Ju Ju Hounds, and it's a much different scene than the one he was accustomed to with his longtime pal, Axl Rose, and company.
There's no comparison to GN'R's notoriety and well-publicized volatility; no crucible of media hype; no mega-bucks industry pressure; no drug-crazed altered states.
And that's the point.
"The best thing about this is that it's not a complicated thing. It was fun," Stradlin said.
But that doesn't mean it was easy to leave Guns N' Roses. His friendship with Rose goes back to their high school days in Lafayette, Ind. Not to mention the courage it takes to walk away from such a lucrative "job."
"It was a pretty tough thing," Stradlin admitted. "I was pushed and pulled in any number of directions. It just wasn't working out for me on any level and I couldn't seem to communicate my side of it."
"I couldn't really get through to anybody. I've known Axl a long time and I still have a lot of feelings for these guys. But I had to leave to get sane and somewhat normal. To get back to reality, I guess you could say."
So Stradlin bailed out of GNR in November 1991, and went home to Indiana to recuperate. His guitars collected dust while he rode trail motorcycles over obstacle courses. "I wasn't interested in music after all I'd been through," he said.
Eventually he drifted back to his guitar and began to write songs.
He called an old friend, Jimmy Ashhurst, former bass player for the Broken Homes, who brought along his "rock 'n' roll Rolodex." They made a few phone calls, and the quartet was completed by adding Rick Richards, former guitarist for the Georgia Satellites, and Charlie "Chalo" Quintana, former drummer for the Los Angeles band The Cruzados.
The group's self-titled debut album was released by Geffen Records last October and was one of Billboard's Top 10 albums for new artists in 1992.

Blackstar

ADMIN




Posts

: 9339


Plectra

: 63699


Reputation

: 97


Join date

: 2018-03-17



---
Permissions in this forum:
You
cannot
reply to topics in this forum