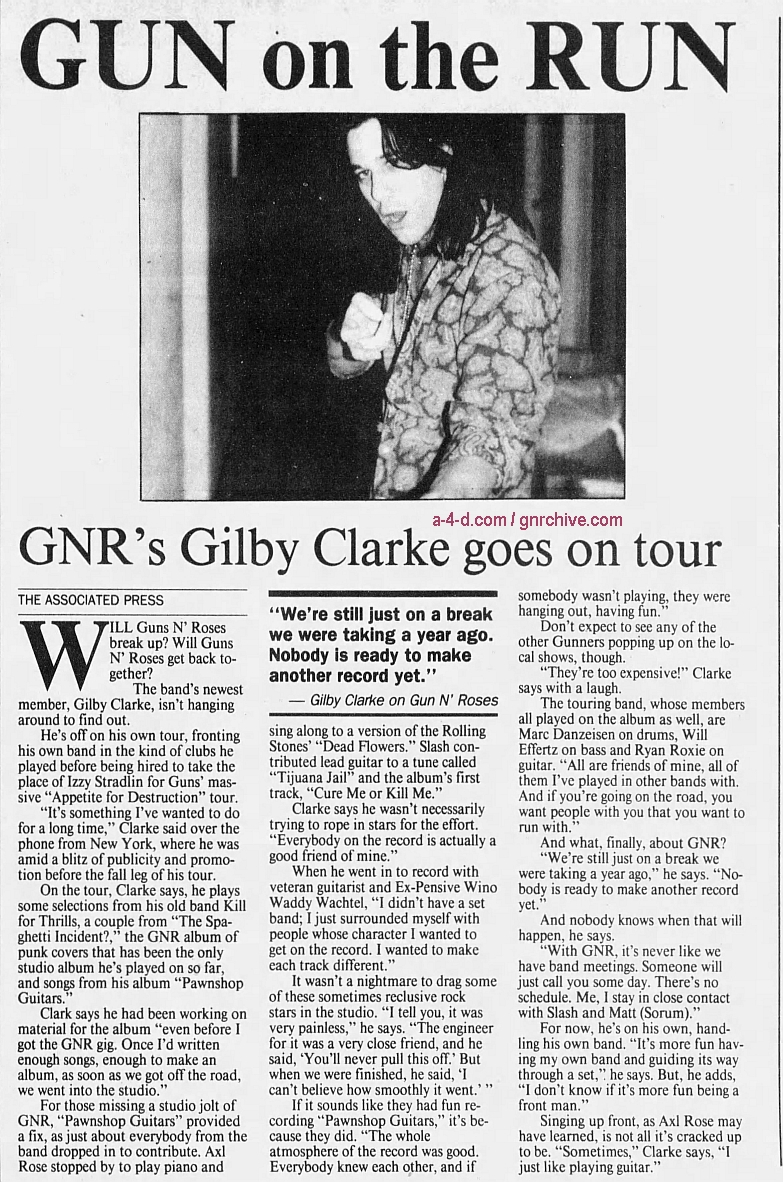 Transcript:
-----------------
GUN on the RUN
GNR's Gilby Clarke goes on tour
THE ASSOCIATED PRESS
WILL Guns N' Roses break up? Will Guns N' Roses get back together?
The band's newest member, Gilby Clarke, isn't hanging around to find out.
He's off on his own tour, fronting his own band in the kind of clubs he played before being hired to take the place of Izzy Stradlin for Guns' massive "Appetite for Destruction'' tour.
"It's something I've wanted to do for a long time,'' Clarke said over the phone from New York, where he was amid a blitz of publicity and promotion before the fall leg of his tour.
On the tour, Clarke says, he plays some selections from his old band Kill for Thrills, a couple from "The Spaghetti Incident?,'' the GNR album of punk covers that has been the only studio album he's played on so far, and songs from his album "Pawnshop Guitars."
Clarke says he had been working on material for the album "even before I got the GNR gig. Once I'd written enough songs, enough to make an album, as soon as we got off the road, we went into the studio."
For those missing a studio jolt of GNR, "Pawnshop Guitars" provided a fix, as just about everybody from the band dropped in to contribute. Axl Rose stopped by to play piano and
sing along to a version of the Rolling Stones' "Dead Flowers." Slash contributed lead guitar to a tune called "Tijuana Jail" and the album's first track, "Cure Me or Kill Me."
Clarke says he wasn't necessarily trying to rope in stars for the effort. "Everybody on the record is actually a good friend of mine."
When he went in to record with veteran guitarist and Ex-Pensive Wino Waddy Wachtel, "I didn't have a set band; I just surrounded myself with people whose character I wanted to get on the record. I wanted to make each track different."
It wasn't a nightmare to drag some of these sometimes reclusive rock stars in the studio. "I tell you, it was very painless," he says. "The engineer for it was a very close friend, and he said, 'You'll never pull this off.' But when we were finished, he said, 'I can't believe how smoothly it went.' " If it sounds like they had fun recording "Pawnshop Guitars," it's because they did. "The whole atmosphere of the record was good. Everybody knew each other, and if somebody wasn't playing, they were hanging out, having fun."
Don't expect to see any of the other Gunners popping up on the local shows, though.
"They're too expensive!" Clarke says with a laugh.
The touring band, whose members all played on the album as well, are Marc Danzeisen on drums, Will Effertz on bass and Ryan Roxie on guitar. "All are friends of mine, all of them I've played in other bands with. And if you're going on the road, you want people with you that you want to run with."
And what, finally, about GNR?
"We're still just on a break we were taking a year ago," he says. "Nobody is ready to make another record yet."
And nobody knows when that will happen, he says.
"With GNR, it's never like we have band meetings. Someone will just call you some day. There's no schedule. Me, I stay in close contact with Slash and Matt (Sorum)."
For now, he's on his own, handling his own band. "It's more fun having my own band and guiding its way through a set," he says. But, he adds, "I don't know if it's more fun being a front man."
Singing up front, as Axl Rose may have learned, is not all it's cracked up to be. "Sometimes," Clarke says, "I just like playing guitar."

Blackstar

ADMIN




Posts

: 9422


Plectra

: 64342


Reputation

: 97


Join date

: 2018-03-17



---
Permissions in this forum:
You
cannot
reply to topics in this forum