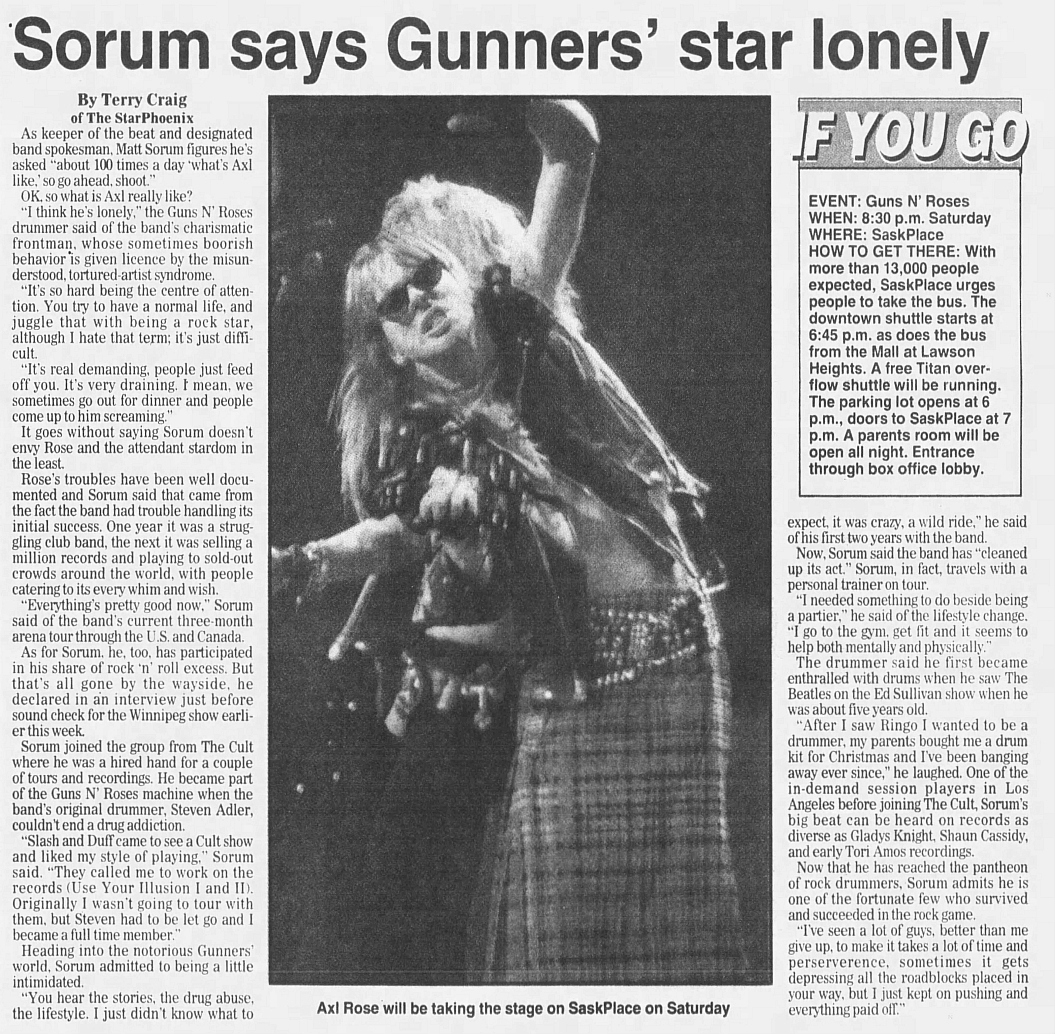 Transcript:
---------------
Sorum says Gunners' star lonely
By Terry Craig
of The StarPhoenix
As keeper of the beat and designated band spokesman, Matt Sorum figures he's asked "about 100 times a day 'what's Axl like,' so go ahead, shoot."
OK, so what is Axl really like?
"I think he's lonely," the Guns N' Roses drummer said of the band's charismatic frontman, whose sometimes boorish behavior is given licence by the misunderstood, tortured-artist syndrome.
"It's so hard being the centre of attention. You try to have a normal life, and juggle that with being a rock star, although I hate that term; it's just difficult.
"It's real demanding, people just feed off you. It's very draining. I mean, we sometimes go out for dinner and people come up to him screaming."
It goes without saying Sorum doesn't envy Rose and the attendant stardom in the least.
Rose's troubles have been well documented and Sorum said that came from the fact the band had trouble handling its initial success. One year it was a struggling club band, the next it was selling a million records and playing to sold-out crowds around the world, with people catering to its every whim and wish.
"Everything's pretty good now," Sorum said of the band's current three month arena tour through the U.S. and Canada.
As for Sorum, he, too, has participated in his share of rock 'n' roll excess. But that's all gone by the wayside, he declared in an interview just before sound check for the Winnipeg show earlier this week.
Sorum joined the group from The Cult where he was a hired hand for a couple of tours and recordings. He became part of the Guns N' Roses machine when the band's original drummer, Steven Adler, couldn't end a drug addiction.
"Slash and Duff came to see a Cult show and liked my style of playing," Sorum said. "They called me to work on the records (Use Your Illusion I and II). Originally I wasn't going to tour with them, but Steven had to be let go and I became a full time member."
Heading into the notorious Gunners' world, Sorum admitted to being a little intimidated.
"You hear the stories, the drug abuse, the lifestyle. I just didn't know what to expect, it was crazy, a wild ride," he said of his first two years with the band.
Now, Sorum said the band has "cleaned up its act." Sorum, in fact, travels with a personal trainer on tour.
"I needed something to do beside being a partier," he said of the lifestyle change. "I go to the gym, get fit and it seems to help both mentally and physically."
The drummer said he first became enthralled with drums when he saw The Beatles on the Ed Sullivan show when he was about five years old.
"After I saw Ringo I wanted to be a drummer, my parents bought me a drum kit for Christmas and I've been banging away ever since," he laughed. One of the in-demand session players in Los Angeles before joining The Cult, Sorum's big beat can be heard on records as diverse as Gladys Knight, Shaun Cassidy, and early Tori Amos recordings.
Now that he has reached the pantheon of rock drummers, Sorum admits he is one of the fortunate few who survived and succeeded in the rock game.
"I've seen a lot of guys, better than me give up, to make it takes a lot of time and perseverance, sometimes it gets depressing all the roadblocks placed in your way, but I just kept on pushing and everything paid off.''

Blackstar

ADMIN




Posts

: 11780


Plectra

: 77639


Reputation

: 97


Join date

: 2018-03-17



---
Permissions in this forum:
You
cannot
reply to topics in this forum