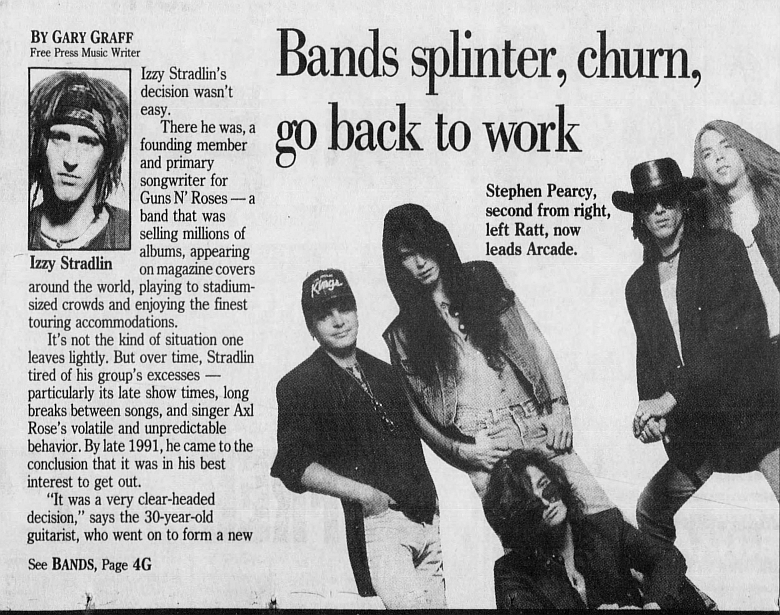 Transcript:
----------------
Bands splinter, churn, go back to work
BY GARY GRAFF
Free Press Music Writer
Izzy Stradlin's decision wasn't easy.
There he was, a founding member and primary songwriter for Guns N' Roses —a band that was selling millions of albums, appearing on magazine covers around the world, playing to stadium-sized crowds and enjoying the finest touring accommodations.
It's not the kind of situation one leaves lightly. But over time, Stradlin tired of his group's excesses — particularly its late show times, long breaks between songs, and singer Axl Rose's volatile and unpredictable behavior. By late 1991, he came to the conclusion that it was in his best interest to get out.
"It was a very clear-headed decision,'' says the 30-year-old guitarist, who went on to form a new group, the Ju Ju Hounds, which will perform Saturday in Roseville. "I didn't leave in any emotional state or anything like that.
"See, I just wanted to play music and have fun, just enjoy it. And it wasn't like that anymore."
Stradlin's story makes a compelling study, a tale of one man's disenchantment and realization that the stakes are higher than just money and adoration. But Stradlin's departure from Guns N' Roses coincided with a number of other high-profile splinterings in top-selling rock bands, a year and a half of departures and firings that left music fans — if not bowled over by the quick changes — at least shaking their heads.
The bands affected are all high profile — Motley Crue, Poison, Judas Priest, Ratt, Alice in Chains, Cinderella. Like Guns N' Roses, they've all sold millions of records and hammered a niche for themselves in a highly competitive end of the pop music spectrum. The loss of a key member jeopardizes that position — groups that thrive after such upheavals (Van Halen, the Rolling Stones) are much rarer than groups that suffer (Black Sabbath, Deep Purple).
And a defection puts that member in the unenviable position of starting over.
"Basically, fans will stick with them for one record," says Andy Secher, editor of the hard rock magazine Hit Parader. "If they deliver, fine. If they can't, it will be a rapid and steady decline from there.
"It runs deep. With bands like these, people care about the drummer, the bass player. You can't even name the bassist from some techno-pop band, but in the Motley Crues and the Poisons, people know who all the guys are and have a real attachment to them."
Stradlin's back on the road
The same can be said for the musicians' attachments to each other. Stradlin's bond with Guns N' Roses goes back to his youth in Indiana, when the former Jeff Isabelle hung out with one Bill Bailey, better known these days as Axl Rose. The two migrated separately to Los Angeles, where they rekindled their friendship and started the band.
"You've got to look back at where we came from," Stradlin says with pride. "Nobody had any place to live when the band started. Nobody had any money or any job or anything — just the clothes we owned and some instruments. It came from virtually nowhere, having nothing, and BOOM! Man, what an explosion. Those years prior to the explosion and during the explosion, those were some really outrageous times. I wouldn't trade any of that back for anything."
Stradlin pauses, measuring his words. "Again, Guns N' Roses, I had been in that band since 1985," he says. "The idea of putting together a new band wasn't that appealing. I never thought about it or had ambitions to do it."
In fact, when Stradlin left the band shortly after its two "Use Your Illusion" albums hit the No. 1 and 2 spots on the Billboard charts, he seemed up for anything
but
music. The first thing he did was take a road trip, driving to the Grand Canyon, New Orleans, the Florida Keys. Then he returned to Indiana and the home he bought there after Guns' initial success.
"I just started painting some rooms that hadn't been painted since 1988," Stradlin remembers. But Stradlin started writing songs again. "Before long, I thought... there are a lot of good songs here!" he says. So he called his record company and arranged to do his own record.
Stradlin eventually put together the Ju Ju Hounds. They play a meat-and-potatoes brand of rock 'n' roll, not as metallic as Stradlin's former band but with the same influences — the Rolling Stones, Aerosmith and the Sex Pistols — that Stradlin and Rose brought to Guns N' Roses. There are also touches of reggae that never made it into the Guns mix.
Now the Ju Ju Hounds are touring the world, and Stradlin isn't hiding from his Guns past. "If they want to hear those songs, who am I to say no?" he says, adding that the group will play two or three of Stradlin's older Guns songs. And he says that his relationships with his former bandmates are generally OK, despite bitter comments by Rose and Guns guitarist Slash after Stradlin's departure.
"There's no animosity on my part," he says. "After you go through so much with people, it's hard to say these guys aren't my friends anymore.
"I'll tell you what was weird, though. After I left the band, I was sitting in Indy, watching that pay-per-view concert they did. That was a trip. There I am, shelling out $16, $18 or whatever it was, sitting in my living room in Indiana watching this band I'd been in for such a long time. It was like the Twilight Zone."
***
AND THE BANDS PLAY ON
Major personnel changes are nothing new for rock 'n' roll bands, but the past year and a half has seen a series of changes in several top groups:
■ Frustrated by his bandmates' excesses, guitanst Izzy Stradlin left Guns N' Roses in midtour. The band replaced him and continued touring, and Stradlin formed his own band, the Ju Ju Hounds.
■ Motley Crue fired singer Vince Neil, who subsequently sued his former bandmates for a variety of charges, including libel, slander and breach of contract. Both Neil and the band are preparing albums for release this year.
■ Poison guitarist C.C. DeVille left the band, to be replaced by Richie Kotzen. Poison's new album, "Native Tongue," comes out Tuesday; there's no word on DeVille's plans.
■ Ratt singer Stephen Pearcy left his band, effectively ending the group. He's formed a new band, Arcade, with drummer Fred Coury — who left his band, Cinderella. Their first album is due out next month.
■ After more than 20 years, singer Rob Halford left Judas Priest to form his own band. The remaining members of Priest have decided to pack it in.
■ Bassist Mike Starr left the Seattle band Alice in Chains and has been replaced by Mike Inez, who used to play with Ozzy Osbourne.
By Gary Graff

Blackstar

ADMIN




Posts

: 9427


Plectra

: 64372


Reputation

: 97


Join date

: 2018-03-17



---
Permissions in this forum:
You
cannot
reply to topics in this forum