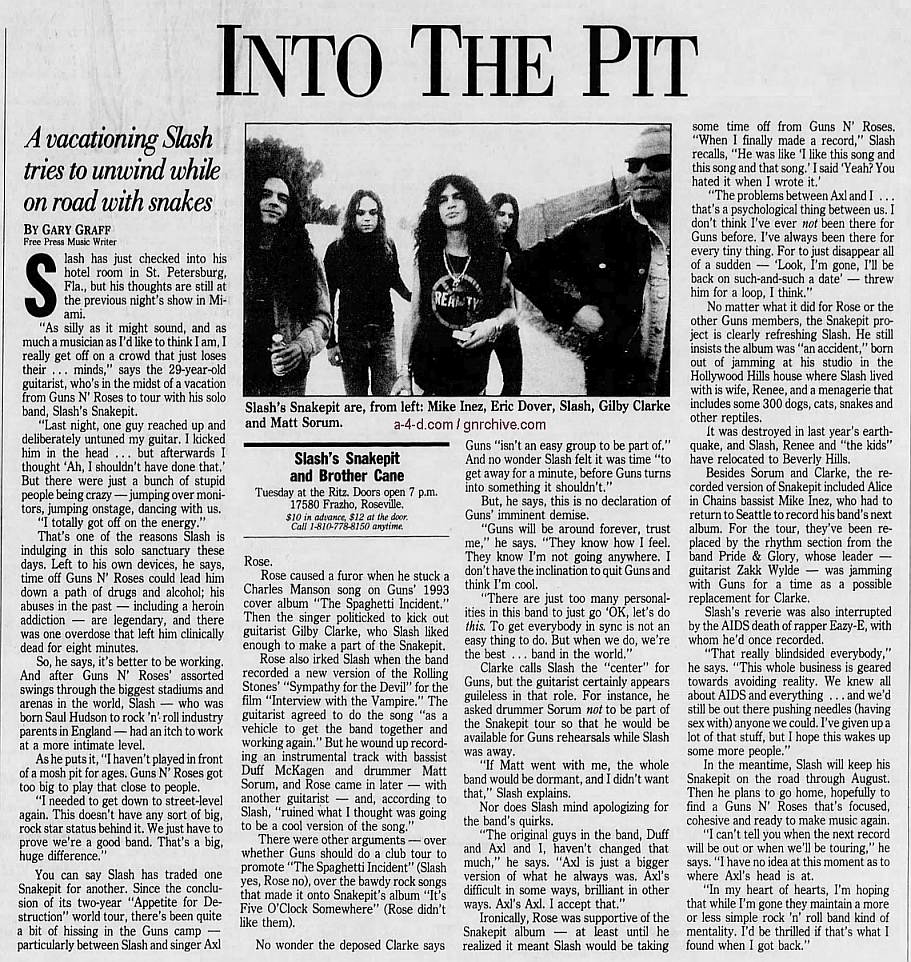 Transcript:
----------------
INTO THE PIT
A vacationing Slash tries to unwind while on road with snakes
By Gary Graff
Free Press Music Writer
Slash has just checked into his hotel room in St. Petersburg, Fla., but his thoughts are still at the previous night's show in Miami.
"As silly as it might sound, and as much a musician as I'd like to think I am, I really get off on a crowd that just loses their ... minds," says the 29-year-old guitarist, who's in the midst of a vacation from Guns N' Roses to tour with his solo band, Slash's Snakepit.
"Last night, one guy reached up and deliberately untuned my guitar. I kicked him in the head ... but afterwards I thought 'Ah, I shouldn't have done that.' But there were just a bunch of stupid people being crazy—jumping over monitors, jumping onstage, dancing with us. "I totally got off on the energy." That's one of the reasons Slash is indulging in this solo sanctuary these days. Left to his own devices, he says, time off Guns N' Roses could lead him down a path of drugs and alcohol; his abuses in the past — including a heroin addiction — are legendary, and there was one overdose that left him clinically dead for eight minutes.
So, he says, it's better to be working. And after Guns N' Roses' assorted swings through the biggest stadiums and arenas in the world, Slash — who was born Saul Hudson to rock 'n' roll industry parents in England — had an itch to work at a more intimate level.
As he puts it, "I haven't played in front of a mosh pit for ages. Guns N' Roses got too big to play that close to people.
"I needed to get down to street-level again. This doesn't have any sort of big, rock star status behind it. We just have to prove we're a good band. That's a big, huge difference."
You can say Slash has traded one Snakepit for another. Since the conclusion of its two-year "Appetite for Destruction" world tour, there's been quite a bit of hissing in the Guns camp — particularly between Slash and singer Axl Rose.
Rose caused a furor when he stuck a Charles Manson song on Guns' 1993 cover album "The Spaghetti Incident." Then the singer politicked to kick out guitarist Gilby Clarke, who Slash liked enough to make a part of the Snakepit.
Rose also irked Slash when the band recorded a new version of the Rolling Stones' "Sympathy for the Devil" for the film "Interview with the Vampire." The guitarist agreed to do the song "as a vehicle to get the band together and working again." But he wound up recording an instrumental track with bassist Duff McKagen and drummer Matt Sorum, and Rose came in later — with another guitarist — and, according to Slash, "ruined what I thought was going to be a cool version of the song."
There were other arguments — over whether Guns should do a club tour to promote "The Spaghetti Incident" (Slash yes, Rose no), over the bawdy rock songs that made it onto Snakepit's album "It's Five O'Clock Somewhere" (Rose didn't like them).
No wonder the deposed Clarke says Guns "isn't an easy group to be part of." And no wonder Slash felt it was time "to get away for a minute, before Guns turns into something it shouldn't."
But, he says, this is no declaration of Guns' imminent demise.
"Guns will be around forever, trust me," he says. "They know how I feel. They know I'm not going anywhere. I don't have the inclination to quit Guns and think I'm cool.
"There are just too many personalities in this band to just go 'OK, let's do this. To get everybody in sync is not an easy thing to do. But when we do, we're the best ... band in the world."
Clarke calls Slash the "center" for Guns, but the guitarist certainly appears guileless in that role. For instance, he asked drummer Sorum not to be part of the Snakepit tour so that he would be available for Guns rehearsals while Slash was away.
"If Matt went with me, the whole band would be dormant, and I didn't want that," Slash explains.
Nor does Slash mind apologizing for the band's quirks.
"The original guys in the band, Duff and Axl and I, haven't changed that much," he says. "Axl is just a bigger version of what he always was. Axl's difficult in some ways, brilliant in other ways. Axl's Axl. I accept that."
Ironically, Rose was supportive of the Snakepit album — at least until he realized it meant Slash would be taking some time off from Guns N' Roses. "When I finally made a record," Slash recalls, "He was like 'I like this song and this song and that song.' I said 'Yeah? You hated it when I wrote it.'
"The problems between Axl and I... that's a psychological thing between us. I don't think I've ever not been there for Guns before. I've always been there for every tiny thing. For to just disappear all of a sudden — 'Look, I'm gone, I'll be back on such-and-such a date' — threw him for a loop, I think."
No matter what it did for Rose or the other Guns members, the Snakepit project is clearly refreshing Slash. He still insists the album was "an accident," born out of jamming at his studio in the Hollywood Hills house where Slash lived with is wife, Renee, and a menagerie that includes some 300 dogs, cats, snakes and other reptiles.
It was destroyed in last year's earthquake, and Slash, Renee and "the kids" have relocated to Beverly Hills.
Besides Sorum and Clarke, the recorded version of Snakepit included Alice in Chains bassist Mike Inez, who had to return to Seattle to record his band's next album. For the tour, they've been replaced by the rhythm section from the band Pride & Glory, whose leader — guitarist Zakk Wylde — was jamming with Guns for a time as a possible replacement for Clarke.
Slash's reverie was also interrupted by the AIDS death of rapper Eazy-E, with whom he'd once recorded.
"That really blindsided everybody," he says. "This whole business is geared towards avoiding reality. We knew all about AIDS and everything... and we'd still be out there pushing needles (having sex with) anyone we could. I've given up a lot of that stuff, but I hope this wakes up some more people."
In the meantime, Slash will keep his Snakepit on the road through August. Then he plans to go home, hopefully to find a Guns N' Roses that's focused, cohesive and ready to make music again.
"I can't tell you when the next record will be out or when we'll be touring," he says. "I have no idea at this moment as to where Axl's head is at.
"In my heart of hearts, I'm hoping that while I'm gone they maintain a more or less simple rock 'n' roll band kind of mentality. I'd be thrilled if that's what I found when I got back."

Blackstar

ADMIN




Posts

: 9414


Plectra

: 64296


Reputation

: 97


Join date

: 2018-03-17



---
Permissions in this forum:
You
cannot
reply to topics in this forum