Axl Rose and AC/DC host tour-ending party at classic steakhouse
Dirty deeds — done medium well.
AC/DC, headed by Axl Rose, had an early wrap party for their Rock or Bust World Tour, which rolls through Madison Square Garden on Wednesday night before concluding in Philadelphia next week.
The site for Monday night's shindig was an Axl Rose favorite — the Meatpacking District's legendary Old Homestead Steakhouse.
A source at the dinner bash says Axl sat alongside guitarist Angus Young and regaled guests with stories about how he used to stop at the restaurant after performing with Guns N' Roses and before hitting the area's nightclubs.
According to Rose, who took over for AC/DC singer Brian Johnsonafter he withdrew from the band's tour because of hearing problems, the area was "rough and loaded with transvestites" when he first started partying there.
On Monday night, Rose's "party" included a single glass of wine. Young stuck to ginger ale.
"Axl said he doesn't do alcohol anymore when he's on tour because it's not good for his voice," says one insider.
As Rose was telling his stories, paparazzi and fans got word that rock royalty was in the house.
"The street outside the restaurant was lined with eight black Suburban SUVs," says an insider, who tells us the restaurant had to call the police to help manage the growing crowd. "There was a near riot when Axl and Angus Young emerged from the restaurant to get some air."
When Rose and Young went back inside, meatery owner Greg Sherry was waiting for the singer with a 21/2-pound tomahawk ribeye steak.
"Axl had no trouble devouring every bite," we're told.
The other members of AC/DC were on hand, as were roughly 100 guests who were with the band. But Rose and Young hung out mostly with each other.
"Axl and Angus were hanging together the entire night," we're told. "Axl was wearing a silver guitar (necklace) that was a gift from Angus."
Hopefully Slash doesn't get jealous.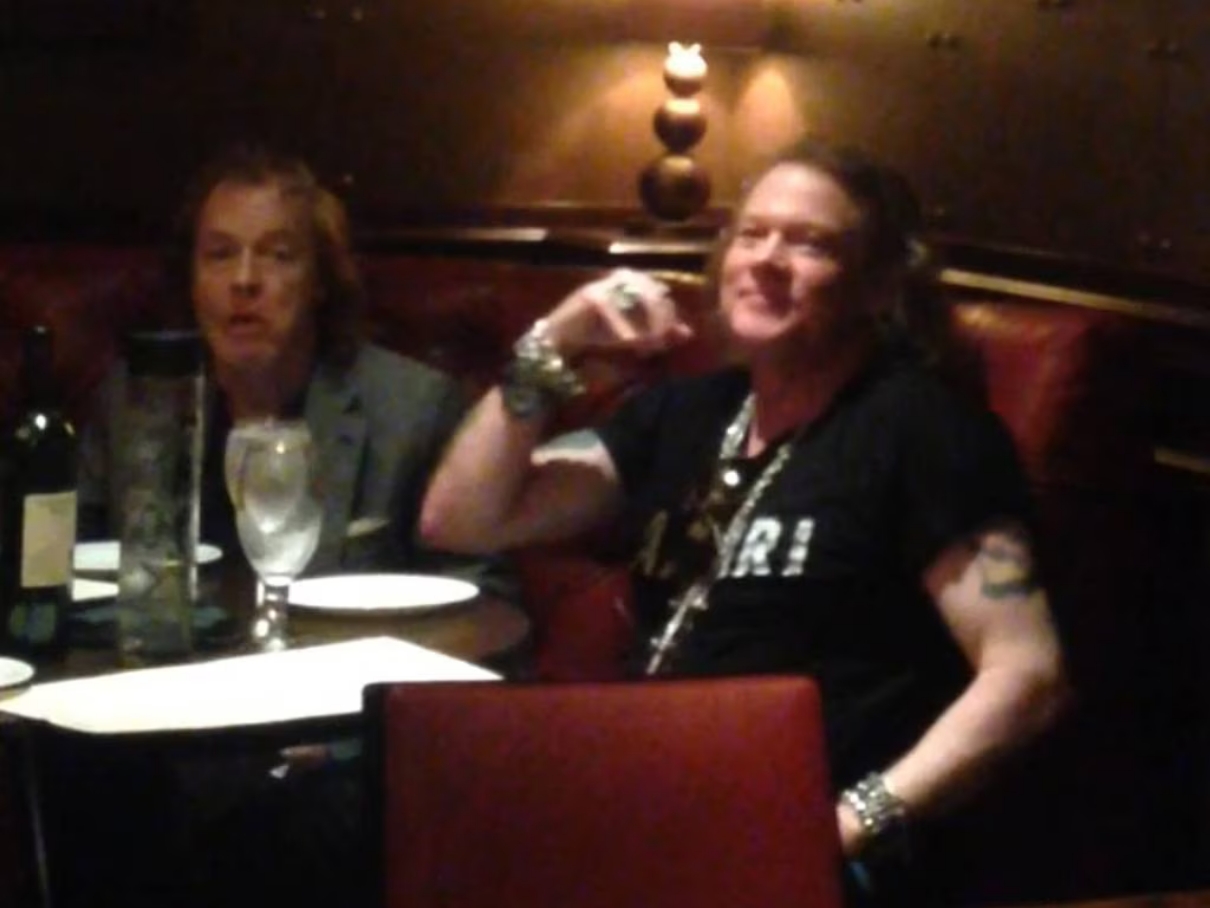 https://www.nydailynews.com/entertainment/gossip/confidential/axl-rose-ac-dc-host-tour-ending-party-classic-steakhouse-article-1.2790900

Blackstar

ADMIN




Posts

: 11728


Plectra

: 77359


Reputation

: 96


Join date

: 2018-03-17



Page Six, same date:
-----------------------------
How Slash's drunken behavior led Axl Rose to NYC steakhouse
By Ian Mohr
Guns N' Roses' Axl Rose was at a private party for 100 Monday to celebrate with fellow rock icons AC/DC before he plays Madison Square Garden with them on Wednesday to replace out-of-commission crooner Brian Johnson.
Spies said Rose was at a table with AC/DC guitarist Angus Young at Old Homestead Steakhouse in the Meatpacking District, and was overheard telling his pals about how he first came to the restaurant 24 years ago.
"Axl explained that, one night on tour, bandmate Slash was so inebriated that he peed [in] the bed in the hotel where they were staying.
"Slash's girlfriend was so grossed out, she slept in the suite's parlor." When Rose encountered the young lady, they chatted and he mentioned he loved steak.
"She told him to check out Old Homestead . . . the band went a couple nights later and dropped $22,000." This time around, formerly hard-partying Rose mentioned he doesn't drink on tour, and Young stuck to ginger ale.
As far as Rose's relationship with Slash, our spy revealed: "Axl said as he gets older, he understands Slash better."
https://pagesix.com/2016/09/13/how-slashs-drunken-behavior-led-axl-rose-to-nyc-steakhouse/

Blackstar

ADMIN




Posts

: 11728


Plectra

: 77359


Reputation

: 96


Join date

: 2018-03-17



---
Permissions in this forum:
You
cannot
reply to topics in this forum