Axl Rose Broke His Foot, Will Perform Guns N' Roses Reunion Shows in a Cast
By Rachel Brodsky
Guns N' Roses played their first reunion show last Friday, and they have two more Not in This Lifetime shows in Las Vegas this weekend (not to mention their upcoming appearances at Coachella). Frustratingly, lead singer Axl Rose will have to perform those gigs in a cast because he appears to have broken his foot.
Rose tweeted a video of foot and ankle specialist Dr. Rachel Triche today, who explains that the GN'R vocalist underwent surgery for a broken bone in his foot. "Right now he's in a cast, and we're limiting how much weight he's putting on it," she says. "So he's having his set designed for the stage so he can perform for everyone still." Rose will be in a cast for approximately four weeks.
https://www.spin.com/2016/04/guns-n-roses-axl-rose-broken-foot/

Blackstar

ADMIN




Posts

: 10551


Plectra

: 71006


Reputation

: 96


Join date

: 2018-03-17




Blackstar

ADMIN




Posts

: 10551


Plectra

: 71006


Reputation

: 96


Join date

: 2018-03-17



TMZ, same date:
-----------------------
Axl Rose All Crutched Up And Ready To Rock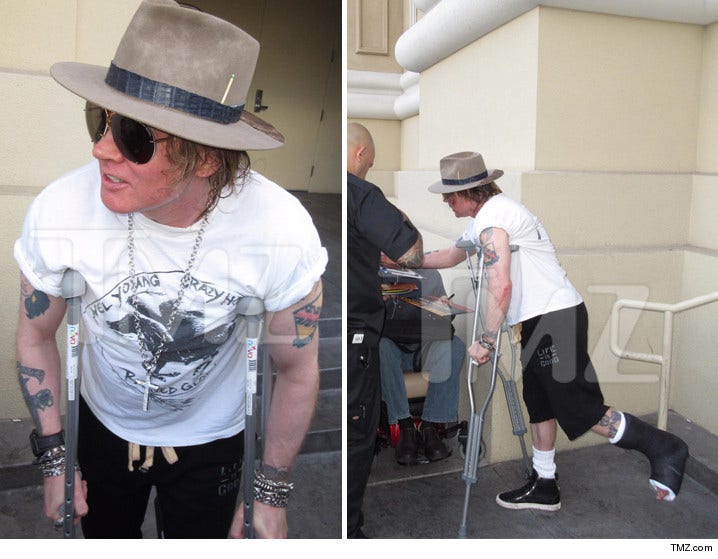 Axl Rose stepped out sporting a fresh boot and crutches just hours before Friday's Guns N' Roses Vegas show.
Axl chummed it up with fans and signed a few autographs outside The Four Seasons before heading to T-Mobile Arena for a sold out gig. As TMZ reported ... Axl revealed Friday he broke a bone in his foot during the band's show at The Troubadour last week.
Looks like it's gonna take more than just a bad hoof to keep Axl from the stage.
https://www.tmz.com/2016/04/08/axl-rose-crutches-broken-foot-guns-n-roses/

Blackstar

ADMIN




Posts

: 10551


Plectra

: 71006


Reputation

: 96


Join date

: 2018-03-17



Blabbermouth, same date:
------------------------------
Axl Rose Breaks Bone In His Foot; Tonight's Guns N' Roses Concert To Go Ahead
Guns N' Roses singer Axl Rose has broken a bone in his foot, requiring a surgical procedure to insert a plate and screws. Rose revealed the injury via Twitter, saying "This is what can happen when you do something you haven't done in nearly over 23 years," apparently referring to GN'R's surprise concert last Friday featuring three members of the band's classic lineup: Rose, guitarist Slash and bassist Duff McKagan. He also posted a video interview with his orthopedic surgeon in which the foot specialist revealed that Rose is currently in a cast and cannot put any weight on his foot. She pinpointed the break at Rose's fifth metatarsal.
According to TMZ, the injury happened when Axl slipped onstage while singing "Mr. Brownstone" during last week's show.
Tonight's (Friday, April 8) GN'R gig in Las Vegas will go on as planned, according to a statement issued by the band's publicist. Rose will wear a cast, and will apparently have a special stage setup that will allow him to perform. "He's having a set, I think, designed for the stage," the foot specialist said, "so he can perform for everyone still." She also confirmed that Rose will have to limit the amount of weight he puts on the front part of his foot "for about four weeks — and then we will let him gradually progress from there."
Guns N' Roses will play two shows in Vegas this weekend. The band will also play two gigs in Mexico City in addition to two Coachella festival dates, before launching a stadium trek this summer.
Several hours after announcing the tour on April 1, GUNS N' ROSES played a gig at the Troubadour, one of the Los Angeles clubs where the band first performed before the release of its debut album, 1987's "Appetite For Destruction".
The concert was advertised as "Not In This Lifetime" by the venue, quoting what Rose said in 2012 about a possible classic Guns N' Roses lineup reunion. The same phrase has since been announced as the name of the band's upcoming tour.
https://blabbermouth.net/news/axl-rose-breaks-bone-in-his-foot-tonights-guns-n-roses-concert-to-go-ahead

Blackstar

ADMIN




Posts

: 10551


Plectra

: 71006


Reputation

: 96


Join date

: 2018-03-17



---
Permissions in this forum:
You
cannot
reply to topics in this forum