On December 13, 1989 Axl and Slash joined Ian Hunter and Mick Ronson at the Palace in L.A. for a live version of Velvet Underground's White Light/White Heat. Steve Jones was also supposed to join them (he opened for the Ian Hunter/Mick Ronson band), but he didn't, eventually.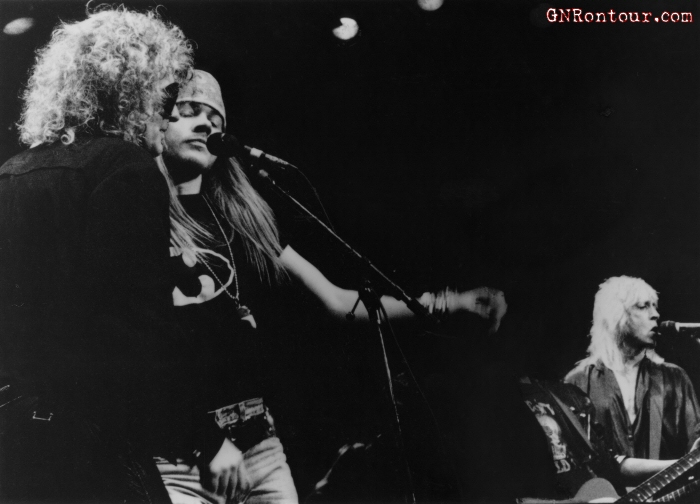 A month later, Axl would mention that gig:
Then another time [at the Palace a few weeks before] we were supposed to do "Suffragette City" with Mick Ronson and Ian Hunter – Steve Jones and Slash and me. But then Steve decided he didn't wanna stick around, so me and Slash got up and did "White Light/White Heat" with Ian and Mick. I didn't even know the song and neither did Slash, we learned it really quick right before we walked on stage. I remember just following Ian around going ooh wooh, white light la la... It was fuckin' great.
Recently, Ian Hunter talked about it on Brando's Appetite of Distortion podcast:
Full interview:
Last edited by Blackstar on Sat Apr 22, 2023 5:47 pm; edited 1 time in total

Blackstar

ADMIN




Posts

: 10551


Plectra

: 71006


Reputation

: 96


Join date

: 2018-03-17



ludurigan likes this post
On a related note, Mick Ronson's daughter, Lisa Ronson, has told a little story (featured in the bonus DVD of the "Beside Bowie-The Mick Ronson Story" documentary) about meeting Axl with her dad when she was 11 years old and a huge GN'R fan. The meeting took place at the Ritz in New York (presumably before the gig at the Palace), when Axl asked to meet Mick Ronson.

(The short clip with Lisa Ronson's story was on youtube, but has since been deleted).



Blackstar

ADMIN




Posts

: 10551


Plectra

: 71006


Reputation

: 96


Join date

: 2018-03-17



ludurigan likes this post
Another GN'R related story involving Ian Hunter and Mick Ronson is that of Great White's cover version of the song "Once Bitten, Twice Shy," originally by Ian Hunter (guitar, arrangement and production by Mick Ronson - they both were in Mott The Hoople).
As we know, Alan Niven was managing Great White besides GN'R (he also had writing credits with them) and "Once Bitten, Twice Shy" was Great White's biggest hit.
Alan Niven has claimed that the cover was his idea, however Ian Hunter and the late Mick Ronson said that GN'R were originally going to cover the song, but Niven wanted to give it to Great White. Mick Ronson was quoted in a May 1990 article written by then GN'R's publicist, Arlett Vereecke:
GREAT WHITE scored big last year with the remake of MOTT THE HOOPLE tune "Once Bitten, Twice Shy," written by IAN HUNTER and MICK RONSON, who explained to the British press how he felt about Great White's version and how it came about. "I don't like their version at all," he said candidly. "The singer's up for a Grammy. Talk about adding insult to injury... It appears we have GUNS N' ROSES to thank for Great White's big break. They have the same management. Guns N' Roses said they were gonna do the song, had a meeting with the manager, and the manager really wanted Great White to do it 'cause they didn't have a hit single on their album. This is Axl Rose's story. It would have been nice if it had gone on their record. There's just something vital about GNR, especially the guitar player (Slash), and they're really nice people, too." Guess we shouldn't ask how he felt about Great White's bar-attitude music, huh?!
https://www.a-4-d.com/t4376-1990-05-dd-blast-guns-n-roses-update
Hunter and Ronson were also displeased at Great White's version:
Mick Ronson:
When we were playing our way around the Southern states people were asking us if we were a cover band - they thought 'Once Bitten' was a Great White song. It was even worse when Barry Manilow had the hit with 'Ships' then it was, F***, what the hell's he doing that for?
[Sounds Magazine, March 1990]
Ian Hunter:
[Great White's version] was a bit anemic. [...] Actually, Slash found the song and wanted it for Guns N' Roses. But Guns N' Roses had the same manager as Great White and he persuaded Axl [Rose] to let Great White do it. [...] At the end of the day you're talking money. [...] If Guns N' Roses had played it, it would have been on an album that sold 7.1 million copies, compared to Great White's, which sold about 2.9 million.
[The Morning Call, October 20, 2001]
Moreover, both Jack Russell and Mark Kendall of Great White have said that they first heard the song from Izzy, although Niven has insisted that it was he who discovered it:
Jack Russell:
As far as "Once Bitten…Twice Shy," I'm alright with it of course. That's become a signature song. I'm okay with it selling three million records! It's good song and I felt we made a great song. We got a Grammy nomination out of it. Honestly. I never thought the song was going to be a hit. That song broke all the rules. It takes forever to get to the chorus. For some reason, that song just would just keep going [laughs]! That song just wouldn't stop going [laughs]!
[...] I honestly hadn't heard the song it before. It was Izzy Stradlin that played me the song for the first time.
http://sleazeroxx.com/interviews/jack-russell-interview-2/
Alan Niven:
I picked all the covers. Did quite well at that I think. Having "Once Bitten, Twice Shy" in my back pocket and calling the first two Capitol albums 'Once Bitten' and '… Twice Shy' might even be thought of as nifty thinking. The first time I heard the song was when I played it on my radio show on WINZ Zeta 4 in Miami. Our sound man on the '84 [Judas] Priest tour had worked with Ian Hunter and he played me a live version during that tour. When discussing with Capitol a name for the first release on the label, 'Once Bitten' came up and that lit a light bulb in my head. I played the Great White version for Iz, because I wanted to see how he felt about the feel of the track. It worked for him. I had a trust in Izzy's opinions. Anyways, that was Izzy's involvement. Jack's memory is slightly off.
https://sleazeroxx.com/interviews/interview-with-former-great-white-and-guns-n-roses-manager-alan-niven-2/
Mark Kendall:
Our manager (Alan Niven) managed Guns N' Roses, and we had an album called "Once Bitten," and so we felt like the obvious follow up would be "…Twice Shy," and Izzy Stradlin, who played guitar in Guns N' Roses, came to our manager with that Ian Hunter track. I had never heard it before. I knew a little bit about and heard Mott the Hoople, but I'd never heard Ian Hunter, any of his solo work. But anyways, Izzy Stradlin brought that song in and he goes, "This would be cool for you guys to do because you have the album 'Once Bitten' and then you have '…Twice Shy.' He presented it to our manager. We didn't hear it. Our manager really liked the lyrics and everything, so he presented it to us and we thought it was OK, we liked it. We just kind of put our own twist on it.
https://www.al.com/life/2021/03/great-white-guitarist-talks-once-bitten-twice-shy-eddie-van-halen-guns-n-roses.html
Alan Niven (replying to Mark Kendall via Mitch Lafon):
For the record, Izzy was thanked in the liner notes of the Great White album.
Last edited by Blackstar on Fri May 19, 2023 5:25 am; edited 2 times in total

Blackstar

ADMIN




Posts

: 10551


Plectra

: 71006


Reputation

: 96


Join date

: 2018-03-17



Soulmonster and ludurigan like this post
And now, Slash and Duff are among the many guest musicians featured on Ian Hunter's brand new album, which was released yesterday.
Featuring Slash and Robert Trujillo:
Featuring Duff, the late Taylor Hawkins, and Brad Whitford:
*
Ian Hunter interview:
How did "Defiance" come to be?
Hunter: When Covid hit we were all kinda stuck at home and I was sitting in the basement writing all this stuff and one thing led to another. These guys (on the album) had their own home studios, and my manager and (photographer) Ross Halfin started ringing me up and telling me these people will participate...I think Slash was the first one, and Billy Gibbons. It was flukey; people were stuck at home and wanted to work. Taylor (Hawkins) wanted to do the whole lot, 'cause he was bored.
How did you find the remote recording approach?
Hunter: There are points to it and points against it. It's great when you've got a whole band together and everyone's playing and you make mistakes, and out of mistakes, some great stuff comes. But doing it this way I was able to get all these guys to be part of it, so it was a good trade-off.
Were you surprised by who all raised their hands to be part of it?
Hunter: I was in shock. I didn't think half of these people had ever heard of me, never mind wanted to play with me. It was great. I mean, it was one thing after the other. I asked Ringo 'cause I'd worked with Ringo, and he was typical Ringo; He said, "Send it to me, if I like the song I'll do it. If I don't like the song, I won't," and fortunately he liked it. I knew Todd Rundgren. I never worked with Slash; I remember he got up at a gig with us years ago, me and (Mick) Ronson, just before (Guns N' Roses) hit, but I hadn't seen him in God knows how long. Billy Bob Thornton was out of the blue. Taylor Hawkins I didn't know at all. I didn't know Jeff Beck apart from one night out with Johnny Depp. I guess people were doing nothing so they were like, "Yeah, why not?"
Did you cast the particular players to their specific songs?
Hunter: If there was any talent involved here from me and Andy (York, co-producer and guitarist in Hunter's Rant Band) it was sending the right tracks to the right people. That's what I called (York); I called him the casting director. You get the chills when you get something back from Jeff Beck, and Johnny played great on that, too. A lot of people say Johnny shouldn't be playing, but he's great. He was in bands before he was a film star. So to get a track from those two, for Beck to be soloing on one of your songs is a buzz.
It's poignant that you have both Jeff Beck and Taylor Hawkins on here given that they're not with us anymore.
Hunter: I didn't really know Jeff Beck apart from one night out once with Johnny Depp. And Taylor, like I said, he wanted to do them all. He's such an exuberant guy. He wound up doing three (songs) on the first part and four on the second part. He's such an exuberant guy, but I hardly knew him. It was such a major shock, a punch in the guts when (Hawkins' death) happened. And then Jeff Beck out of the blue, that really hurt. He was Mick Ronson's idol. He was the best in the business.
https://www.cleveland.com/entertainment/2023/04/ian-hunter-had-more-than-a-little-help-from-his-friends-on-new-album.html

Blackstar

ADMIN




Posts

: 10551


Plectra

: 71006


Reputation

: 96


Join date

: 2018-03-17



ludurigan likes this post
Wow so much cool info on this post!

About the "Once Bitten Twice Shy" song I am inclined to believe that GN'R might have tried this song in studio at least a few times

Do you guys think that that is possible?

If that happened, I would love to listen to it!



ludurigan

&nbsp





Posts

: 357


Plectra

: 4422


Reputation

: 0


Join date

: 2016-04-23



Blackstar likes this post
---
Permissions in this forum:
You
cannot
reply to topics in this forum