Andrew Dice Clay: How I Helped Reunite Guns N' Roses
Comic details his role in legendary reunion and reviews group's recent Troubadour show
By Kory Grow
When classic-era Guns N' Roses members Axl Rose, Slash and Duff McKagan played their first gig together since 1993 last week, comedian and actor Andrew Dice Clay was among the VIPs present. In an interview with Rolling Stone that will run in full next week about his new Showtime series Dice – which premieres 9:30 p.m. EST on Sunday – he recounted his role in getting the three warring musicians to embrace a truce and what he saw onstage last Friday at Los Angeles' Troubadour. Guns N' Roses will be playing their first big show tonight in Las Vegas, and continue into the summer with a massive North American stadium tour. Here's what Dice had to say:
here was a lot of excitement in the room. I wanted to be at that first show because honestly I really … I don't know how to say this, because I don't want to take credit for anything, but I was very aggressive in trying to help this band get back together. These are guys that I'm hanging with since, I think, '89. They came to see me at the Wiltern, and that's how we all became friends. We've always bonded beautifully. I've always had pure love for the guys and their music.
My son, Max, who's the drummer in a band called Still Rebel, would say to me, "Dad, you know you're the only one that can really put this band together. There's no agenda. You just love the guys." Every manager tried. Every attorney tried. Every agent tried. But the reason I got aggressive about it was because last year, when Axl was still working with the new band, he was at the Hard Rock Hotel, and I opened for him for the last show they did. That was a lot of fun.
Then I did an Australian tour. I was in town in Sydney about a half hour and I see Slash having breakfast. We're out on this big porch at the top of this hotel and I walked over to him and said, "You mind if I smoke?" And the guy looks and he goes, "Hey, Dice!" And I said, "All right, listen. Whatever the problems were 20 years ago, whatever it might have been, we've got to put that to rest, because you guys peaked rock & roll. You're all around and you're the greatest band." And he was saying really good stuff about Axl, so that was a good sign to me.
When I came back to L.A., Duff McKagan came to see my son's band live. He looks at me and goes, "Dice, they're ready." As a father, I was just like, "Really?" So he met with my son two days later at a Starbucks with [GN'R road manager] Tom Mayhew to talk about music. And I go to Duff, "All right, we've got to make a move, because rock & roll is coming back in a bigger-than-life way. The minute the show Vinyl hits, the rock explosion is gonna start. Then there's another show, Roadies. All these bands are getting back together. You guys owe it to yourselves, and all these millions of new fans from the last 20 years, to go out there and kick their asses." Then on Axl's birthday, Slash tweeted some very nice stuff about Axl, and the rest is becoming history.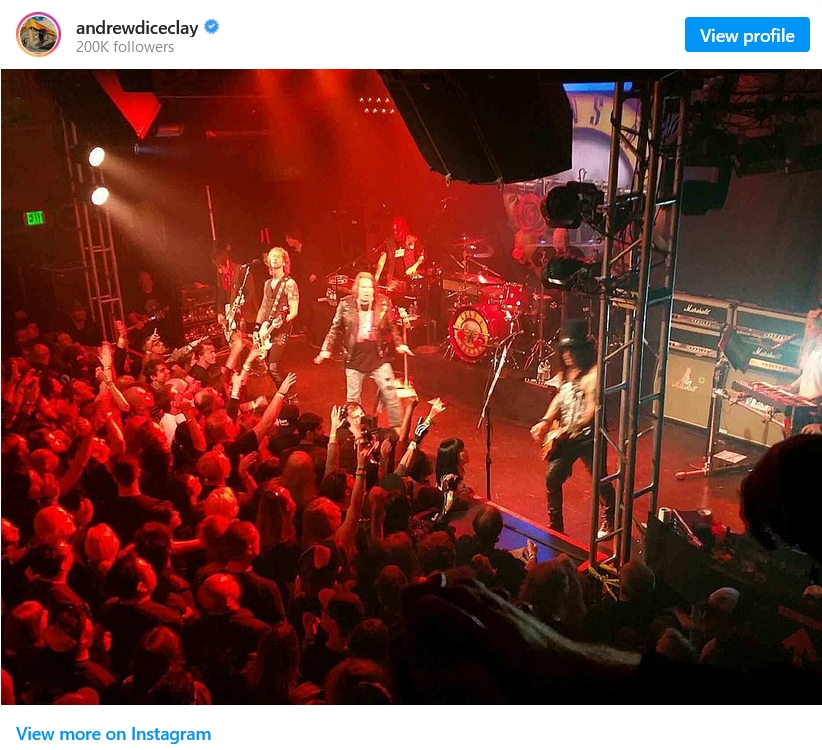 https://www.rollingstone.com/music/music-features/andrew-dice-clay-how-i-helped-reunite-guns-n-roses-182476/

Blackstar

ADMIN




Posts

: 9559


Plectra

: 65408


Reputation

: 97


Join date

: 2018-03-17



---
Permissions in this forum:
You
cannot
reply to topics in this forum