New Autographed Guns N' Roses Drumhead Appears To Confirm Lineup Rumors
A brand new Guns N' Roses autographed drumhead has been donated by the band to be auctioned off at a benefit concert for the people of Flint, Michigan who were affected by the water contamination crisis.
A photo of the drumhead — which apparently features the signatures of singer Axl Rose, guitarist Slash, bassist Duff McKagan, keyboardist Dizzy Reed, drummer Frank Ferrer and guitarist Richard Fortus — can be seen below. The picture was tweeted by Canadian rock journalist Mitch Lafon after it was originally posted by Sureshan Pather, who is apparently involved in the auction.
The concert, which will be held on Tuesday, March 15 at Beast Of Bourbon in Brooklyn, New York, will be headlined by Mule Kick, which features Ferrer alongside Rob Bailey, Rob Clores and Brett Bass.
Guns N' Roses has six shows scheduled so far, all in April: two at the Coachella Music And Arts Festival, two in Las Vegas and two in Mexico City. The exact band lineup has yet to be confirmed.
A new Twitter account purportedly belonging to former Guns N' Roses guitarist Izzy Stradlin appeared late last month on the social media site. In one of his tweets, Izzy said that he has "no involvement in the upcoming April 2016 GNR shows."
It's been speculated that Stradlin would have some limited involvement — such as a guest appearance — at some of the upcoming Guns N' Roses reunion concerts, which currently feature Slash, Rose and McKagan.
The rest of the band's lineup for the shows — and a potential tour later in the year — remains unclear, although Reed, Fortus and Ferrer are all believed to be involved.
Fan speculation around the involvement of original drummer Steven Adler has been heavy, with the bandmembers not sure whether Adler, who has a longer history of drug problems than any of the other members, can hold it together on the road.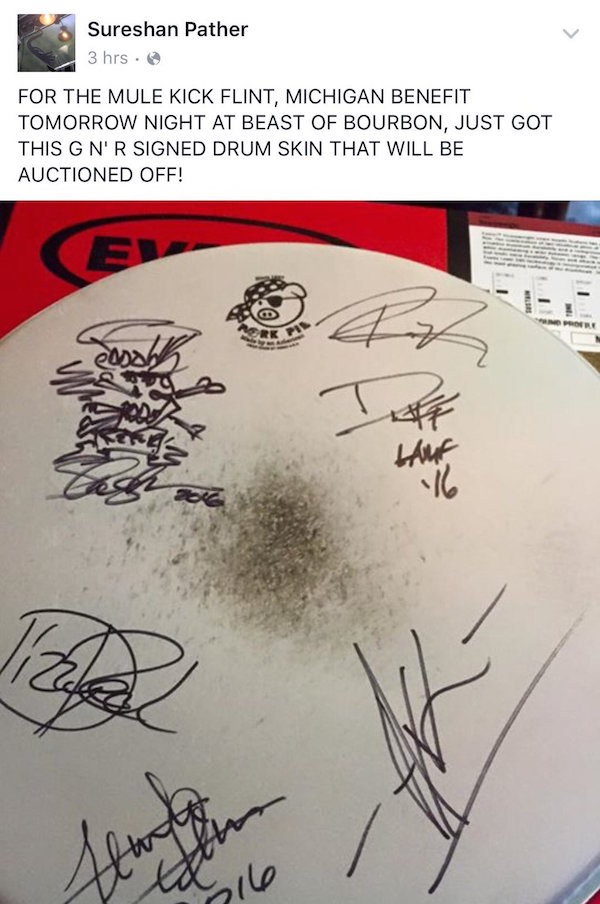 https://blabbermouth.net/news/new-autographed-guns-n-roses-drumhead-appears-to-confirm-lineup-rumors

Blackstar

ADMIN




Posts

: 12210


Plectra

: 80075


Reputation

: 97


Join date

: 2018-03-17



Related article on Ultimate Guitar, same date:
-------------------------------------------------------
That's About It: Full Guns N' Roses 2016 Lineup Pretty Much Confirmed
Guns N' Roses have donated a drumhead signed by the entire band to be auctioned at a benefit show for people affected by the water contamination crisis in Flint, MI.
Apart from being a very nice act, this whole thing is now the closest we got to the official confirmation of the "semi-reunited" GN'R lineup.
As you probably know, Axl Rose, Slash and Duff McKagan are the only three members officially announced as a part of the new lineup.
And now, the drumhead adds three more individuals to the mix, all of which were already strongly linked with the band: longtime keyboardist Dizzy Reed, drummer Frank Ferrer and guitarist Richard Fortus.
An interesting part of this is that multi-instrumentalist Chris Pitman, who was previously linked with the lineup, but then made a few slammin' remarks against the band, is not on the drumhead. So, his big mouth got him out?
Also, no Steven Adler, no Izzy Stradlin...
Thus, in a nutshell: Axl, Slash, Duff, Reed, Ferrer, Fortus.
You can check out the photo of the drumhead below.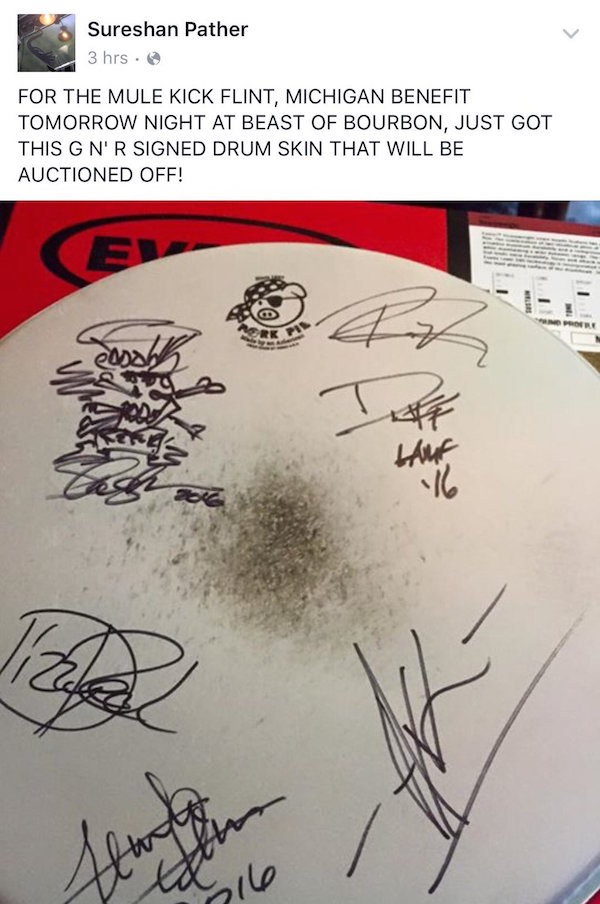 https://www.ultimate-guitar.com/news/general_music_news/thats_about_it_full_guns_n_roses_2016_lineup_pretty_much_confirmed.html

Blackstar

ADMIN




Posts

: 12210


Plectra

: 80075


Reputation

: 97


Join date

: 2018-03-17



---
Permissions in this forum:
You
cannot
reply to topics in this forum