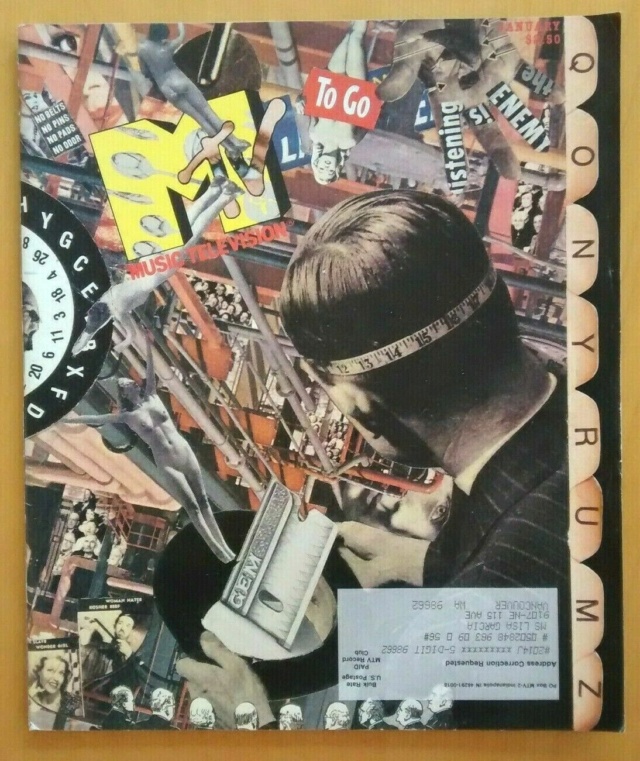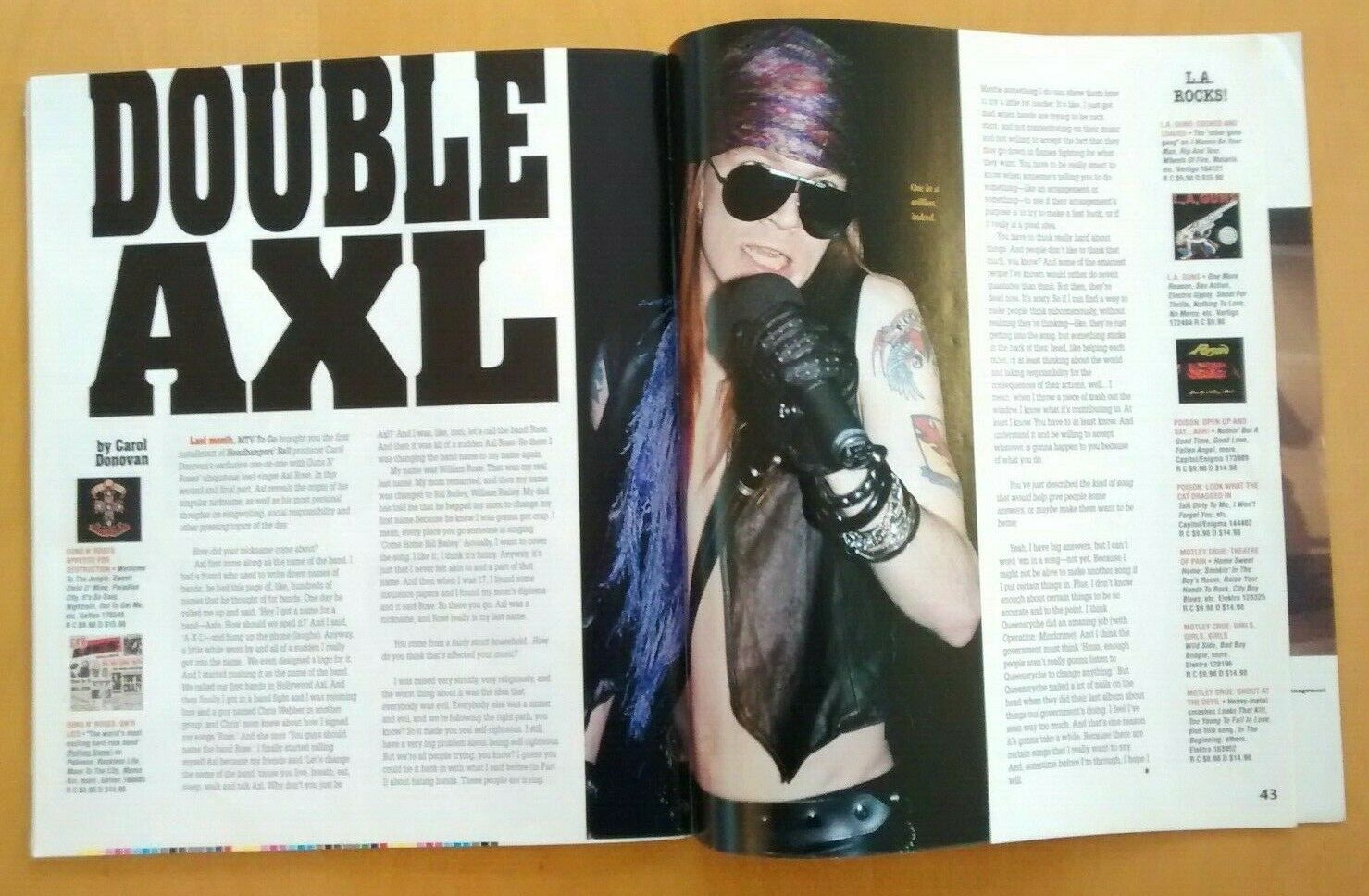 Transcript:
--------------
DOUBLE AXL
By Carol Donovan
Last month, MTV To Go brought you the first installment of Headbangers' Ball producer Carol Donovan's exclusive one-one-one with Guns N' Roses' ubiquitous lead singer Axl Rose. In this second and final part, Axl reveals the origin of his singular nickname, as well as his most personal thoughts on songwriting, social responsibility and other pressing topics of the day.
How did your nickname come about?
Axl first came along as the name of the band. I had a friend who used to write down names of bands, he had this page of, like, hundreds of names that he thought of for bands. One day he called me up and said, "Hey, I got a name for a band – Axl. How should we spell it?" And I said, "A-X-L" – and hung up the phone (laughs). Anyway, a little while went by and, all of a sudden, I really got into the name. We even designed a logo for it. And I started pushing it as the name of the band. We called our first bands in Hollywood Axl. And then, finally, I got in a band fight and I was rejoining Izzy and a guy named Chris Weber as another group, and Chris' mom knew about how I signed the songs "Rose." And she says, "You guys should name the band Rose." I finally started naming myself Axl because my friends said, "Let's change the name of the band 'cause you live, breath, eat, sleep, walk and talk Axl. Why don't you just be Axl?" And I was like, cool, let's call the band Rose. And then it was all of a sudden Axl Rose. So there I was changing the band name to my name again.
My name was William Rose. That was my real last name. My mom remarried, and then my name was changed to Bill Bailey, William Bailey. My dad has told me that he begged my mom to change my first name because he knew I was gonna get crap. I mean, every place you go someone is singing 'Come Home Bill Bailey.' Actually, I want to cover the song. I like it; I think it's funny. Anyway, it's just that I never felt akin to and a part of that name. And then when I was 17, I found some insurance papers and I found my mom's diploma and it said Rose. So there you go. Axl was a nickname, and Rose really is my last name.
You come from a fairly strict household. How do you think that's affected your music?
I was raised very strictly, very religiously, and the worst thing about it was the idea that everybody was evil. Everybody else was a sinner and evil, and we're following the right path, you know? So it made you real self-righteous. I still have a very big problem about being self-righteous. But we're all people trying, you know? I guess you could tie it back in with what I said before (in Part 1) about hating bands. These people are trying.
Maybe something I do can show them how to try a little bit harder. It's fine. I just get mad when bands are trying to be rock stars and not concentrating on their music and not willing to accept the fact that they may go down in flames fighting for what they want. You have to be really smart to know when someone is telling you to do something – like an arrangement or something – to see if their arrangement's purpose is to try to make a [fast buck?] or if it really is a [good song?].
You have to think really hard about things. And people don't like to think that hard, you know? And some of the smartest people I've known would rather do [seven Quaaludes?] than think. But then, they're dead now. It's scary. So if I can find a way to make people think subconsciously, without realizing they're thinking – like, they're just getting into the song but something sticks to the back of their head, like helping each other, it is about thinking about the world and taking responsibility for the consequences of their actions, well … I mean, when I throw a piece of trash out the window I know what it's contributing to. At least I know. You have to at least know. And understand it and be willing to accept whatever is gonna happen to you because of what you do.  
You've just described the kind of song that would help give people some answers, or maybe make them want to be better.
Yeah, I have big answers, but I can't word 'em in a song – not yet. Because I might not be alive to make another song if I put certain things in. Plus, I don't know enough about certain things to be so accurate and to the point. I think Queensryche did an amazing job (with Operation Mindcrime). And I think the government must think, "Hmm, enough people aren't really gonna listen to Queensryche to change anything." But Queensryche nailed a lot of nails on the head when they did their last album about things our government is doing. I feel I've said way too much. And that's the reason it's gonna take a while. Because there are certain things that I really want to say. And, sometime before I'm through, I hope I will.
Last edited by Blackstar on Sat Aug 27, 2022 8:10 pm; edited 1 time in total

Blackstar

ADMIN




Posts

: 11801


Plectra

: 77756


Reputation

: 97


Join date

: 2018-03-17



Soulmonster likes this post
The text in this one was almost impossible to read, so a lot of the transcription was guessing what the word was. There are a couple of parts where I was completely unsure, so I put them in brackets.
Last edited by Blackstar on Fri Aug 26, 2022 1:02 pm; edited 1 time in total

Blackstar

ADMIN




Posts

: 11801


Plectra

: 77756


Reputation

: 97


Join date

: 2018-03-17




Blackstar

ADMIN




Posts

: 11801


Plectra

: 77756


Reputation

: 97


Join date

: 2018-03-17



---
Permissions in this forum:
You
cannot
reply to topics in this forum