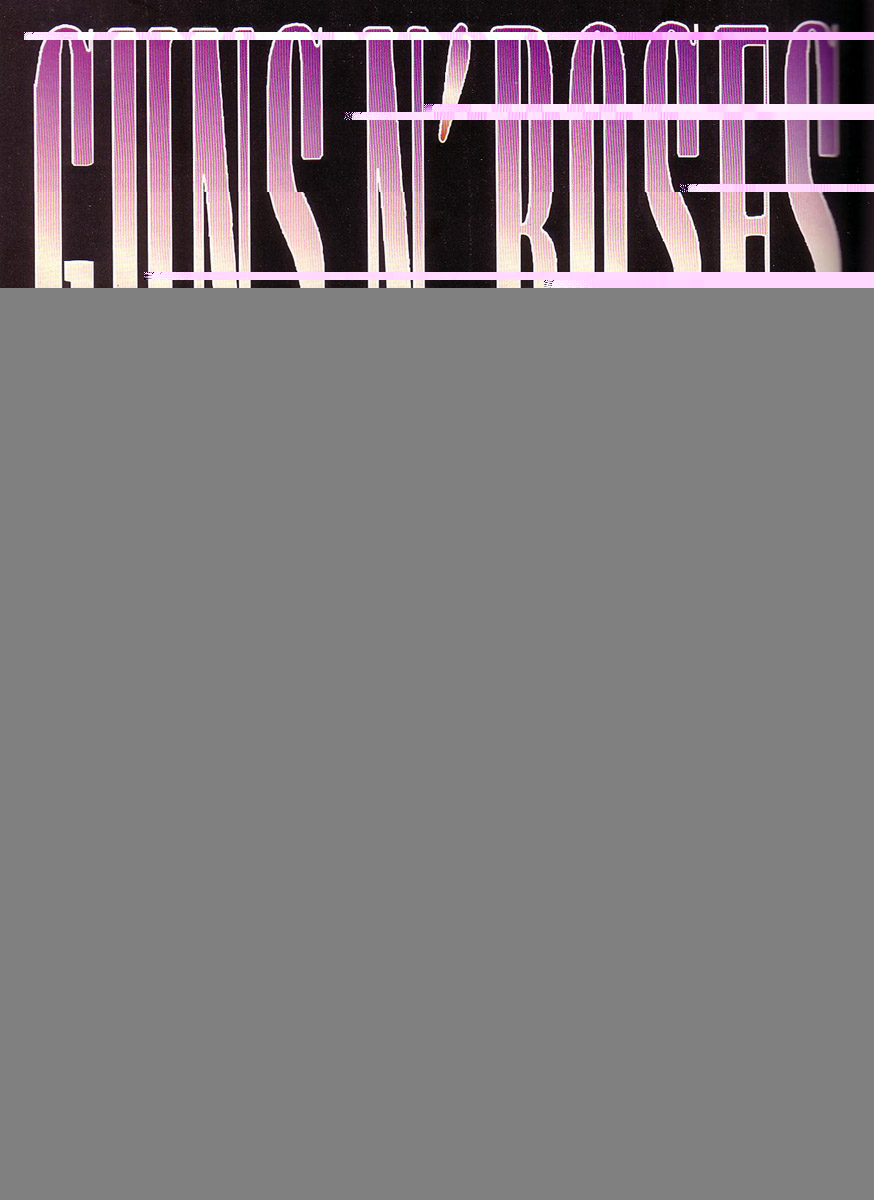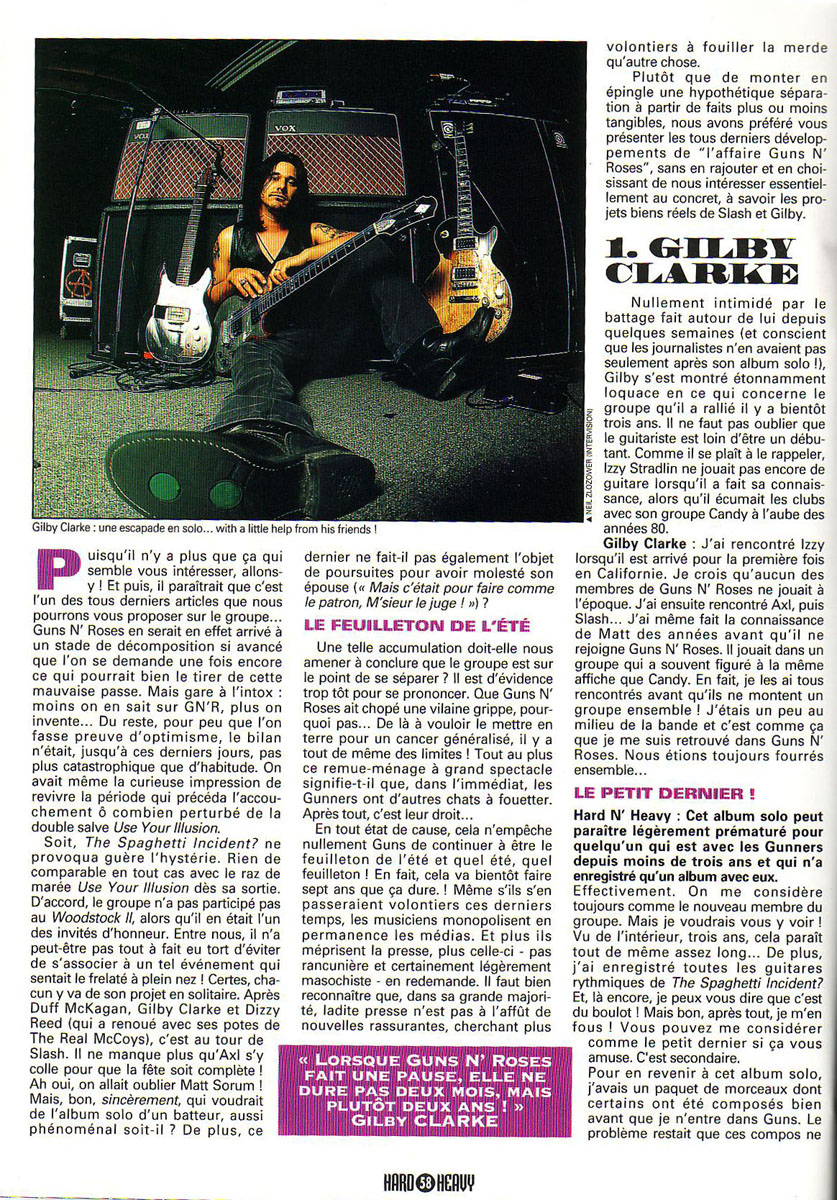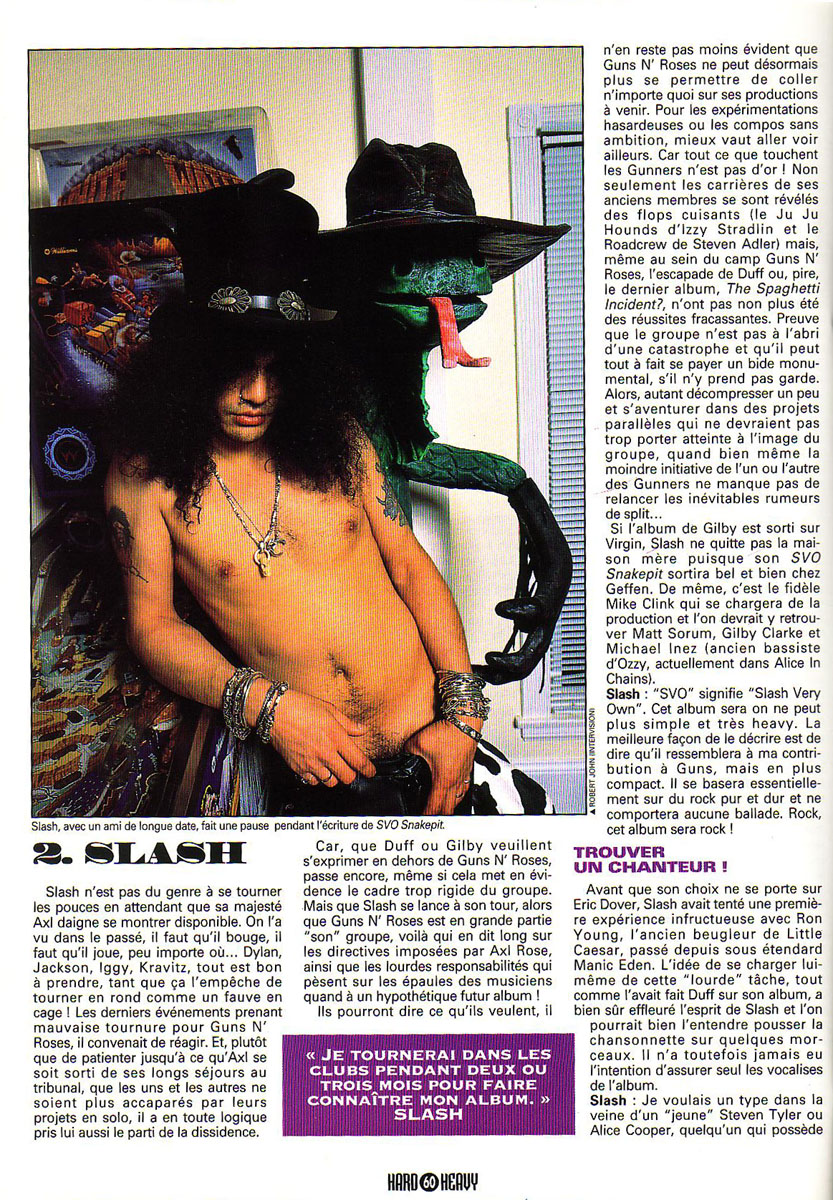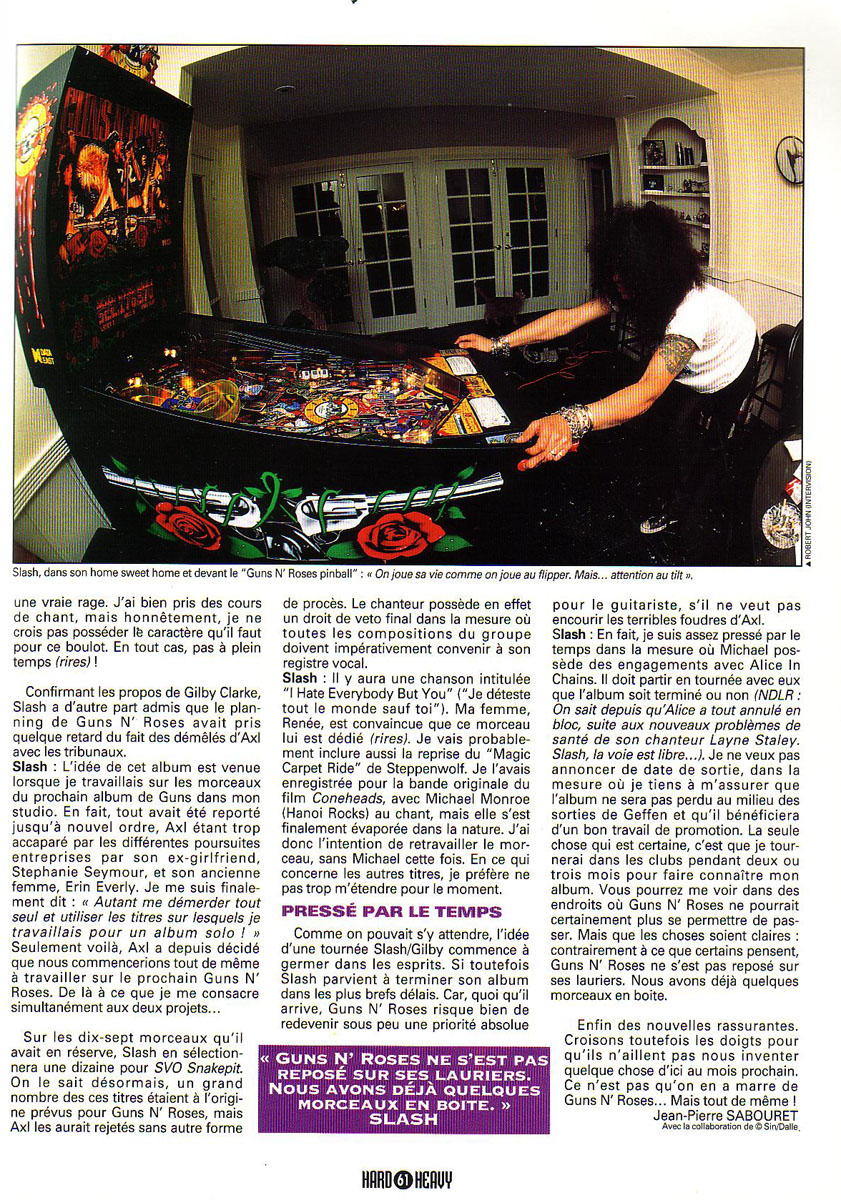 (Source of images: gnrfrance.net)
*
Translation from French:
(Note: the quotes from Slash are taken from this interview https://www.a-4-d.com/t4211-1994-06-25-kerrang-slash-n-burn
so I just pasted them from the original English text)
----------------------------------------------------------------------------------------
GUNS N' ROSES
THE GUNSLINGERS
By Jean-Pierre Sabouret
Since that's all you seem to be interested in, let's get to it! Besides, this might very well be one of the last articles on the band that we'll be able to offer you... Guns N' Roses may in fact have reached such an advanced stage of disintegration that we wonder, once again, what could pull them out of this bad situation. But beware of the toxicity: the less is known about GN'R, the more is made up... For that matter, if we take a half-glass-full approach, until the last few days the overall picture wasn't any more catastrophic than usual. We even had the strange feeling of reliving the period before the difficult childbirth of the
Use Your Illusion
double salvo.
Granted,
The Spaghetti Incident?
hardly stirred up hysteria – in any case, nothing comparable with the tidal wave upon the release of
Use Your Illusion
. Okay, the band didn't participate in Woodstock II, although they were one of the special guests - but, between us, it may not have been entirely wrong to avoid associating with an event that had "fakery" written all over it! Sure, everyone there has their own solo project. After Duff McKagan, Gilby Clarke and Dizzy Reed (who reconnected with his friends from The Real McCoys), now it's Slash's turn. Only Axl is missing for the party to be complete!
Oh yes, we almost forgot Matt Sorum! But well, honestly, who would want to hear a drummer's solo album, as phenomenal as it might be? Moreover, isn't said drummer being prosecuted for abusing his wife ("But I was only trying to follow the boss's example, your honor!")?
THE SOAP OPERA OF THE SUMMER
Should all this lead us to the conclusion that the band is about to split up? It's obviously too early to say. Let's say Guns N' Roses got a bad flu, perhaps... There is a big limit, however, between that and making it as if the band is at the last stage of widespread cancer! At most, this big-show commotion means that, for the time being, the Gunners have other fish to fry. After all, that's their right...
Nevertheless, that doesn't prevent Guns from continuing to be the soap opera of the summer. And what a summer it has been! In fact, it's been going on for almost five years! Even if they would gladly do without it these days, the band members are constantly monopolizing the media. And as much as they disdain the press, the latter - not resentful and certainly slightly masochistic – wants more. We have to admit that, for the most part, the press is not exactly looking for reassuring news, and is more interested in stirring up shit than anything else.
Instead of making a big deal out of a hypothetical split based on facts that may or may not be true, we preferred to provide you with the latest developments of the "Guns N' Roses affair", without adding anything more but by only focusing on the tangible, namely Slash and Gilby's very real projects.
1. GILBY CLARKE
Undaunted by the hype surrounding him over the past few weeks (and aware that journalists weren't just interested in his solo album!), Gilby was surprisingly forthcoming about the band he joined nearly three years ago. It's important to remember that the guitarist is far from being a beginner. As he likes to remind us, Izzy Stradlin was not yet playing guitar when he met him, while he was playing clubs with his band Candy in the early 80s.
Gilby Clarke: "I met Izzy when he first came to California. I don't think any of the Guns N' Roses guys were playing at the time. Then I met Axl, then Slash... I even met Matt years before he joined Guns N' Roses. He was in a band that was often on the same bill as Candy. In fact, I met them all before they started a band together! I was kind of around the band and that's how I got to be in Guns N' Roses. We were always stuck together..."
THE NEW KID ON THE BLOCK!Hard N' Heavy: This solo album may seem a little premature for someone who has been with the Gunners for less than three years and has only recorded one album with them.
Gilby Clarke: "Yes, it does. I'm still considered the newest member of the band. But I'd like to see you in there! From the inside, three years seems like a long time... Also, I recorded all the rhythm guitars for
The Spaghetti Incident?
and I can tell you that it's a lot of work! But, after all, I don't care! You can see me as the new kid on the block if that amuses you. That's secondary.
"To get back to this solo album, I had a bunch of songs, some of which were written long before I joined Guns. The problem was that those songs didn't really fit in with the style of the band. So I figured it would be a good idea to find a way to record them and then go out on tour for a few months. This seemed to make sense to me because, as you know, when Guns N' Roses takes a break, it doesn't last two months, but rather two years! It looked like there was plenty of time to record an album and do a full tour (laughs) before going back to the studio with the band..."
Were you expecting such a media frenzy for the release of Pawn Shop Guitars?
Gilby Clarke: "No, I didn't. Definitely not. In fact, I thought it was going to take off quietly. At first, I was just trying to keep my distance from all the drama surrounding the band. But everything has gone so fast since then, it seemed very strange to me. I know the same thing happened to Duff when he released his album. But well, what to do? Let's be clear, this is not a publicity stunt on my part. I want to focus on this project for a long time. It's not a matter of two or three months. I plan to spend at least six months supporting this album, my baby (laughs)!"
With that being said,
Pawn Shop Guitars
is much more than just a hobby. In addition to the plethora of guests - including all the Gunners - Gilby has recruited the legendary Waddy Wachtel as his producer. A studio guitarist and arranger for nearly twenty years, Wachtel has worked with Rod Stewart, Stevie Nicks, James Taylor, Jackson Browne, Randy Newman and Keith Richards.
Gilby Clarke: "I didn't want to record a phony album. I wanted it to be serious work. For that, Waddy was really the right man for me. We worked like two old friends, without any power struggle. I invited all my musician buddies along and we had them play on the tracks that suited them. It wasn't any more complicated than that."
WITH SLASH ON HIS SOLO PROJECT You're also involved in Slash's solo album and, it seems, the next Guns one, which will certainly mean you'll have to make a choice if you want to go on tour.
Gilby Clarke: "I think you'll know it soon enough when Guns N' Roses starts working on a new album! I don't think it's going to be anytime soon! As for Slash's project, I'll be touring with my band first, starting in August. We will play in Europe towards the end of the year. Then I' ll join Slash for the beginning of his tour. His album is coming out in January 1995. So that gives me a few months to work on my own thing. I'm going to do both and there's a good chance I'll even be opening for Slash on some dates."
Let's summarize... At the beginning of Slash's album, you were both writing songs for Guns N' Roses. What exactly happened from there?
Gilby Clarke: "Most of the songs on Slash's album were intended for Guns N' Roses, as well as a couple of my songs. We were sure those songs were perfect for the band but... some were not, so there's that! Anyway, Slash had wanted to do his album for a long time, and since he likes the songs I wrote for the band, he's going to use them, too. It's not a big deal. Slash wanted to record some songs in his own way. So he called me, Matt, Mike Inez and he finally found a singer, Eric Dover, who until now was the guitarist for Jellyfish. We've already started recording and it should be finished in a few days, if all goes well."
You must certainly appreciate that your songs are finally released, either on your album or on Slash's record. Don't you have some regrets that they didn't make it to GN'R and Axl's goodwill?
Gilby Clarke: "No. I think the only hope for a new Guns N' Roses album is to have projects like Slash's or mine. It will even give us a lot to write for a band album later on. I don't think any of the songs on my album would have been suitable for the band. On the other hand, I'm still convinced that some of Slash's songs were perfect for Guns. But to tell you the truth, I don't think anyone was really ready to record a new album. What is happening is not a coincidence. When everyone is ready, we'll go into the studio and make this album. So I have no regrets. At this point, I'm much happier that I got to do my album than recording with Guns."
LEAVE GILBY ALONE!Contrary to what has been reported in the British press, you' re still part of Guns N' Roses.
Gilby Clarke: "Yes, as far as I know! There will always be rumors like that. It all comes from the fact that I've released my album. When Slash releases his, I'm sure he'll get it too! Magazines will do anything to make headlines. Like everyone else, I find out about these stories in certain media and, unfortunately, you can never defend yourself. No matter what you say, they always spin things the way they want. Until we have our own magazine, we will never have the last word. But, after all, it's good publicity for us! And it's not so bad, as long as there are enough good music magazines left. Those who spread all these rumors are caught in a trap that they can hardly get out of. I count on the readers to make the right choice."
2. SLASH
Slash is not the kind of guy to sit around waiting until his majesty Axl decides to make himself available. We saw it in the past, he must move, he must play, no matter where... Dylan, Jackson, Iggy, Kravitz, everything is good for him, as long as it keeps him from spinning around like a wild animal in a cage! With the latest events taking a bad turn for Guns N' Roses, it was time to react. And, rather than wait until Àxl is done with his long court battles and until everybody is no longer busy with their solo projects, he logically decided to dissent as well.
If Duff or Gilby wanted to express themselves outside of Guns N' Roses, that was fine, even though it highlighted the band's overly rigid framework. But the fact that Slash wants to do the same, while Guns N' Roses is largely "his" band, says a lot about the directives imposed by Axl Rose, as well as the heavy responsibilities that weigh on the shoulders of the band members regarding a hypothetical future album!
They can say what they want, but it's still obvious that Guns N' Roses can't afford to leave anything to chance on their future recordings. For hazardous experiments or unambitious compositions, it's better to look elsewhere. Because not everything the Gunners touch is gold! Not only did the careers of their former members have turned out to be dismal flops (Izzy Stradlin's Ju Ju Hounds and Steven Adler's Roadcrew) but, even within the Guns N' Roses camp, Duff's escapade or, even worse, the last album,
The Spaghetti Incident
, were not smashing success stories either. This goes to show that the band is not safe from a disaster and that they can easily have a monumental failure if they don't take care of it. So, they might as well relax a bit and venture into parallel projects that won't damage the band's status too much, even if the slightest initiative of one or the other Gunner is bound to re-launch the inevitable break-up rumors...
While Gilby's album was released on Virgin, Slash didn't leave the main label since his SVO Snakepit will be released by Geffen. Likewise, the loyal Mike Clink will be in charge of the production, and Matt Sorum, Gilby Clarke and Michael Inez (former Ozzy's bass player, now in Alice In Chains) are expected to be on board.
Slash: "The 'SVO' stands for 'Slash's Very Own'. The album will be very heavy and kinda real simple. The best way I can describe this is that it will be like my contributions to Guns n' Roses - only more solidified. It will concentrate on pure rock 'n' roll and won't have any ballads."
FINDING A SINGER!
Before he chose Eric Dover, Slash had first unsuccessfully tried Ron Young, the former Little Caesar screamer who has since joined Manic Eden. The idea of taking on this "heavy" task himself, just like Duff did on his album, has of course crossed Slash's mind and we could well hear him singing on a few tracks. But he never intended to do the vocals on the album all by himself.
Slash: "I wanted a guy who sounded like a young Steven Tyler or Alice Cooper, somebody with a real hunger. I have been taking singing lessons myself, but quite honestly I don't think I've got the personality to carry it off! (laughs)"
Confirming Gilby Clarke's comments, Slash also admitted that Guns N' Roses' schedule had been delayed due to Axl's legal troubles.
Slash: "This whole idea [for this album] came about because I was working on material for the next Guns album at my home studio - but then everything had to be put on hold, because Axl Rose was dealing with the lawsuits brought against him by his ex-girlfriend Stephanie Seymour and his ex-wife Erin Everly. So I thought I'd go ahead and use the songs I'd been working up for a solo album... only now Axl has decided we should start on the new GN'R album anyway! So the two projects will be run almost in tandem."
Out of the seventeen songs he had in stock, Slash selected ten for SVO Snakepit. We now know that many of these tracks were originally intended for Guns N' Roses, but Axl rejected them without further ado. The singer has the final say as all the band's songs must be suitable for his vocal range.
Slash: "I've got one number called 'I Hate Everybody But You', which my wife Renée insists is her song! I might also include a cover version of Steppenwolf's 'Magic Carpet Ride'. I actually did this with Michael Monroe for the soundtrack to 'Coneheads', but it virtually disappeared, so I am thinking of reworking it, without Michael this time. As for other song titles, I want to keep them under wraps for the moment."
UNDER TIME PRESSURE
As you might expect, the idea of a Slash/Gilby tour is starting to take shape. That is, if Slash manages to finish his album as soon as possible. Because, whatever happens, Guns N' Roses will soon become a top priority for the guitarist, if he doesn't want to face Axl's dreaded wrath.
Slash: "I am under a bit of pressure timewise on this project, because Michael Inez is committed to touring with Alice In Chains very shortly
(Editor's note: We now know that Alice has cancelled the whole thing, following the new health problems of its singer Layne Staley. The path is clear, Slash...)
. I'm none too certain when the album will appear, because I want to ensure that it doesn't get lost in the Geffen pack, but has a good promotional push. One thing is definite, though: I will do a two- or three-month club tour in support of the record, playing places where you wouldn't see Guns. But let's be clear: contrary to what some people might think, Guns N' Roses haven't been idle. We already have some songs down on tape..."
Finally some reassuring news. But let's keep our fingers crossed that that we won't hear anything else from them between now and next month. It's not that we're tired of Guns N' Roses, but...!
Last edited by Blackstar on Thu Aug 18, 2022 11:28 pm; edited 6 times in total

Blackstar

ADMIN




Posts

: 9559


Plectra

: 65408


Reputation

: 97


Join date

: 2018-03-17



Soulmonster likes this post
The magazine was released in September, but apparently the interview with Gilby was conducted in June or July.

Blackstar

ADMIN




Posts

: 9559


Plectra

: 65408


Reputation

: 97


Join date

: 2018-03-17



---
Permissions in this forum:
You
cannot
reply to topics in this forum