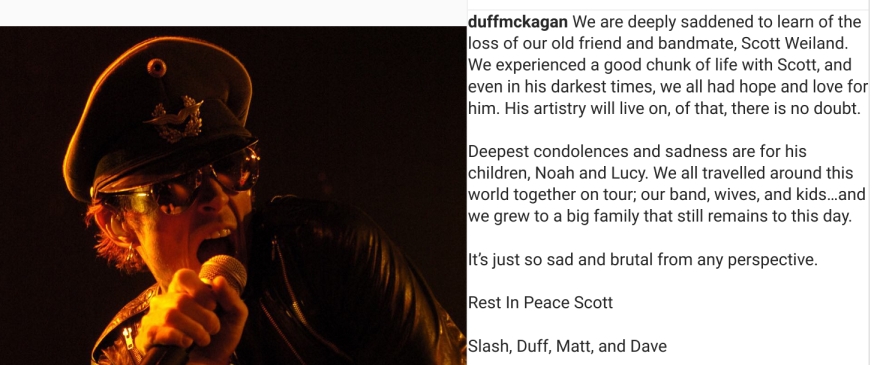 We are deeply saddened to learn of the loss of our old friend and bandmate, Scott Weiland. We experienced a good chunk of life with Scott, and even in his darkest times, we all had hope and love for him. His artistry will live on, of that, there is no doubt.

Deepest condolences and sadness are for his children, Noah and Lucy. We all travelled around this world together on tour; our band, wives, and kids…and we grew to a big family that still remains to this day.

It's just so sad and brutal from any perspective.

Rest In Peace Scott

Slash, Duff, Matt, and Dave

Blackstar

ADMIN




Posts

: 9087


Plectra

: 61960


Reputation

: 97


Join date

: 2018-03-17



Related article in The Hollywood Reporter, same date:
----------------------------------------------------------------
Velvet Revolver Reacts to Scott Weiland's Death: "We Are Deeply Saddened"
"It's just so sad and brutal from any perspective."
Duff McKagan posted a statement from Velvet Revolver on his Instagram, reacting to the news Scott Weiland, their former frontman, passed away at the age of 48.
"We are deeply saddened to learn of the loss of our old friend and bandmate, Scott Weiland," reads the statement. "We experienced a good chunk of life with Scott, and even in his darkest times, we all had hope and love for him. His artistry will live on, of that, there is no doubt."
Slash, McKagan, Matt Sorum and Dave Kushner also sent their condolences to Weiland's children, Noah and Lucy. "We all traveled around this world together on tour; our band, wives, and kids … and we grew to a big family that still remains to this day. It's just so sad and brutal from any perspective. Rest In Peace Scott."
Weiland and the former Guns N' Roses members came together in 2002, releasing an album called Contraband in June 2004 and one called Libertad in 2007.
Weiland "passed away in his sleep" while in Minnesota on a tour stop with his band The Wildabouts, his Facebook page confirmed Friday. The singer was also the former frontman for Stone Temple Pilots.
https://www.hollywoodreporter.com/news/music-news/scott-weiland-died-velvet-revolver-845825/

Blackstar

ADMIN




Posts

: 9087


Plectra

: 61960


Reputation

: 97


Join date

: 2018-03-17



Article about Scott Weiland's death, The Hollywood Reporter, Dec. 3, 2015:
---------------------------------------------------------------------------------------
Stone Temple Pilots' Scott Weiland Dies at 48
Weiland was also the frontman for Velvet Revolver.
By Shirley Halperin
Scott Weiland, the former frontman for rock bands Stone Temple Pilots and Velvet Revolver, has died, his Facebook page confirmed early Friday morning (Dec. 4). He was 48.
"Scott Weiland, best known as the lead singer for Stone Temple Pilots and Velvet Revolver, passed away in his sleep while on a tour stop in Bloomington, Minnesota, with his band The Wildabouts," a post on Weiland's Facebook page reads. "At this time we ask that the privacy of Scott's family be respected."
Dave Navarro, guitarist and member of Jane's Addiction, first tweeted the news at 9:01 p.m. PT on Thursday night: "Our friend Scott Weiland has died." (He has since deleted the tweet.)
Weiland and his latest band, Scott Weiland and the Wildabouts, were scheduled to tour this month with upcoming dates at Reno, Nevada, on Dec. 18 and City Winery in Napa Valley on Dec. 19. The band was in Minnesota for a tour date at the Medina Ballroom. According to TMZ, Weiland was found dead on the band's tour bus.
A California native, Weiland formed the band Stone Temple Pilots with brothers Robert and Dean DeLeo and saw huge commercial success in the 1990s. In 1993, the band's debut album Core peaked at No. 3 on the Billboard 200 followed by an even bigger achievement a year later in 1994 when STP released the No. 1 album Purple, which contained several radio hits including the songs "Big Empty," "Vasoline" and "Interstate Love Song."
The band would eventually land 11 top 10 hits on the Alternative Songs chart, including the three-week No. 1 "Between the Lines" in 2010. "Interstate Love Song" led the Mainstream Rock Songs chart for 15 weeks.
Featuring Weiland's distinctive lower register singing style, a sort of growl that grew ever more popular in the post-grunge years, STP went on to sell 13.5 million albums in the U.S., according to Nielsen Music, but infighting eventually drove the members apart. The band took the first of several hiatuses just a few years after reaching the apex of their popularity, during which Weiland participated in several side projects.
Stone Temple Pilots would carry on in various incarnations in the coming years. Most recently, the group recruited Linkin Park singer Chester Bennington to handle frontman duties. He announced his exit from the group on Nov. 9.
In 2002, Weiland joined former Guns N' Roses members Slash (guitars), Duff McKagan (bass) and Matt Sorum (drums) in a supergroup called Velvet Revolver. They released an album called Contraband in June 2004 and another in 2007 called Libertad, the last to feature Weiland on vocals. Combined, they sold 2.4 million units.
https://www.hollywoodreporter.com/news/music-news/scott-weiland-dead-stone-temple-845727/

Blackstar

ADMIN




Posts

: 9087


Plectra

: 61960


Reputation

: 97


Join date

: 2018-03-17



---
Permissions in this forum:
You
cannot
reply to topics in this forum