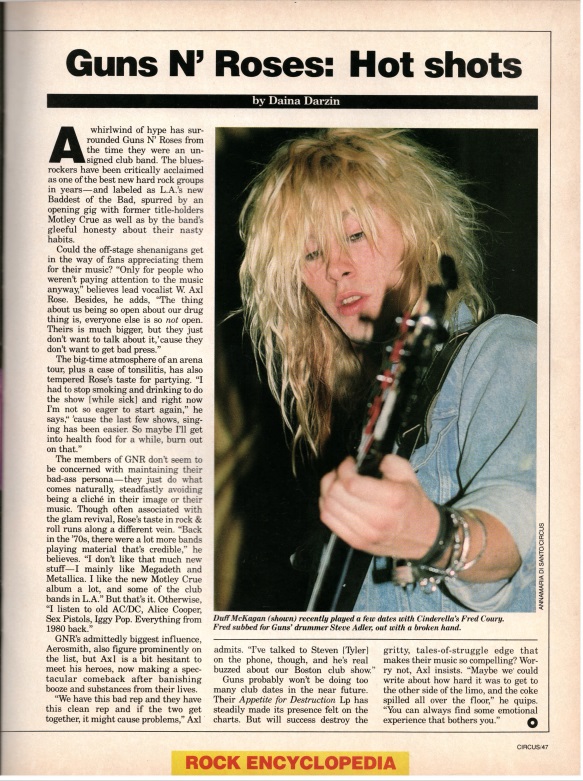 Guns N' Roses: Hot shots
by Daina Darzin
A whirlwind of hype has surrounded Guns N' Roses from the time they were an unsigned club band. The blues-rockers have been critically acclaimed as one of the best new hard rock groups in years—and labeled as L.A.'s new Baddest of the Bad, spurred by an opening gig with former title-holders Motley Crue as well as by the band's gleeful honesty about their nasty habits.
Could the offstage shenanigans get in the way of fans appreciating them for their music? "Only for people who weren't paying attention to the music anyway," believes lead vocalist W. Axl Rose. Besides, he adds, "The thing about us being so open about our drug thing is, everyone else is so
not
open. Theirs is much bigger. but they just don't want to talk about it, 'cause they don't want to get bad press."
The big-time atmosphere an arena tour, plus a case of tonsilitis, has also tempered Rose's taste for partying. "I had to stop smoking and drinking to do the show [while sick] and right now I'm not so eager to start again," he says, "'cause the last few shows, singing has been easier. So maybe I'll get into health food for a while, burn out on that."
The members of GNR don't seem to be concerned with maintaining their bad-ass persona—they just do what comes naturally, steadfastly avoiding being a cliché in their image or their music. Though often associated with the glam revival, Rose's taste in rock & roll runs along a different vein. "Back in the '70s, there were a lot more bands playing material that's credible," he believes. "I don't like that much new stuff—I mainly like Megadeth and Metallica. I like the new Motley Crue album a lot, and some of the club bands in L.A." But that's it. Otherwise, "I listen to old AC/DC, Alice Cooper, Sex Pistols, Iggy Pop. Everything from 1980 back."
GNR's admittedly biggest. influence, Aerosmith. also figure prominently on the list, but Axl is a bit hesitant to meet his heroes, now making a spectacular comeback after banishing booze and substances from their lives.
"We have this bad rep and they have this clean rep and if the two get together. it might cause problems," Axl admits. "I've talked to Steven [Tyler] on the phone, though, and he's real buzzed about our Boston club show."
Guns probably wont be doing too many club dates in the near future. Their Appetite for Destruction Lp has steadily made its presence felt on the charts. But will success destroy the
gritty, tales-of-struggle edge that makes their music so compelling? Worry not, Axl insists. "Maybe we could write about how hard it was to get to the other side of the limo, and the coke spilled all over the floor?" he quips. "You can always find some emotional experience that bothers you."

Soulmonster

Band Lawyer







Posts

: 15416


Plectra

: 75184


Reputation

: 831


Join date

: 2010-07-06



---
Permissions in this forum:
You
cannot
reply to topics in this forum