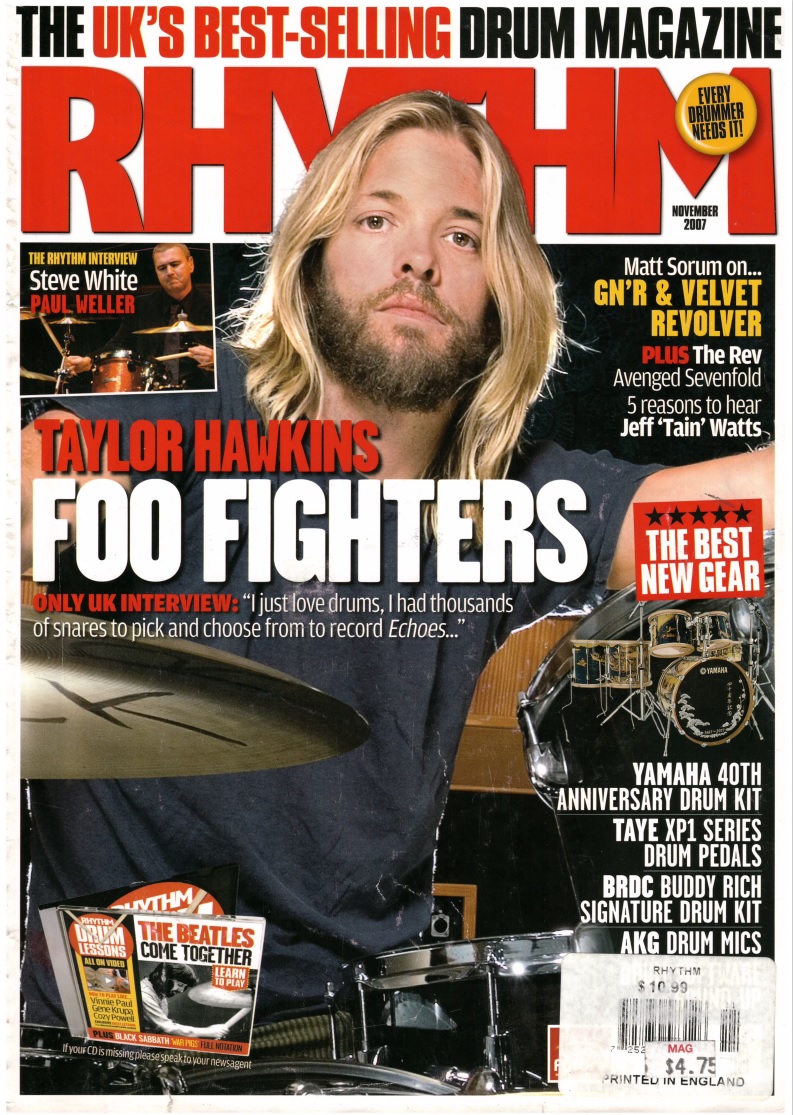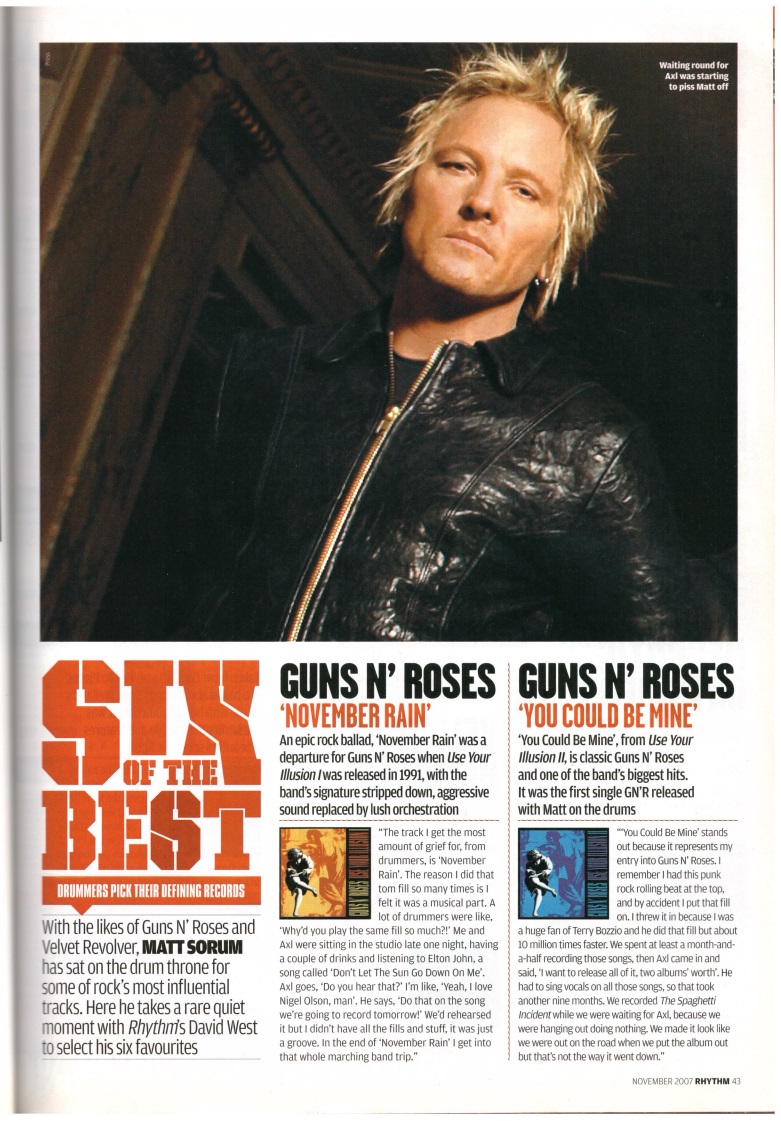 SIX OF THE BEST
Drummers pick their defining records
With the likes of Guns N' Roses and Velvet Revolver, Matt Sorum has sat on the drum throne for some of rock's most influential tracks. Here he takes a rare quiet moment with Rhythm's David West to select his six favourites.
GUNS N' ROSES
'NOVEMBER RAIN'
An epic rock ballad, November Rain' was a departure for Guns N' Roses when Use Your Illusion I was released in 1991, with the band's signature stripped down, aggressive sound replaced by lush orchestration.  
The track I get the most amount of grief for, from drummers, is 'November Rain'. The reason I did that tom fill so many times is I felt it was a musical part. A lot of drummers were like, 'Why'd you play the same fill so much?!' me and Axl were sitting in the studio late one night, having a couple of drinks and listening to Elton John. a song called 'Don't Let The Sun Go Down On Me'. Axl goes, 'Do you hear that?' I'm like, 'Yeah, I love Nigel Olson, man'. He says. 'Do that on the song we're going to record tomorrow!' We'd rehearsed it but I didn't have all the fills and stuff, it was just a groove. In the end of 'November Rain' I get into that whole marching band trip."
GUNS N' ROSES
'YOU COULD BE MINE'
'You Could Be Mine', from Use Your Illusion II, is classic Guns N Roses and one of the band's biggest hits. It was the first single GN'R released with Matt on the drums.
'You Could Be' mine stands out because it represents my entry into Guns N' Roses. I remember I had this punk rock rolling beat at the top, and by accident I put that fill on. I threw it in because I was a huge fan of Terry Bozzio and he did that fill but about 10 million times faster. We spent at least a month-and-a-half recording those songs, then Axl came in and said. 'I want to release all of it. two albums' worth'. He had to sing vocals on all those songs. so that took another nine months. we recorded
The Spaghetti Incident
while we were waiting for Axl, because we were hanging out doing nothing. We made it look like we were out on the road when we put the album out but that's not the way it went down."
NEUROTIC OUTSIDERS
'NASTY HO'
Neurotic Outsiders were the supergroup composed of Matt, Duff McKagen, Steve Jones and John Taylor. Originally just an excuse to have fun, they released their self-titled debut in 1996.
1 love 'Nasty Ho'. Steve Jones from the Sex Pistols was in that band and we recorded that album for Maverick. It didn't sell a load but it was a really cool album. We recorded it with Jerry Harrison from Talking Heads. I was just blown away by Nirvana at the time, with Dave Grohl - I wanted some of that, so I played very Neanderthal on that album, just how Dave plays. Steve Jones is the greatest rhythm player of all time as far as guitar players go. Guy Oseary, who ran Maverick Records with Madonna, would come to every show and I'd see him in the front row. He offered us a record deal and we didn't even want one. We asked him for some stupid amount of money and they gave it to us. We were like. 'Okay!"

NEUROTIC OUTSIDERS
'SIX FEET UNDER'
'Six Feet Under' is the closing track on Neurotic Outsiders. Duff McKagen switched to rhythm guitar in the group, while John Taylor, from Duran Duran, played the bass.
"I do a crazy double bass drum thing at the beginning. I used to play double bass drum before I joined The Cult. They made me stop. I learnt to play double bass drum because I didn't get the David Lee Roth audition. I got called by Steve Vai at my house. He says. 'I'm auditioning drummers. please come down'. I go down there, there's a double bass drum kit set up and I only played single because I grew up on John Bonham, Ian Paice and Roger Taylor. I pick the double bass drum up and move it. Vai goes, 'What are you doing?' I say. 'I don't play double bass drum: He goes. 'Oh, man.' He put me through all this heavy duty musical training stuff, 'Play 26 over 8', and I looked at him and said 'Why?'"

VELVET REVOLVER
'SET ME FREE'
There were huge expectations for Velvet Revolver's first release, given the history of their line-up, and the band didn't disappoint, unleashing the snarling, relentless rock'n'roll assault of 'Set Me Free' from Contraband.
"There are some really cool turnarounds and fills on that. I actually recorded that song with Nick Raskulinecz, who is Dave Grohl's guy. He's the only different producer from Josh Abraham on that album. He worked
with me a lot, he gave me time to come up with stuff in rehearsal: 'Hey, put a fill there, or flip that over to there'. I like that, I'm not shy about listening to guys. I'm like, 'feed me'. Sometimes when I'm in the studio, like when we recorded Contraband. I didn't really feel like I had enough time to explore different ways of playing. That particular song has a lot of different sections. for a rock'n'roll band."
VELVET REVOLVER
'FALL TO PIECES'
Taken from Contraband. 'Fall To Pieces' is a ballad about singer Scott Weiland's battle with heroin addiction. It was the band's third single and features a beautiful solo from Slash.
"I got into the ballad. I knew I needed to knock 'em over the head at the beginning with the big toms because that's my signature. In the breakdown section Duff said, 'Do some of that Ringo stuff'. I wish the snare drum sounded better on that song, though. I didn't like the way it was mixed. I love Andy Wallace, he's a genius, but I was like, 'Andy, come on. give me some snare drum. Bigger!' You know what would be cool, too? I'd love to hear those Use Your Illusion albums re-mixed, a little drier, not so much reverb. But that was the time for reverb, reverb everywhere."

Soulmonster

Stage manager







Posts

: 14730


Plectra

: 72393


Reputation

: 827


Join date

: 2010-07-06



---
Permissions in this forum:
You
cannot
reply to topics in this forum