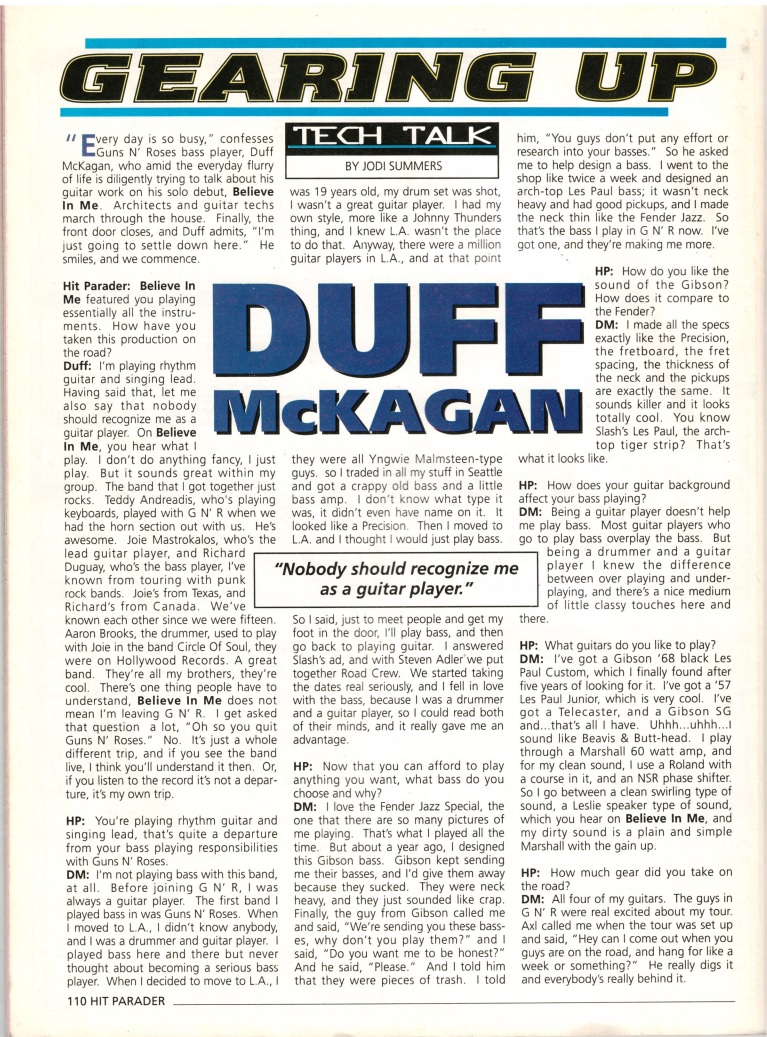 GEARING UP
"Every day is so busy," confesses Guns N' Roses bass player, Duff McKagan, who amid the everyday flurry of life is diligently trying to talk about his guitar work on his solo debut, Believe In Me. Architects and guitar techs march through the house. Finally, the front door closes, and Duff admits, "I'm just going to settle down here." He smiles, and we commence.
Hit Parader
: Believe In Me featured you playing essentially all the instruments. How have you taken this production on the road?
Duff
: I'm playing rhythm guitar and singing lead. Having said that, let me also say that nobody should recognize me as a guitar player. On Believe In Me, you hear what I play. I don't do anything fancy, I just play. But it sounds great within my group. The band that I got together just rocks. Teddy Andreadis, who's playing keyboards, played with G N' R when we had the horn section out with us. He's awesome. Joie Mastrokalos, who's the lead guitar player, and Richard Duguay, who's the bass player, I've known from touring with punk rock bands. Joie's from Texas, and Richard's from Canada. We've known each other since we were fifteen. Aaron Brooks, the drummer, used to play with Joie in the band Circle Of Soul, they were on Hollywood Records. A great band. They're all my brothers, they're cool. There's one thing people have to understand, Believe In Me does not mean I'm leaving G N' R. I get asked that question a lot, "Oh so you quit Guns N' Roses." No. It's just a whole different trip, and if you see the band live, I think you'll understand it then. Or, if you listen to the record its not a departure, it's my own trip.
HP:
You're playing rhythm guitar and singing lead, that's quite a departure from your bass playing responsibilities with Guns N' Roses.
DM
: I'm not playing bass with this band, at all. Before joining G N' R, I was always a guitar player. The first band I played bass in was Guns N' Roses. When I moved to L.A., I didn't know anybody, and I was a drummer and guitar player. I played bass here and there but never thought about becoming a serious bass player. When I decided to move to L.A., I was 19 years old, my drum set was shot, I wasn't a great guitar player. I had my own style, more like a Johnny Thunders thing, and I knew L.A. wasn't the place to do that. Anyway, there were a million guitar players in L.A., and at that point they were all Yngwie Malmsteen-type guys. so I traded in all my stuff in Seattle and got a crappy old bass and a little bass amp. I don't know what type it was, it didn't even have name on it. It looked like a Precision. Then I moved to L.A. and I thought I would just play bass. So I said, just to meet people and get my foot in the door, I'll play bass, and then go back to playing guitar. I answered Slash's ad, and with Steven Adler we put together Road Crew. We started taking the dates real seriously, and I fell in love with the bass, because I was a drummer and a guitar player, so I could read both of their minds, and it really gave me an advantage.
HP
: Now that you can afford to play anything you want, what bass do you choose and why?
DM
: I love the Fender Jazz Special, the one that there are so many pictures of me playing. That's what I played all the time. But about a year ago, I designed this Gibson bass. Gibson kept sending me their basses, and I'd give them away because they sucked. They were neck heavy, and they just sounded like crap. Finally, the guy from Gibson called me and said, "We're sending you these bass-es, why don't you play them?" and I said, "Do you want me to be honest?" And he said, "Please." And I told him that they were pieces of trash. I told him, "You guys don't put any effort or research into your basses." So he asked me to help design a bass. I went to the shop like twice a week and designed an arch-top Les Paul bass; it wasn't neck heavy and had good pickups, and I made the neck thin like the Fender Jazz. So that's the bass I play in G N' R now. I've got one, and they're making me more.
HP
: How do you like the sound of the Gibson? How does it compare to the Fender?
DM
: I made all the specs exactly like the Precision, the fretboard, the fret spacing, the thickness of the neck and the pickups are exactly the same. It sounds killer and it looks totally cool. You know Slash's in Paul, the arch-top tiger strip? That's what it looks like.
HP
: How does your guitar background affect your bass playing?
DM
: Being a guitar player doesn't help me play bass. Most guitar players who go to play bass overplay the bass. But being a drummer and a guitar player I knew the difference between over playing and under-playing, and there's a nice medium of little classy touches here and there.
HP:
What guitars do you like to play?
DM:
I've got a Gibson '68 black Les Paul Custom, which I finally found after five years of looking for it. I've got a '57 Les Paul Junior, which is very cool. I've got a Telecaster, and a Gibson SG and...that's all I have. Uhhh...uhhh...I sound like Beavis & Butt-head. I play through a Marshall 60 watt amp, and for my clean sound, I use a Roland with a course in it, and an NSR phase shifter. So I go between a clean swirling type of sound, a Leslie speaker type of sound, which you hear on Believe In Me, and my dirty sound is a plain and simple Marshall with the gain up.
HP
: How much gear did you take on the road?
DM
: All four of my guitars. The guys in G N' R were real excited about my tour. Axl called me when the tour was set up and said, "Hey can I come out when you guys are on the road, and hang for like a week or something?" He really digs it and everybody's really behind it.

Soulmonster

Band Lawyer







Posts

: 15410


Plectra

: 75145


Reputation

: 831


Join date

: 2010-07-06



---
Permissions in this forum:
You
cannot
reply to topics in this forum