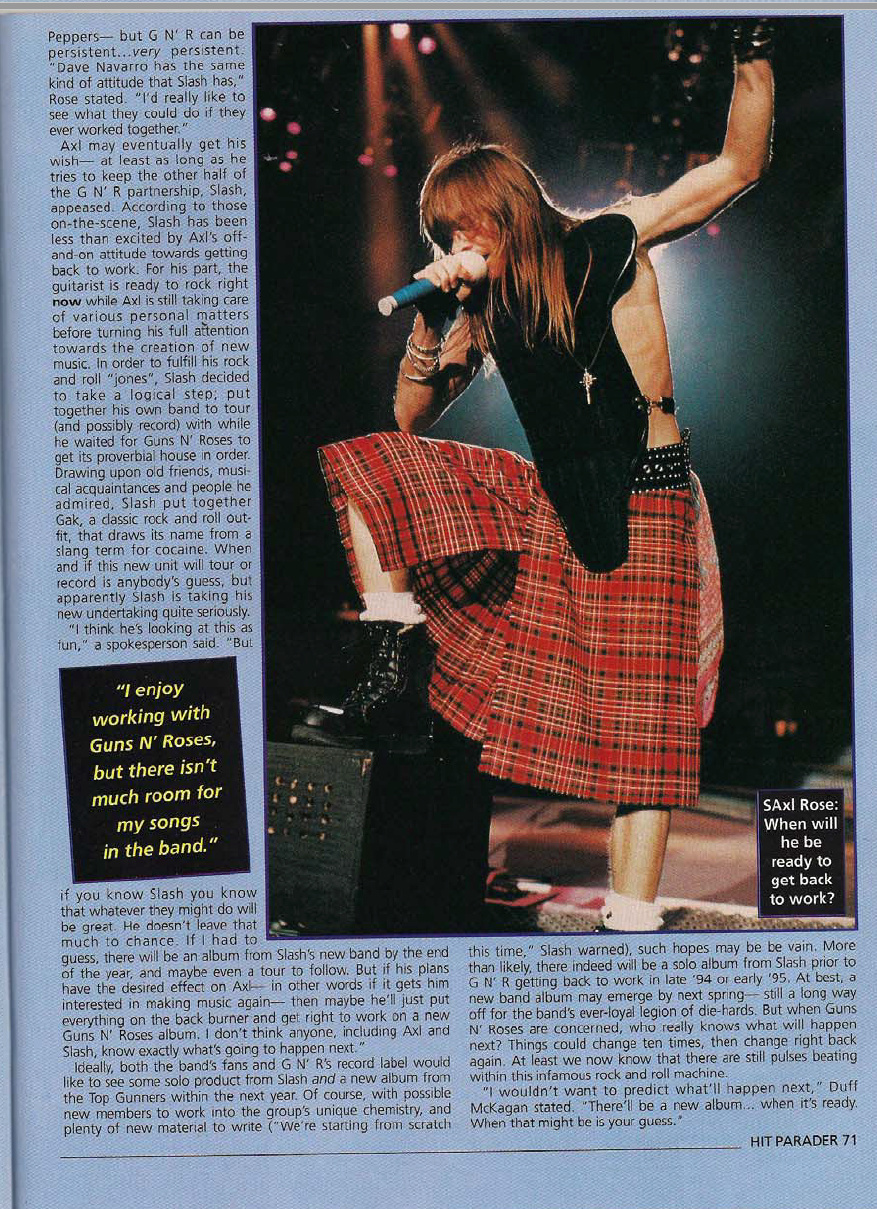 Transcript:
It was just too good to last— that "cool, calm and collected" atmosphere that was hangin' around Guns N' Roses like the smell of a crisp spring morning for the better part of a year. No matter who you asked, where you went or what you wrote about 'em, it seemed as if Axl, Slash and the boys were deter-mined to keep as low a profile as possible. Yeah, sure, occasional word would leak out that the band was a little fed up with just sitting around, or that seemingly each and every band member was exploring the possibility of doing a solo project if, for no other reason, than to while away the hours until G N' R decided to get serious about their next album. But for the most part the silence sur-rounding these quintes-sential rock and roll media hounds was almost deafening.
Then, late in the spring, things started to break. First it was rumored that Gilby Clarke was growing more and more unhappy with his situation within the band, and that as soon as his solo disc was released, he'd "quit his day job" as he informed certain close friends. Next down the gossip pike came word that the band was planning on hiring ex-Jane's Addiction— and current Red Hot Chili Peppers— guitarist Dave Navarro to fill Clarke's position; this, of course, before official word of Clarke's departure was even voiced. Then, in June, came stories that Slash had grown fed up with Axl's indecision about when to start working again, so- the shaggy-haired guitarist decided to start a band of his own called Gak. No, he wasn't planning on leaving G N' R- but he wasn't about to let the mercurial Axl dictate his work schedule either.
"There's always a bit of turmoil around Guns N' Roses," a band spokesperson said. "I don't think that comes as a surprise to anyone. I know there has been a great deal of talk and specu-lation in recent weeks, and some of it is true. Rut at least most of the new gossip is about music-related matters. That's kind of a nice change of pace for them, isn't it?"
Let's cover things in order: First up is the status of Clarke, the talented axe master who joined the band n 1992, replacing original six stringer, Izzy Stradlin. Apparently Clarke has long been less-than-thrilled by his creative input into Guns N' Roses, and while the big pay checks are nice, he slowly became more and more convinced that a solo route (the path he was taking before being sidetracked by the offer to join G N' R) is his clear-est road to both personal satisfaction and long-term security. With the release of his solo effort,
Pawnshop Guitar
, early in the summer, Clarke felt it was perhaps the perfect time to take leave of the Top Gunners— prior to their beginning work on a new album or tour- and stake out on his own.
"I enjoy making my own music," Clarke stated. "I certainly enjoy working with the members of Guns N' Roses, but there really isn't much room for my songs in the band. Slash and Axl really have an incredible capacity for cre-ating great songs, and I don't want to be appeased with having maybe one token song on an album. I think I'd find that a little frustrating."
For a while, it was hoped that Clarke could pursue his solo venture while remaining a member of Guns N' Roses— much as bassist Duff McKagan had done last year. But as time passed, and Clarke's album became a reality, it became painfully obvious that he wanted out.
Waiting in the wings, so to speak, was Dave Navarro, the eclectic guitarist who had wowed Axl Rose a num-ber of years ago with his precedent-shattering work in Jane's Addiction. Last year, during an exclusive interview with Hit Parader, Axl had again expressed his admiration of Navarro, and his hope that they could work together at some point in the future. Despite the fact that Navarro had already accepted the offer to join the Red Hot Chili Peppers, apparently Guns N' Roses— acting like the rock and roll Godfathers that they are—made an offer that they hoped he couldn't refuse Much to his credit, however, Navarro decided to remain loyal to the Chili Peppers— but G N' R can be persistent...very persistent.
"Dave Navarro has the same kind of attitude that Slash has," Rose stated. "I'd really like to see what they could do if they ever worked together."
Axl may eventually get his wish— at least as long as he tries to keep the other half of the G N' R partnership, Slash, appeased. According to those on-the-scene, Slash has been less than excited by Axl's off-and-on attitude towards getting back to work. For his part, the guitarist is ready to rock right now while AxI is still taking care of various personal matters before turning his full attention towards the creation of new music. In order to fulfill his rock and roll "jones", Slash decided to take a logical step; put together his own band to tour (and possibly record) with while he waited for Guns N' Roses to get its proverbial house in order. Drawing upon old friends, musi-cal acquaintances and people he admired, Slash put together Gak, a classic rock and roll out-fit, that draws its name from a slang term for cocaine. When and if this new unit will tour or record is anybody's guess, but apparently Slash is taking his new undertaking quite seriously.
"I think he's looking at this as fun," a spokesperson said. "But if you know Slash you know that whatever they might do will be great. He doesn't leave that much to chance. If I had to guess, there will be an album from Slash's new band by the end of the year, and maybe even a tour to follow. But if his plans have the desired effect on Axl-- in other words if it gets him interested in making music again— then maybe he'll just put everything on the back burner and get right to work on a new Guns N' Roses album. I don't think anyone, including Axl and Slash, know exactly what's going to happen next."
Ideally, both the band's fans and G N' R's record label would like to see some solo product from Slash and a new album from the Top Gunners within the next year. Of course, with possible new members to work into the group's unique chemistry, and plenty of new material to write ("We're starting from scratch this time," Slash warned), such hopes may be be vain. More than likely, there indeed will be a solo album from Slash prior to G N' R getting back to work in late '94 or early '95. At best, a new band album may emerge by next spring-- still a long way off for the band's ever-loyal legion of die-hards. But when Guns N' Roses are concerned, who really knows what will happen next? Things could change ten times, then change right back again. At least we now know that there are still pulses beating within this infamous rock and roll machine.
"I wouldn't want to predict what'll happen next," Duff McKagan stated. "There'll be a new album... when it's ready. When that might be is your guess."

Soulmonster

Stage manager







Posts

: 14766


Plectra

: 72592


Reputation

: 827


Join date

: 2010-07-06



---
Permissions in this forum:
You
cannot
reply to topics in this forum