Blackstar

ADMIN




Posts

: 9581


Plectra

: 65552


Reputation

: 97


Join date

: 2018-03-17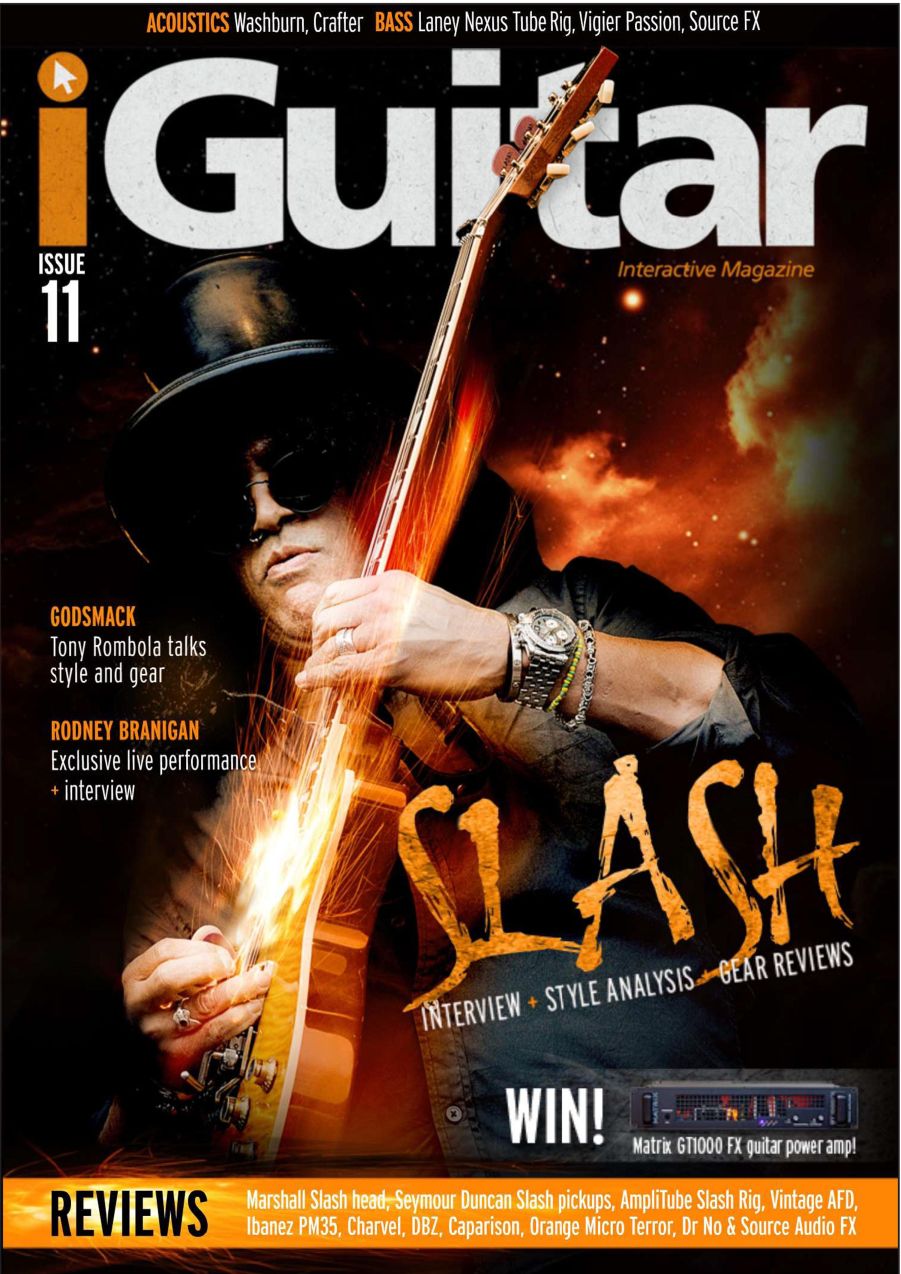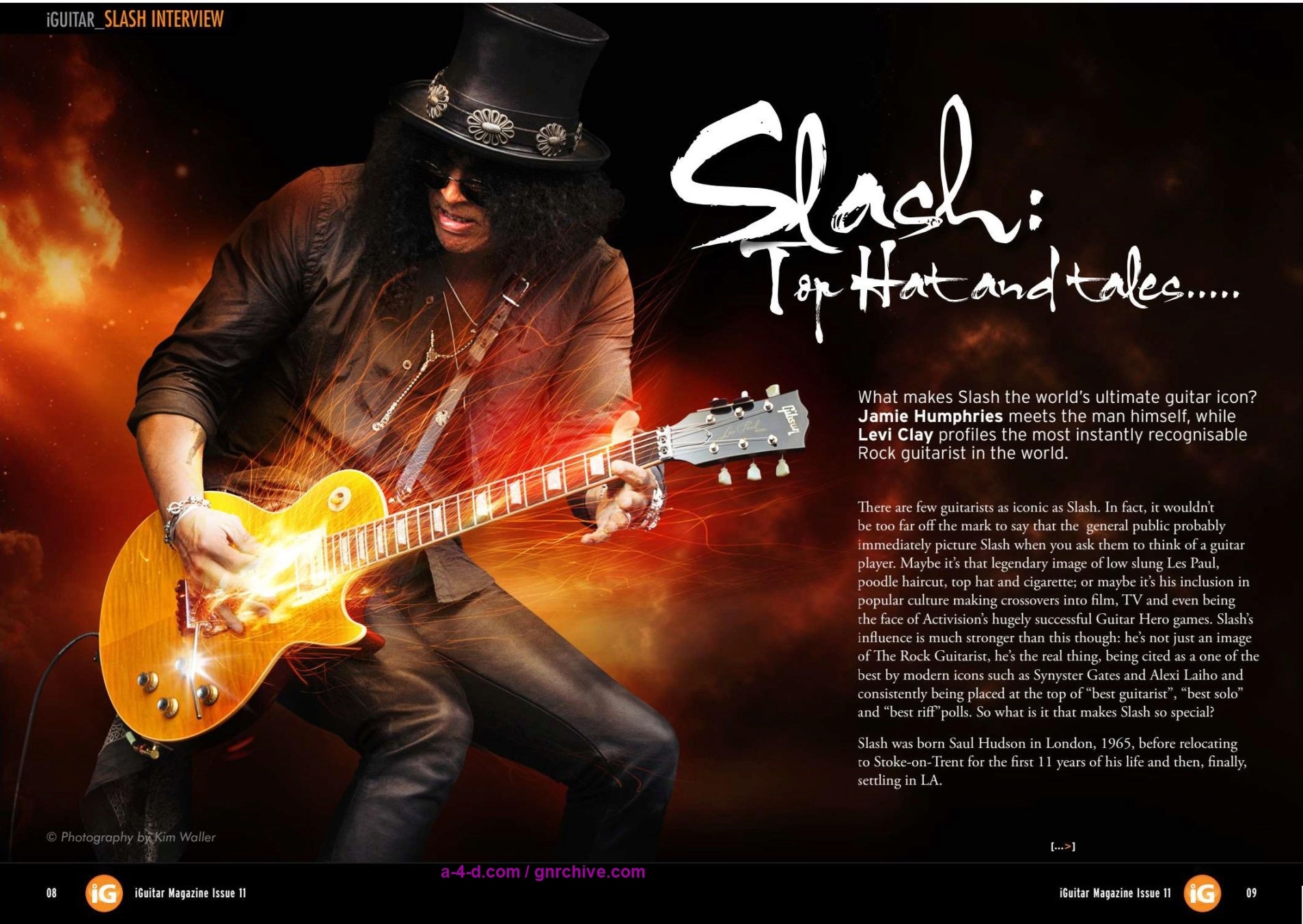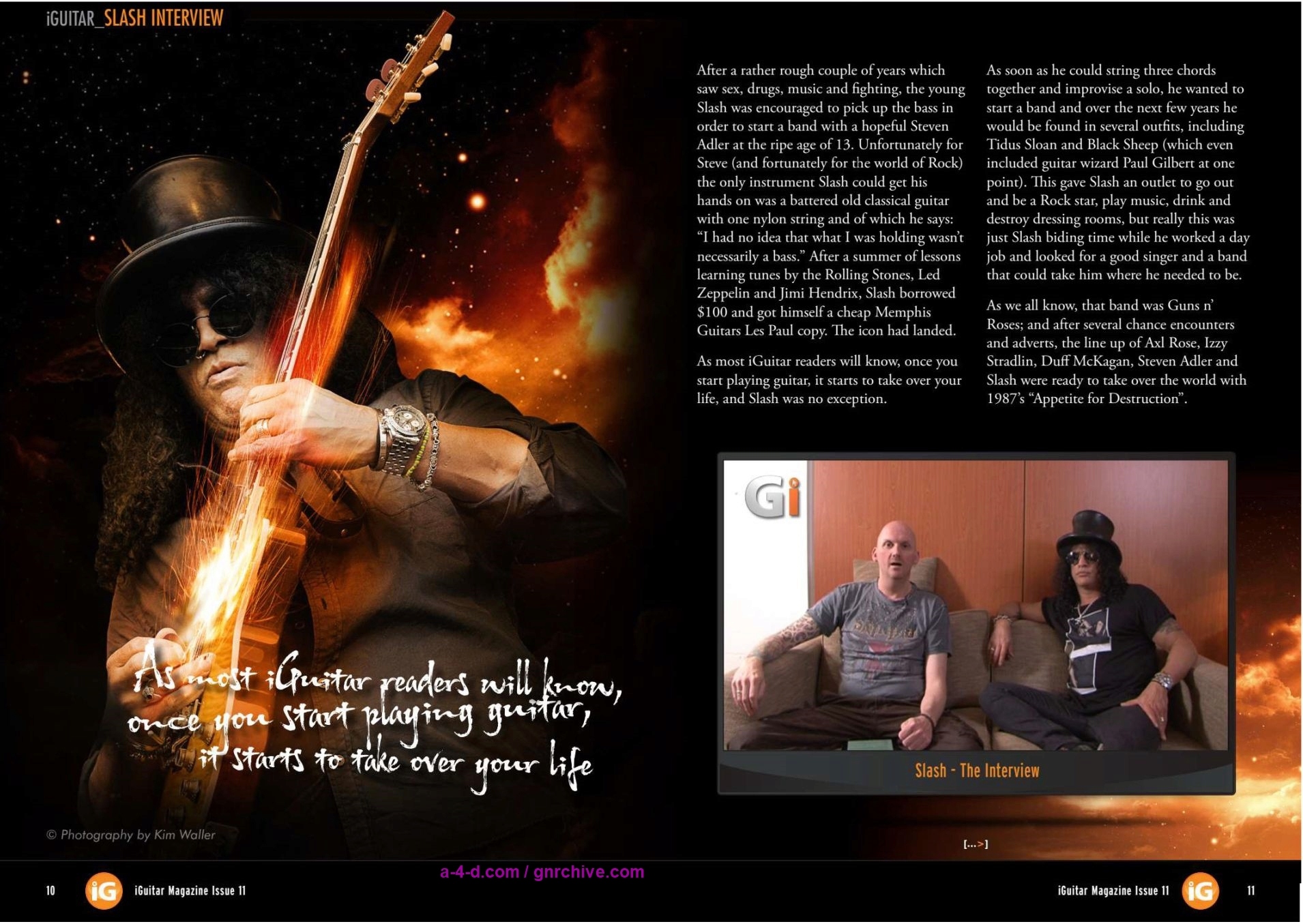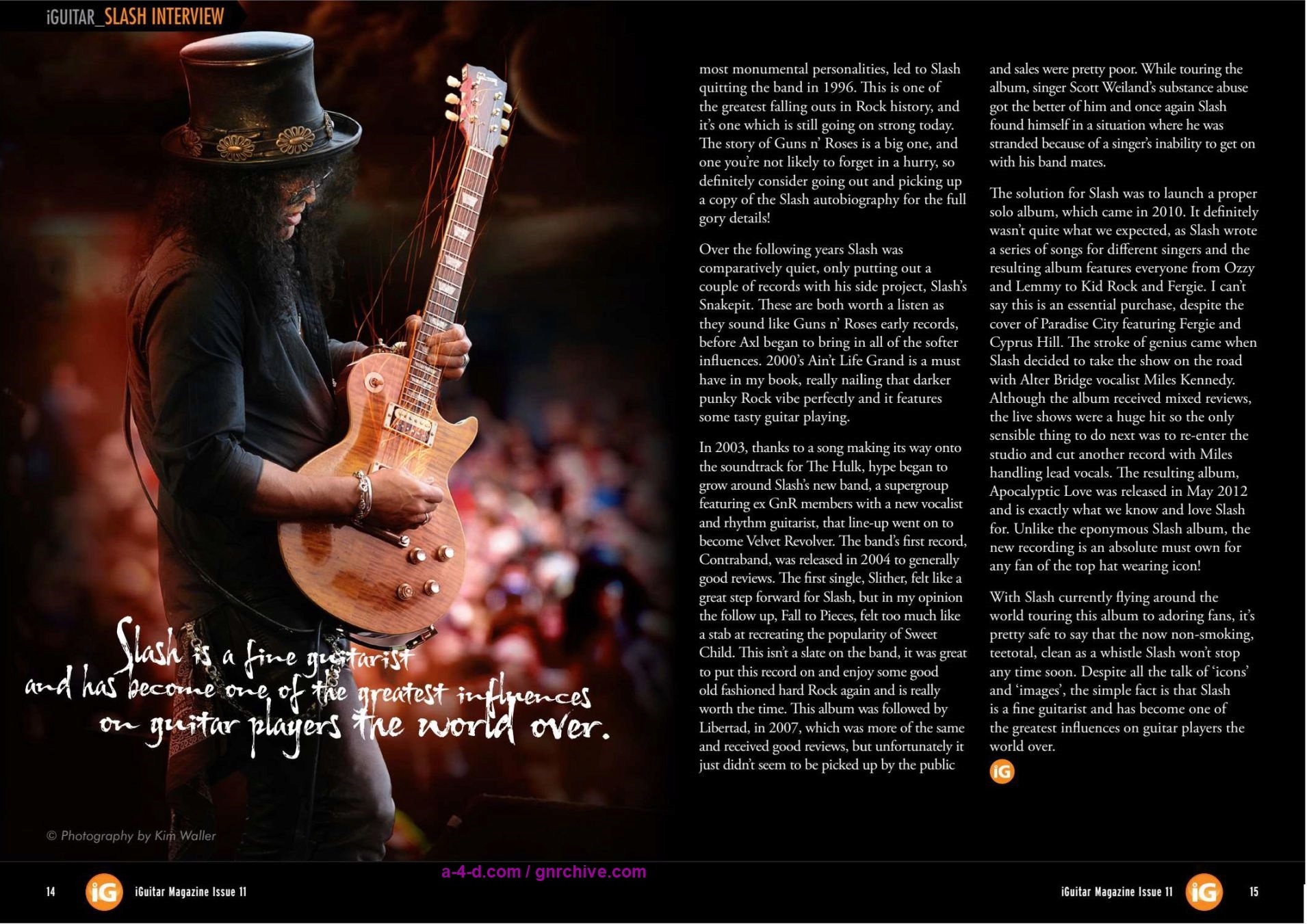 Slash: Top Hat and tales...
What makes Slash the world's ultimate guitar icon? Jamie Humphries meets the man himself, while Levi Clay profiles the most instantly recognisable Rock guitarist in the world.
There are few guitarists as iconic as Slash. In fact, it wouldn't be coo far off the mark to say that the general public probably immediately picture Slash when you ask them to think of a guitar player. Maybe it's that legendary image of low slung Les Paul, poodle haircut, top hat and cigarette; or maybe it's his inclusion in popular culture making crossovers into film, TV and even being the face of Activision's hugely successful Guitar Hero games. Slash's influence is much stronger than this though: he's not just an image of The Rock Guitarist, he's the real thing, being cited as a one of the best by modern icons such as Synyster Gates and Alexi Laiho and consistently being placed at the top of "best guitarist","best solo" and "best riff" polls. So what is it that makes Slash so special?
Slash was born Saul Hudson in London, 1965, before relocating to Stoke-on-Trent for the first 11 years of his life and then, finally, settling in LA. After a rather rough couple of years which saw sex, drugs, music and fighting, the young Slash was encouraged to pick up the bass in order to start a band with a hopeful Steven Adler at the ripe age of 13. Unfortunately for Steve (and fortunately for the world of Rock) the only instrument Slash could get his hands on was a battered old classical guitar with one nylon string and of which he says: "I had no idea that what I was holding wasn't necessarily a bass." After a summer of lessons learning tunes by the Rolling Stones, Led Zeppelin and Jimi Hendrix, Slash borrowed $100 and got himself a cheap Memphis Guitars Les Paul copy. The icon had landed.
As most iGuitar readers will know, once you start playing guitar, it starts to take over your life, and Slash was no exception. As soon as he could string three chords together and improvise a solo, he wanted to start a band and over the next few years he would be found in several outfits, including Tidus Sloan and Black Sheep (which even included guitar wizard Paul Gilbert at one point). This gave Slash an outlet to go out and be a Rock star, play music, drink and destroy dressing rooms, but really this was just Slash biding time while he worked a day job and looked for a good singer and a band that could take him where he needed to be.
As we all know, that band was Guns N' Roses; and after several chance encounters and adverts, the line up of Axl Rose, Izzy Stradlin, Duff McKagan, Steven Adler and Slash were ready to take over the world with 1987's "Appetite for Destruction". There is a lot of legend and lore on the history of Appetite, over the songs, the guitars, the amp, the overall message, and I still consider it to be the greatest hard Rock album ever recorded, for me it has everything you could want; from the raw punky feel of songs like It's So Easy and Mr Brownstone, along with the great Rock tunes like Nightrain and You're Crazy and the overblown arrangements of epics like Paradise City, Rocket Queen and Sweet Child O' Mine. I can't be alone in that opinion as the sales have reflected this and the album is certified 18 times platinum in the US alone!
The real hotly debated topic over this album is the exact gear that Slash used to record it, but unfortunately, the truth seems to have been lost in the annals of time. Although Slash is obviously a Gibson man, the guitar used on that record was actually a Les Paul replica (made by either Max or Derrig), but fortunately for us, Gibson has gone through a lot of hard work to recreate that exact instrument, and it's definitely worth a look -though it comes at a price. However, for me, it's the amp that really deserves attention as that was a constant on the album and many elements on the record weren't recorded on a Les Paul at all (listen for subtle tremolo vibrato in the final solo of Nightrain!). That faithful amp in question was a Frank Levi modified 100 Watt Marshall 1959 super lead, rented from S.I.R. Studios. It's widely believed that this famous amp was stock "
#39
" which was a Tim Caswell modded super tremolo. According to Glenn Buckley, the long lost S.I.R repairman, #36 was modified to replicate
#39
as another client had already requested the amp when Geffen records wanted it. It's also well documented that after the session Slash actually stole #36 when SIR refused to sell it to him, but the amp eventually ended up back at SIR, though 25 years later, the exact whereabouts of either #36 or
#39
is unknown. Marshall has come to the rescue though by really putting in the work to recreate this incredible tone as you can see from our review in this issue, and 1 can't recommend checking this amp out enough if you want to get a little closer to that Slash tone.
As for effects Slash tends to use very little in this area and you can certainly get by with just a delay (Boss DD3) and wah (Slash signature Crybaby). If you want to dig a little deeper then check out the Signature MXR octave fuzz pedal, an MXR 10 band EQ (set as a frown for a mid boost) and possibly a talkbox.
Slash went on to record five more massively popular albums with Guns N' Roses, including the two popular Use Your Illusion albums, but unfortunately tensions mounted over the years and the combination of sex, sex and sex along with drugs, drugs and even more drugs combined with some of the most monumental personalities, led to Slash quitting the band in 1996. This is one of the greatest falling outs in Rock history, and it's one which is still going on strong today. The story of Guns N' Roses is a big one, and one you're not likely to forget in a hurry, so definitely consider going out and picking up a copy of the Slash autobiography for the full gory details!
Over the following years Slash was comparatively quiet, only putting out a couple of records with his side project, Slash's Snakepit. These are both worth a listen as they sound like Guns N' Roses early records, before Axl began to bring in all of the softer influences. 2000's Ain't Life Grand is a must have in my book, really nailing that darker punky Rock vibe perfectly and it features some tasty guitar playing.
In 2003, thanks to a song making its way onto the soundtrack for The Hulk, hype began to grow around Slash's new band, a supergroup featuring ex GnR members with a new vocalist and rhythm guitarist, that line-up went on to become Velvet Revolver. The band's first record, Contraband, was released in 2004 to generally good reviews. The first single, Slither, felt like a great step forward for Slash, but in my opinion the follow up, Fall to Pieces, felt too much like a stab at recreating the popularity of Sweet Child. This isn't a slate on the band, it was great to put this record on and enjoy some good old fashioned hard Rock again and is really worth the time. This album was followed by Libertad, in 2007, which was more of the same and received good reviews, but unfortunately it just didn't seem to be picked up by the public and sales were pretty poor. While touring the album, singer Scott Weiland's substance abuse got the better of him and once again Slash found himself in a situation where he was stranded because of a singer's inability to get on with his band mates.
The solution for Slash was to launch a proper solo album, which came in 2010. It definitely wasn't quite what we expected, as Slash wrote a series of songs for different singers and the resulting album features everyone from Ozzy and Lemmy to Kid Rock and Fergie. I can't say this is an essential purchase, despite the cover of Paradise City featuring Fergie and Cyprus Hill. The stroke of genius came when Slash decided to take the show on the road with Alter Bridge vocalist Miles Kennedy. Although the album received mixed reviews, the live shows were a huge hit so the only sensible thing to do next was to re-enter the studio and cut another record with Miles handling lead vocals. The resulting album, Apocalyptic Love was released in May 2012 and is exactly what we know and love Slash for. Unlike the eponymous Slash album, the new recording is an absolute must own for any fan of the top hat wearing icon!
With Slash currently flying around the world touring this album to adoring fans, its pretty safe to say that the now non-smoking, teetotal, clean as a whistle Slash won't stop any time soon. Despite all the talk of 'icons' and 'images', the simple fact is that Slash is a fine guitarist and has become one of the greatest influences on guitar players the world over.

Blackstar

ADMIN




Posts

: 9581


Plectra

: 65552


Reputation

: 97


Join date

: 2018-03-17



---
Permissions in this forum:
You
cannot
reply to topics in this forum